It's a question I've been thinking about a lot lately. Mostly because I've been thinking about my legacy given I'll be 40 next August (I'm already planning my nervous breakdown–oh, you think I'm kidding?). Not just in a professional sense, but in a larger, more worldly sense. I mean, I've been working in the professional PR and marketing world now for 16-plus years–what do I have to show for it?
That's what it comes down to, doesn't it?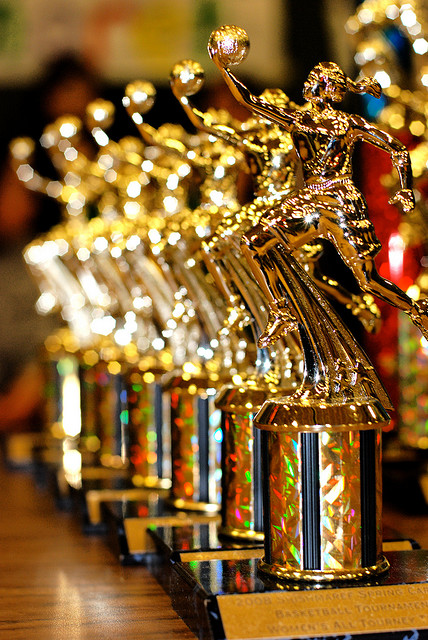 At the end of the day, I have a lot to be thankful for. A thriving business. Great business partners. Outstanding clients. And a job I love. Hasn't always been that way in my life. So, believe me, I don't take my current situation for granted.
But, back to the initial question: What's my biggest professional accomplishment?
I think about the following:
My blog
This could potentially be number one, which may surprise people. Why? Because starting and maintaining a blog takes A LOT of time and effort. Ask anyone who's done or is doing it. Managing a successful blog means you're taking time away from something else you love to do (in my case, my family, golf and friends). It's really been a labor of love for me. And, something I'm damn proud of. Recognition aside, my blog has so much to do with where I am right now in my life. For instance, there's probably no way I'm in business for myself without this blog. I don't meet all the wonderful people I've met online (and then in real life) if not for this blog. I don't get the chance to help organize BlogWorld without this blog. I don't c0-found the MN Blogger Conference without this blog. You get the idea. My blog is one the the key reasons I'm doing what I'm doing today–across the board. And, I don't take my blog lightly either. I mean, I don't pore over posts for hours on end. But, I do take my content seriously. After all, if I don't, why should anyone read it? I take a massive amount of pride in my blog.
APR
Even though I'm not currently a PRSA member (changing that as of Jan.), and technically I had to drop the "APR" designation from my business cards and byline, it's still a pretty substantial professional accomplishment. And one I'm very proud of. Especially considering I didn't have a ton of traditional PR experience before I started studying for the test in 2002-2003. As I've said for years, I haven't found the APR designation itself to be all that valuable from a "employer/earn more money" perspective. But, I found the PROCESS to be EXTREMELY valuable. From the actual learning to the studying to the camaraderie and networking, it was a life-changing experience for me. And something I'd recommend to most anyone, depending on the circumstances.
HAPPO
I know HAPPO isn't exactly the movement that's sweeping the country, but I'm really proud to have been involved in something that actually had the ability to change lives. And, in spots, I believe we've done that (and now, locally, I'm trying to take that a step further with our Minnesota-based HAPPO Report). I'm also extremely proud to be working with our slew of HAPPO champs across the country. People like Richie Escovedo. Jeremy Pepper. Nikki Little. And, of course, Valerie Simon. It's been a great way for me to get to know those smart folks a little better. But, at the end of the day, it's about helping others and paying back an industry that's given so much to me over the years. If I had a legacy, I would hope HAPPO would be a part of it.
McGladrey Advantage Program
Most (if not all) of you reading this blog will have no idea what this is–or what "McGladrey" is, for that matter. But, my time and experience working for the fifth largest accounting and consulting firm was invaluable for my career development. And, "Advantage" was a big part of that. About halfway through my tenure at McGladrey (five years) I was asked to head up the Advantage program. It was pretty innovative at the time (7-8 years ago now)–especially for an accounting firm. The program was one part hard copy newsletter, one part e-newsletter, one part Web site and one part PR program. It also had internal communications legs. I was asked to lead the charge and manage an agency, which created the lion's share of the content development. It was a big job, and it was a fairly high profile job (my first). And, we delivered results. In terms of leads. Visits. Awareness. And, it was a huge point of pride internally. Sadly, they cut the program after I left McGladrey, but it still stands out in my mind as my biggest corporate professional accomplishment.
Minnesota Blogger Conference
Another collaborative effort, #mnblogcon has been so much fun to work on and get off the ground the last two years. But, I have to admit, my partner, Melissa Berggren and our team of partners (this year: Josh Braaten, Bridget Nelson Monroe, Beth Rubin-Gabor, Bill Van Cleaf and Suzi Magill) put in so much more work on this event than I do. I'm just happy to be a part of it. But, I will say getting the inaugural event off the ground last year was no small feat. So, I take a lot of pride in what we did last year–and this year. And, for what we'll hopefully do in the years ahead. And, I'm especially proud to be a part of what I believe to be a top-5 blogging community here in the Twin Cities.
ACH Communications
Even though this doesn't happen without the blog, this has to be my biggest achievement–and the one I'm most proud of. Most people don't know me all that well–so they wouldn't know that I was a bit of a slacker earlier in my career. Almost got fired once, in fact, due to performance. I wasn't always the hardest worker. And I've never been the smartest person in the room (by design). But, through the years, I have learned a lot about my strengths and weaknesses. And I've also learned how to minimize those weaknesses, and play up the strengths. I've learned from some incredible mentors along the way. And I think my diverse background (something many people held against me in job interviews) paved the way for my role as a small business owner and digital PR/marketing consultant. Even though it's always been a dream of mine, I would have NEVER thought I would own my own business–or have any form of success doing it. Yet, that's where I am today. Hey, I'm smart enough to know this whole thing could go straight south tomorrow. And that's fine with me. No one can take away what I've done to date. And no one ever will. And, I have a feeling when all is said and done, and I'm bouncing my granddaughter on my lap when I'm old and gray, I think it will still be my biggest career achievement.
Now, what about you? What's your biggest career achievement? Would love to hear about it. Please brag in the comments.
Note: Photo courtesy of Alaska Teacher via FlickR Creative Commons.