I saw a short message from friend Heather Whaling this past weekend. It read: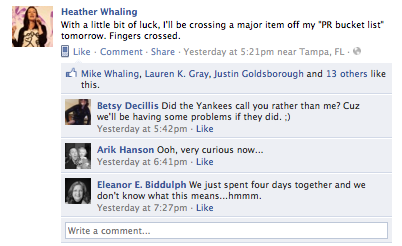 Turns out that bucket list item was this (congratulations, Heather!):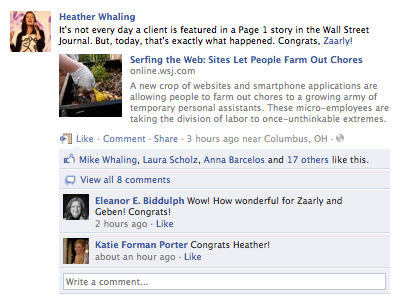 That got me thinking. I've had a personal "bucket list" for years. Among the items on that list:
* Living in a small, quaint villa in St. John in  the USVI at some point in my life
* Watching my kids graduate high school and college
* Owning a small boat and sailing around Minnesota lakes in the summer
* Visiting Australia, New Zealand and Norway (and other parts of Scandanavia) before I leave this Earth
The list is much bigger, but that gives you a flavor.
I've put a lot of thought into that list over the years. And I've even been able to check off a few items already (becoming a father, visiting Hawaii, for example). But, as great as that list is, it's purely a personal list.
I don't have a "professional bucket list." A PR bucket list.
Until now.
I'm officially starting my PR bucket list today. And, because one of the best lessons I've learned along the way is to "always share your dreams" (you never know who might be there to help at some point), I'm going to share with you my initial stab at mine (at least as of Nov. 30, 2011).
Let me preface this by saying my PR bucket list is probably going to be a bit more non-traditional than most. It doesn't include earning a spot on the Today Show. Or, in the New York Times. Or, even on 60 Minutes. No, mine's a little more non-traditional list (go figure, I'm a fairly non-traditional kinda guy).
Here goes (in no particular order):
* Managing media for a client at the PGA Championship or managing a trade show booth at the PGA Merchandise Show (I came *this* close to ticking this one off a number of years ago)
* Help a craft brewery launch a new beer and attend the Great American Beer Festival (I'm convinced this one is attainable).
* Advise a major league sports team (preferably in professional baseball or football) on PR/communications/marketing issues (or, as an alternative, advise a PGA TOUR player in the same way)
* Serve as an adjunct professor teaching digital marketing/PR for a college or university (I have designs on this one soon)
* Work for the Sports Information Director's office at either the University of Kansas (where I attended for a year) or a mid-level university (I see this as a potential role later in life that may couple with a role coaching said University's golf club/team)
* Write a guest post/regular column for one of the following online publications: Harvard Business Review, Forbes, Huffington Post or Fast Company.
* Sit on the boards of at least two non-profit organizations in areas I'm passionate about by the time I'm 50 (gotta get crackin on this one–only 11 years left!)
* Help out (maybe even volunteer) to help the media/PR team for a future Ryder Cup event (this is a definite possibility as the Ryder Cup is coming to Minnesota in 2016!)
* I also want to add a bucket list goal around my blog, but I'm not quite sure how to frame that–any ideas?
So, that's the start to my list. I'm sure it will change over time, but it's a good start for now.
What about you? What's on your PR bucket list?