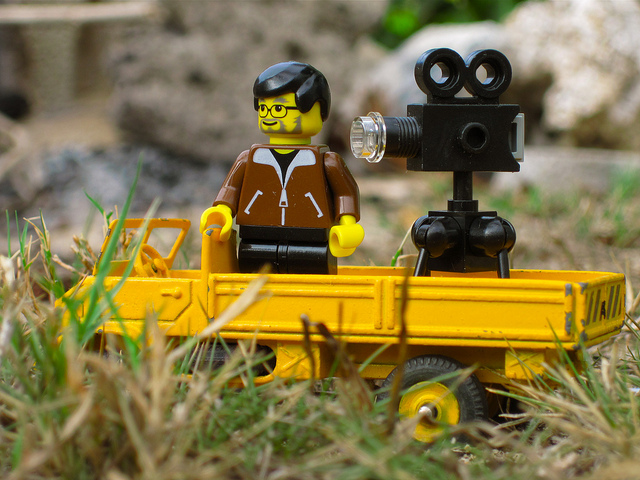 In conversations with a number of colleagues and partners across the Twin Cities recently, I've noticed an interesting subplot emerging in a number of conversations on the hiring front.
Employers are looking for a new kind of PR candidate: media producers.
Huh?
Think about it. What's the one thing most companies will need in mass amounts in the months and years ahead? That's right, content. And, when it comes to content, the demands are increasing. Each day.
Text content. Audio content. Video content. Photo content. With many combinations of the four.
And that's where companies tend to struggle. Organizations typically have different specialists or contractors for each type of content. Video specialists. Writers. Photographers. They're all silos–and specialists.
I think that changes a bit in the not-so-distant future.
Why? For one, economics. Many companies cannot afford to specialize any longer when it comes to content. Sure, they need quality, but not at a severe cost (and not for every project). At the same time, the talent pipeline is changing.
Younger PR pros are far more adept at photography and video technologies than their older counterparts. And, technology has significantly leveled the playing field the last few years.
All this points toward the notion that companies will be looking more and more for a professional with storytelling skills. And photography skills. And video producing and editing skills. These people exist–just not in big numbers quite yet.
Let me give you a sense for the specific skills I'm talking about and how they might play out in today's landscape:
* Producing stories via photo. The ideal candidate knows how to frame a photo–and I'm not talking about taking pictures at your nephew's t-ball game. The candidate will be comfortable with many forms of technologies, including camera phones and editing tools. And, they'll know the basics about photography including lighting, framing and filters. Think Instagram, not Canon.
* Producing stories via text. An obvious skill that all PR pros need to have. But, consider the fact that you'll be competing against former journalists more and more down the road. People who know how to put a story together. To be the media producer of the next generation, you need to understand how to write a headline that will get clicks. At the same time, you need to know how to write a compelling lead while using bullets and other devices to make the article/post more scannable for your readers. Think WordPress, Posterous, Tumblr and Google+, not news releases.
* Producing stories via video. Know how to shoot video using basic tools, how to conduct an interview, and how to set up a shoot. That doesn't mean you have to be an expert–the demands on video quality have softened over the years (although not as much as previously predicted by the Flip-cam rush). Now, it's easier than ever to record video on the go with smart phone devices that have pretty solid cameras built in (I've shot a number of client videos with my iPhone camera–just look what Tom Martin is doing with his Talking with Tom series; shot and produced entirely with his iPhone). Learn how to use editing software like iMovie (easier than you'd think). Learning these video production skills will make you more marketable because right now if PR pros want this kind of work done, we need to outsource it. If you can handle the basics, that means less outsourcing. Which means less cost. Which usually means a happy boss or client. Think iPhone and iMovie, not TV-studio-style production.
* Producing stories via audio. This one's probably not as key as the three above since audio is a bit more niche, but still a skill worth exploring. You should understand how to run an audio interview including how to set up a podcast, how to conduct an interview and some of the basic technical competencies around audio production. Familiarize yourself with tools like Garageband and Audacity (even thought here are many different tools–take a look at this list). The first step may be subscribing to a few podcasts and hearing how the experts do it–I might suggest my long-time favorite For Immediate Release. Again, think Garageband, not radio studios.
That's the PR pro of the future–media producer. It's happening right now in spots, but I see this trend accelerating in the years ahead. The demands on content (and on efficiencies and cutting costs) continue to grow. What about you? Do you see this as an emerging trend for employers?
Note: Photo courtesy of puukibeach via FlickR Creative Commons.