Being a solo consultant is a lonely existence. It's definitely one of the few drawbacks to this lifestyle. So, I make a habit of getting out of my home office as much as I can to the neighborhood coffee shops in Minneapolis. And, I have plenty of options, because there are a TON of them. It's one of the many reasons I love living in the city.
And, since more companies are embracing a more flexible work environment and allowing people like you to work from home and coffee shops from time to time, I thought I'd put my eight-plus years of experience working from local coffee shops to good use and create a list of my favorites.
So, below, you'll find nine coffee shops I probably work from the most. I attempted to grade them on a number of factors: environment, coffee, food options, parking and seating. I then gave each coffee shop an overall grade–remember, it's a grade that revolves around what the coffee shop is like as a place to work, not the coffee shop itself (case in point: I LOVE Spyhouse NE, but it doesn't get a top-level grade from me as a place to work–see below for why).
Now, you'll probably notice there are a number of fairly popular coffee shops that don't show up on this list. The new Penny's is a noticeable miss (I still haven't been!). Moose & Sadie's is popular with North Loop types (but I rarely go there given the cluster that is North Loop parking). And Bob's Java Hut in south Minneapolis is an institution (but just not my jam). Everyone has their favorites–these nine are mine.
Would love to hear what you think–and your reviews of other top coffee shops in the Minneapolis area. Leave a comment below, or comment on my Facebook post where I shared this post.
Head of the Class
Angry Catfish
Location: 4208 S 28th Ave, Minneapolis, MN 55406
Hours: 7 am – 8 pm, Monday-Friday
Environment: Half coffee shop, half bike shop, Angry Catfish isn't your typical venue. But, it does have a nice, neighborhood feel to it. You can find outlets along the bars and outer edges of the coffee shop. And, the music isn't too loud so you can't talk to a table-side companion.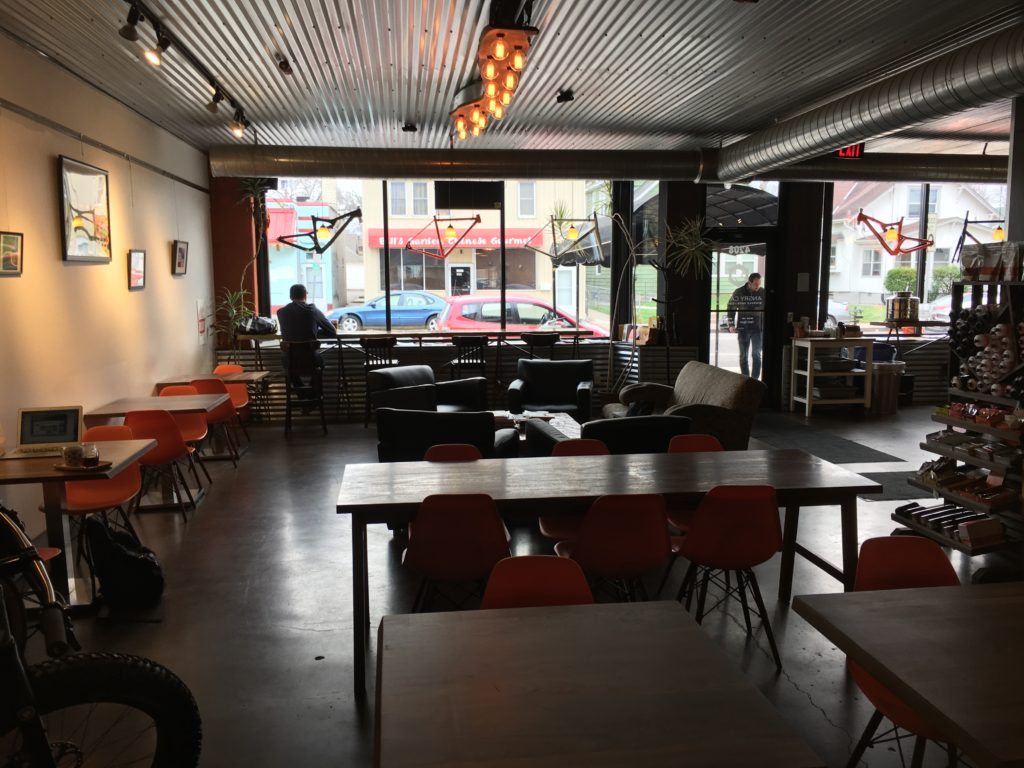 Drink of choice: I usually just opt for the pour-over Intelligentsia or Ruby coffee of the day, since it's so damn good. And, I absolutely LOVE the small tray and little pitcher you get for the 12- and 16-oz. orders.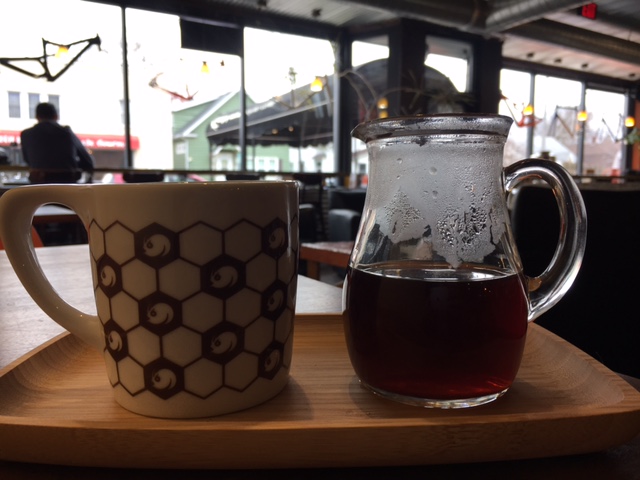 Food options: Huge bonus here: Angry Catfish carries a variety of donuts and pastries from Baker's Wife, which is literally right next door. Opt for the State Fair donut–my favorite donut in the city (and I should know–I've tried them all!)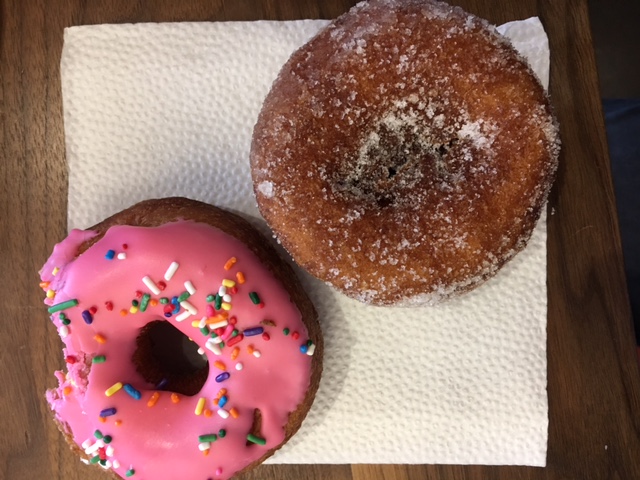 Seating: Ample seating. 8-10 bar spots overlooking the street. Some informal, couch-like seating. And 5-7 tables for the more serious worker.
Parking: Street parking, which is always available. I've never walked more than half a block to Angry Catfish. And, of course, bike parking right out front.
Arik's Workability Grade: A (HUGE points for being next door to the best donut shop in the city; always pretty quiet, never all that busy and serving one of my favorite coffees–Intelligentsia. Yeah, high marks for AC).
Dogwood Coffee
Address: 4021 E Lake St, Minneapolis, MN 55406
Hours: 6:30 am – 8 pm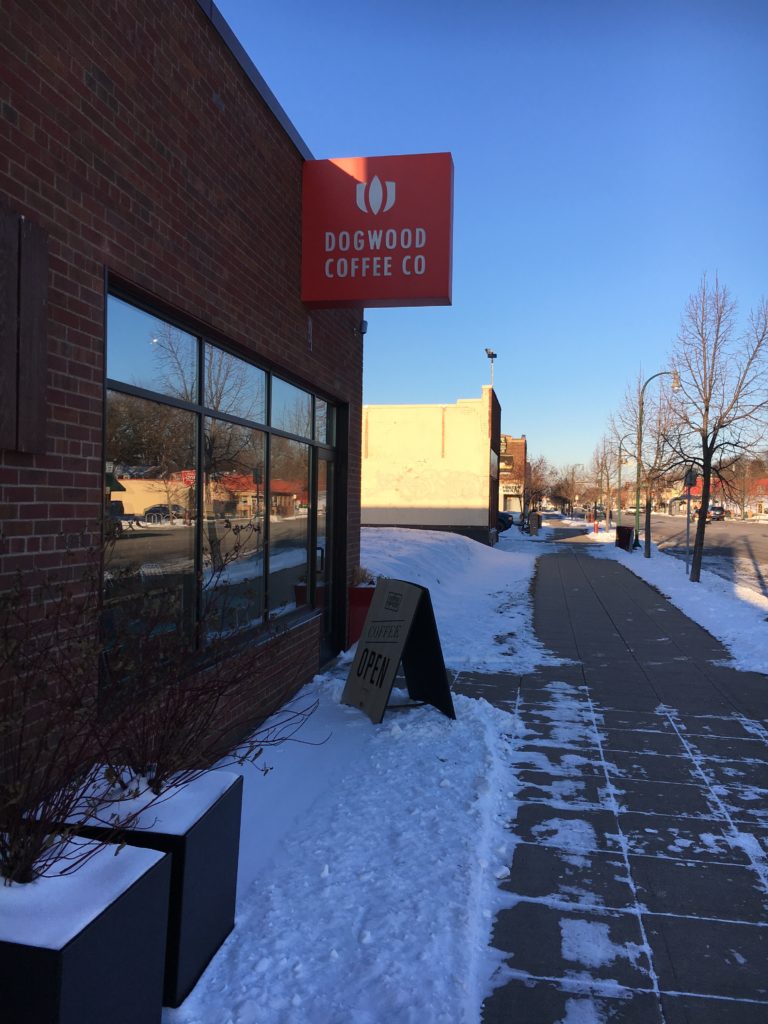 Environment: Open, air and lots of light let it through the huge windows in the front of the store. The vibe is modern (the wood booths are my favorite) with its signature pink espresso machine right up front. The neon bars above the coffee bar add a nice touch, too.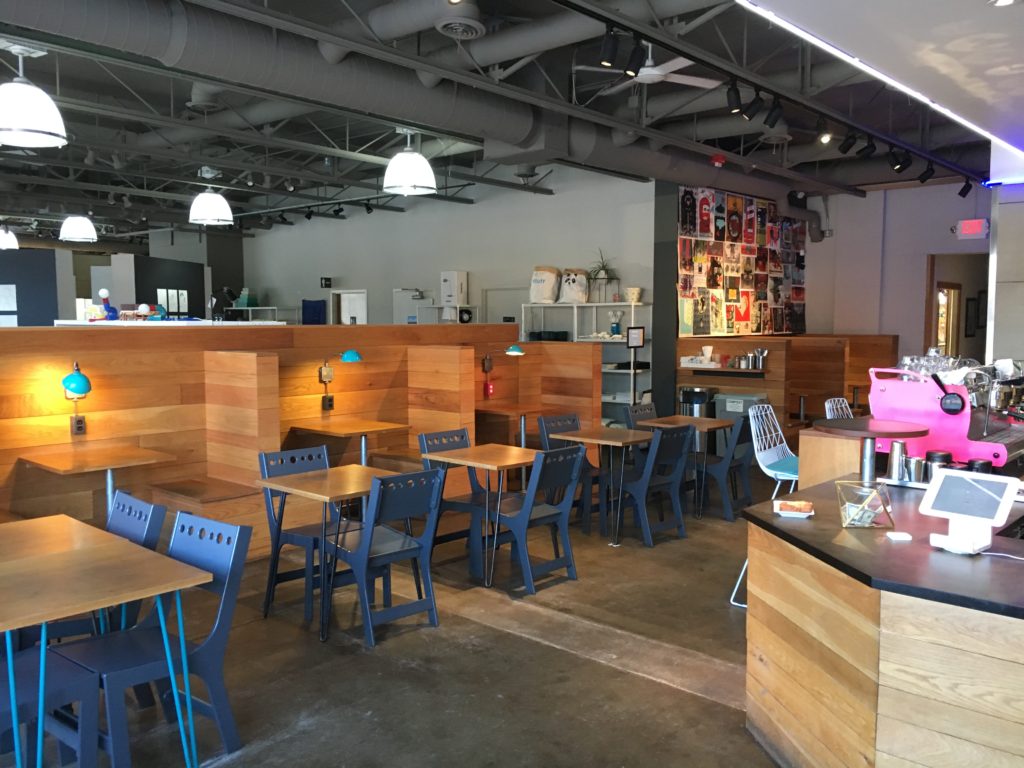 Drink of choice: I'm a huge Dogwood fan, but I usually grab a cup at the much smaller Dogwood in Uptown. I usually just go for the coffee since it's so damn good. And you really can't go wrong with any of their blends. I had the Costa Rica blend (16 oz.) this time around. Wonderful.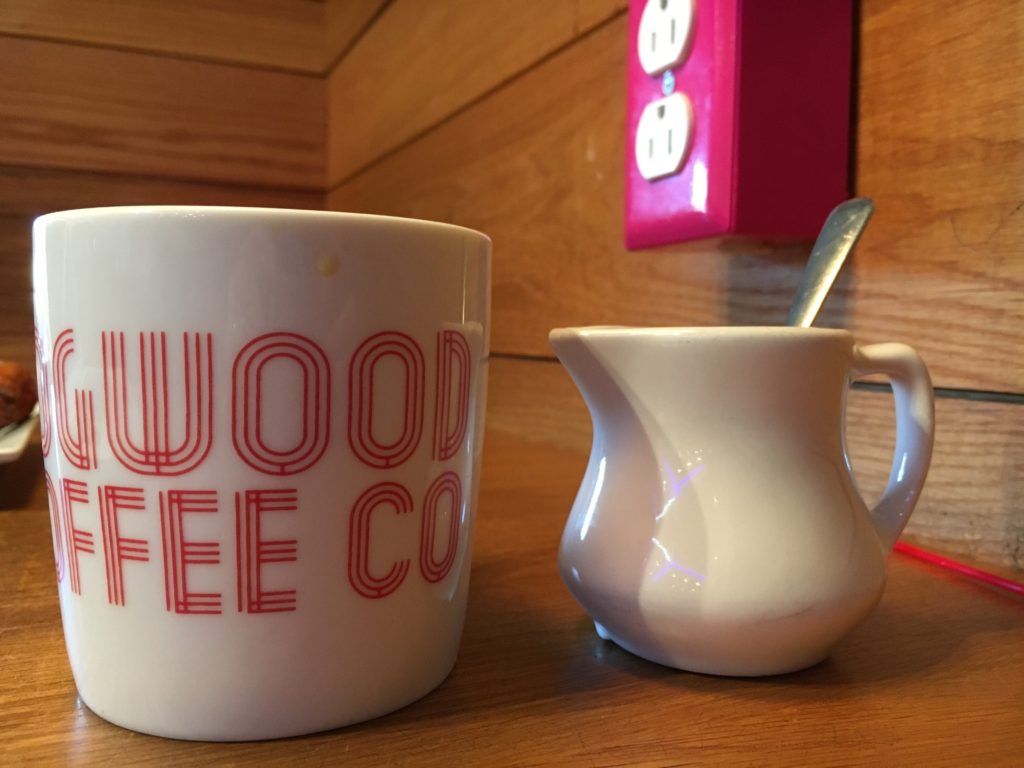 Food options: Dogwood carries a smallish number of Rustica bakery items including cookies, croissants, and my favorite, the danish. I opted for the orange danish, which was the perfect pair with my Costa Rica.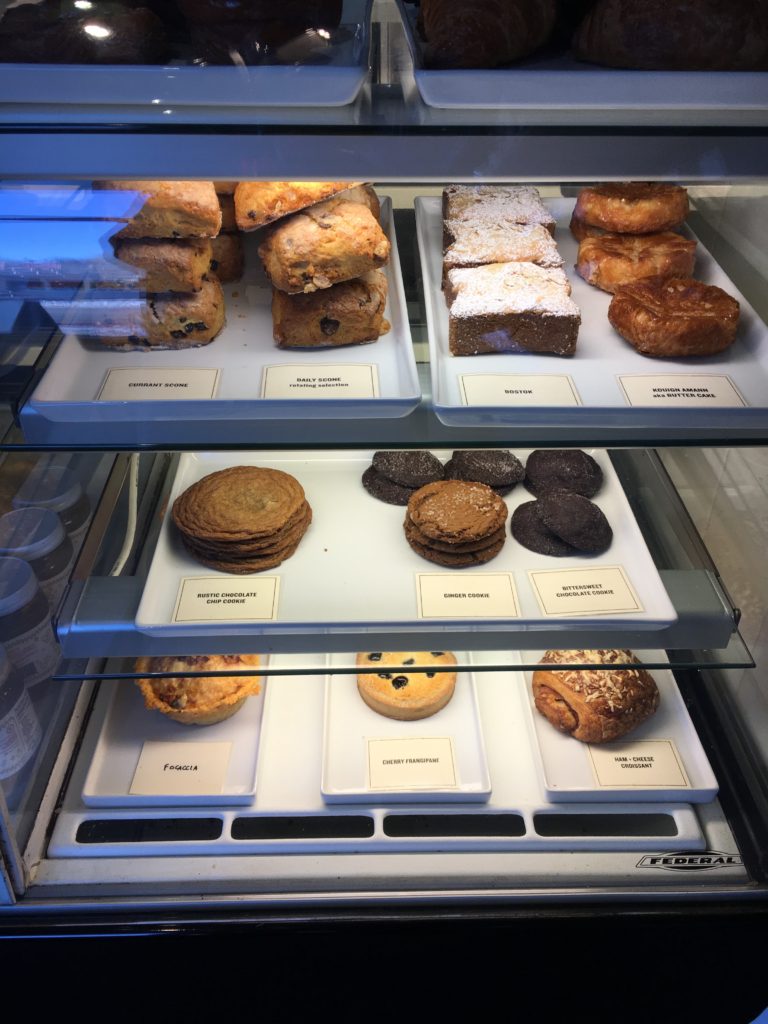 Seating: Dogwood shares a larger space with the accompanying Bodega, but it's broken up by a wonderfully cozy section of two-person booths that I absolutely loved. There were also three separate bar areas to work from–one looking out onto Marshall Ave. and the other two overlooking the coffee areas. In total, the space had 12 sitting areas between the booths and small tables and chairs.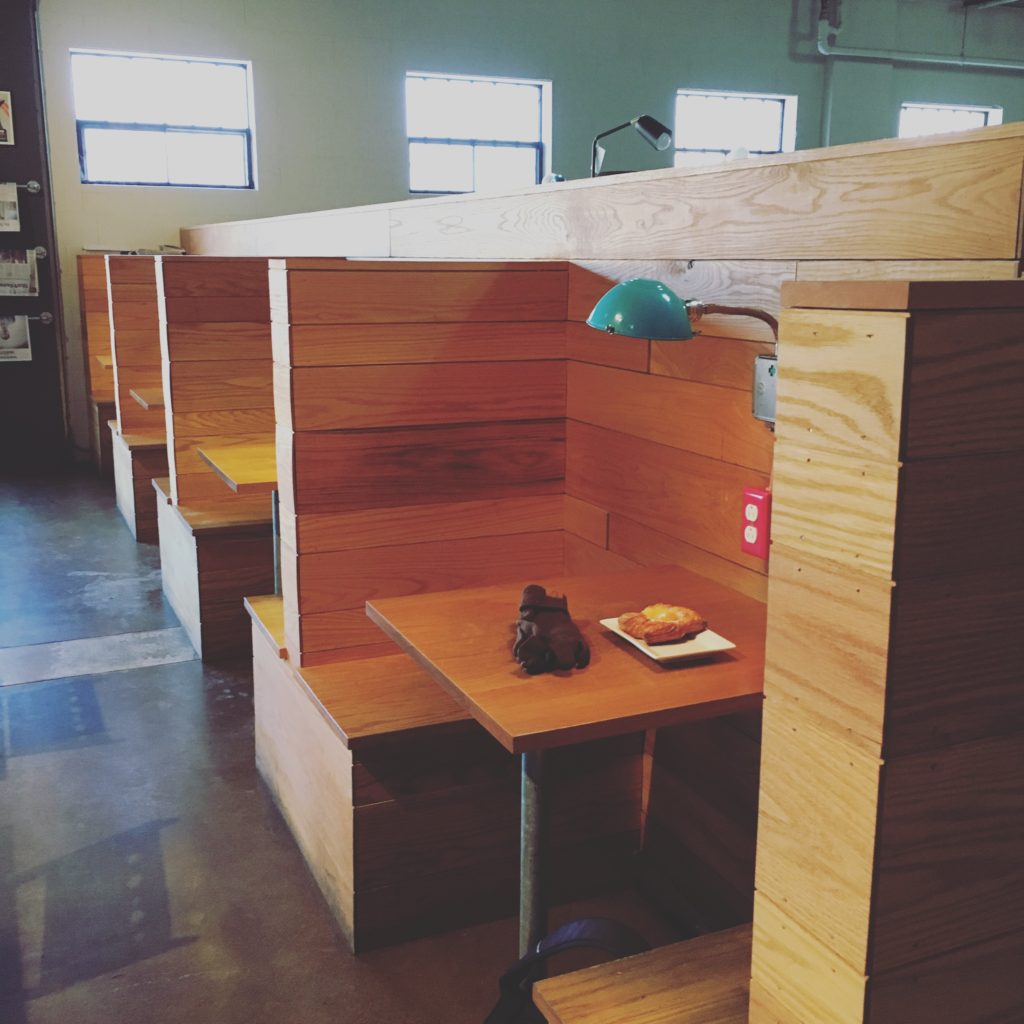 Parking: Dogwood has about 5-7 spots in its lot in the back of the store. Otherwise, there's on-street parking on Marshall Ave. Plenty. And free.
Arik's Workability Grade: A- (the best "vibe"/feel of any place on this list; usually pretty quiet; LOVE the small booths, and the coffee is second to only Intelligentsia in my book)
Vicinity Coffee (Lyndale location)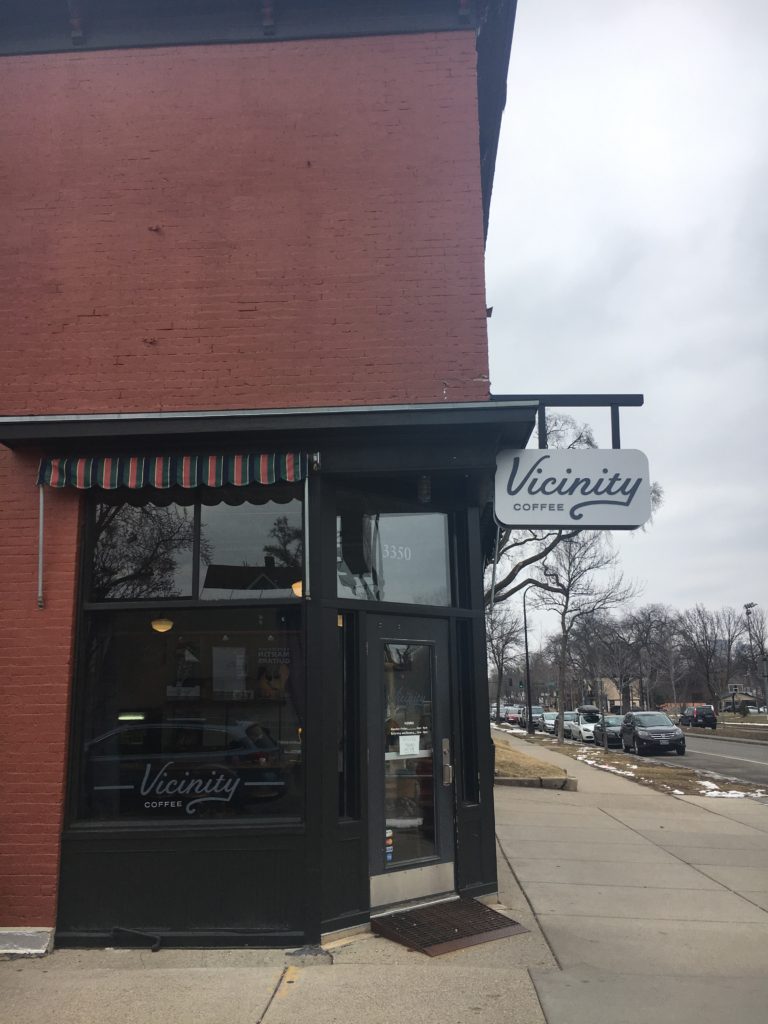 Address: 3350 Lyndale Ave S. Minneapolis, MN 55408 (also at 4301 Nicollet Ave S. Minneapolis, MN 55409
Hours: M-F 6 am-9 pm
Environment: Music wasn't too loud. Acoustics are fairly good. And, there's ample room even though it is frequently crowded during the day. There are many people working, so it's a nice place to put down roots for a couple hours. Plus, they have two rooms–a bigger space with the coffee bar, and a side room where I've held meetings before. And, as an added bonus, they have the garage door for the summer months.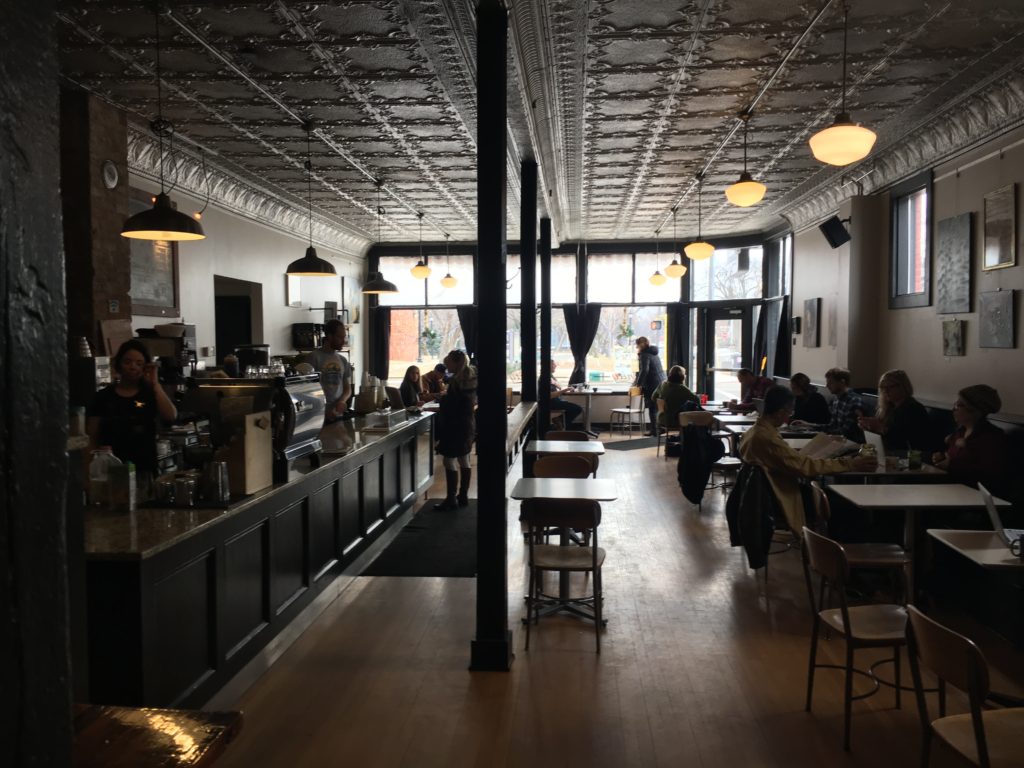 Drink of choice: I had the Boone's Beard, which is their top specialty drink. It includes house-made vanilla, coriander and black Hawaiian sea salt. Pretty damn good. They also have the requisite coffee options and house-made chai, which I've heard it very good. And, they have a nice selection of teas for those non-coffee drinkers including something called "Iron Goodness of Mercy". Sounds good in a Catholic kind of way 🙂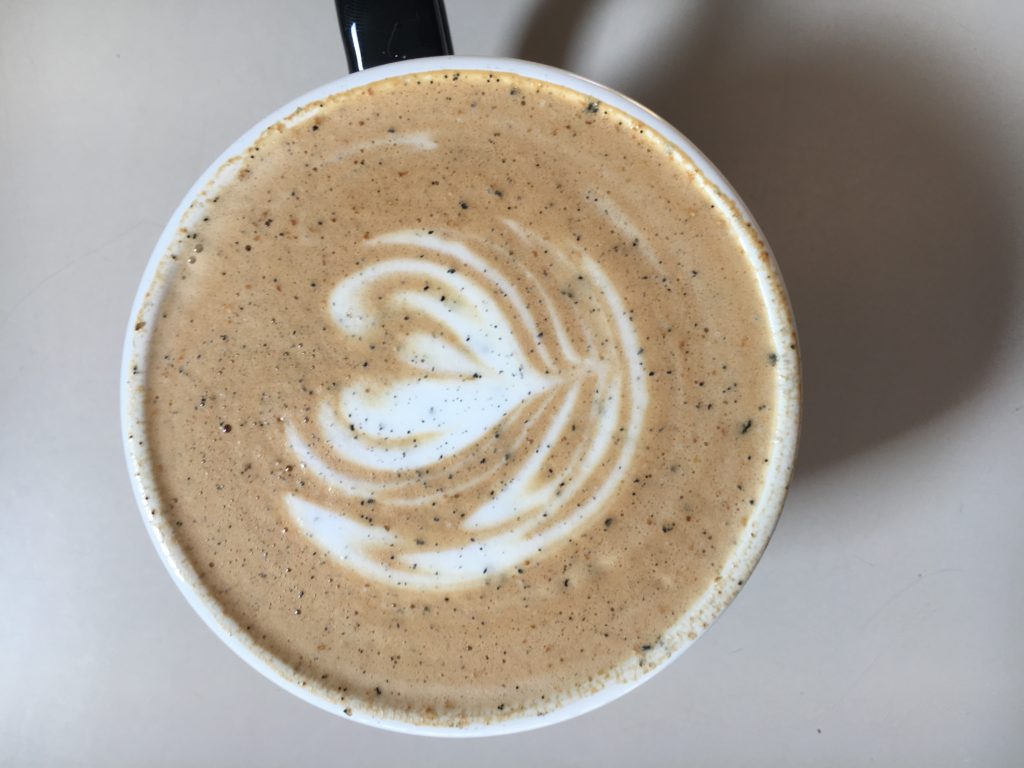 Food options: Vicinity has a small selection of scones and croissants (I believe from Rustica)–so you're in good hands here. It's just not my bag.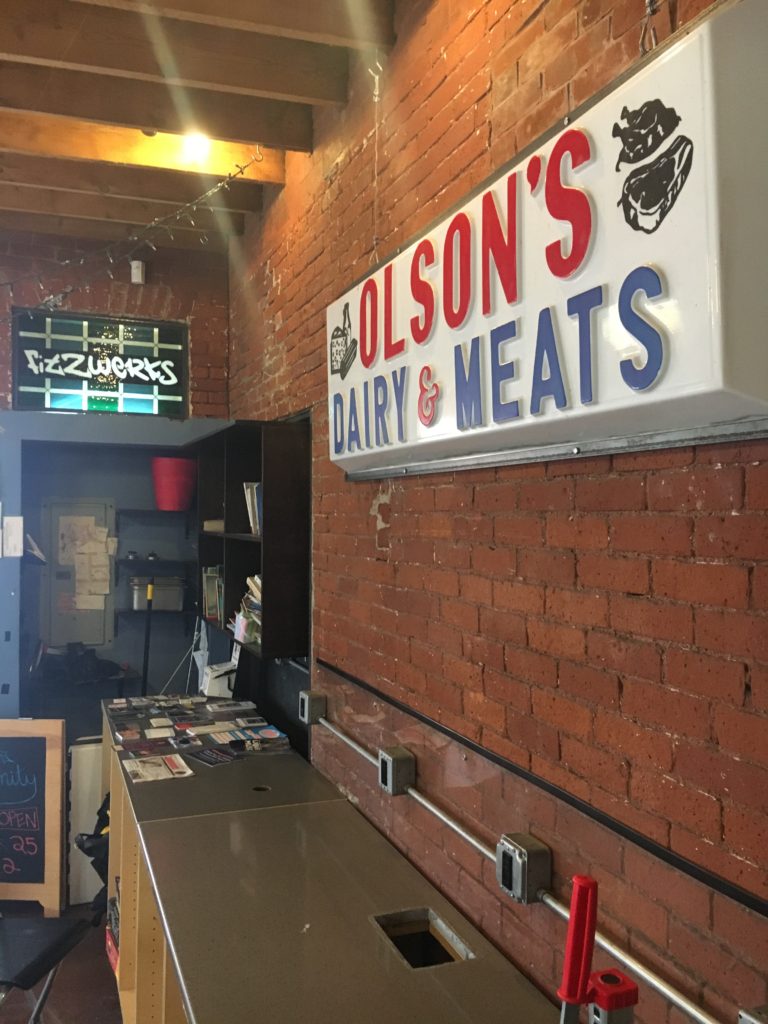 Seating: Ample seating. I counted 14 two-person tables in the main room. And one larger table for group meetings. Also love that many of the tables on the wall have outlets–no shortages here. One of the better spots for seating, actually.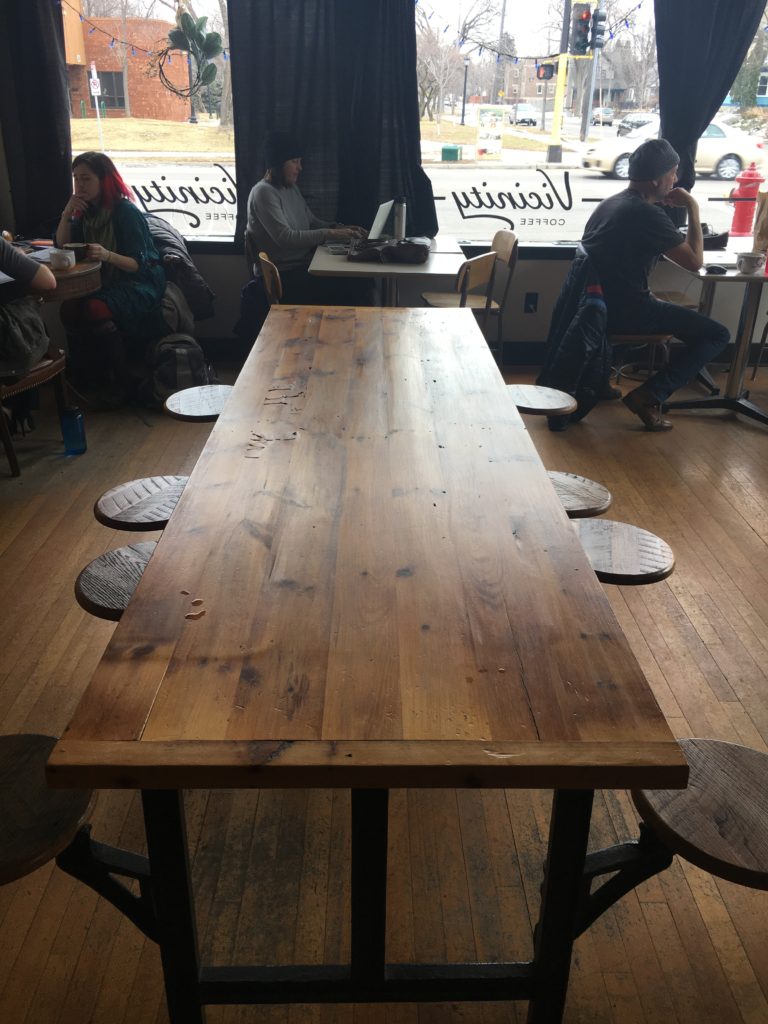 Parking: On-street parking nearby. Vicinity is right in the Kingfield neighborhood, so there's plenty of free on-street parking. No problem.
Arik's Workability Grade: A- (love the open garage door in the summer; specialty drinks are above average, and there's ample room and TWO rooms for spreading out)
Solid choices
Peace Coffee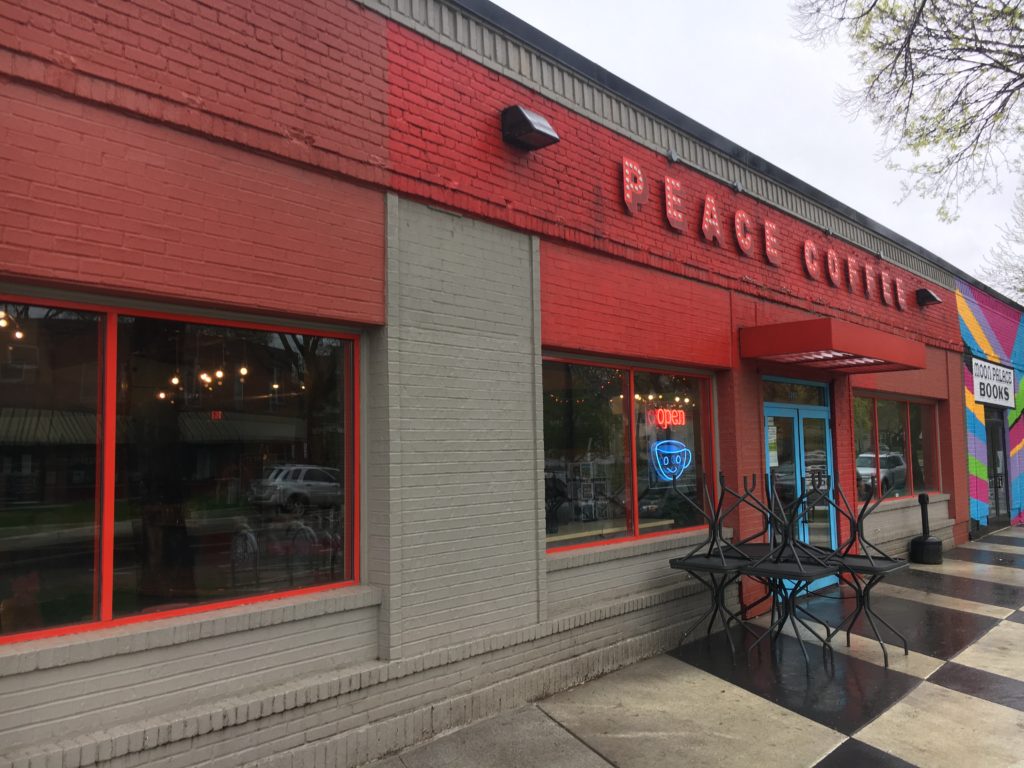 Location: 3262 Minnehaha Ave, Minneapolis, MN 55406
Hours: M-F, 6:30 a.m. – 8 p.m.
Environment: Bright, open and airy. And plenty of outlets for the long-term worker bee. I also like that there are two separate rooms at the Wonderland Park location–little more room to breathe and spread out, should you need it.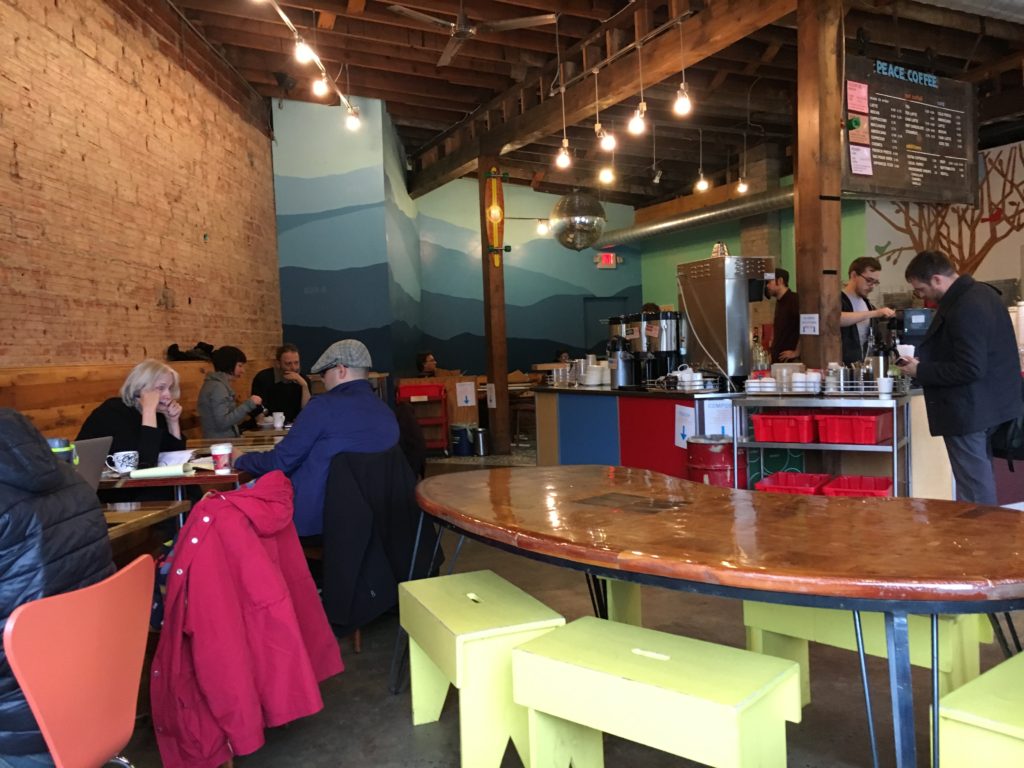 Drink of choice: I usually just go with the brew of the day. In this case, it was their new Tree Hugger blend, which is a dark roast with the body of a light roast. Not usually what I go for, but it was pretty good (not great). I've really come to love their Snowshoe blend.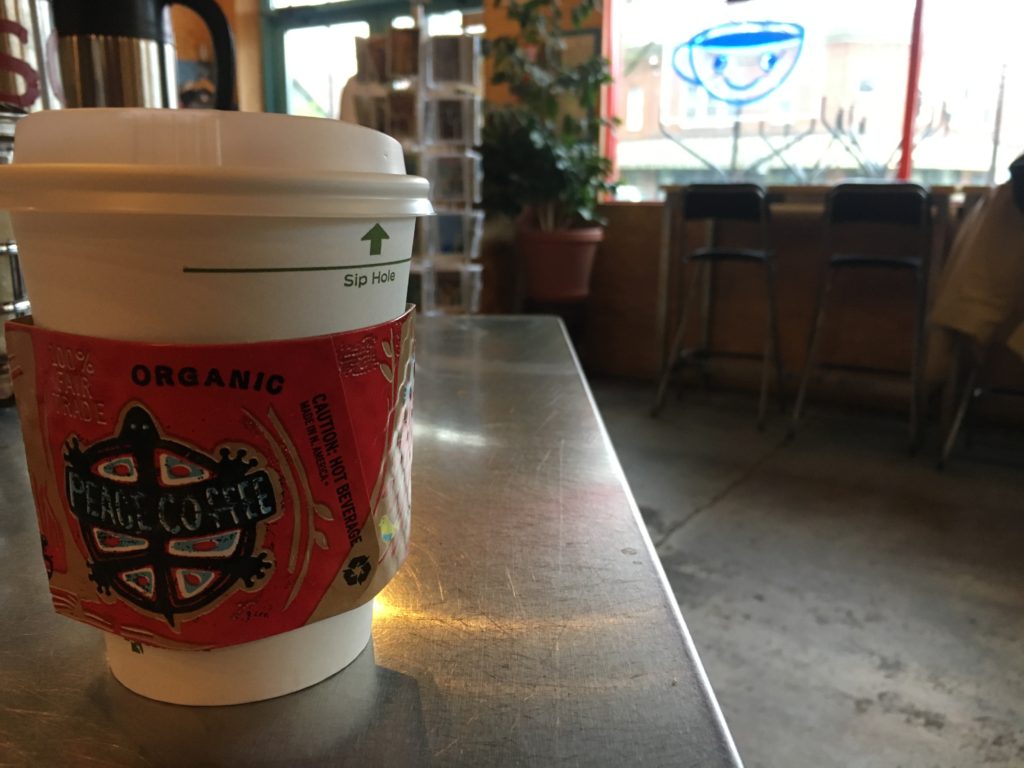 Food: They have a variety of bakery items and oatmeal, but nothing too crazy. In fact, I stopped at Baker's Wife on the way and nabbed a couple State Fair donuts (again, best donut in the state).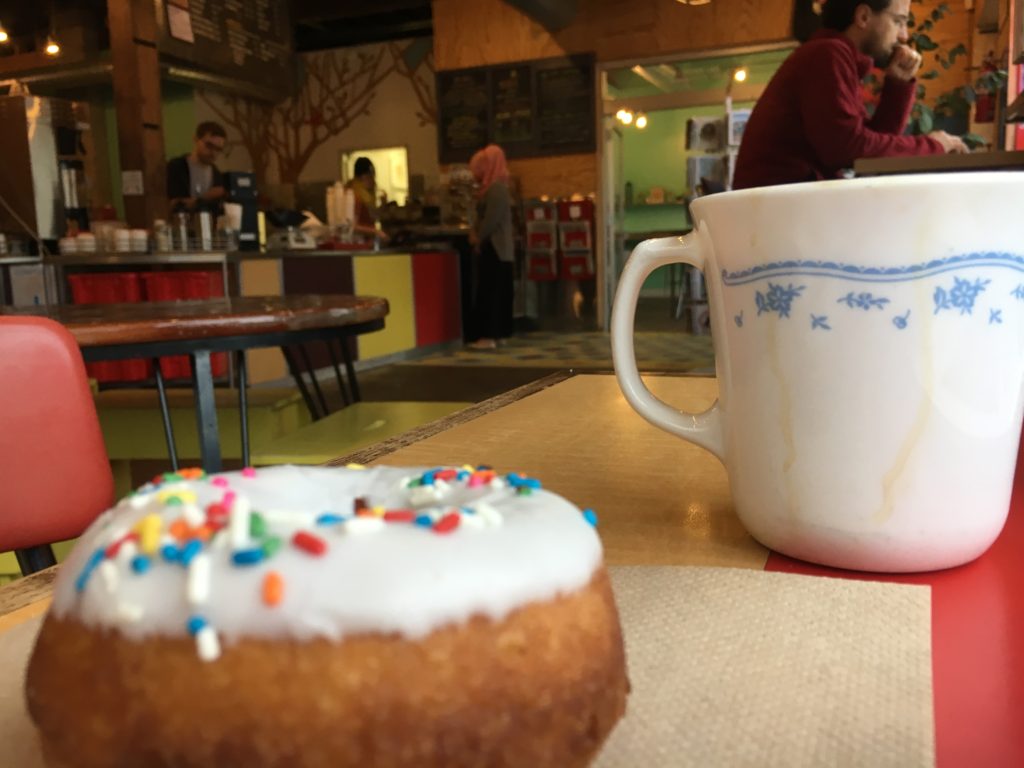 Seating: Plenty. And, I like the options: booths, tables, stools. Perfect.
Parking: On street (on Minnehaha and the side streets) as well as a small lot out back. And, all free.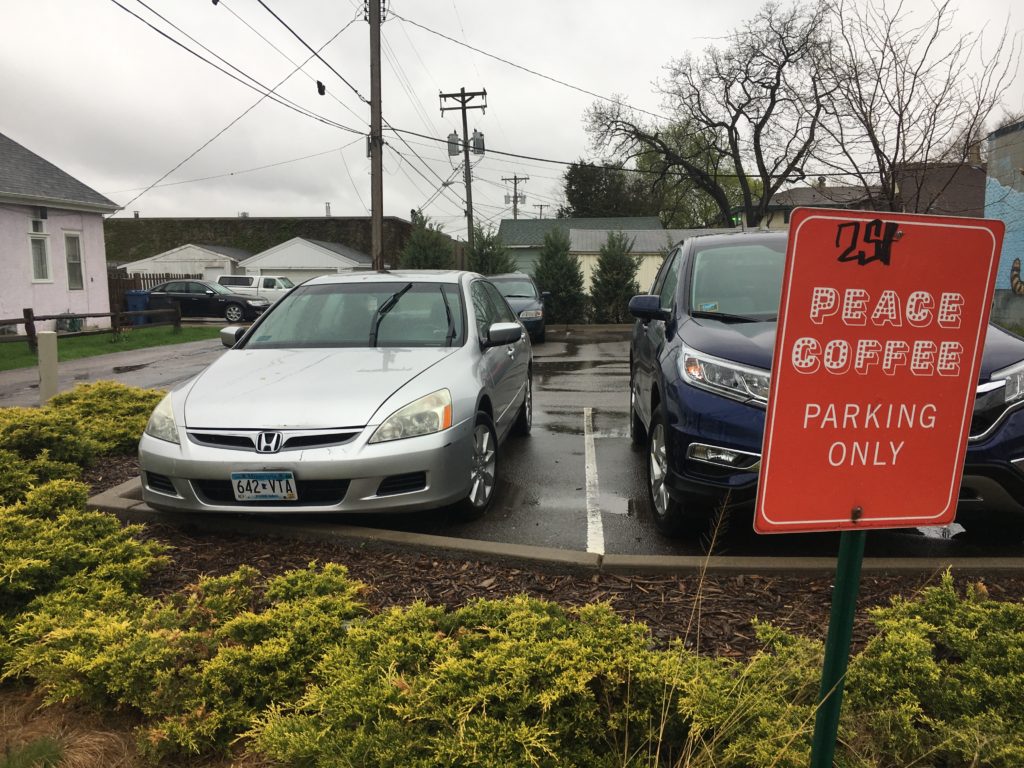 Arik's Workability Grade: B (overall, a pretty solid place to work; love the vibe, but I just have never loved Peace Coffee; and, it does tend to be a bit crowded at key times).
Spyhouse (Downtown)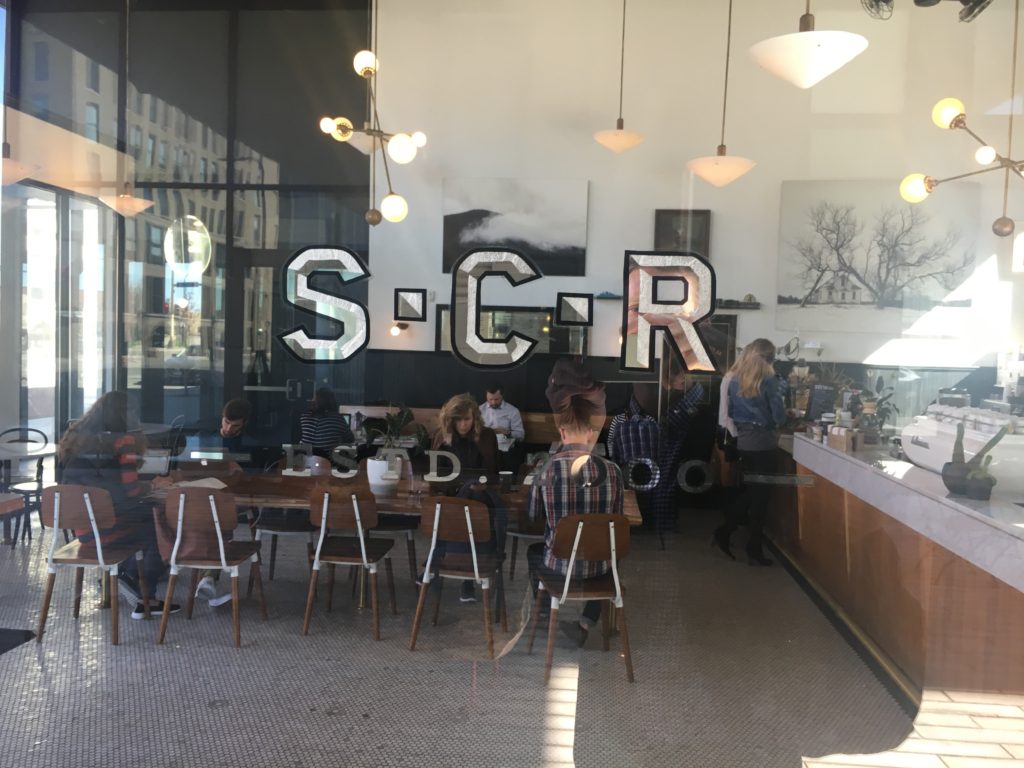 Location: 907 Washington Ave N, Minneapolis, MN 55401
Hours: 6 am – 8 pm, M-F
Environment: What you'd expect for a North Loop coffee shop. The classic tile is a nice touch. Love the high ceilings. And you're surrounded by light with all the windows. You could do worse in terms of a place to work for a few hours.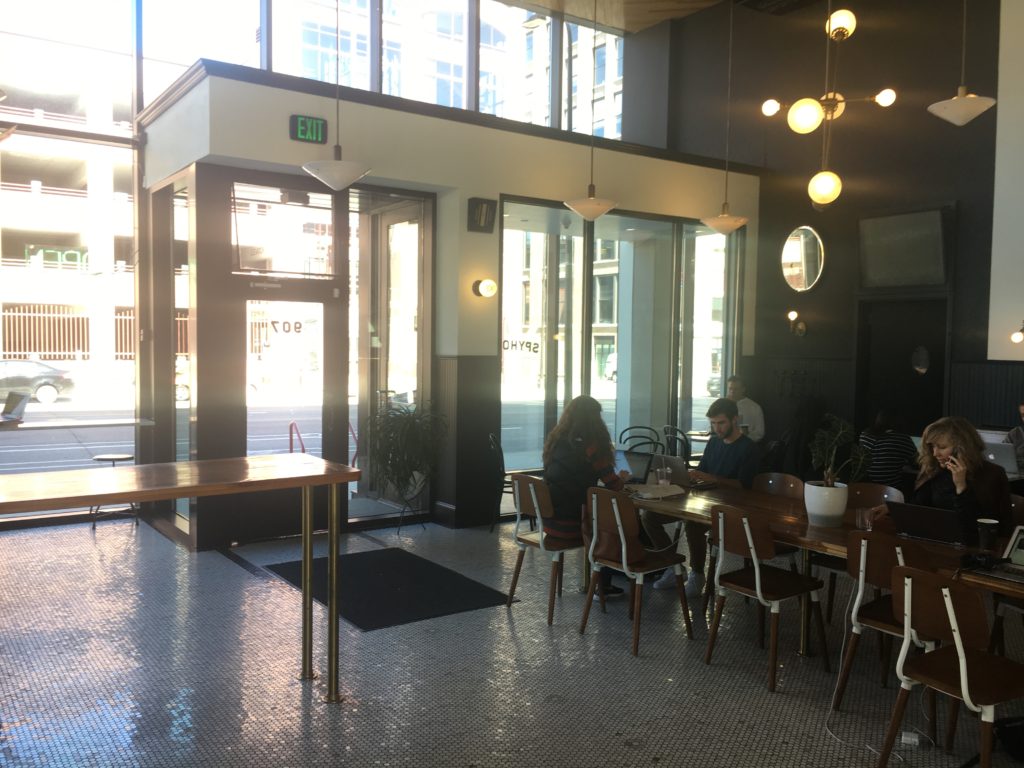 Drink of choice: Just like when I visited the Spyhouse NE location, I opted for the Cold Brew (this time with a little lavender syrup). Outstanding.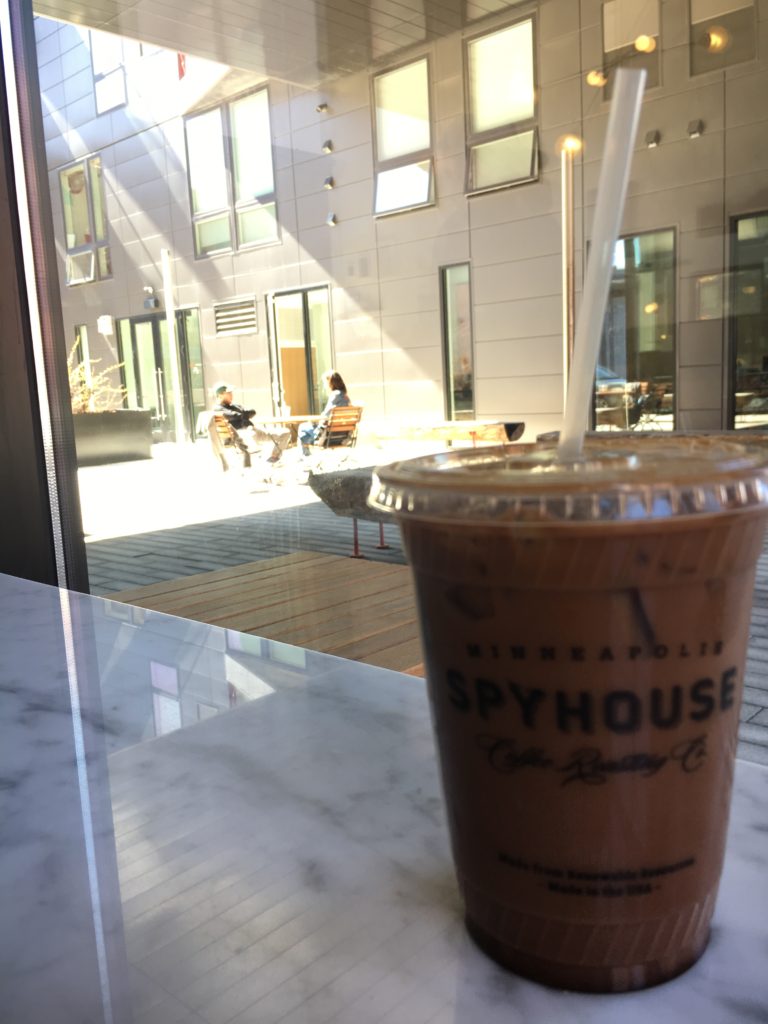 Food options: Just like NE, Walnut Bakery items are offered here. I didn't purchase any this time around, the the croissants looked awfully good. No donuts though 🙁
Seating: A few tables and a few different bar/high top areas. Not a ton of seating. And, outlets were tough to find, too. A few of the bar items hardly had any. Kind of a big miss for a brand new place.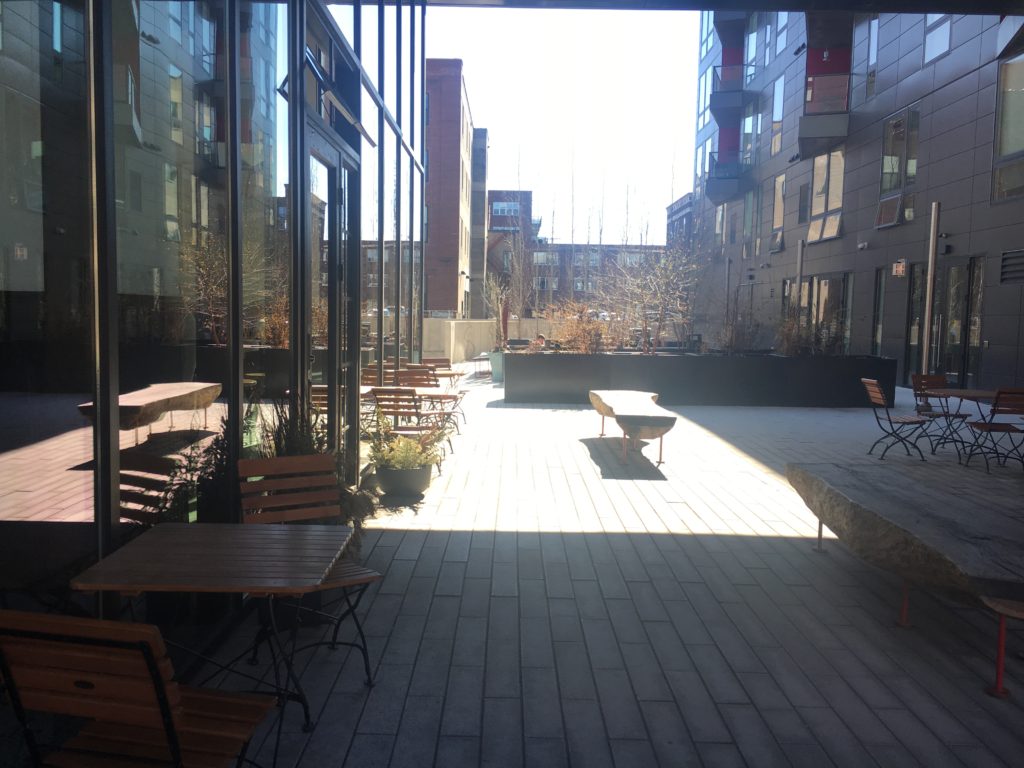 Parking: On-street, free parking right nearby. Unheard of for North Loop, but it's just far enough on the fringes where you have on-street parking for free on 10th. I'm sure that will change soon, but for now, take advantage.
Arik's Workability Grade: B+ (love the location, and free parking nearby is almost unheard of downtown)
Canteen Coffee Bar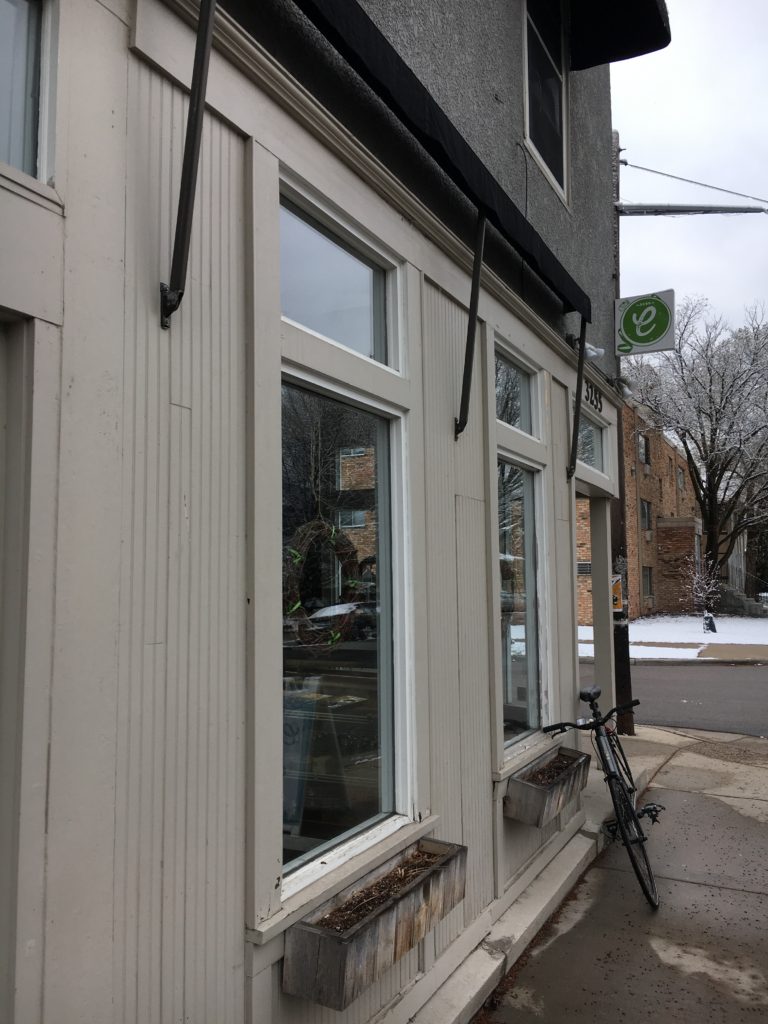 Location: 3255 Bryant Ave S, Minneapolis, MN 55408
Hours: 6:30 a.m. – 11 p.m., Monday-Friday
Environment: Maybe one of my favorite coffee shops in South Minneapolis to work from because it's so quiet and rarely super busy. And, you'll find an outlet nearby almost every table (a must for today's coffee shop). The wi-fi is fast and reliable and it's also relatively quiet. You'll usually find many people working from Canteen throughout the day.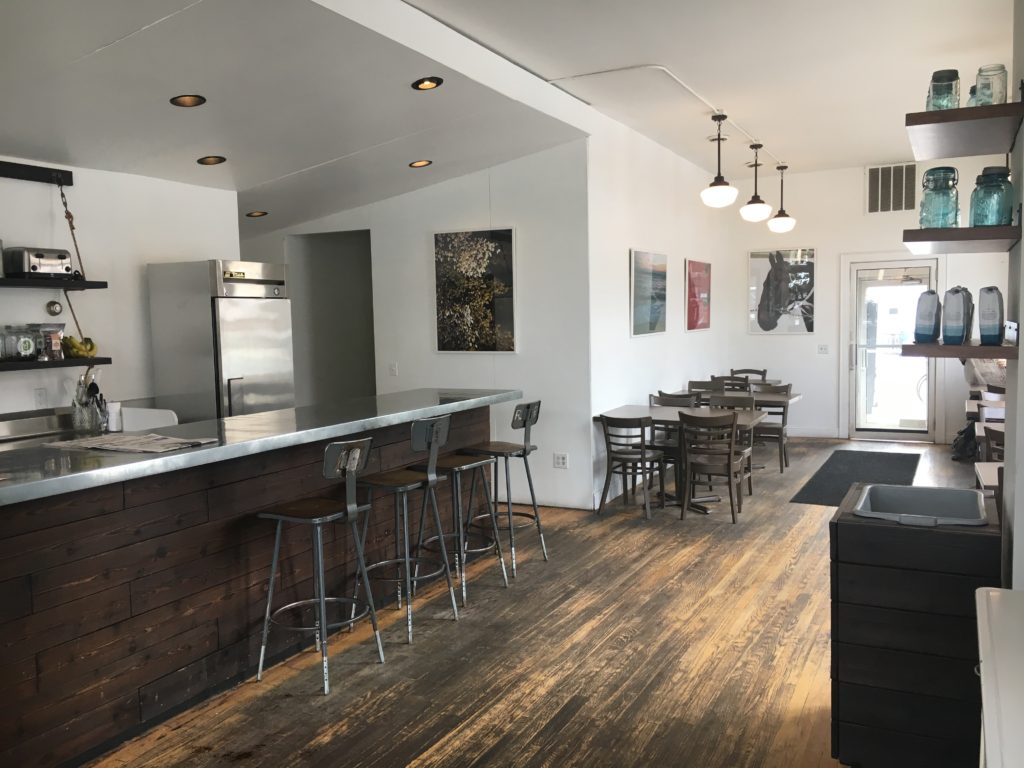 Drink of choice: While Canteen has the requisite selection of lattes and specialty drinks, I always opt for a straight cup of the wonderful Kickapoo coffee. Smooth and delicious. And, you can get the bottomless cup for just $3.25–perfect for the worker who's going to set up shop for 1-2 hours.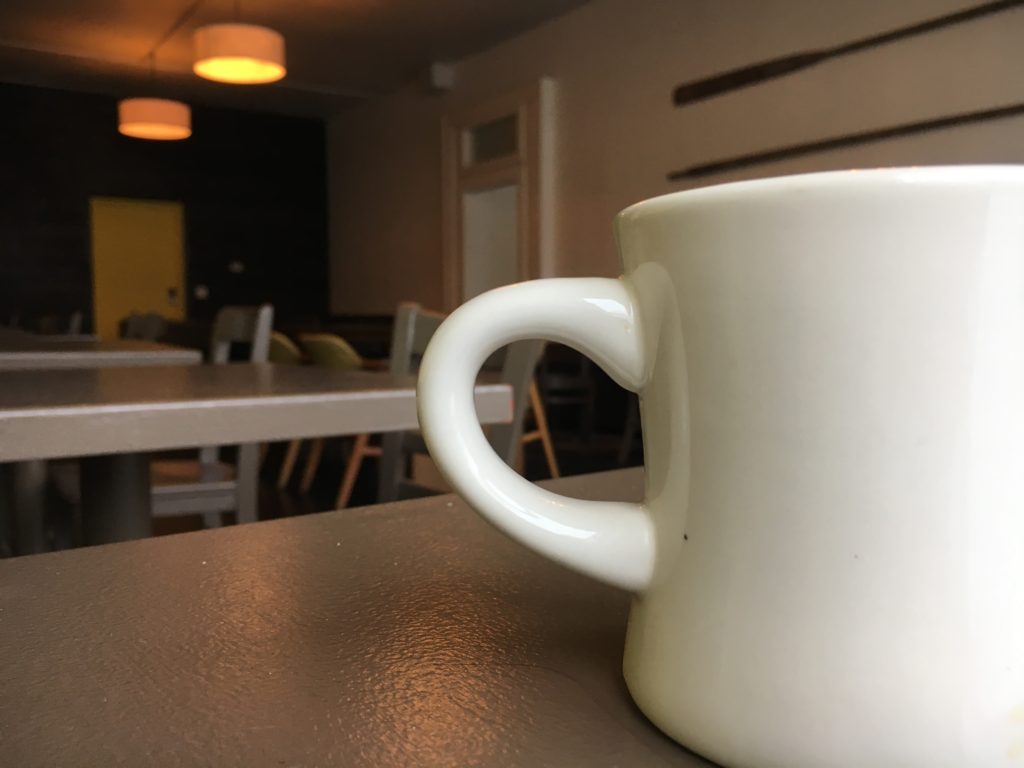 Food options: Although I haven't tried it yet, people rave about Toast Bar. I just haven't gotten on board with the whole toast trend. The "Hollybars" also look pretty darn good–a selection of PB&J, coconut almond and peanut butter chocolate chip are usually on hand.
Seating: This is the strength of Canteen as a coffee shop for the remote worker. PLENTY of seating throughout–even when it's busy, there seem to be multiple open  tables.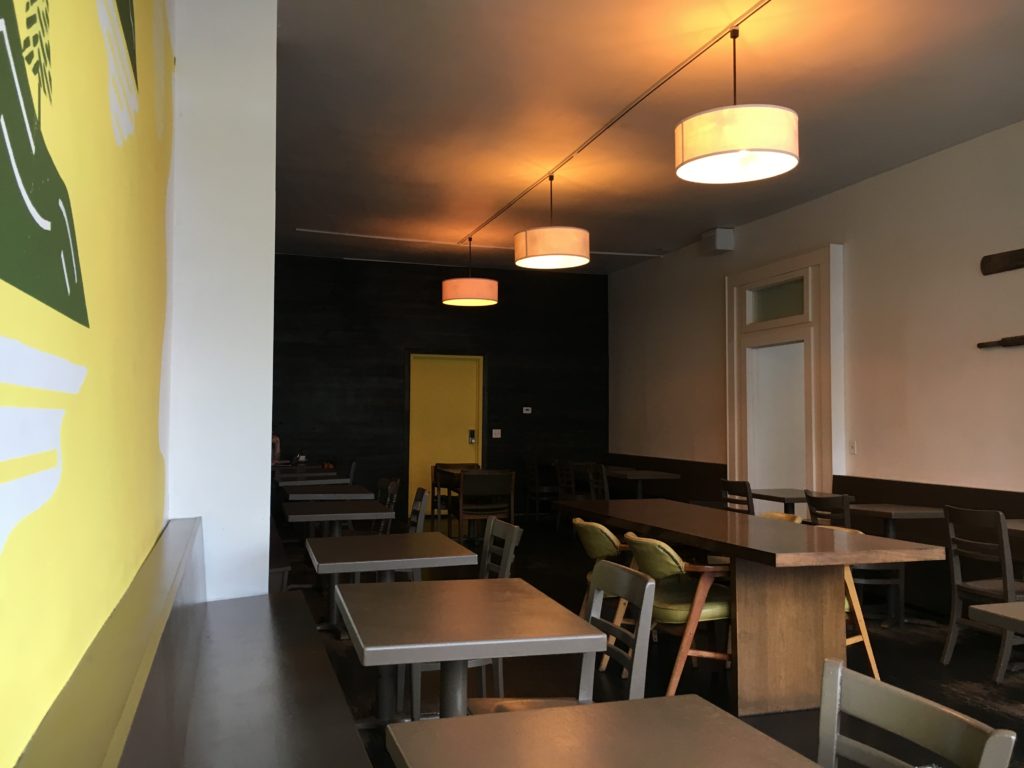 Parking: On-street parking is always available. No problem here.
Arik's Workability Grade: B+ (solid coffee and all sorts of room; outlets everywhere and free parking don't hurt either; plus…toast flights!)
Five Watt Coffee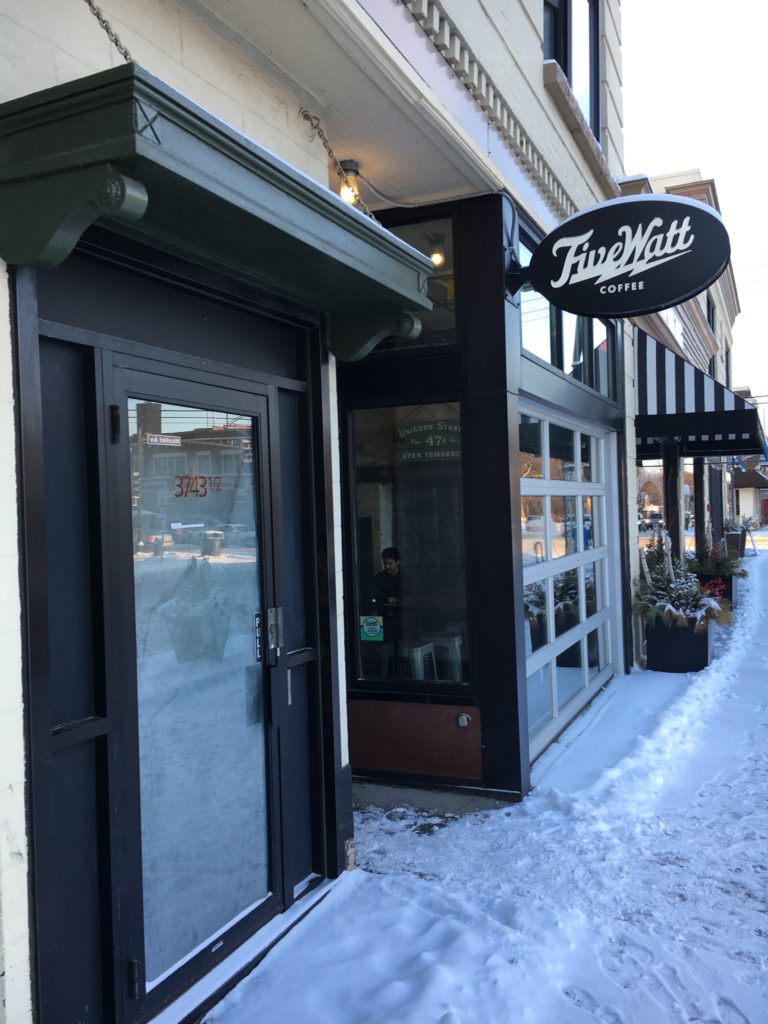 Address: 3745 Nicollet Ave, Minneapolis, MN 55409
Hours: 6 am-10 pm
Environment: The music isn't over-powering, so you can actually work to it. And overall, the vibe is pretty urban with exposed brick walls, the garage door and an authentic south Minneapolis feel. The room also has tons of outlets throughout and free wi-fi. No complaints here.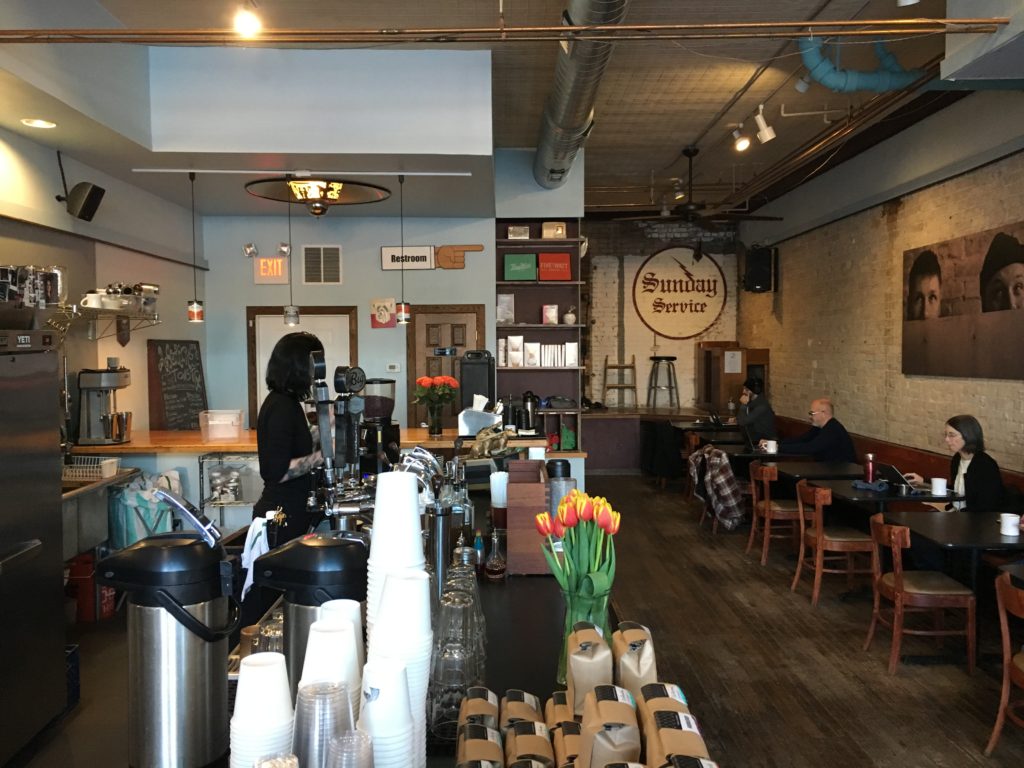 Drink of choice: The Kingfield. It's Five Watt's most popular drink. I'm not a big latte guy, but I've tried it a few times and really enjoy it. But, at $5 a pop, it's a lot to stomach for this cheap guy. Definitely a splurge item for me. Haven't tried the drip/pour-over coffee, but they do use a roastery out of Kickapoo, Wisc., down south of LaCrosse where my folks grew up–so huge bonus Hanson points there! One more note: Free refills on drip coffee–even if you purchase one of the espresso drinks.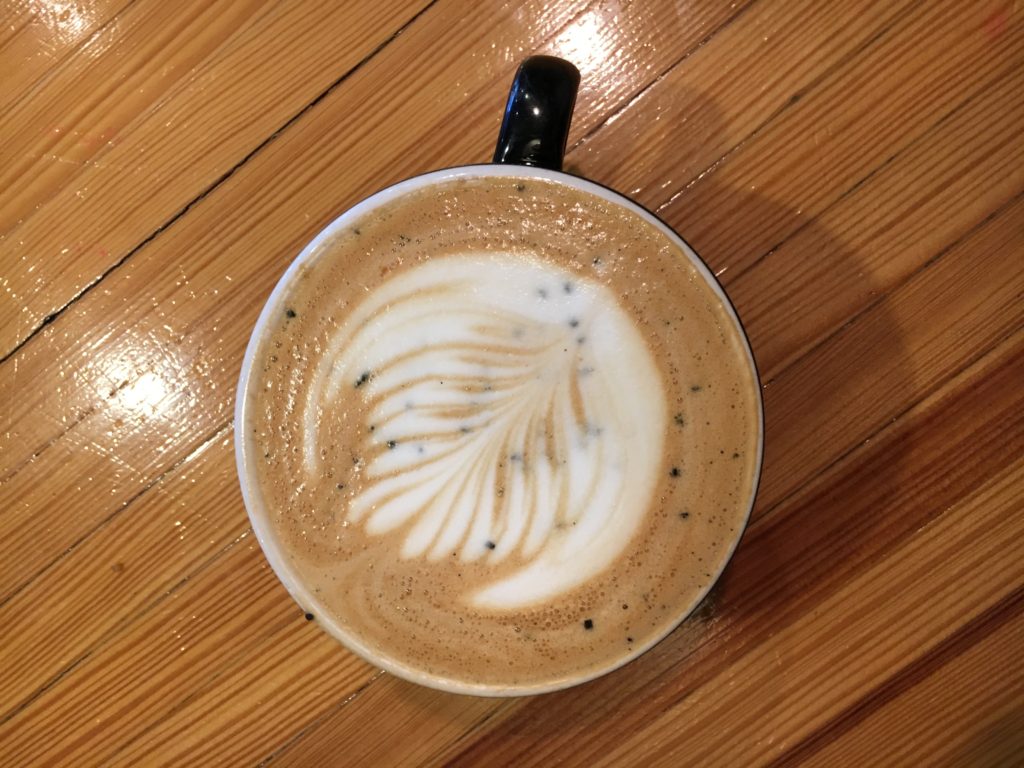 Food options: Five Watt brings in an assortment of Patisserie 46 breads and pastries. Not my favorite, but it's usually a small selection of croissants, scones and muffins.
Seating: Five Watt is a small place. I counted 12 tables total–and they're all two-person tables. But, it does have a great bar I love to work from, and in the spring/summer/fall, they have a nice outdoor patio (although it's right on Nicollet).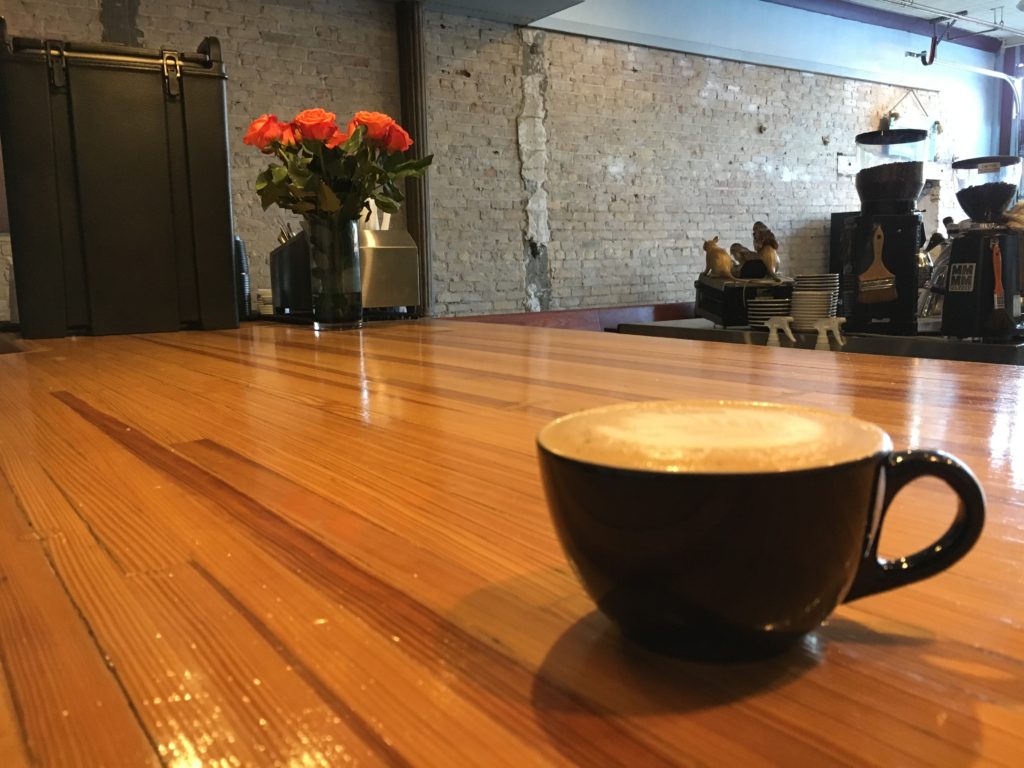 Parking: Right on Nicollet is the best spot, and there are usually spots. So, overall, not too shabby.
Arik's Workability Grade: B (would easily be higher if THEY HAD MORE ROOM! Specialty drinks are very good, and the space itself is tremendous. It's simply far too small and always crowded).
Not sure I'd recommend, but…
Spyhouse (Northeast)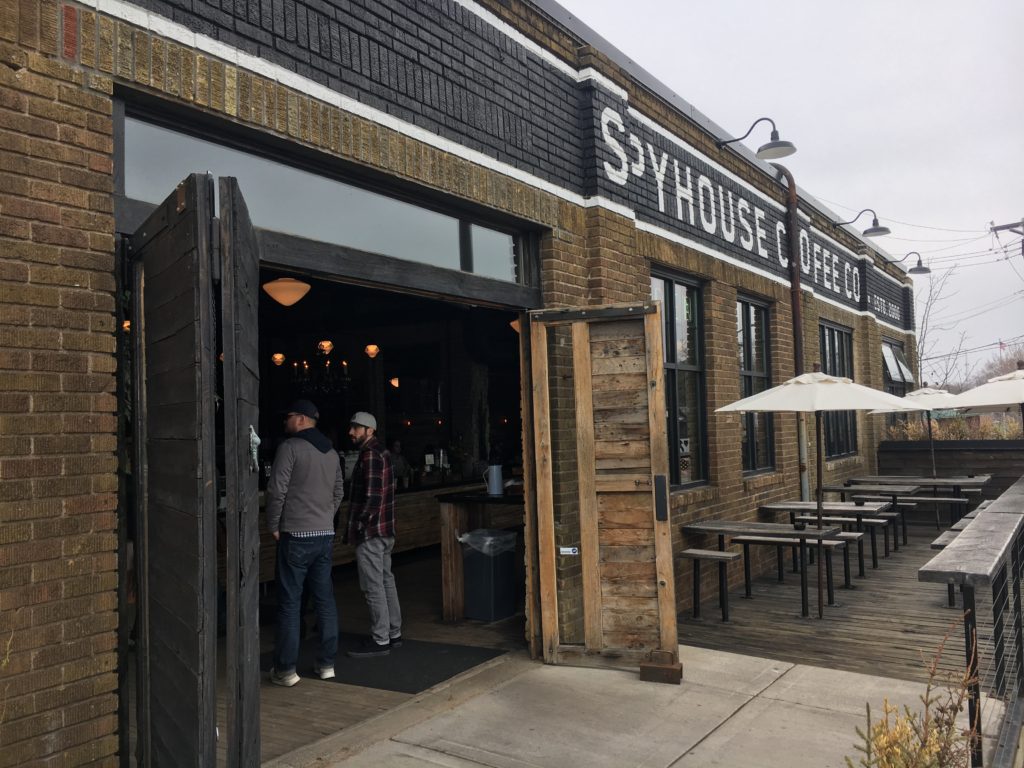 Location: 945 Broadway St NE, Minneapolis, MN 55413
Hours: 6 a.m. – 11 p.m. Monday-Friday
Environment: Somewhat loud. Lots of people. Always crowded. Not optimal work environment, or great for coffee meet-ups.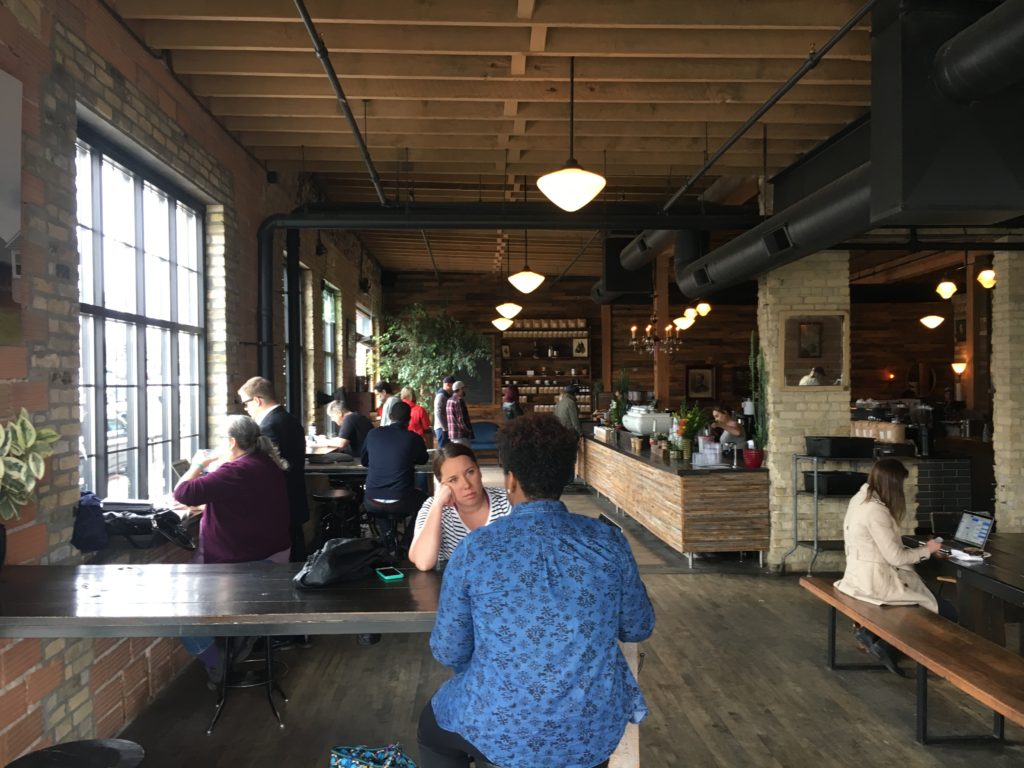 Drink of choice: Seems like most folks opt for Spyhouse's espresso drinks, but since winter is now officially in the rear-view mirror, I opted for the cold brew, which was amazing. I've had the Spyhouse coffee before though, and it's above-average. No Intelligenstia or Dogwood, but it's very drinkable.
Food options: Bakery items from Walnut Bakery are typically pretty solid. I opted for the old fashioned sprinkle donut on this visit which was very good.
Seating: Plenty of seating, but I have yet to work at Spyhouse NE when it's not absolutely packed. So, seating is definitely an issue. If you're looking for a spot where you'll be guaranteed to find seating, an outlet and the ability to work in peace, this isn't the place.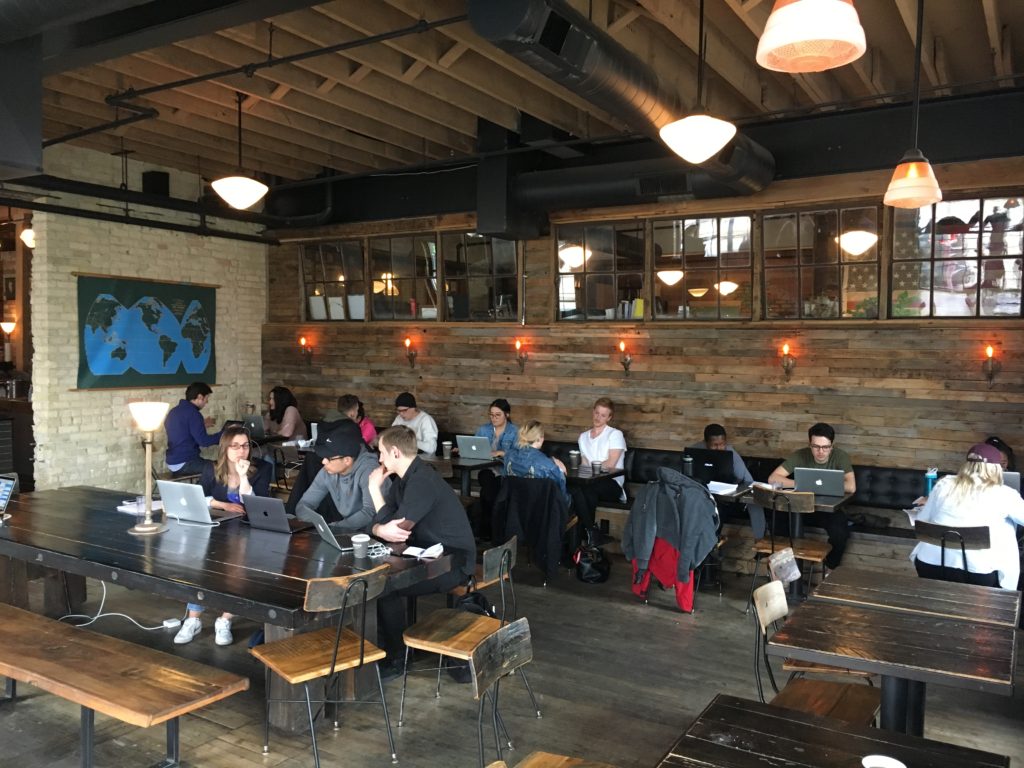 Parking: Let's be honest, parking is a disaster around Spyhouse NE. You can park on the road (shown here), but there's no guarantee a spot will be available. And, other lots nearby are reserved for employees/customers of other companies. I've never loved the parking situation here, and it usually drives me to find another place to work.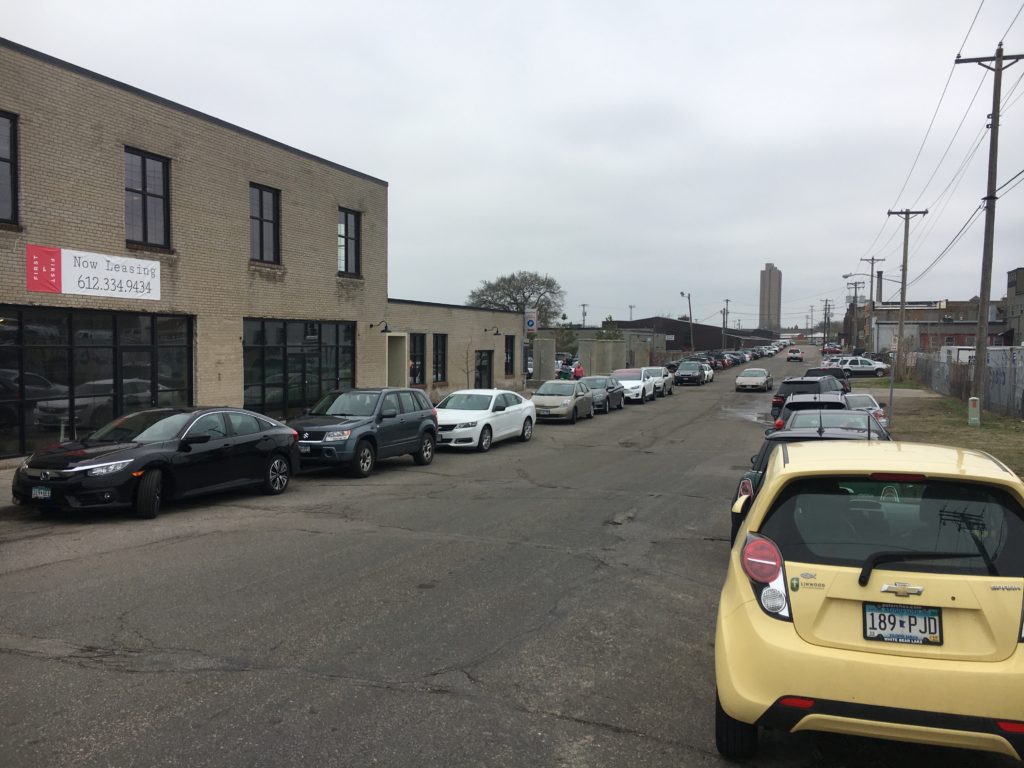 Arik's Workability Grade: C+ (would definitely be higher if not for the hideous parking situation, and the fact that the place is PACKED every time I've been there)
Urban Bean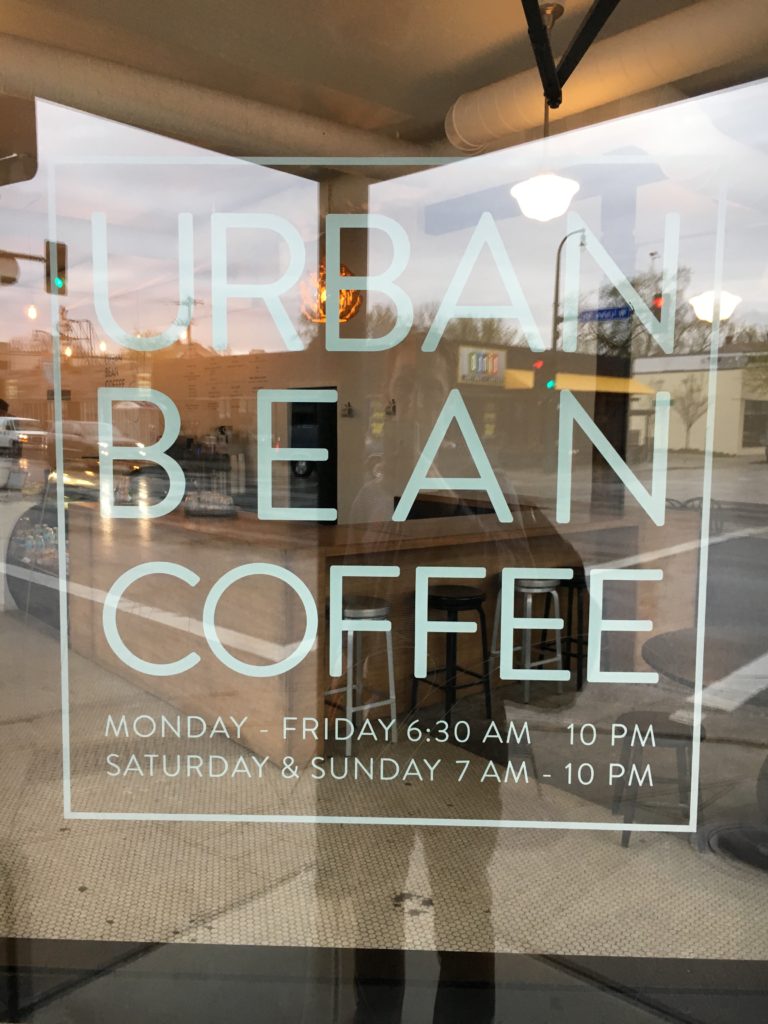 Location: 822 W Lake St, Minneapolis, MN 55405
Hours: 6:30 a.m. – 10 p.m. M-F
Environment: Open, airy and usually pretty darn quiet. Lots of outlets. Lots of space. One of the better environments to get stuff done.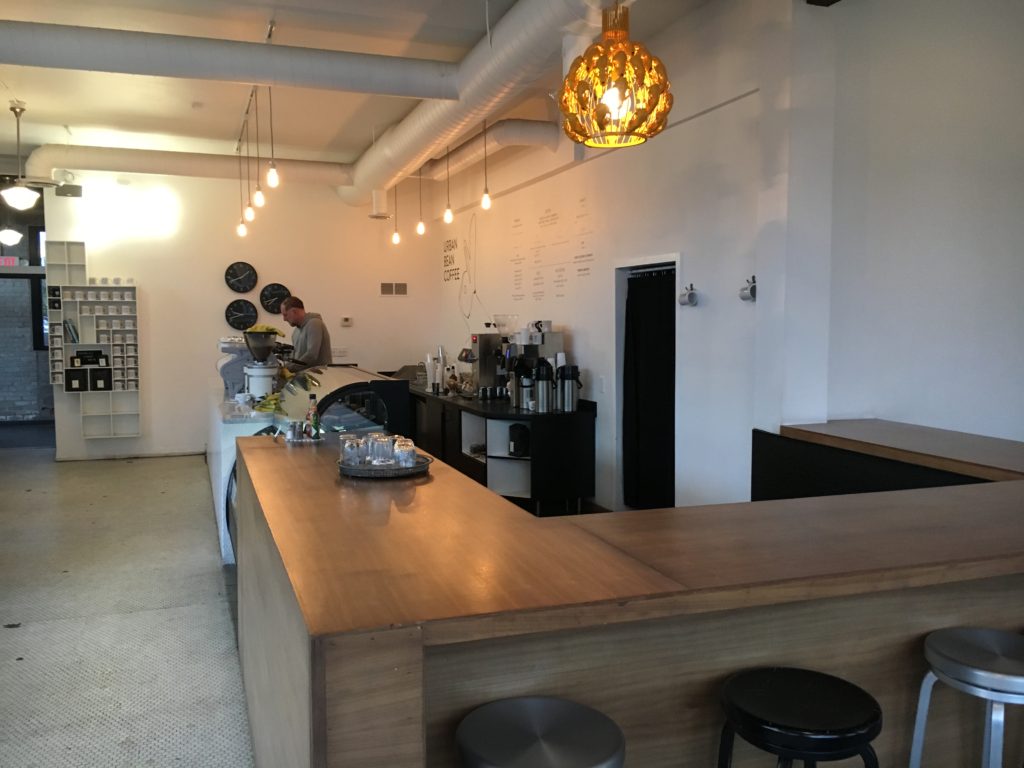 Drink of choice: I opted for the house coffee–and why wouldn't you when it's Intelligentsia. A refill did cost me $1.50 though, which I bristled at.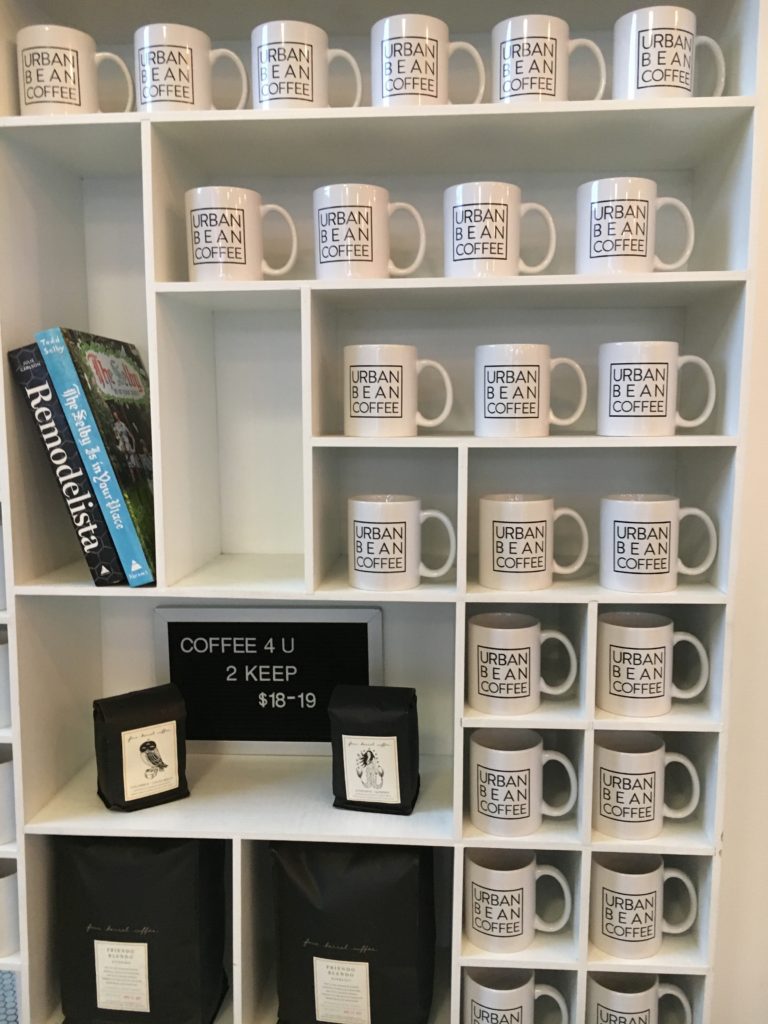 Food options: Had a small selection of bakery items including croissants and scones. Nothing too outstanding. But, pretty standard for most of the coffee shops on this list. That said, I opted to pair my Intelligentsia with a salted caramel/chocolate donut from nearby Glam Doll Donuts.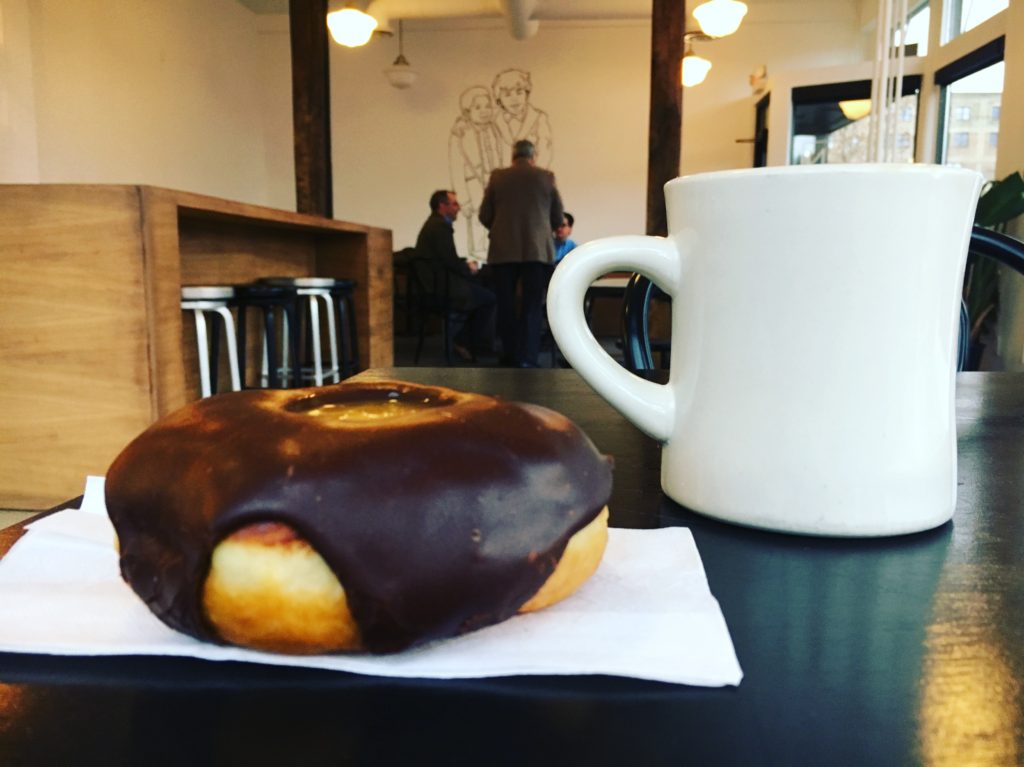 Seating: Ample seating and a variety of options. They have 4-5 tables right against the windows, which are nice. They have a couch for more leisure reading/working. And, they have bigger tables for larger groups.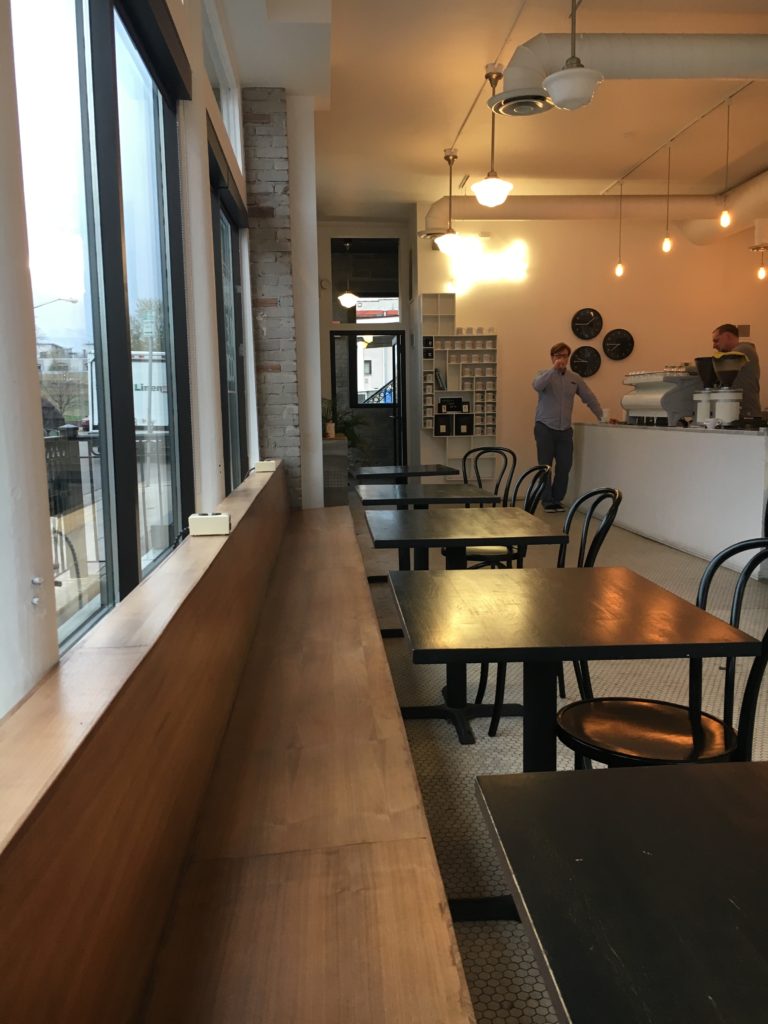 Parking: On-street parking is usually pretty easy to find. But, they do have a small lot that is also free on the north side of the building.
Arik's Workability Grade: C (plenty of space, and coffee was fine, but just lacks any kind of discernable "vibe")