In Sept., along with my partners at the University of Minnesota, we launched the Talking Points Speaker Series.
The idea? To discuss the big, hairy, audacious and forward-looking topics in communications and media in a more intimate setting with leaders in our industries.
Our first event focused on the social media skills gap. Alex Tan, director of digital at Golin and Matt Rozen, director of social at Adobe joined 50 participants as we talked about how agencies and companies are addressing the gaps within social and digital teams in today's environment.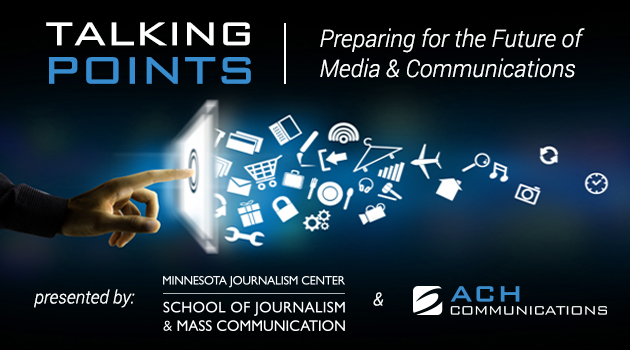 On Wed., Dec. 7 we'll hold our second event–this one will focus on how the way companies are breaking news is changing. Our speakers: Kevin Hunt, manager of channels and content at General Mills and Katherine Grayson, senior reporter at Minneapolis/St. Paul Business Journal.
Kevin will talk about how he uses the Taste of General Mills blog as a tool to drum up media coverage (I wrote about what Kevin is doing in this Contently piece last year), while Katherine will provide perspective on the other side by sharing how the media is working differently with PR people and how that might change even more in the months and years ahead.
We want these discussions to be a bit more intimate and discussion-based, so we're limiting attendance to the first 50 people who sign up. There is an admission cost, but we feel $25 is a pretty fair value for an event like this, and it does include food and non-alcoholic beverages at the event.
One other thing we plan to do before each event to make the events even more useful: We will survey the audience before the event in an effort to drum up specific questions you'd like to see us address during the presentation/discussion. We hope this will allow us to provide a program that addresses specific needs/topics–and makes the event feel a bit more personal.
Hope to see you at this next event on Dec. 7–I think it's going to be a great one. Register early–remember, only the first 50 folks to sign up will get in!
Register here: https://www.eventbrite.com/e/talking-points-exploring-the-future-of-media-communications-tickets-28693957399