Last year, I approached the University of Minnesota about starting a new speaker series named "Talking Points: Exploring the Future of Media & Communications."
After three events, we decided to part ways (for a variety of reasons). The Talking Points event series was conceivably kaput.
Until one day when I brought the topic up with my friend and co-owner of Bellmont Partners Public Relations, Brian Bellmont. After a few discussions, we re-imagined the event as a partnership between his agency (one of the up-and-coming mid-sized PR shops in the Twin Cities) and my consultancy, ACH Communications.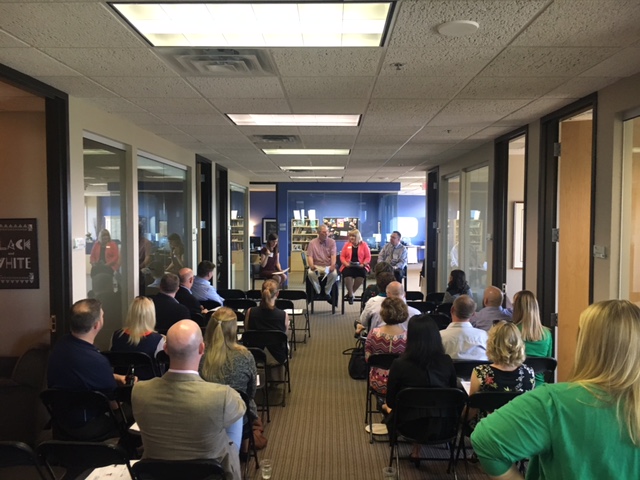 With a twist.
The new Talking Points series would be an even more intimate event focused partly on "curated networking" and partly on professional development.
We held our first event last week at Bellmont Partners headquarters in Edina. The topic: How to bolster your brand leading up to, and during the (fill in name for whatever it is the NFL allows us to call this thing publicly now) next February.
Our speakers: Tom McCulloch, CMO/owner at metroConnections; Jenn Schaal, director of partnership marketing at Meet Minneapolis; and Steve LeBeau, editor-in-chief at Minnesota Business.
It was a great discussion, moderated by BPR's Alison Buckneberg. And today I wanted to focus on four actionable tips our speakers shared that can help almost any company in Minnesota that's considering taking advantage of this big event next February:
1–First and foremost, keep expectations in check. The "Big Game" most likely isn't going to be the biggest marketing or PR initiative of your year–so don't expect it to perform like one.
2–Tidy up your presence on mobile search sites like Yelp and Trip Advisor. Tens of thousands of people will visit the Twin Cities during that week in February. And, they'll be looking to spend money, right? How will they find a coffee shop to visit? Or, the best local restaurant to hit up? Or, the best club to go to that evening? If they're like most people, they'll consult their handy smartphone and apps like Yelp and Trip Advisor. So, make sure your pages are up-to-date and you're responded to comments appropriately. Decidedly un-sexy work, but also terribly effective and useful.
3–Don't forget about your existing customers. Loved this tip from metroConnections' Tom McCulloch. So many companies and brands will be focused on new customer acquisition during the Big Game–and that's not necessarily a bad strategy. But, don't let it come at the expense of your existing customers who already love you. Make sure you take steps to market to this important audience next Jan./Feb., too.
4–Get creative with the "Bold North" theme. I love the fact that we're embracing our winter climate (even though, personally, I hate winters here in Minnesota) with the "Bold North" theme. And, the companies that win with marketing and branding during the Big Game will find interesting and unique ways to play off this theme and embrace all things winter. Could be a uniquely Minnesotan event (why not organize a customer curling competition?). Could be a uniquely Minnesotan food (I'm looking forward to local bakeries selling Super Bowl lefse, myself). Could be uniquely Minnesotan experiences (I'm hoping some company plays off the Wayzata Chili Open and creates a winter golf course on some Minneapolis lake). The Bold North theme has so many possibilities for brands–I'm looking forward to seeing what we come up with!
And that's probably the biggest takeaway for me–the fact that I'm going to enjoy the hell out of next Feb. from a spectator point of view. Not as much as a football spectator (I doubt my Vikings will make the game)–more as a PR/marketing spectator. I'm looking forward to spending a number of days down by US Bank Stadium, seeing what brands have up their sleeves. I'm curious to see how companies activate their brands via social media during the week. And, I'm very curious to see what happens on the newly revamped Nicollet Mall next Feb. as it sets up shop for all sorts of brand experiences.
Yep, February can't come soon enough.