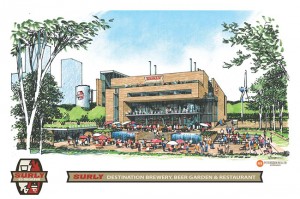 For those of you who live in Minnesota, you've undoubtedly heard of Surly beer by now. It's become an iconic brand of sorts locally–and one of the better (in my opinion) craft beers in the state.
Recently, Surly made some big news on Feb. 7. Since they've maxed out the existing brewery (which is ridicously small for a brand with the reputation of Surly's), Surly wants to open up a $20 million, 60,000-square foot "destination brewery" in Minnesota.
But, there's a hitch. They can't do it because Minnesota law prohibits the brewery from selling beer on-site in the new proposed facility (Side note: Minnesota has a number of rigid laws around the consumption and selling of alcohol–namely, no one can sell beer/liquor on Sundays).
So, Surly has set out on a grassroots campaign to change the law and get their facility built. Over the last month, the Surly initiative has been discussed at length in the local media. But, what's been interesting is the approach Surly has taken on this journey, and how grassroots social media has played a fairly pivotal role to this point.
Brands take note–Surly is doing a lot right here. Without knowing the behind-the-scenes inner-workings, here's a look at what's worked so far for Surly from a grassroots PR/online perspective:
* Taking advantage of existing events. In Feb., Surly celebrated its five-year anniversary, which synced up nicely with the start of the grassroots campaign. Coincidence? Maybe. And while I didn't attend any of the Surly Anniversary Parties (big, bad miss on my part), I'm willing to bet Surly took the opportunity to tell its story about the new facility at all of these events. Why wouldn't they? You have your biggest fans captive for hours on end.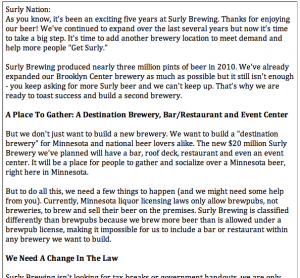 * Take advantage of your databases. On its Web site, Surly offers an "e-newsletter signup." And while I don't think the landing page is terribly effective, the database they've most likely accumulated in five years gives them a great tool to reaching their biggest supporters quickly. In fact, I received an email from Surly just two days after they formally announced their intentions (I probably would have synced this a little more tightly, but two days isn't that long of a lag, really). More importantly, Surly set up the email perfectly. They included the rendering of the new facility (here's what it will look like), a section on what's happening and why (they want to build a new facility, but liquor laws stand in the way), and finally a close that simply asked for me to share this email/news with my friends/colleagues who might care about Surly (with specific "points" to their Web page, Facebook and Twitter). Simple, but very effective and well done.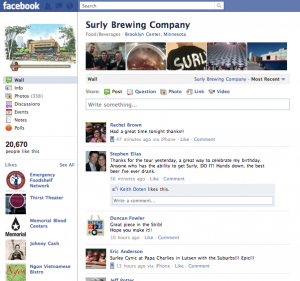 * You don't have to say a lot. With a grassroots campaign like this, you'd think Surly would be talking about it non-stop on its Facebook page, right? Not so much. In fact, the only posts you'll see them making about the campaign are "thank you" posts or updates pointing to media hits where OTHER people are talking about why this needs to get done. Smart. In fact, if you look at the Surly page right now, you see many more fans posting than anything else. Lesson: If you have passionate fans, arm them with the right information (see email, in-person events above) and let them do the talking. Again, not rocket science.
* Traditional media still matters. Like I said above, unless you've been hiding under a rock the last month, you've probably heard about the Surly news by now. The initiative has been discussed on the Star Tribune, KFAI, The Rochester Post-Bulletin, MPR and even Finance & Commerce. Sure, Surly has more than 20,000 fans on Facebook and more than 8,000 followers on Twitter, but neither has the reach (and geographic specificity) of some of the media outlets above. In fact, I dare say Surly has built a small portion of their online groundswell the last month through this media outreach. The lesson: Use media opportunities as a way to drive people to your online platforms for more regular and relevant updates.
* Take advantage of in-store events. For Surly, this one's a no-brainer. For years, they've held weekly, Friday-night tours at the small, Brooklyn Center brewery. What a perfect opportunity to share information about the new facility. Again, you're hitting your biggest fans in the absolute best format (face-to-face). In fact, I wonder exactly how they're using this opportunity right now–are they passing out cards or one-pagers with specific information? Encouraging their employees to share the story with tour participants organically? Driving tour participants to the Facebook page? Asking them to reach out to their local legislators? I'm guessing at least a few of the options above.
Surly's just getting started in this campaign, but I get the feeling they're in it for the long haul. As a huge fan, craft beer geek and PR consultant, I'm really looking forward to tracking this campaign and its outcomes in the months ahead.