It's always extremely rewarding when one of your former clients excels in the area in which you coached them. In this case, the former client is the American Registry of Radiologic Technologists. And, they continue to succeed in the area where I helped coach them a few years ago: Using Facebook as a tool to educate and inform its registrants.
I actually worked arm-in-arm with a local agency–Tunheim Partners and David Erickson, Blois Olson and Kristin Lenander (all of whom have moved on to other roles since)–on this work. Our approach was simple: 1) Help ARRT determine which social platforms made the most sense for their business in terms of solidifying the organization's position as the gold standard for ensuring quality patient care by radiologic technologists, 2) Help ARRT determine what kinds of content to share on these channels, and 3) Coach ARRT staff on how to best manage these channels on a long-term basis.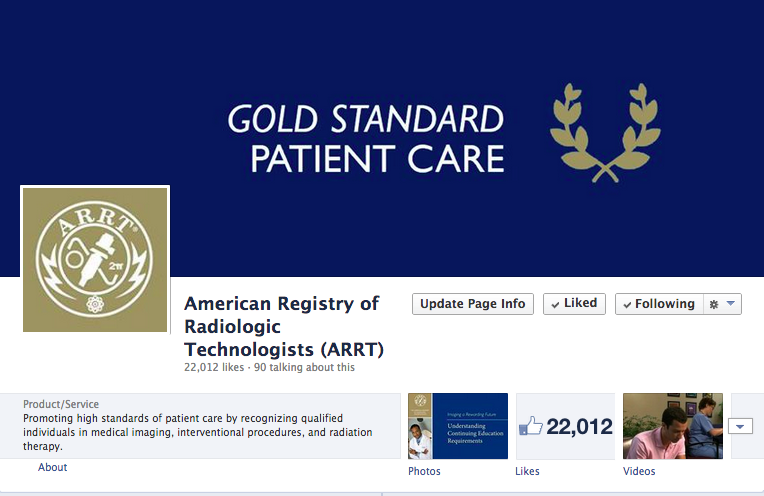 That was four years ago. Since then, ARRT has performed quite well. They've built a community of 22,000-plus RTs on its Facebook page–not bad for a professional organization/registry, right?
But, what's most interesting to me about ARRT is a lot of what they are doing WELL flies directly in the face of all the Facebook advice you hear from "social media gurus" and "social media ninjas" (OK, I just wanted to say "social media ninjas right there).
Let's take a look at five popular Facebook myths and how ARRT completely destroys them:
Myth #1: You have to post every day on Facebook to be successful
The post below was ARRT's ONLY post in the month of October 2013. And keep in mind, this isn't really a post–they merely updated their cover pic. But, you can see below, it still solicited 167 likes and 43 shares–without a dime of paid support. So, you tell me: Does ARRT really have to post every day to be successful on Facebook?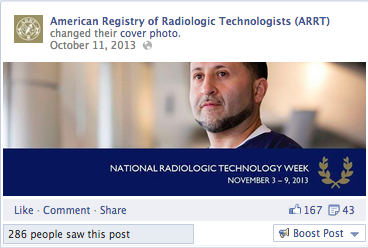 Myth #2: You need to advertise on Facebook to be successful
As far as I can tell, ARRT is not promoting any posts. And they haven't the last couple years. Yet, somehow they have 22,000-plus fans. Weird, huh? Not when you think about who they are and what they do. I remember, in our initial research for ARRT we found that RTs are online–in droves. So, we know they're "wired in" as Zuck would say. And, we also know they're a tight-knit group. And one that's proud of the profession. ARRT knows this, and uses it to rally its troops–just like in the post below. All they're doing here is playing to that pride factor–and you can see the results. Who needs paid support, when you have fans that WANT to support your organization?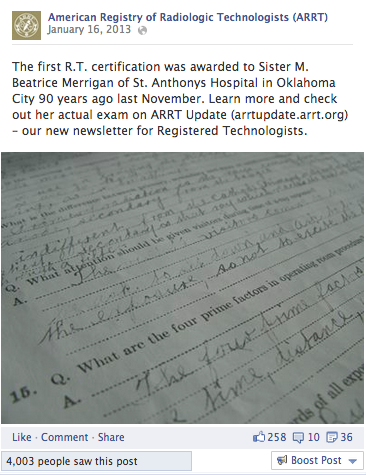 Myth #3: Your posts need to be short to be successful
The following post, made by ARRT on Nov. 7, 2013, as 1,107 characters (without spaces). According to some "reports", the ideal status update is just 225 characters. Let's take a look at a few other status updates by ARRT: Nov. 6, 2013: 1,991 characters (107 likes, 8 comments); Nov. 5, 2013: 1,335 characters (82 likes, 1 comment); and Nov. 4, 2013: 1,360 characters (225 likes, 8 comments, 38 shares). Again, all posts with NO paid support (again, by my guess). So, you tell me: Is 225 characters the ideal character length for ARRT posts?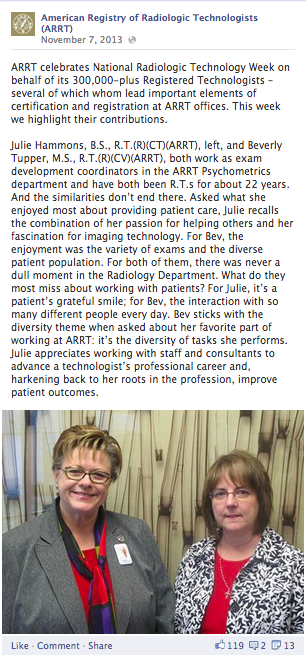 Myth #4: You need to see real ROI in order to be successful
Don't let anyone fool you: No one can determine what ROI looks like for your organization when it comes to Facebook marketing, but you. For a professional and credentialing organization like ARRT, ROI doesn't mean selling more widgets (although it could mean getting more people certified). My guess (because I don't really know–it's been four years now since I worked with ARRT) is that ROI is a more fluid term for ARRT. They most likely look at Facebook as a tool that helps them educate their membership and keep them informed. And, as a way to polish up the already sterling reputation the organization has. If you look at Facebook that way, what ARRT is doing makes complete sense. And they're doing it successfully.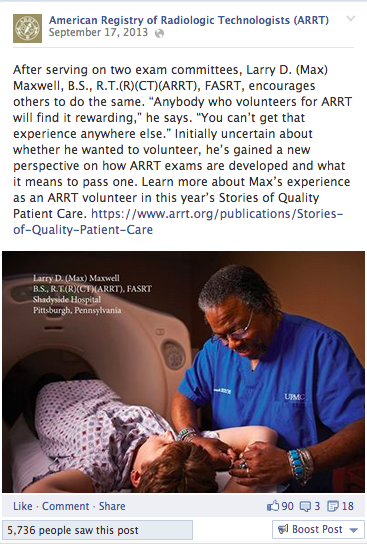 Myth #5: All Facebook posts now need a visual in order to be successful.
You hear it all the time: If you don't post a visual with your status update, don't bother publishing. While that is good advice for many brands, in ARRT's case, it's simply not true. Just look at the government update they posted last March below. Critical news for the RT audience. And given the importance of the text–they simply don't need a visual. I would probably argue a visual would have helped here a bit, but the reality is, with engagement numbers like that (again, unpaid), they don't need it.