A couple weeks ago, I made a post about a hard-hitting topic we all care about: What we wear to work!
I chose to highlight the agency folks first. But, this week, I'd like to cast the spotlight on the corporate people. And, I got enough flack for highlighting one only man last time that I included TWO this time around!
So, I give you this most recent edition of #OOTD–the corporate version.
Kasey Skala, social/online engagement manager, Solo Cup Company
My work attire has seen an interesting transformation over my 10-year career. Normally, as you move up the corporate ladder, the assumption is you start to dress more "professionally" and less casually. My path has been the opposite — I started wearing suits and have progressed to an environment wear jeans are acceptable the entire week.
Being on the corporate side in an office wear jeans are acceptable, you see a lot of interesting outfit choices. Despite having the option of being able to throw jeans and a tshirt on, I subscribe to the notion that one should dress to impress. I believe one's work attire sets a precedent, and to be honest, I can't take jeans and a tshirt serious in a business environment.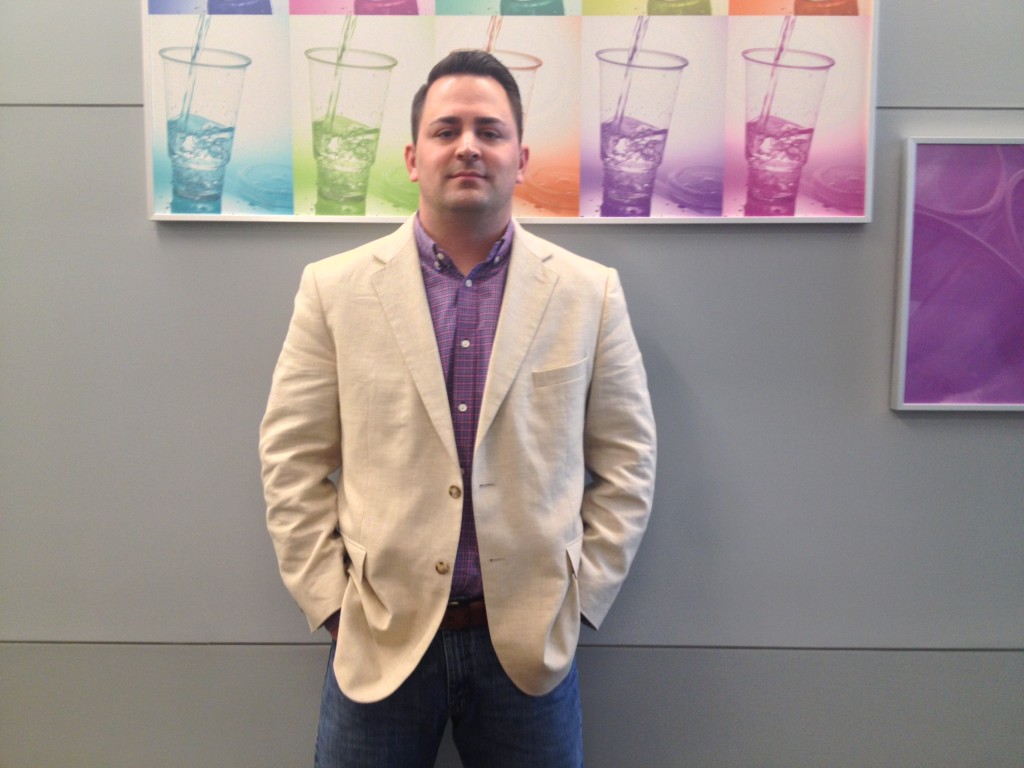 I think more people need to add more color in their wardrobe. I think you can do bold colors and flash and still keep it professional. Today's outfit was denim jeans from Frank & Oak — I hate shopping and quality denim is a must. Some color with a purple and pink button-up from Banana Republic and a tan blazer. Men, please stop wearing gray blazers all the time — there are other colors available.
To finish it off, my favorite item, blue boat shoes. The blue goes well with the button-up and it also allows me to add a bit of fun to my wardrobe. I've had more people strike up a conversation with my about my shoes than I can keep track of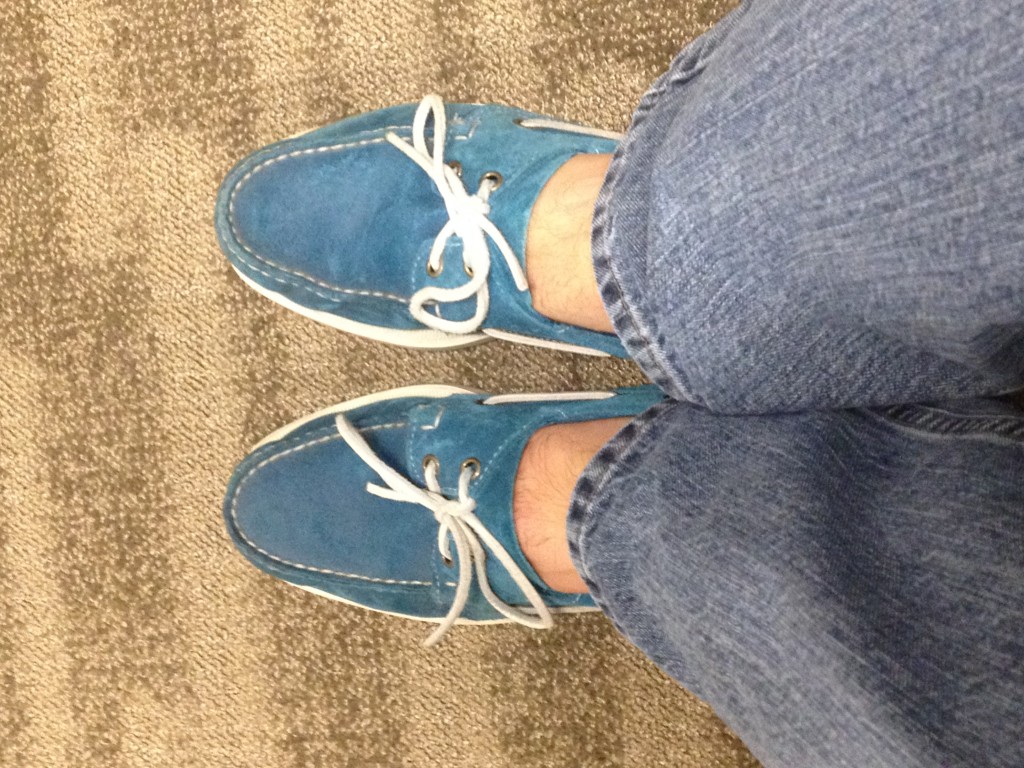 So there you have it: jeans don't mean sloppy, stop wearing gray blazers and add a bit of color to your wardrobe. Corporate life doesn't always have to be basic.
Adam Kmiec, senior director-social media and content, Walgreens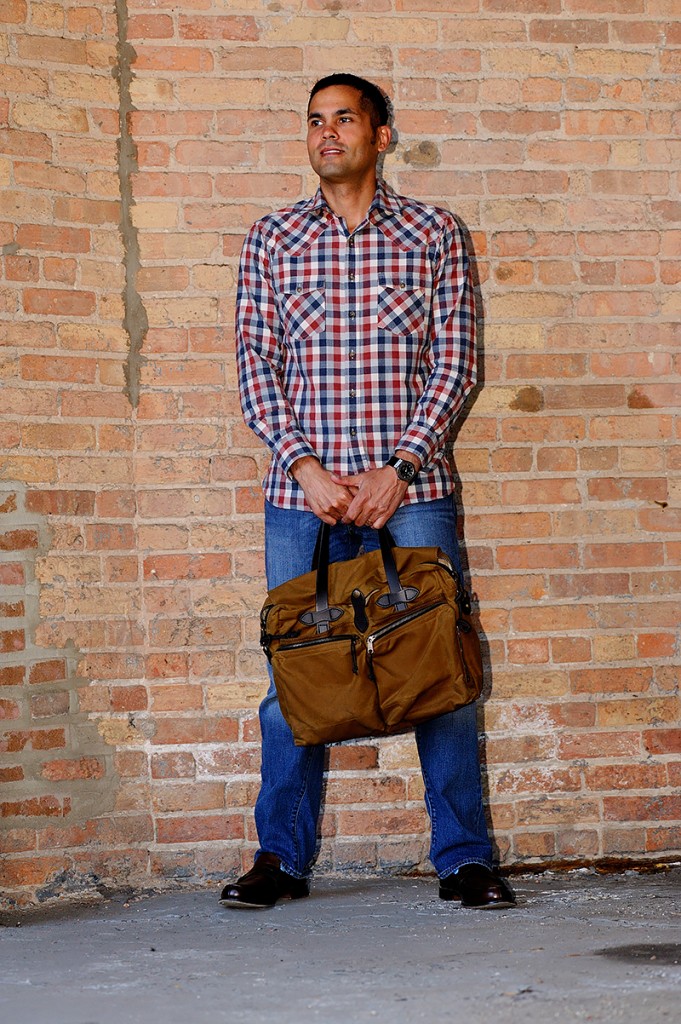 What I wear definitely varies by which of our offices I'm in and who I'm meeting with. Our corporate campus is business casual, while our downtown office is very jeans friendly. Regardless of that, I'm always dressing to match the audience I'm meeting with. It's all about context at the end of the day.
So when it comes to dressing for work, I use the same approach that I use for dressing when I'm outside of the office. I want to be simple, comfortable
3 things you'll never see my wearing:
1. Colored jeans. Not a fan. Have never been a fan. Won't be a fan. Has no place in the office.
2. Anything from J Crew. Over priced. Low quality. Makes me look like I should be on a boat.
3. Pleated pants. Just no. No.
Jeans: I'm partial to Levi's. Specifically, I love the Levi's 514. They come in a variety of colors, washes and weights. For under $75, you can't do better. Never pay more than $100 for jeans.
Suits: Never skimp on a suit. Never. A high quality, well-tailored suit is what separates a great look from a good one. I'm a fan of Hugo Boss and Suit Supply.
Shirts: I limit my closet to no more than 20 dress shirts. Yes, I'm serious. Every season I move the shirts I wear to the left. If I haven't worn a shirt, I consider donating it. Limiting myself to 20 shirts means you need to be buying quality or quantity. There's a big difference in a well made shirt and a cheap one. The biggest difference is how that shirt wears throughout the day. Wrinkles are the enemy of the image you want to present. My shirts pretty much come from 2 suppliers. My go to is Hugo Boss's Black Label Sharp Fit. They fit great and come in lots of color and print options. They also span the gamut from shirts that work well with suits to those that work well with jeans. For a bit more flair, I look at Robert Graham's shirts. The patterns and colors are bolder. These are fantastic for the classic jeans, sport jacket and shirt look. That said, my favorite shirt right now, comes from Hamilton. They make both custom and off the rack shirts, using high quality fabrics from Thomas Mason. They're worth every penny and it's what I'm wearing in the photo.
Socks: This is where us guys get to have some fun. Most of my socks come from Happy Socks. Fun patterns, lots of weights, a wide of assortment of colors and they don't wear out quickly.
Shoes: I love shoes. There's nothing like a great fitting shoe. I'm partial to Tod's and Ferragamo. With both, you get high quality shoes, with leather that lasts and with soles that are designed to be maintained for years. In the same bucket, would be Church's. No, not the fried chicken franchise, but the English Shoe Company. That's the most recent pair I've purchased and it's what I'm wearing in the photo.
The Bag: Filson. There is no substitution. I have the 72 Hour Briefcase. Picked it up in their Seattle Headquarters store. It's everything you need in a bag. Lots of pockets and compartments. It's water proof. And, it's got that perfect blend between looking new and weathered.
Accessories: I'm not big on them. But, a great watch is something you can't ever go wrong with. I don't have a lot of vices, but watches would be one. In this photo I'm wearing my Hublot Classic Fusion Titanium.
Lisa Weser, senior director, marketing communications, Anheuser-Busch
My office dress code is casual/jeans, but my job for the King of Beers involves a LOT of event-based travel and wardrobe changes. I just returned from a music industry award show in NYC, and this is what I wore.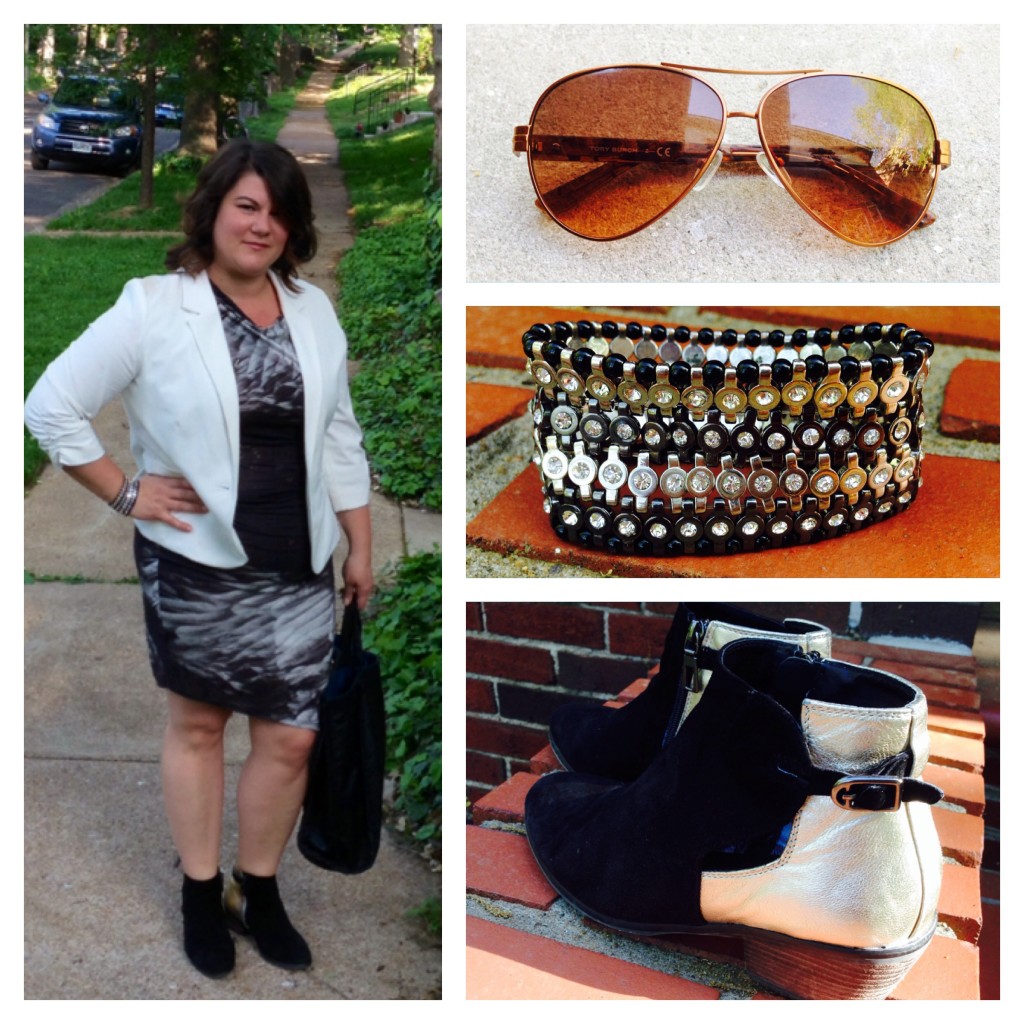 For a Midwesterner like me, events in New York and L.A. can be tricky – turn up overdressed and you're the Mother of the Bride; turn up underdressed and you're, well, The Midwesterner.  A great place to start is a packable dress with a little rock and roll edge. This one's a charcoal grey and white tie-dyed asymmetrical dress by Helmut Lang. It's as comfortable as a T-shirt, features helpful ruching (did I mention I've borne three children?) and folds to the size of a pocket square. In the winter I'd pair it with a black leather jacket, but for the warmer months I'm changing it up with a white cotton blazer (by Eliza J). The great thing about a blazer is the ability to throw it over a top and jeans the next morning for an instant workday remix (like I did today with an Anthropologie chevron tank, Joe's skinny jeans and silver wedge gladiator sandals).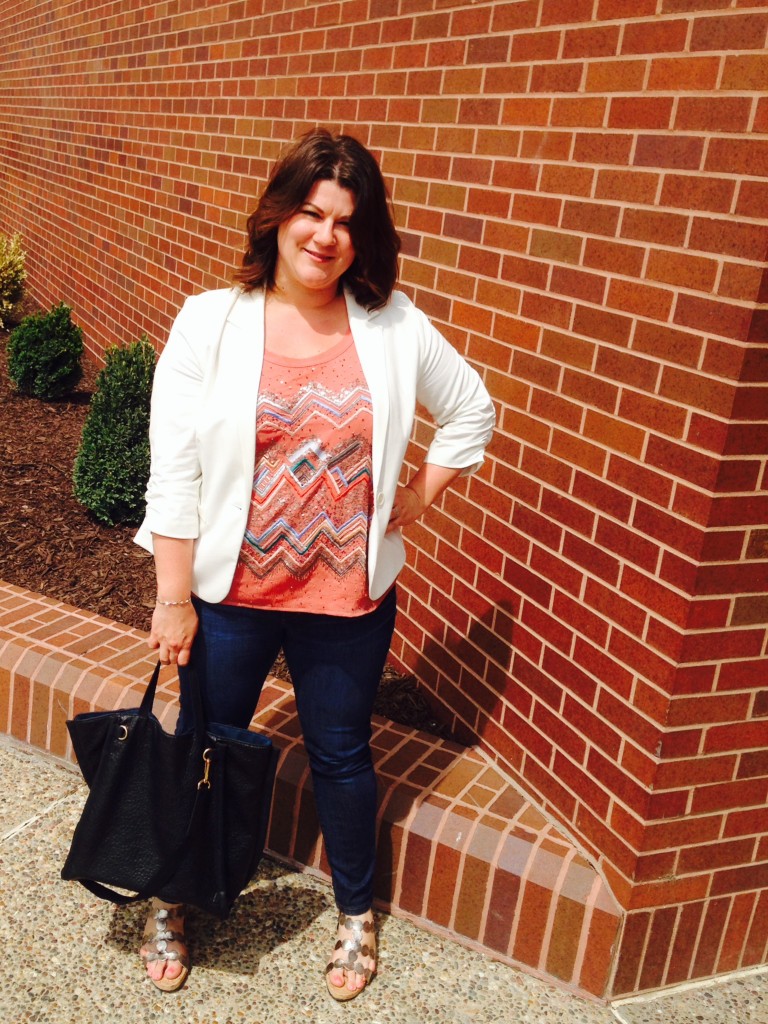 Speaking of the next morning, I don't know anyone in PR who gets more than six hours of sleep on the regular, so good sunglasses are a must. When I left my favorite aviators on a plane last month, I replaced them with this rose gold pair from Tory Burch. I am obsessed with all things rose gold right now – it's the perfect metallic neutral and works with both gold and silver jewelry. If we had more time I would tell you about the amazing rose gold wedges I picked up on clearance from J Crew…
Accessory-wise, I keep it simple when I'm traveling (I am prone to losing things on the road – see sunglasses). Cuff bracelets are an easy, inexpensive way to add a little after-dark edge to a outfit. This sparkly number is from White House Black Market and feels almost…automotive? As far as handbags go, this big, slouchy black French Connection tote goes from day to TSA to night and looks good doing it.
Event days can be LONG days, so comfort is a big priority for me – that means absolutely no high heels! I never leave home without my LBB (Little Black Booties). I have a few that I rotate, but this low-heeled pair from Anthropologie is my absolute favorite, thanks to the fun pop of gold at the heel. These puppies have taken me from Sundance to the Super Bowl and from the Grammys to the grocery store. When they finally wear out I will NOT cope well.
Jane Rubenstein, global PR manager, Jack Daniels
Coming from an agency, my closet needed a bit of a makeover for the corporate world. Business casual changed from meaning jeans to work everyday to jeans only on Friday. So I had an ample supply of jeans, but not enough of what was deemed "business casual" in my new job. Much to my dismay (not!), a shopping spree (or two) were in order.
I would classify what I'm wearing, here, as "upscale" business casual. Some days I dress up more than others, depending on my schedule for the day. Today I have on a dress from Anthropologie. Their fun, funky, bohemian style, mixes well with my a lot of my more conservative looks. My necklace is also from Anthropolgie.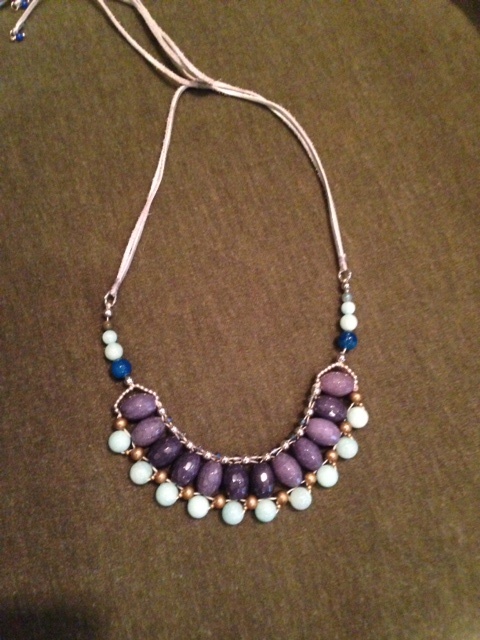 A lot of my jewerly is small and simple, but I'm trying change that up a little bit. I think this necklace adds some punch to the dress. The ring was actually my mom's. It is super old, but I remember always loving it.
My last accessory, the bottle of Jack Daniel's, I can't go anywhere without. Just kidding, thought I'd add a little fun to the piece!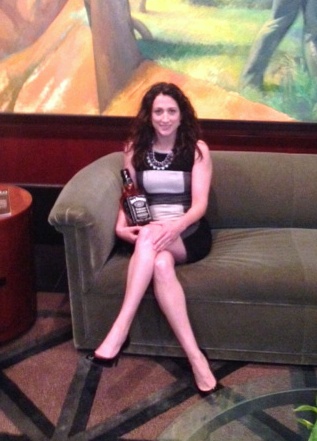 Natalie Bushaw, PR director, Life Time
I've always had way too many clothes but yet I swear I often have nothing to wear. Having been on the agency side doing Target PR in the late 90's (yep, I'm getting old) and then for Marshall Field's and Macy's I was always downtown to shop or had a reason to go to the mall.  Now that my twins (boys who aren't into shopping) are older and involved in tons of extracurriculars—and I work in Chanhassen—my shopping habits have had to adapt to a life that's short on spare time.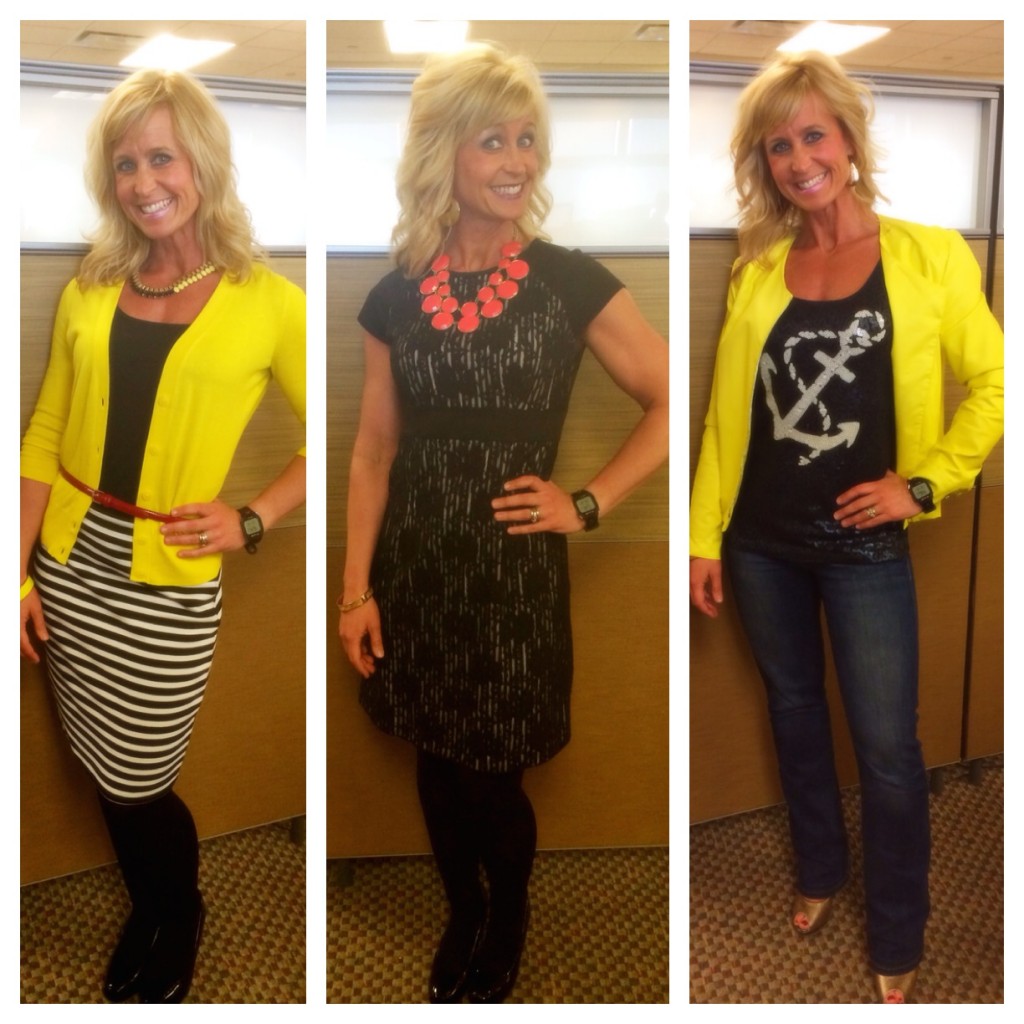 There are three consistent things about my style:
1. I suspect that most days something I'm wearing is from TJMaxx, where you really do "get the max for the minimum."  (Old tagline but spot on.) Sure, I love high end fashion and have pieces to work in to my wardrobe when needed but I really love the thrill of a hunt for great items, label or not and figuring out how to put together great outfits that can work for days with tons of meetings or grand opening events to more casual days at the office. Two inside scoops—TJM has fab prices on premium denim (Joe's, Hudson Paige and more) and workout gear.  (From TJM = red belt, tights, black dress, Joe's denim)
2. Yellow is my favorite color and as seen a few days of my week, it could be a sweater from Ann Taylor or a bright leather blazer from Ellen Tracy.  From dresses and skirts in a myriad of hues to tees and tanks and down to the shoes.  As it relates to work and career, I think your wardrobe should be representative of who you are. My personality is bubbly and friendly and if I'm wearing black, I've got to add a pop of color or I just don't feel right.  There's no reason for women to fear color and in my opinion color also demonstrates confidence.  While one of my favorite quotes by Mae West is "too much of a good thing is wonderful" you do have to be careful to not mix too many colors or wear too much at once.
3. My signature accessory is my Polar watch.  No matter the day of week or event I'm at, my watch is with me.  My girlfriends get after me for donning my sports watch at a gala but long before I started working for Life Time, I started living my own healthy way of life and my watch plays an important role every morning starting at 5am.  Now, if I don't have my watch, I practically feel naked.  Frankly, I rather like having a signature item as it becomes synonymous with you.
So my tips: 1) shop smart 2) use color 3) find your signature item 4) don't take yourself – or your fashion – too seriously.
Holly Jo Matson, supervisor, marketing communications-social, Polaris
Jamie Kvamme, specialist, marketing communications, Polaris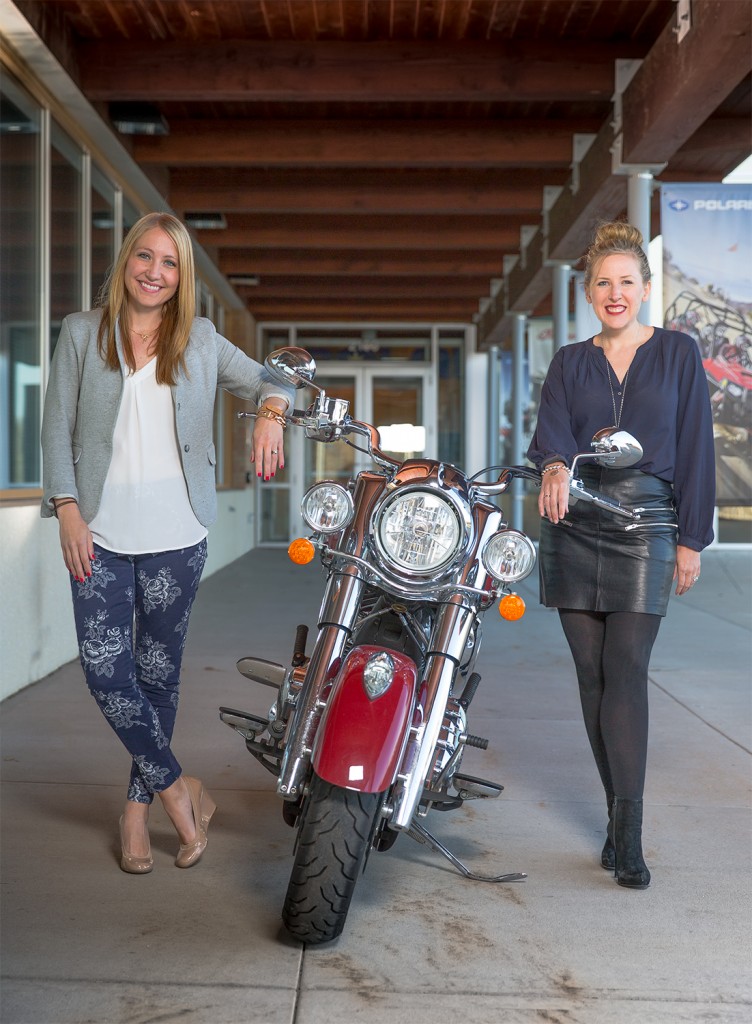 Polaris Industries as a whole, is very business casual. You would be hard pressed to find a tie at any level of the organization. The Polaris Interactive Experience (PIX) team, where Social Media is housed, leans a bit more towards the casual in that equation. That said, similar to agency life, we dress for the daily tasks at hand. Days where we tackle the day-to-day workload of meetings and to-do lists, are generally the times we rely on colored jeans, sweaters, and a variety of graphic tees. Walking through the office you will see more than a few Polaris branded employees (Hey, Indian Motorcycle and Polaris RZR tees are sweet and you would totally rock both). Meetings with partners, vendors, and internal stakeholders are the times we dress to the nines. Our #OOTD fall into the latter category.
Holly's Outfit: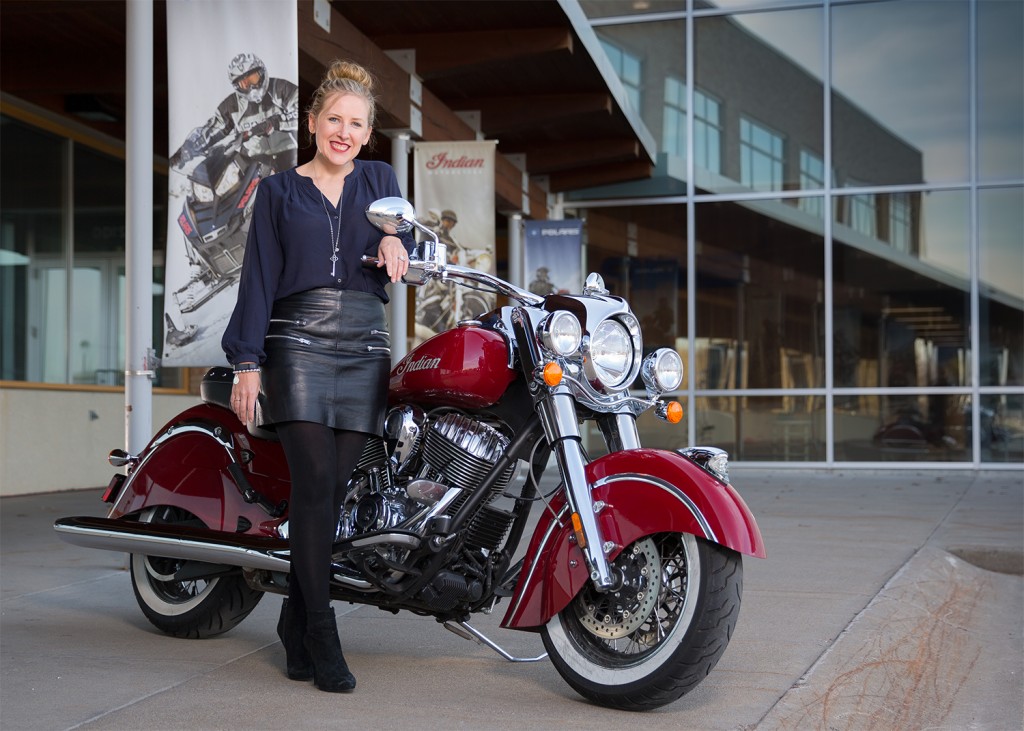 Navy Blue Sheer Blouse – H&M
Black Leather Skirt – Zara
Black Suede Booties – Cynthia Rowley
Sliver Key Necklace – Tiffany & Co.
Silver Bead Bracelet – Tiffany & Co.
Jamie's Outfit: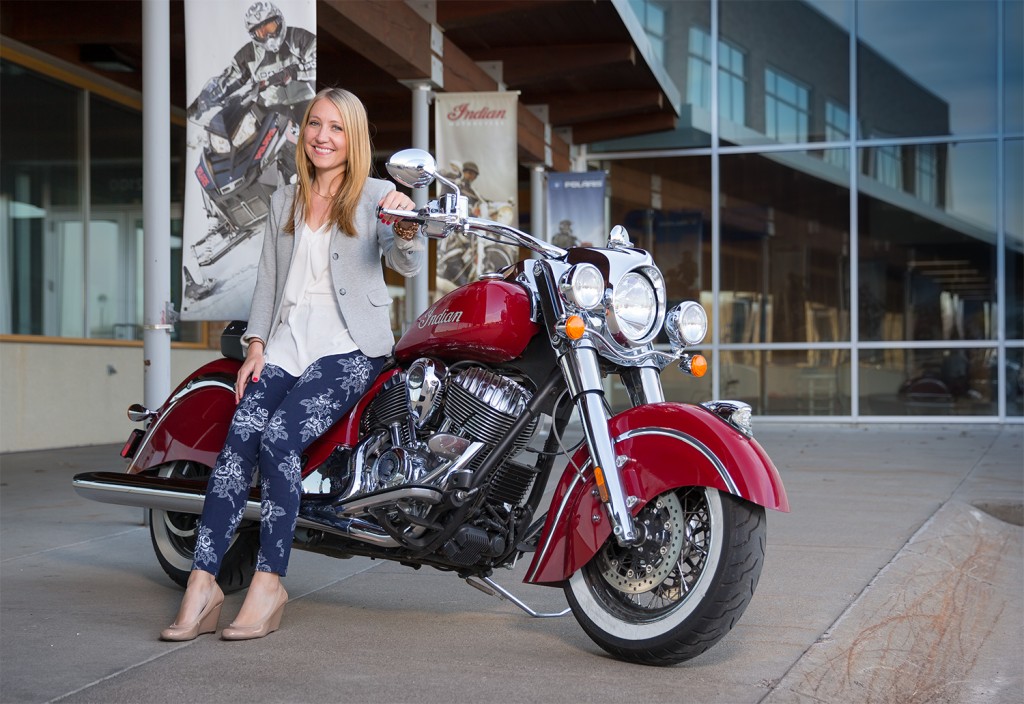 Gray blazer – Target
White blouse – Nordstrom
Floral skinny pants – Gap
Nude wedges – BCBG Generation
Bracelets – local sample sale
You will notice we share one extra awesome accessory in the 2014 Indian Chief Classic. Please note, we are not dressed to ride. On our riding days, we rock helmets, boots, leather jackets, gloves, and gigantic smiles. And yes, we both ride.