The hash tag is: #OOTD.
Wait, what the heck is #OOTD?
Yeah, that was my response, too (glad I'm not the only one).
For the uninitiated (read: men), #OOTD stands for "Outfit of the Day"–and it's a BOOMING hash tag on Instagram. To the tune of 25 MILLION mentions of the #OOTD hash tag on Instagram.
It's become so popular (and there's no surprise here, really) brands are jumping in–including Zappos.
Also unsurprisingly, most of the pics are from (you guessed it), WOMEN!
Light bulb.
In an industry dominated by women, wouldn't it be interesting to hear about what women wear to work each day?
OK, so this isn't the most hard-hitting blog post I've ever written.
But, there's another, more subtle angle here. One of the questions I repeatedly get from students and younger pros is: What do I wear to my first day on the job? What do I wear for my big meeting? What would I wear if I got an agency job?
People have questions! And dammit, I'm going to deliver answers!
So, I set out to find seven PR counselors from Minneapolis and across the country in this first post, and I asked them to share with me photos of some of their favorite PR outfits–and a little detail around what they're wearing, and why.
I'm choosing to highlight the agency crowd with this first post (in a series, hopefully). Enjoy!
Heidi Bobier, Weber Shandwick, Minneapolis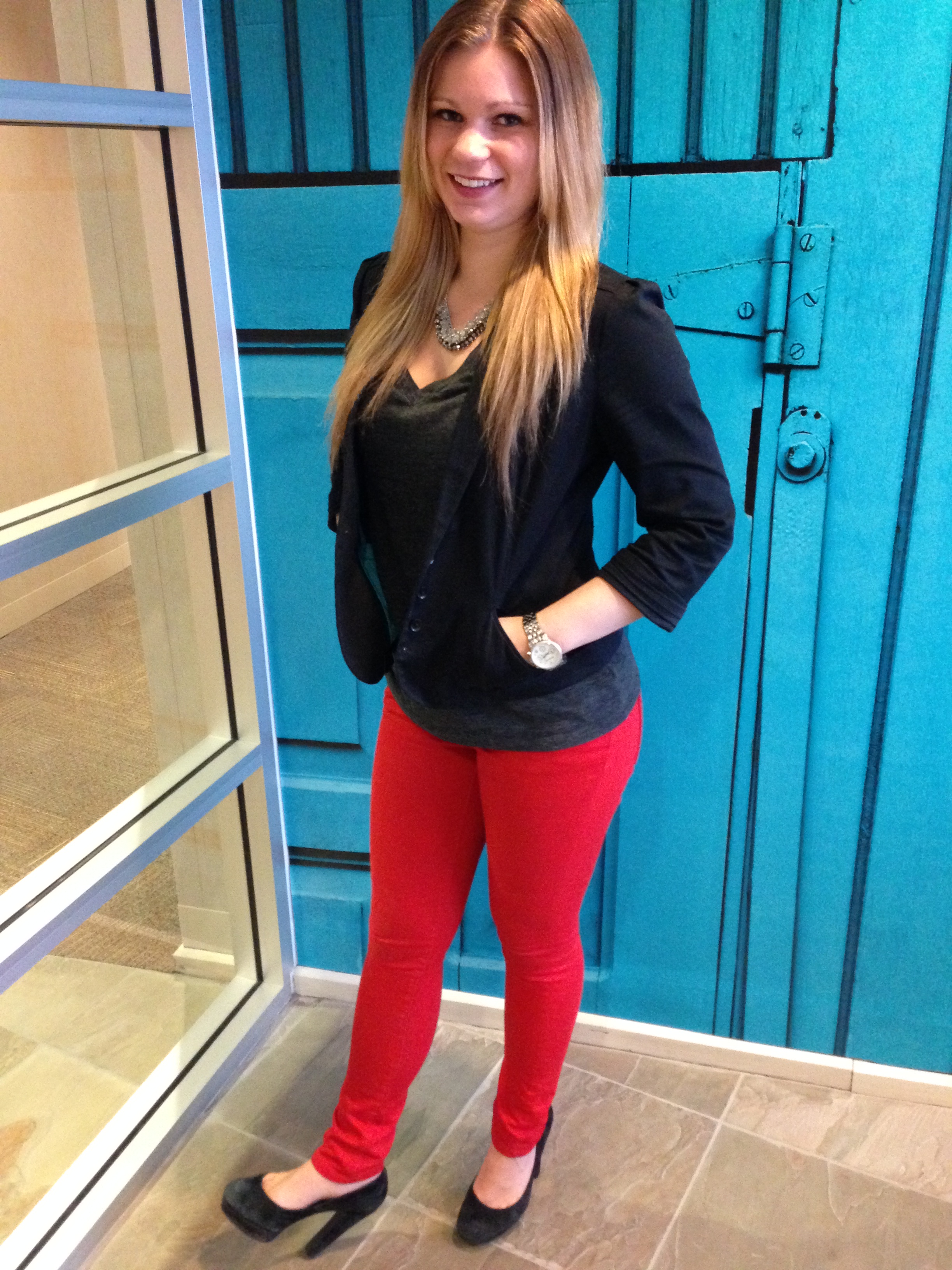 I'm still surprised Arik approached me to participate in a fashion blog post. Tips on managing stress eating while working on deadline? Sure. How to engage online by posting pictures of your dog? Absolutely. But fashion? I work at Weber Shandwick Minneapolis, alongside folks like Mary Westin and Sara Keeney who always look like they walked straight out of a J Crew catalogue. My style is a bit more casual, and if I can make a cotton t-shirt look professional by throwing on a blazer and a few accessories, that's what I'm grabbing from my closet in the morning.
Jeans are A.O.K. here at WS, which is such an underrated perk in my opinion. Of course, if I have a client meeting I'll go the standard black-pants-colored-button-up route, but usually it's skinny jeans, a knit top, necklace, and my watch. If you've ever met me, you know it's a rare sight if I don't have my Michael Kors watch on my left wrist. A totally impractical purchase for a then 21-year-old (it cost about half as much as my rent at the time), it's a vein confidence boost when I meet with more senior professionals whose outfits I'm sure are a mix of designers so fancy I've never even heard of them.
While I may start my day in heels and actually styled hair, by the time 5 o'clock rolls around things look quite a bit different. If I'm jamming on a writing project, I'm probably barefoot (I have an office, so it's cool), or if I'm bouncing around from meeting to meeting odds are I've traded in my heels for flats that are so worn in the term "slippers" may be more appropriate. And as I'm sure anyone with long hair can relate to, by the end of the day my hair is likely in a messy top knot, out of sight and out of mind.
So fashion? Not so much. More like: how to upstyle your weekend wear so it becomes office appropriate.
My answer: just throw a blazer over it.
Maggie Lamaack, Bellmont Partners, Minneapolis
I wear black almost every day during the winter, and now that spring is here (kind of) I have started to pull my more colorful clothes back out of storage. The Bellmont Partners office is pretty casual, so this is what I would wear on a normal day.
I would say 70% of the clothes I wear are purchased at resale shops around town. I often find great, brand new designer clothes and shoes for about a quarter of the price. Some of my favorites are June Resale, b. resale, Mona Williams and gh2.
Red gingham button up shirt from J Crew. Bought at Buffalo Exchange for $15.
Madewell legging jeans. $100. Worth every penny.
Vintage leather bag from b. resale. $30.
Stuart Weitzman brown suede heels. Bought at June Resale. $60.
M
ike Schaffer, Edelman, Washington, D.C.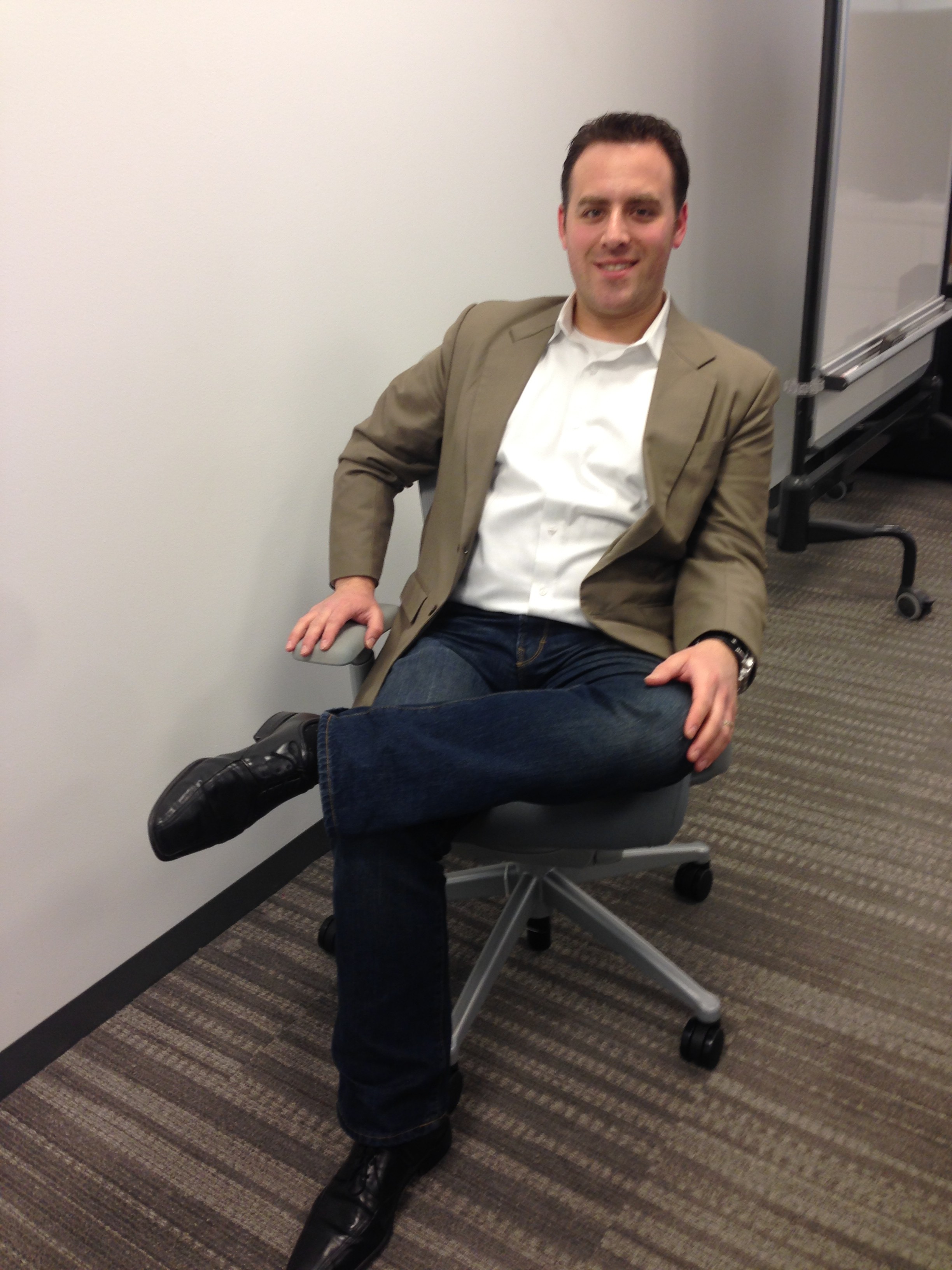 Dressing for work, especially in the PR industry, is all about context. What is going on that day? What adventure are you preparing for? And what is the most unexpected thing that could happen?
For me, I don't have one go-to "uniform." My attire varies every day, ranging from a full suit-and-tie to jeans and a sweater. I'm not trying to be a fashion icon – but I don't want to be the worst-dressed guy in the office, either. The weather also plays a role in my clothes, since I walk outside quite a bit during my commute.
The day I wore this outfit was a fairly quiet day, starting with coffee with a former boss, followed by a slate of internal meetings, then picking up my kids at daycare.
Notes and Tips:
– Jacket: Custom-made in Thailand, this is one of my favorite sport coats. It has many hidden pockets, with allow me to carry my phones, pens, wallet, and other small items without making my pockets bulky.
– Watch: This watch was a gift from my wife. It's analog…and while digital watches can do so many things, a nice clock-face watch adds a nice touch to an outfit.
– Pants: A nice pair of dark jeans can look better than a baggy pair of slacks. I prefer straight cut for "professional" jeans, as I tend to step on the heels of boot cut pants, fraying the seam. And nobody looks good with torn jean heels.
– fitbit One (not pictured): I like my fitbit One, since it fits in my pocket, not around my wrist. Tracking my daily activity reminds me to take a 10-minute walk around the block instead of getting another scone.
– Ties (not pictured): My preference is for bright ties that pop. Pink, green, purple, orange – a little color can go a long way.
Heather Whaling, Geben Communications, Columbus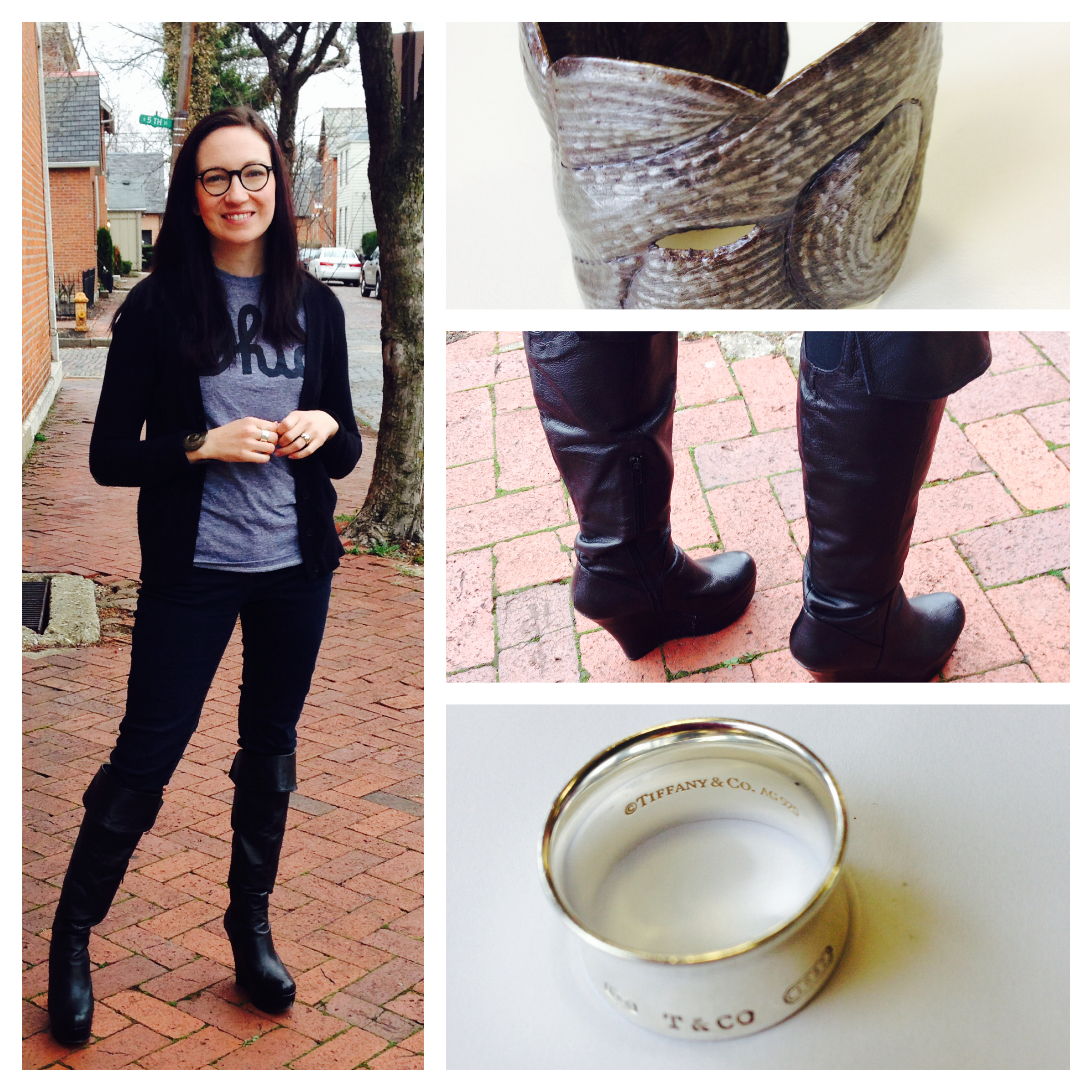 Since we're an agency, my outfits vary depending on if I have meetings … and who those meetings are with. Thankfully, most of my clients are fairly casual, which means I can typically get away with wearing just about anything. (Coming from an agency where you had a to wear a suit almost every day, this is such a nice change!)
Assuming I'm in the office or meeting with one of our startup (or more casual) clients, I wear jeans (standard blue sometimes, but I also have a purple pair that I love, as well as a pink/blank demin print that is super fun!). Admittedly, my wardrobe lacks in color — dominated  by blacks and grays. Here, I'm wearing black skinny jeans from White House Black Market, an Homage t-shirt, and a cardigan.  (You can't see it in this photo, but the elbow patch is black sequins, adding an element of fun to an otherwise boring sweater.) I love chunky bracelets, this one here being one of my all-time favorites. I bought it on a trip to Haiti, where I had the opportunity to meet Haitian artisans who are part of Macy's Heart of Haiti program. The bracelet used to be an oil drum that some very creative person turned into wearable art. I wear my Tiffany's ring every, single day, too. When I started my own agency, I used the ring as a reward, deciding that I'd buy it the first month we were profitable. Profitability was reached in Month 1, but it still took me another year to buy it. Now, I'm so glad I did. It's a nice reminder that hard work and patience do pay off! And, I couldn't do an OOTD post without some fun shoes! These are black platform/wedge Aldo boots.
Nikki Little, Identity PR, Detroit

My meeting outfit. In everything I wear, it's important for me to mix trendy and professional with comfort. I've learned this throughout the years! I'm done wearing clothes and shoes that make me super uncomfortable, because then you lose focus. So, here's one of my favorite meeting looks. I love my black, boyfriend jacket because I can dress it up or down. I put a simple white top underneath it. For the ladies, always make sure the top isn't too low! My pants are cropped with a Houndstooth design. I chose shiny, black flats because I knew I would be standing and talking a bit during the meeting. Accessories are a red necklace and red sparkly bracelets to add a pop of color to the always classic black and white color pairing.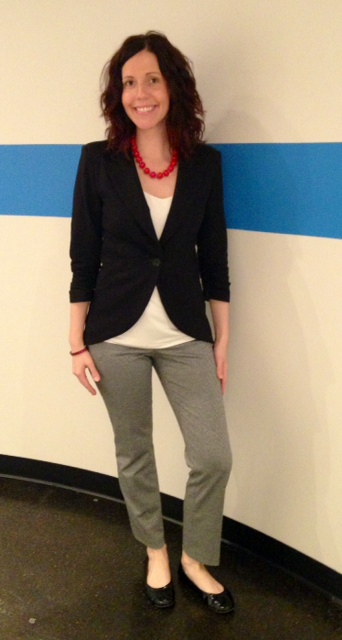 My presentation look. Again, comfort trumps all! I paired a flowy, black top with a fun pattern (see through in the back, so important to wear an appropriate undershirt whenever you choose a thin material!) with my skinny, stretch black pants (another piece that is perfect to dress up or down). My shoes are suede booties that are very comfortable and easy to stand/walk in. My new accessory love is my Warby Parker glasses. To add a pop of color to this outfit, I chose lipstick from Sephora in the orchid shade, which is the "hot" color for Spring. Since my top has a higher cut, a necklace wouldn't work, so I wore larger black and gold earrings. I also wore my favorite gold/silver mix toned watch from Michael Kors, which I love to wear during presentations and meetings so I can quickly see the time.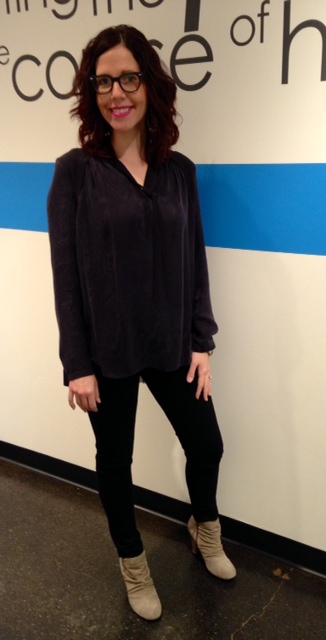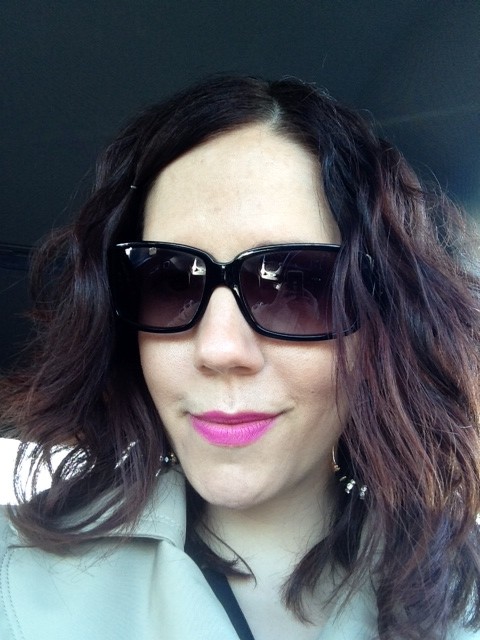 My casual work look. I love skinny jeans, especially colored ones. And one of my new favorite tops that goes with several different pants is my button-up jean shirt from Gap. It's casual, yet professional and trendy. I paired this with red skinny pants with gold zippers on the bottom and tan flats from Tory Burch. I also went the larger earring route rather than a short necklace, and my earrings match the buttons on the shirt. I topped the outfit off with a simple gold headband.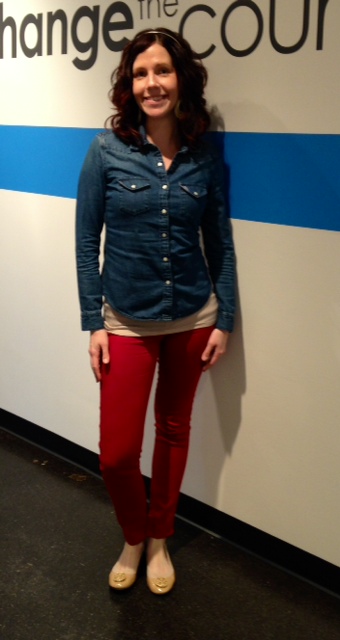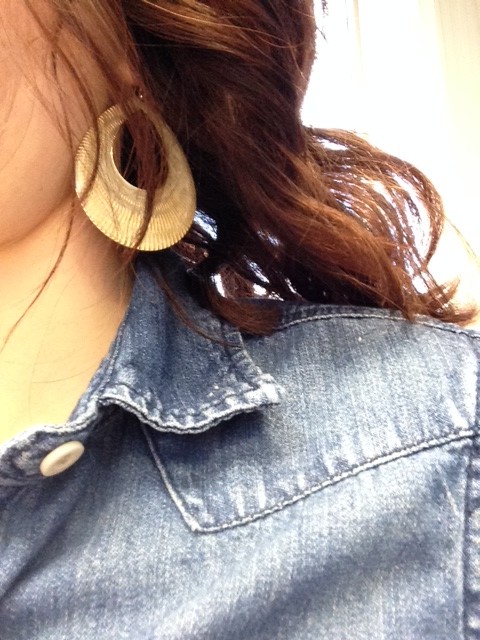 Lisa Grimm, space150, Minneapolis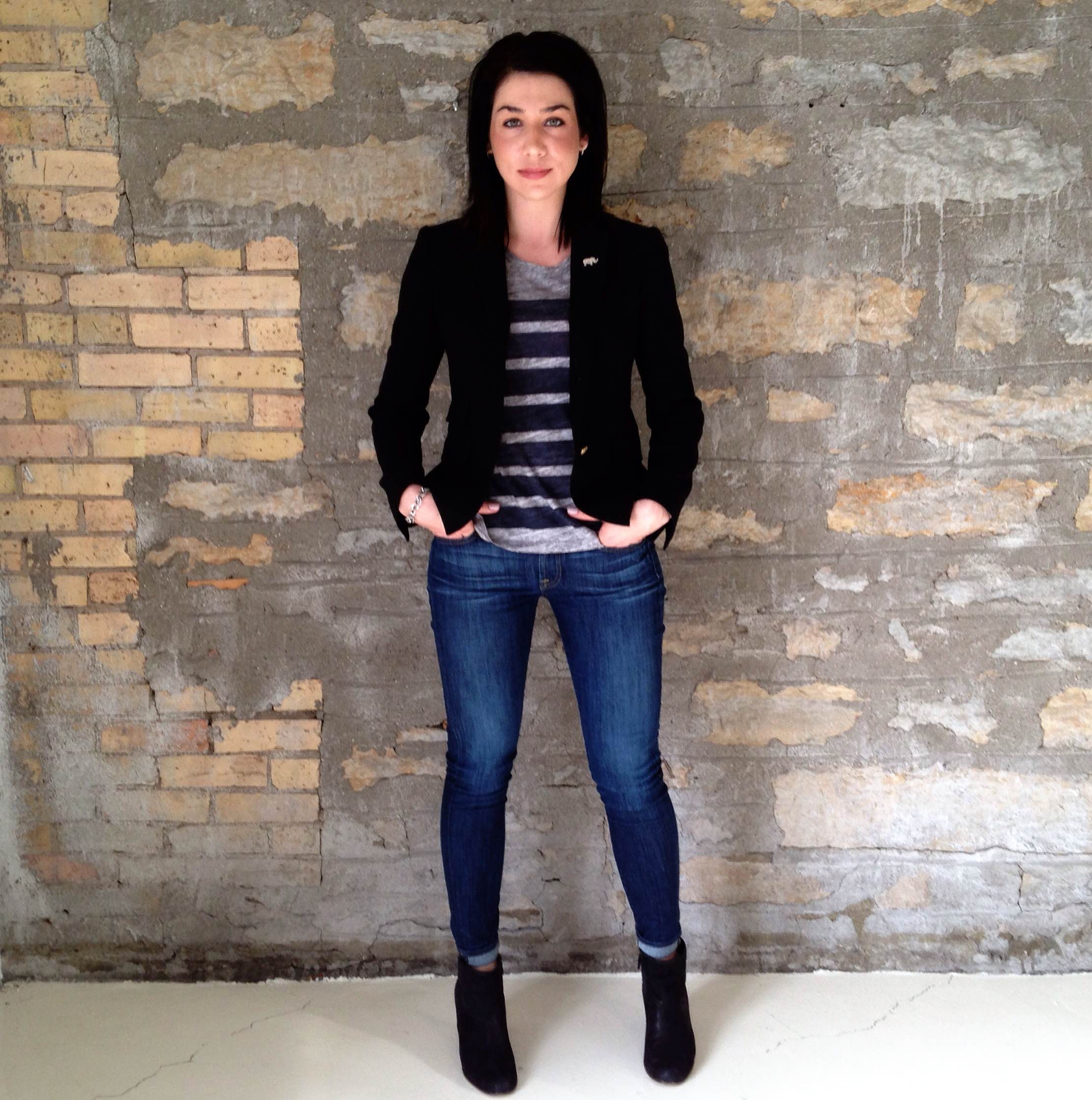 I had to wear a uniform part of growing up, and I LOVED it. Fashion and design are not on the top of my talents list, so getting dressed stresses me out. As the result, when it came time to build a professional wardrobe I took a uniform approach. While I don't wear the same thing to work everyday, I do tend to find a look I love, purchase it in multiple colors, and mix and match. Also, I do believe that a good manicure and good jewelry go a long way:)
I've held positions at various companies/agencies with different dress codes so "my uniform" has varied over the years. Currently, I'm at a digital agency, space150, where individual style is encouraged, and business casual takes on a different meaning than most places I've worked. Most days this means a JTBB (jeans, t-shirt, blazer and booties). It's classic, comfortable and versatile. If I have a surprise client meeting, need to go on camera or am sitting at my desk all day, I'm set. Here are my staple JTBB pieces:
Laura Fitzpatrick, Carmichael Lynch, Minneapolis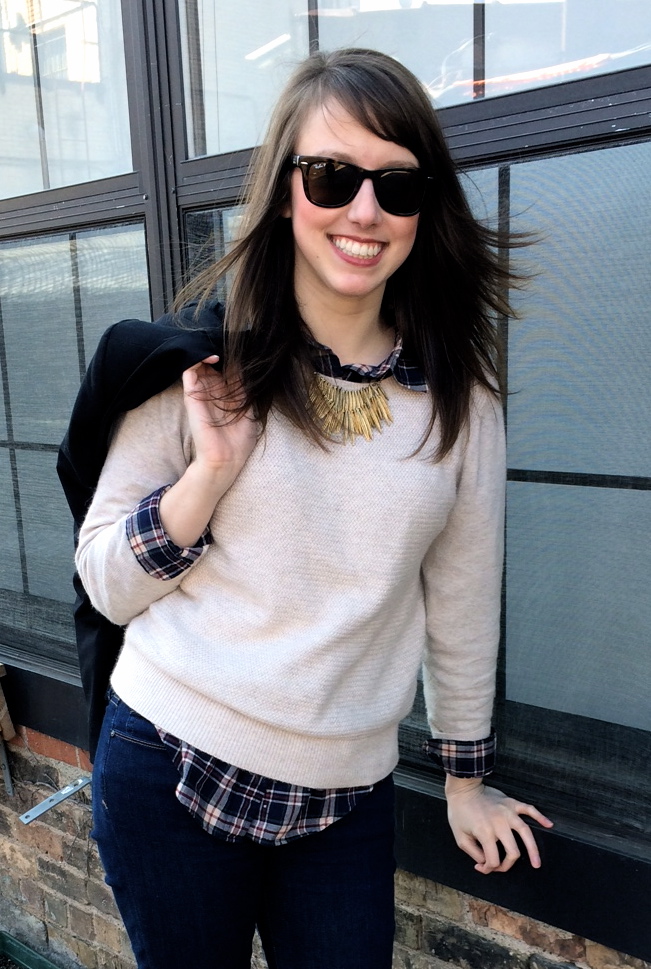 On any typical day at the agency you're likely to find me sporting a pair of dark wash skinny jeans with flats or boots (depending on the snow). Generally I'll layer up on top with a neutral colored sweater over a patterned blouse or collared shirt. I like to keep a blazer handy to throw on, should I feel the need to class it up more than usual. My end game? A statement necklace.
So, those were just seven people I hand-picked for this first post. But, as I alluded to up top, I thought I could make this more of a series. Maybe another post that focuses on corporate folks. Another on the solo/independent crowd. Yet another for non-profits? Post your favorite outfits of the day on Twitter/Instagram using the hash tag  #ootdpr and I'll be looking for a few folks to highlight in future posts!