A few weeks ago, while checking Twitter, I  happened across an interesting hash tag: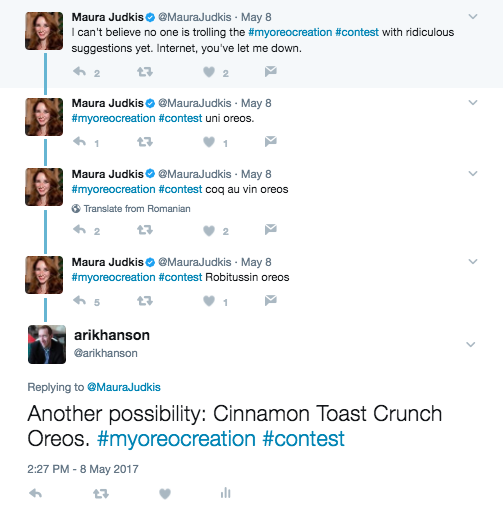 I decided to participate:
#myoreocreation #contest I cannot believe Coffee Oreos don't exist yet!

— arikhanson (@arikhanson) May 8, 2017
A few days later, I received the following DM from the @Oreo account: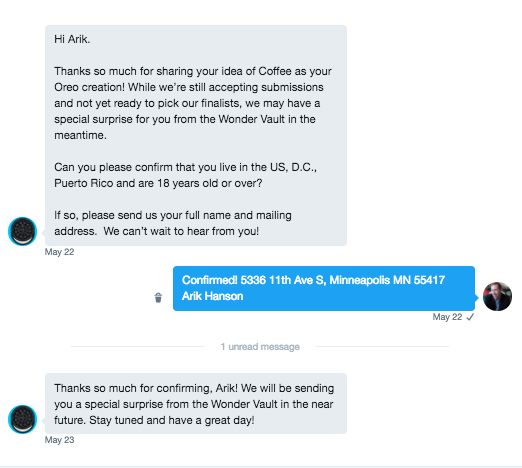 A special surprise from the Wonder Vault? Now I was excited! I mean, actually kinda genuinely excited and curious (mostly because we don't have Oreos in the house anymore, or I and my kids would eat an entire box in 5 minutes flat).
A couple weeks later, I received said surprise in the mail. Here's what I received:
#MyOreoCreation http://www.refinery29.com/2017/05/153255/my-oreo-creation-contest
You know we're always on trend. Stay tuned to see if it becomes a reality! #MyOreoCreation #Contest pic.twitter.com/E24wjbX55k

— Oreo Cookie (@Oreo) June 13, 2017
Spicy chocolate. Now that's a hot idea! Stay tuned to see if it gets picked! #MyOreoCreation #Contest pic.twitter.com/cFfaGbsJrK

— Oreo Cookie (@Oreo) June 13, 2017