Quietly (very quietly) LinkedIn has been beefing up its platform lately. Sure, you read all about the numerous changes Facebook makes to its platform. Or, the advertising tools Twitter is now opening up. But, LinkedIn repeatedly adds new features and functionality to its site that improve the user experience.
Of course, not everyone agrees. My fellow blogger, Adam Singer, recently claimed that LinkedIn was the new Klout. Obviously, he's referring to the addition of the relatively new "endorsements" feature which allows almost anyone to endorse you for a specific skill (even if they don't have direct experience with you, which is often the case).
But, Adam's claim is a valid one–and a concern for many. Has LinkedIn become too spammy? Too much of a platform many try to "game"? A place where too many recruiters and salespeople hang out, making it really tough for the rest of us to cut through the garbage to get to what we really want?
I think it depends on how you use the platform.
For many in Adam's demographic (and younger), I can see why they might not spend as much time there. LinkedIn is often perceived as an "older" person's network. And, I have to admit, that's kinda what I see within my community on LinkedIn, too. But, that doesn't mean it should be irrelevant for the younger crowd. After all, if the older people are spending time there, aren't those the hiring managers, influencers and vendor buyers of the marketing/PR/social world?
Personally, I think LinkedIn is a wonderful–and very under-utilized tool–among brands and individuals. I use it to keep tabs on colleagues who don't hang out on Twitter or Facebook. And, I use it to keep up on comings and goings in the Minneapolis/St. Paul marketing/PR scene, which is very important to my business.
But, some of the new changes LinkedIn has made have me thinking about spending even MORE time on the social network. Here's why:
Adding mentions to the mix.
By adding mentions to the mix for status updates, LinkedIn is starting to function more like Twitter or Facebook. I don't see this as a seismic shift for LinkedIn, but it is substantial as you can now see more "discussions" happening in the comments, whereas before that was virtually non-existent. Time will tell if people will really start to treat LinkedIn status updates like a Twitter conversation, but with that audience that doesn't hang out on Twitter/Facebook, this is a big add.
Contacts provides a better professional rolodex.
Personally, this is my favorite add in recent months–and a big one for anyone who's struggled to really consolidate their professional rolodex electronically. I know there are other tools you can use to do this, but for me, Contacts seems like a good solution. Let's look at why:
Consolidate your professional contacts in one spot
Sync from Gmail, Yahoo, and even your iPhone contact database. Obviously, you're syncing this with your existing LinkedIn connections, so it's a great way to have everyone you could possibly need professionally in one, easy-to-get-to spot.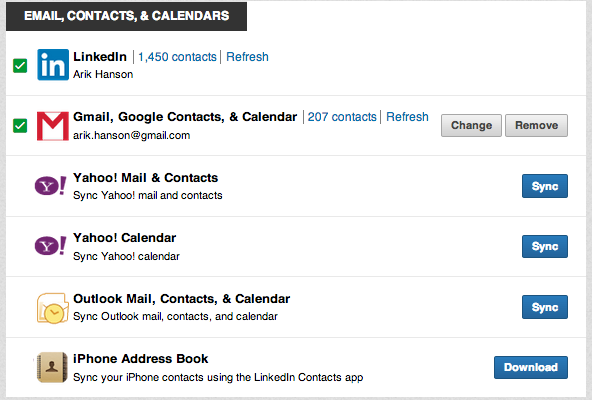 Remember professional milestones
LinkedIn will remind you of birthdays and job changes and other significant milestones as they occur–GREAT way to stay in touch with folks as their professional lives change.
Use Contacts as your professional CRM
This is probably the feature that I'll take advantage of the most. Because LinkedIn now gives you the ability to write notes about your contacts, designate how you met them and set up regular reminders, Contacts can really serve as your de factor CRM for your professional life. I'm really curious to see how many people use this key piece of functionality.
Edit contact info regularly
The contact info Contacts will import from your other sources won't be perfect, but it should mesh with the existing LinkedIn information to produce some solid data. If that doesn't work, you can always edit it yourself.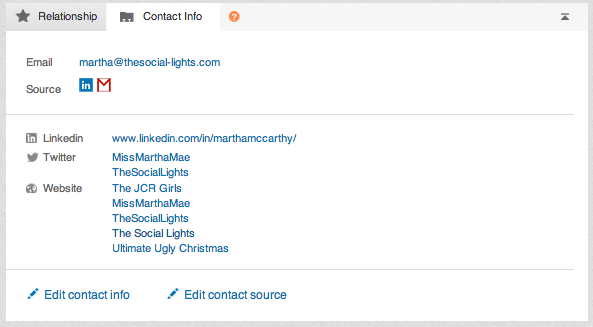 LinkedIn Today/Channels give you another social reader system
I'm going to blog more about this soon, but I really like what LinkedIn is doing with its LinkedIn Today and Channels products (both of which are fairly new). In essence, they're providing you with another social reader tool–and timing couldn't be better with Google Reader going away soon. And, in some ways, this reader system is even better since it's based on your specific interests (channels) and experts in that field (LinkedIn has done some of the hard work for you, even though I'd argue some of their influencers aren't the ones I'd want to hear from). I'm starting to use this more in my daily content consumption process–worth taking a look at if you're not using it already.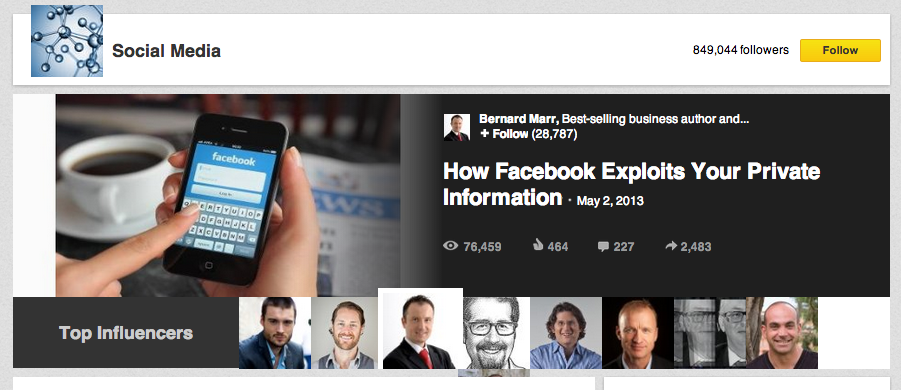 LinkedIn channels (social media channel shown here) give you the ability to follow certain influencers in that space (Cashmore, LeMeur featured here), and follow content LinkedIn is aggregating from top news sources (Mashable, TechCrunch, etc. for the social media channel).
Take a look at the engagement numbers on this post by Cashmore–pretty incredible, right? Not nearly as big as the share numbers on the Mashable site itself, but these numbers definitely show a decent amount of people are reading these influencer posts on LinkedIn Today/channels.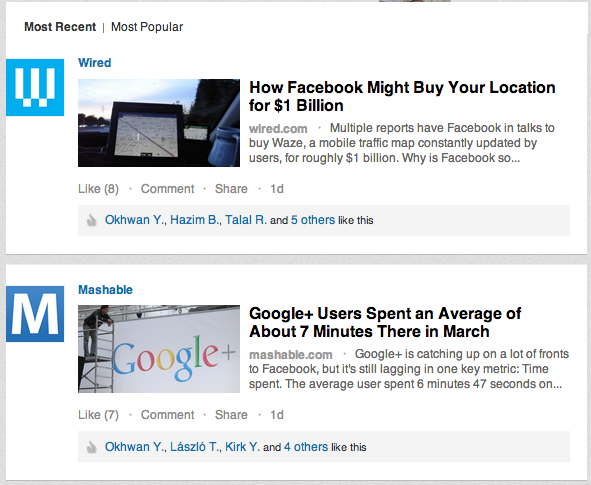 Like I said, LinkedIn is also aggregating content from different news sources in each channel. Doing the heavy lifting so you don't have to. For example, in the social media channel, LinkedIn is pulling from Mashable, TechCrunch and Wired.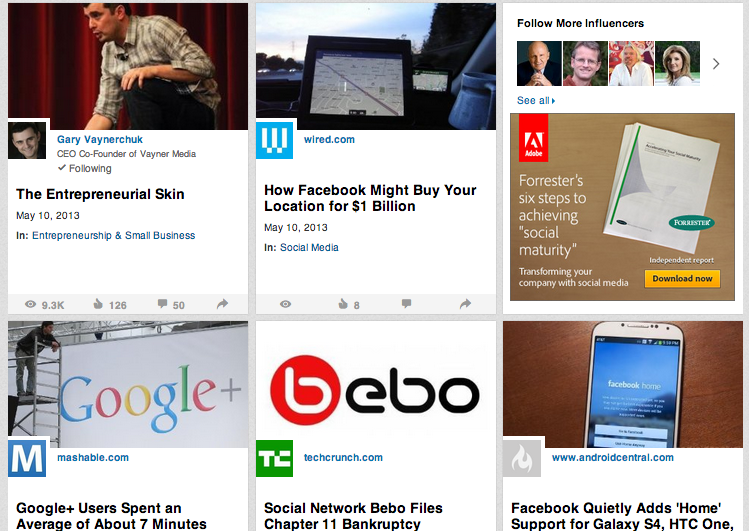 And here's how your personal LinkedIn Today will look like once you start following influencers and channels. Again, almost like another social reader system–but this one squarely focused on your professional interests.
So, what do you think? Are the changed LinkedIn has recently made giving you pause to spend more time on the social network? I'd love to hear what you think about this…