Target was in the news over the weekend. And, they were ALL OVER social media after the Bullseye's web site crashed after its launch of the new #LillyForTarget line.
For those Target loyalists, we've seen this movie before.
Remember in 2011 when they unveiled a new line with Italian fashion house Mossino? Same story–different line.
Web site crashed. Frustrated and angry customers taking to social media.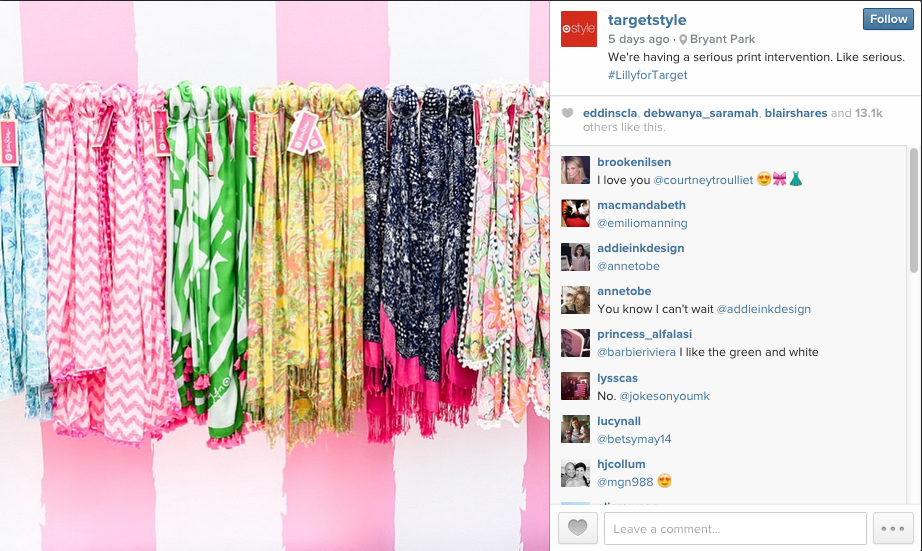 Same story–different line.
And you know what, Target didn't really suffer. Customers came back (if I remember, correctly).
So, all those posts and media reports you've read the last couple days talking about the big "hit" Target's taking for this supposedly failed product launch?
Yeah, I'm not buying in.
I think Target is thrilled right now. Beyond thrilled, actually. As analyst Marshal Cohen said in the Star Tribune today, this is a "grand slam home run" for Target.
Sure, they're having to deal with a few issues via PR/social media channels. And yeah, they're site went down for a bit.
But, in the grand scheme of things, this was a win. A HUGE win.
Remember, these product line launches haven't always been so successful (remember the Nieman Marcus partnership in 2012? Yeah, didn't think so).
And remember, there's a more-than-decent chance Target did this on purpose–to create scarcity (after releasing too much of certain collections in the past).
Remember the last time Target "took a big PR hit?" The financial crisis of 2012? Target's stock price started the year around $65. By Dec. 31 it was up to more than $75 a share. I think shoppers came back.
And lastly, this was a big deal for Target. They put a lot of time and effort into launching this line. And, they did it quite well, I might add.
So, amidst all this negative press and energy that's being thrown at Target right now, I'd like to dissect a pretty successful new product launch:
Heavy up on Instagram
What's the one social platform that's seeing massive engagement for brands? One where you're actually NOT forced to pay for play? Instagram. Target bet big on Instagram with this launch, using @targetstyle to promote the launch, but also creating a separate @lillfortarget account as well.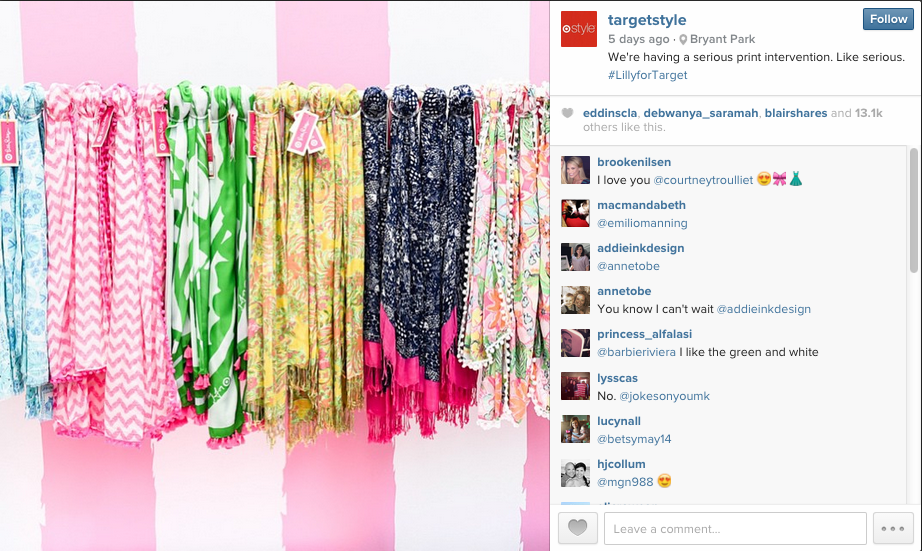 Notice the engagement levels on this post from the @lillyfortarget account just last week. 8,000+ likes. 640+ comments. For reference, Target sees fairly similar numbers on its Target Style Facebook page–but that page has 3 million-plus likes and most likely is supported by heavy advertising (to be fair, Target could have supported this IG post with advertising–just not 100% positive).
They also promoted a contest on Instagram, asking fans to cut out shapes of Lilly For Target dresses and accessories and create their own Instagram pics.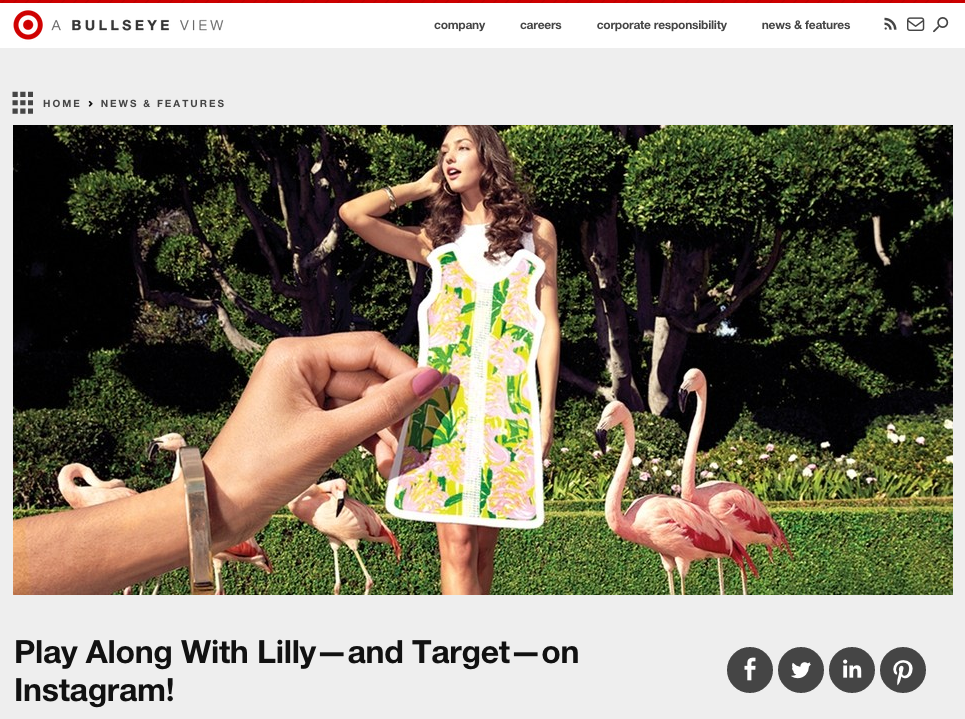 Tough to measure success here without seeing Target's analytics. A quick search for the #lillyfortarget hash tag (the tag they promoted as part of the contest), shows 24,000+ tags. However, given what happened over the weekend, and all the re-selling that's happening on eBay and IG right now, it's hard to tell what was truly impacted by the contest. I applaud the idea and effort, but not really sure this worked all that well.
Start promoting early–but not TOO early
Outside of a few posts on the @lillyfortarget IG account, Target didn't start its promotion of this new line all that far in advance. The Target Style Facebook page didn't start promoting it until late March.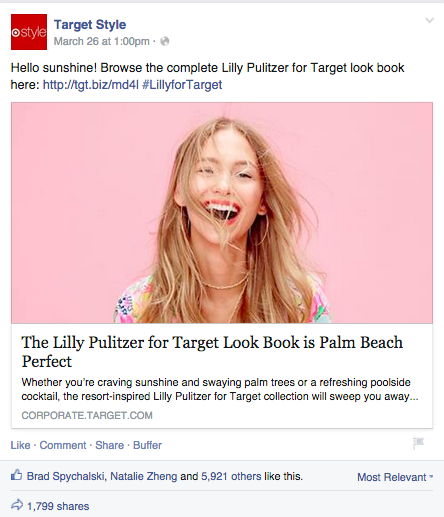 Same thing for the @targetstyle Instagram account. And, keep in mind, Target didn't promote ANY #LillyForTarget content on its "master brand" Facebook or Twitter page until much closer to launch. Overall, the strategy of promoting in advance (three weeks), but not TOO far in advance seems to have worked.
Grade-A photography that's "platform specific"
Sure, Target had fantastic photography to support this launch. You would assume nothing less. But what I thought was brilliant was how they used photography that was specific to each platform. For example, on Twitter, they used a nice mix of product promo photography, along with a number of what I'd call "real-time" shots, like this one promoting the pop-up store they opened in New York City during the launch.
On Instagram, they had that oh-too-perfect look–you know, the one you see the Instagram "celebrities" using all the time. Like this.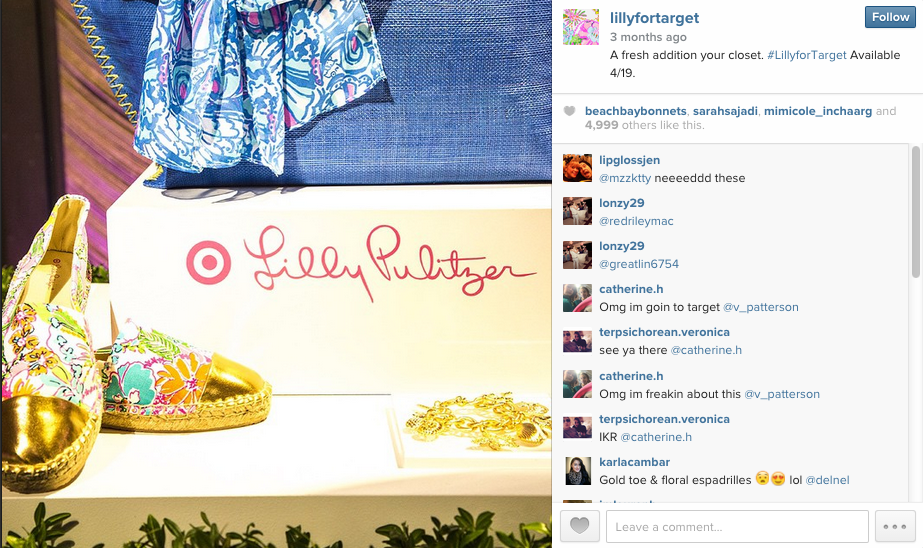 And, on Facebook, they had the simple, colorful, close-up shots that work oh-so-well on the biggest social platform on earth.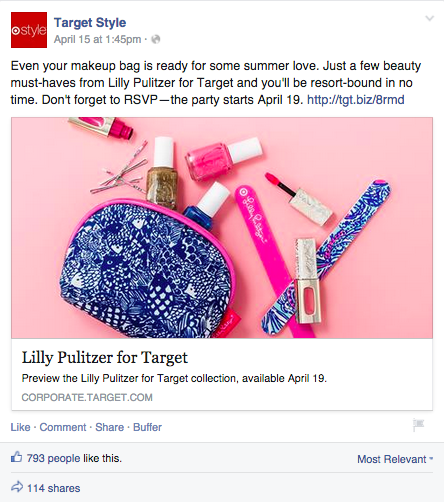 Instead of taking photography to share across all social platforms, Target took special care to take photography for SPECIFIC social platforms. Big, but subtle, difference.
Experimenting with (brand) new tools
Finally, I LOVE that Target played around with Periscope as part of this launch. Sure, Periscope is just a few weeks old, but that didn't stop Target from using it as a live interviewing tool at its launch party. Since I missed the live video (I do recall seeing PR frontman, Joshua Carter on one of the videos for a few seconds), all I have to show you is the tweet promoting it.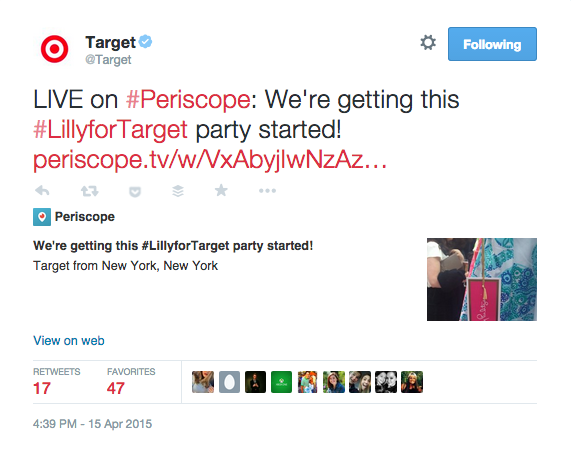 They started promoting their interviews/livestreams the morning before, smartly touting "exclusive content".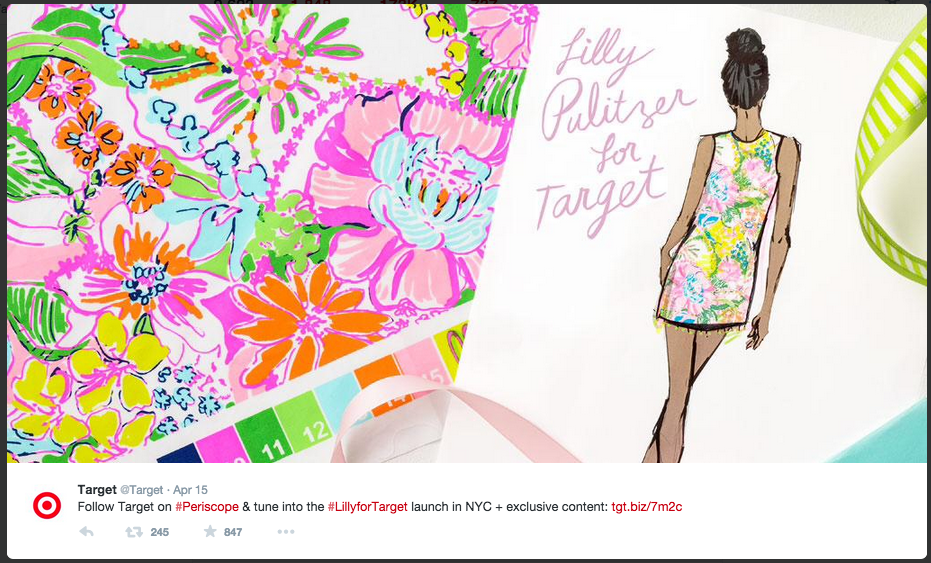 Wish I would have seen the videos, but that's besides the point. Here's a big brand experimenting with a brand new tool during a huge new product launch. You don't see that happen all that often. Kudos to Target for taking a risk (if we're going to slam brands for NOT taking risks, we need to recognize when they do take risks).
Before you rush to Facebook or Twitter to slam the Bullseye for a #TargetFail, think about the larger context. Retail strategy + social media launch (Note: I didn't touch on the other media components of the launch). Big win.