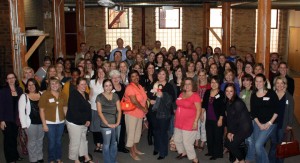 As an event organizer (on the verge of organizing the second Minnesota Blogger Conference and knee-deep in BlogWorld planning at the moment), I'm highly sensitive to the debate among attendees and planners around the paid vs. free event models.
Recently, this issue came to the forefront locally here in Minneapolis around the wildly popular Ignite event–one of my favorite local events.
Here in Minneapolis, Ignite has always been a free event. They've been fortunate to have wonderful sponsors to keep it that way. But, as a result, tickets can be hard to come by.
This year, that's proven to be an extreme understatement.
Three times the Ignite folks release tickets–once even via the email distribution list (the other two times I believe were on Twitter). Each time the round of tickets sold out in under 5 minutes.
So, basically, if you're not sitting directly by your computer the moment they release the tickets, you're out of luck.
I found myself out of luck all three times.
To be clear, this isn't a sob story. I'm not writing this post as a way to get a ticket to Ignite (although I would love to go). I'm writing this post because I think this brings up the paid vs. free issue once again.
I can see the debate from both sides, but as an event organizer, I see a number of pros and cons:
Pros:
* Access to a wider audience. No fee means no barrier to entry. Anyone can attend free events. It's an all-access pass. So, your reach is extremely wide. Result: Better chances of a sold out event that creates additional momentum for future events.
* Access to more speakers. Let's face it, free events don't usually draw speakers who command $20,000 a pop. You're not going to see Seth Godin at many, if any, free events. But, that also opens up the speaker pool a bit, too. You may have the opportunity to secure speakers that many people haven't heard from. Slight advantage here.
Cons:
* The conundrum of the no-show. The big disadvantage from the planning perspective for free events is the no-show. We saw this first-hand with the Minnesota Blogger Conference last year. People snatched up tickets quickly when we announced the event. But a week out, we probably got upwards of 30+ cancellations. The result? More admin work on the planner side to coordinate with the waiting list–not fun and not productive.
* No money for professional speakers. By not charging for the event, you're losing out on funds you could use to pay for big-name speakers that will often-times fill rooms–and add tremendous value to your event (locally, think MIMA Summit).
So, from a planning standpoint, I think there's probably more value in charging for events–even if it is a nominal amount. After all, who can't afford $10 for an event? That's usually enough to ward off the tire-kickers–that is, the folks who just grab tickets to "reserve" them, and then oftentimes won't show up.
But, what does this whole issue look and feel like from an attendee perspective?
Meghan Seawell drew up a nice ven diagram that I think raises some interesting points. Take a peek.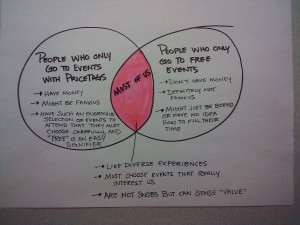 While I don't agree with all the conclusions Meghan drew here, I think it does get at the larger point. There aren't really absolutes–but instead shades of gray when it comes to this discussion.
Often, the biggest question is pretty simple: Does the event provide value?
But, I think there's a larger question at play here: Does the perception of a free event override the answer to that question?
In other words, when people see the event is free, does that immediately put it in a bucket that devalues the event before the attendee even checks it out?
Very interested to hear your thoughts–both as a event organizer and as an attendee.