A number of years ago, I started hearing about this new event here in Minneapolis: CATFOA.
What the heck is a CATFOA, you ask?
It stood for (actually, stands for, as MIMA has re-ignited the series a bit) "Conversations about the Future of Advertising."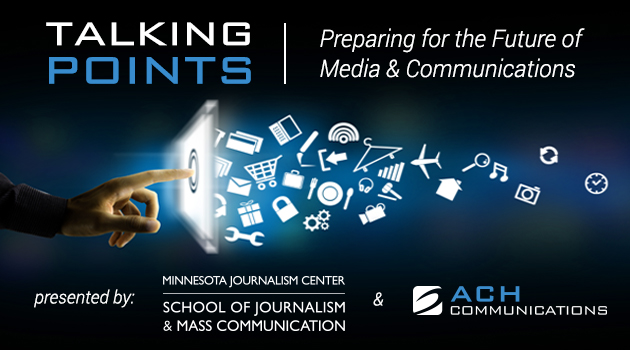 People were raving about this event. It was organized by then MIMA president, Tim Brunelle and was hosted at the Fine Line Cafe downtown. Tim would bring in fairly well-known speakers from across the U.S. as he tapped into his expansive personal network. And, the topics were timely and spot on–and forward-looking.
It was–and still is–one of the better events I've ever attended in this town.
And, it was the inspiration for the development of a new series of events I'm unveiling today in partnership with the Minnesota Journalism Center at the University of Minnesota, titled: Talking Points: Exploring the Future of Media and Communications.
The idea? To discuss the big, hairy, audacious and forward-looking topics in communications and media in a more intimate setting with national leaders in our industries.
For example, our first topic, "The Social Media Skills Gap." BIG talker. In fact, I've talked about it here on this blog before. And, based on what I've been hearing, it's a topic many of you are facing on the corporate and agency sides right now.
So, I've asked my friend (and recent PR Week 40 Under 40 recipient), Alex Tan, executive director of social and digital media at Golin, and Matt Rozen, director of social media at Adobe, to come visit with us on Wed., Sept. 14 at the University of Minnesota about this topic (you can register here).
We'll talk about the gap between junior and senior-level employees when it comes to social media know-how. The trend away from generalists, and toward specialists in the digital world. And how you can create a roadmap for strengthening your team's digital talent.
We want these discussions to be a bit more intimate, so we're limiting attendance to the first 50 people who sign up. Since bringing speakers in from out of town and hosting events isn't free, we do need to charge an admission fee–but we feel $25 is a pretty fair value for an event like this (and will include food and non-alcoholic beverages at the event).
One other thing we plan to do before each event to make the events even more useful: We will survey the audience before the event in an effort to drum up specific questions you'd like to see us address during the presentation/discussion. We hope this will allow us to provide a program that addresses specific needs/topics–and makes the event feel a bit more personal.
I'm really excited about this event series. The Minnesota Journalism Center and University of Minnesota (specifically, Nora Paul, Sue Couling and Betsy Andersen) have been fantastic partners. I think we're going to offer something that you won't find anywhere else in the Twin Cities–a chance to discuss forward-looking topics with national experts in the communications and media industries in an intimate and thought-provoking environment.
Hope to see you at the first event on Sept. 14. Register early–remember, first 50 only!