If you've worked in PR long enough, you've probably helped a client or employer revamp (or create) an online newsroom. It's one of the staples of our profession.
And, you've probably read a post or two about the basic elements that should go into that newsroom.
All of that is good.
Except the concept of an "online newsroom" has changed in the last few years.
Media has shifted.
The Web has morphed.
Tools have become more democratized (and plentiful).
Web development has become more "affordable."
All of which got me to thinking–it's probably time to update our mental set for what an "online newsroom" should consider in today's digital age.
So, I went about looking at what the leaders in our industry are doing when it comes to online newsrooms. And, I found a number of interesting developments. Take a peek at  concepts the "next newsrooms" are implementing to connect with media and other publishers and influencers online:
The American Cancer Society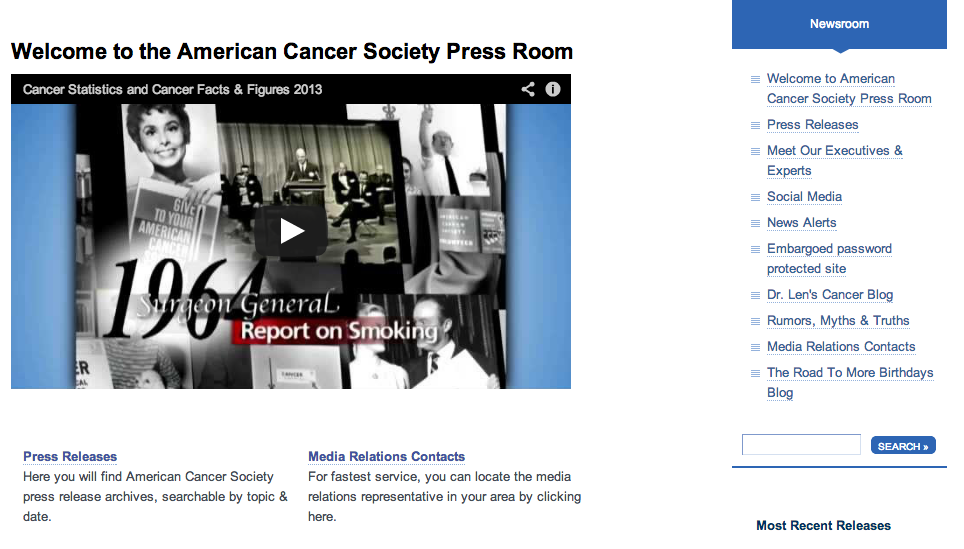 "Next Newsroom" traits: Using multi-media with source information. Love what the American Cancer Society did here featuring a video full of interesting stats and data media/publishers can use in stories and posts (oh, and the video is obviously embeddable since it's on YouTube).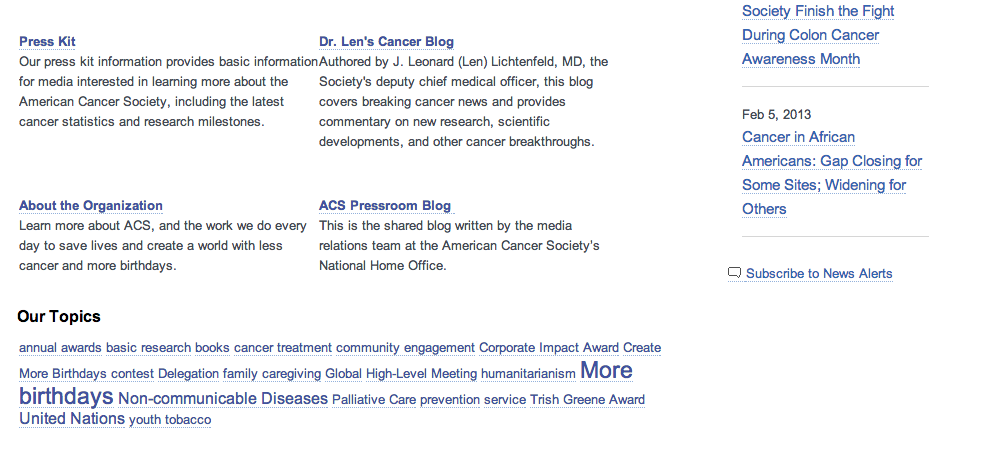 "Next Newsroom" traits: Featuring blogs on the home page. Might seem obvious, but don't forget to feature your corporate blogs right on the home page of your online newsroom. In this case, it's Dr. Len's Cancer blog and the ACS Pressroom Blog. Full of dynamic content added regularly–good source information for media and publishers. And, a good source of additional story ideas for media perusing your newsroom.
Coca-Cola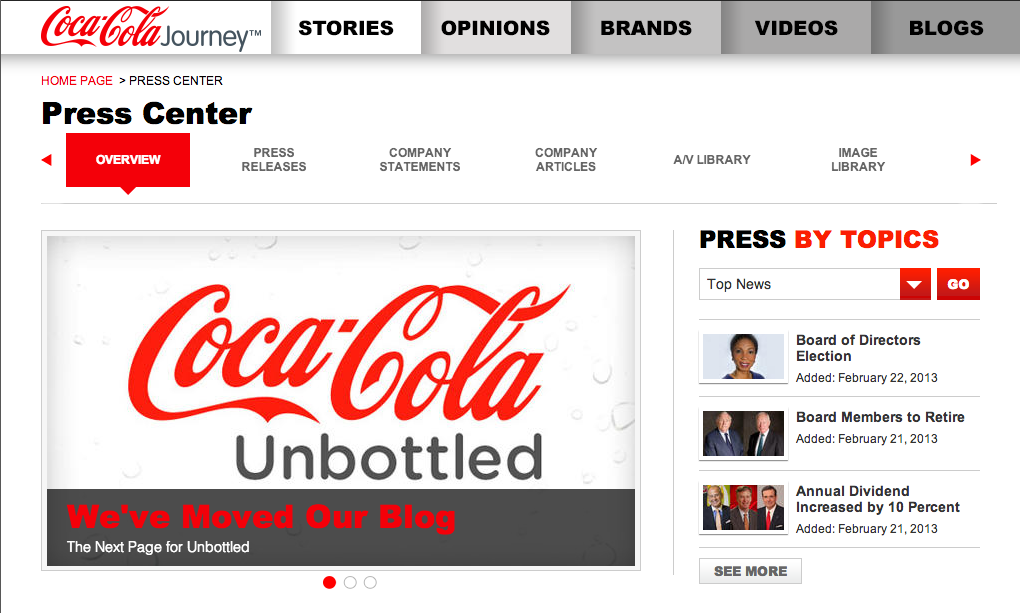 "Next Newsroom" traits: Organizing by topic. Coke's newsroom is incredibly easy to navigate. In large part, that's thanks to the "search by topic" drop-down menus you find throughout the newsroom. Might seem basic, but I still think this is a "future state" for most online newsrooms.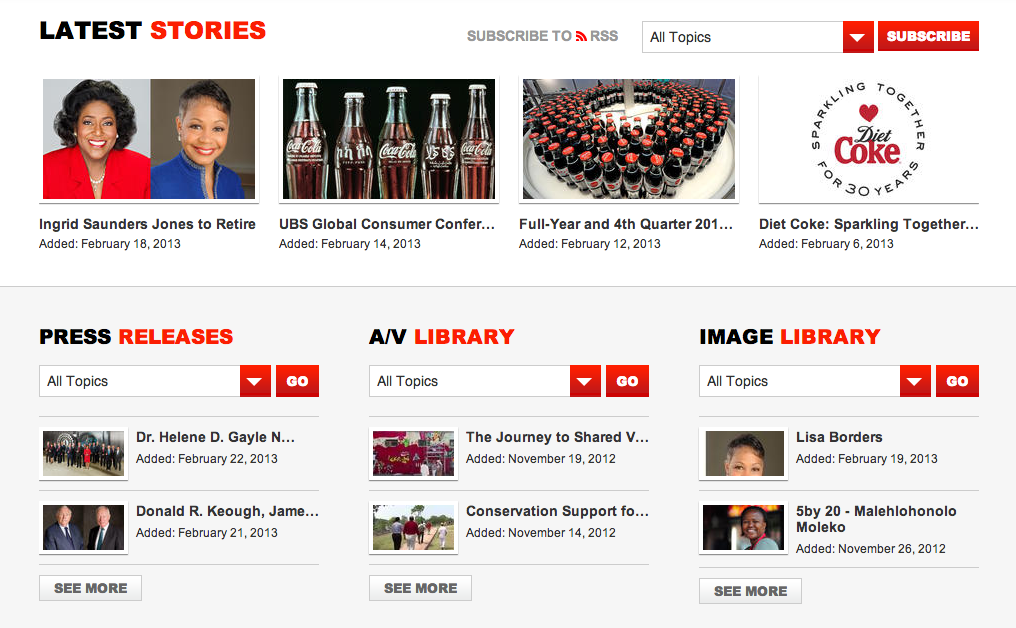 "Next Newsroom" traits: Organize by text, audio/video and photo assets. Again, Coke makes it uber-easy for you to find what you need when you visit their newsroom. These days, that means more than just news releases though. Think audio, video and images, too. All searchable by topic.
Red Bull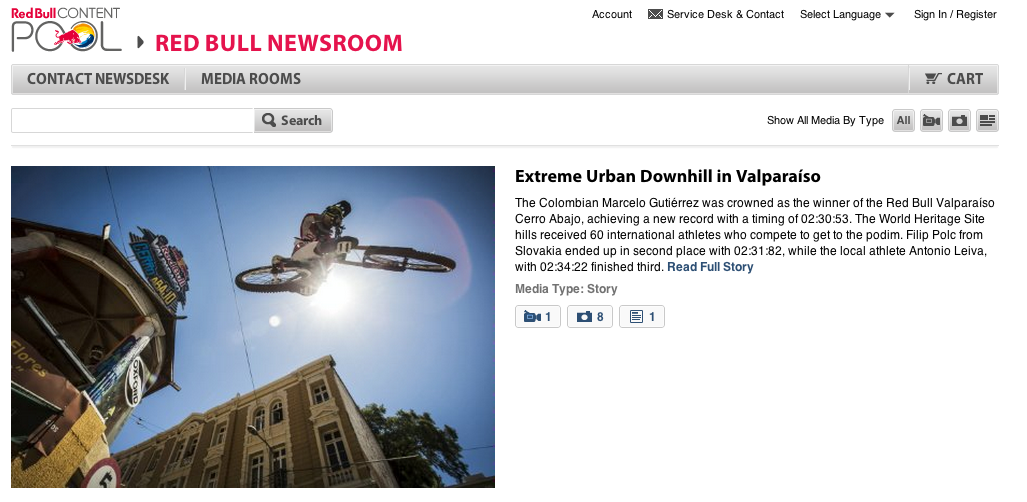 "Next Newsroom" traits: Make the entire newsroom searchable by media type. Red Bull allows you to search the ENTIRE newsroom by media type–right at the top of the page. Search by videos, photos or stories. Simple, but brilliant.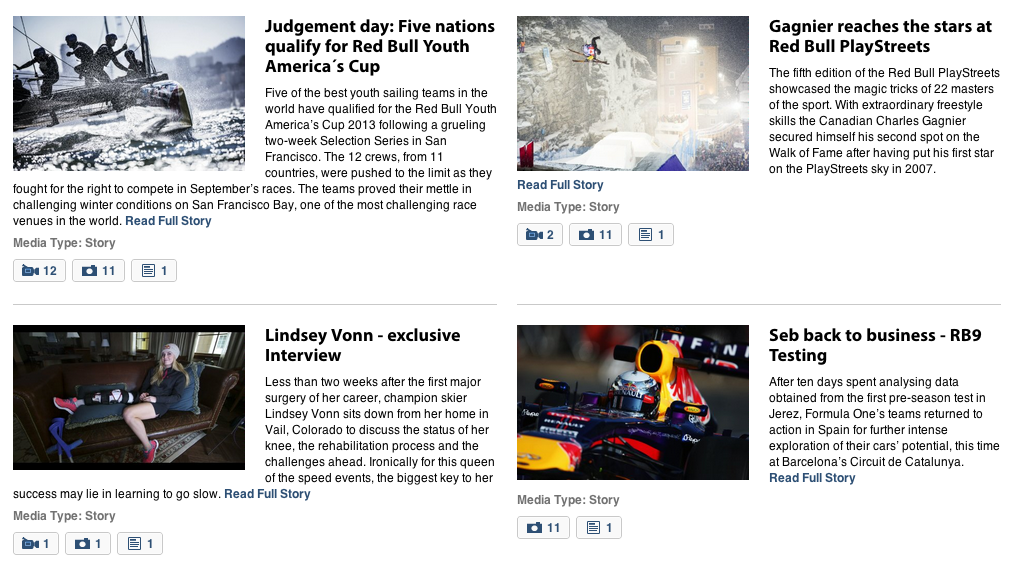 "Next Newsroom" traits: Icons make photos/videos easy to find by story. Note those little icons below each story. Those are signals that show you how many photos and videos each story includes. What a great idea, right? Easy way to quickly find what you need. Just click, download and you're gone.