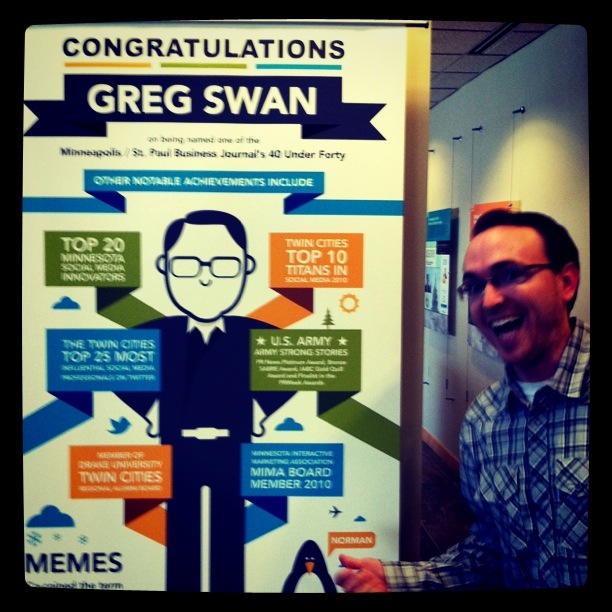 Next Wed., Minnesota's largest (arguably) creative event takes place downtown Minneapolis: The MIMA Summit. I've watched from afar as MIMA Summit has built a reputation as not only one of Minnesota's best creative events–but one of the *nation's* best creative events. That's not me saying that–it's a host of others.
To date, the closest I've gotten to MIMA Summit has been speaking and participating in the counter-culture Unsummit (which I also love). This year, I have the wonderful opportunity to speak at MIMA Summit. And I'm really looking forward to it. Here's 5 quick reasons why:
Greg Swan
My esteemed co-presenter for our session: Blogs, Bribes & Blasphemy. I know, I gush about a lot of people. It's kinda how I roll (see PR Rock Stars series).But, Greg Swan is serious talent. He was named 40 Under 40 by the Twin Cities Business Journal this year (did you SEE Infographic Greg Swan?). He's a uber-popular music blogger. And, he's one of the better digital strategists in town. I'm more than honored to call Greg a friend–and to be presenting with him next Wed.
Killer keynotes
Year after year, MIMA gets some killer keynotes. This year is no different. Avinash Kaushik of Google (yes, THAT Google). And Chris Anderson, editor-in-chief at Wired magazine. That's some serious keynote power. I haven't seen either speak, but given Avinash's blog (and his employer) and Chris' role, I'm more than interested. Well worth a couple hours of my time.
A whole new world
Seems strange, but for me, MIMA represents a whole new world of sorts. I've spent the better part of my 15-plus year career in marketing and communications. Only the last 4-5 years have been focused more squarely on the digital side. So, when I show up Wed. I assume I probably won't know 80 percent (and that's probably low) of the audience. That's exciting–a whole new slew of folks for me to meet and learn more about.
Chance to reconnect with friends
As a solo counselor, industry events like MIMA are one of my few opportunities to connect with a larger group of people. I don't have a daily water cooler. No large team to brainstorm with. No group to hit happy hour with (I know, boo-freaking-hoo). But, that means I'm really looking forward to reconnecting with friends like Chuck Hemann, Lisa Grimm, Bridget Jewell, Lauren Melcher, Bridget Monroe, Sara Meaney and Jesse Stremcha, just to name a few (and only speakers because I haven't seen an attendee list yet).
Lie, cheat and steal
OK, not really, but I will be taking notes on *how* MIMA runs their event. As an organizer of the largest track at BlogWorld the last couple years (I co-organize the Social Media Business Summit track with Chuck Hemann) and a co-organizer of the Minnesota Blogger Conference (with Melissa Berggren and a host of others), I'm very interested to see how MIMA pulls off this event so well. I've heard great things from many people in the last few years, so I'm curious to get a first-hand look at how this event is put together.
What about you? Hitting MIMA Summit next week? What are you looking forward to?