Today's guest post comes from Jessica Malnik, a colleague I've met through Twitter and my blog and a fellow Instagram addict and lover. Thought I'd give her the floor today to talk a bit more about our favorite platform.
It's pretty incredible to think just how fast Instagram has grown. Instagram has only been around for about a year. It already has more than 50 million users who have shared more than 150 million photos. This is even more incredible when you think about the fact that its only available on iOS devices and has a limited web presence.
It's pretty natural that big brands and to a lesser extent smaller businesses are starting to jump on the Instagram bandwagon. With the very recent announcement that Instagram is coming to Android devices, I suspect that number will be increasing rapidly. A few big social media early adopter brands, such as Starbucks and Red Bull, have found their target audience and have had a lot of success on Instagram. Instead of focusing on the Starbucks and Red Bulls, I wanted to bring up several brands, who you wouldn't necessarily expect to be on Instagram, who are rocking it.
1. ModCloth 
Followers: 10,017
Photos: 224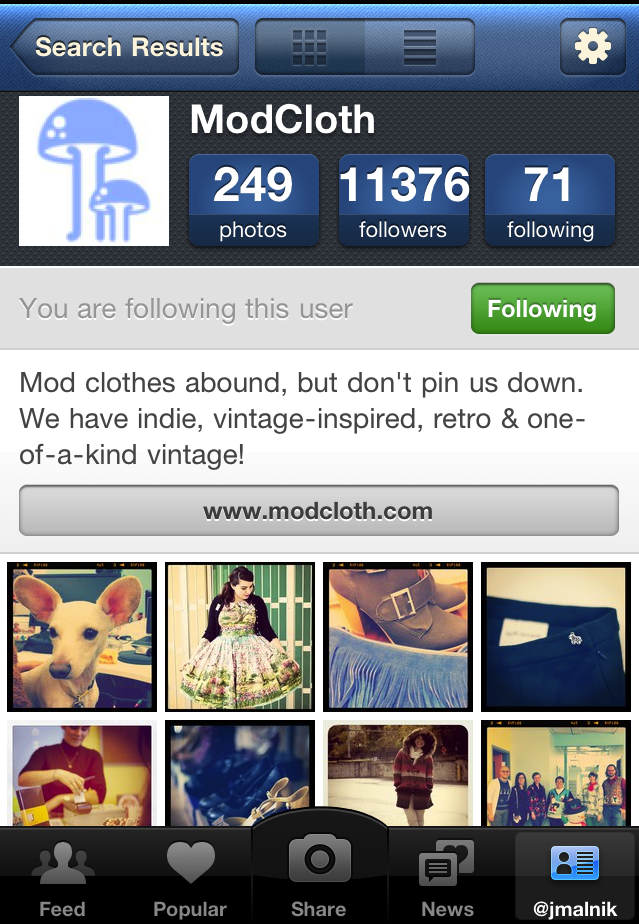 Key Takeaway: Find a specific niche and build a robust community around it.
It makes a lot sense for fashion retailers to be on Instagram. There are a whole host of big name brands, like Gucci, Burberry, Bergdorfs and Threadless, who are doing awesome things with Instagram. Instead of focusing on them, I wanted to highlight Modcloth, who is a vintage clothing retailer based in Pittsburgh, PA, who has found a big audience on Instagram centered around vintage clothing.
They do a great job of creating a community feel. While they do post photos about their clothing, their headquarters, they also post vintage items and decals for inspiration. They aggregate photos with the #modcloth hashtag, where people tag artsy photos of vintage clothing and design, and yes Modcloth items. With more than 10,000 followers, they have created a robust, large community with a strong brand presence and recognition.
2. Tony Hawk
Followers: 63,217
Photos: 280
Key Takeaway: Be Authentic
Tony Hawk may be the most well-known professional skateboarder. He has built up an empire of products, endorsements, media opportunities as well as his own foundation. He uses Instragram to give his fans a behind the scenes look at all the places he is going, what he is working on and the things he supports. He does this in a very authentic and relatable way. They not only want to take interest in what he is posting about, but they also want to talk about and yes buy the things he is passionate about.
Developing a strong, authentic voice for a brand is hard too, but a golden rule for developing a robust community of enthusiasts around your brand. This is no exception for Instagram. Being authentic is one of the biggest takeaways to establish a strong, robust community on Instagram.
3. Visit Savannah 
Followers: 506
Photos: 327
Key Takeaway: Let the photos do all the talking.
Quite frankly, I'm not sure why there aren't more travel and tourism bureaus on Instagram. In general, people enjoy looking at photos of their favorite vacation destinations. Visit Savannah is definitely pioneering the way.
For Visit Savannah, this is simply another sales tool. Normally, this wouldn't be a recommended route to go, but for a travel destination, the photos can do all the talking. For instance, the average person probably isn't going to care who took that breathtaking photo of River Street. They just want to see it and reminsce about their latest trip to Savannah or how they want to go back there soon.
The Visit Savannah staff is doing a great job of capturing Instagram magic on only their phones (yes, it's all shot on an iphone) around Savannah. Their fans like and comment on each photos in large numbers.
American Eagle 
Followers: 4,934
Photos: 136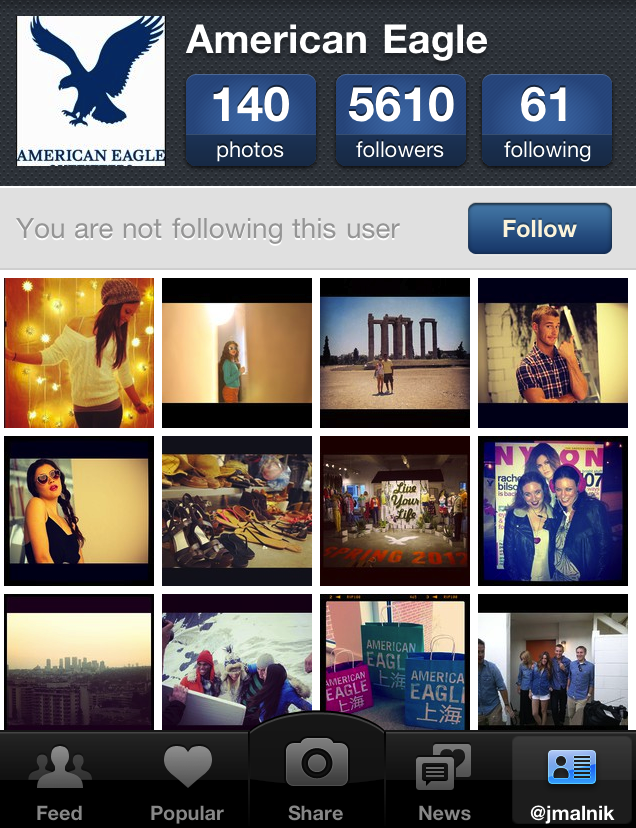 Key Takeaway: Fully integrate your Instagram efforts with the rest of your social media strategy.
American Eagle is a great example of a brand that is creating a large community that is generating a lot of buzz on Instagram and throughout social media sites. The mass clothing retailer is one of the few companies that have fully integrated Instagram with their overall social media and marketing strategy. Search the American Eagle hashtag on Instagram, you will get more than 1,000 photos all posted from brand enthusiasts. You might think 1,000 is a small number, but then factor in how easy it is for Instagram users (Remember it's only the iphone) to share via Facebook, Twitter, Tumblr, and even email. That tremendously increases your overall reach, and this is something the mass clothing retailer capitalizes on quite well. They run promotions on Facebook, Twitter, and in stores encouraging people to post photos, check in and tweet.
In addition to encouraging their followers to post photos, they post behind-the-scenes photos of campus reps, holiday shoots and soon to launch clothing lines.
Conferences: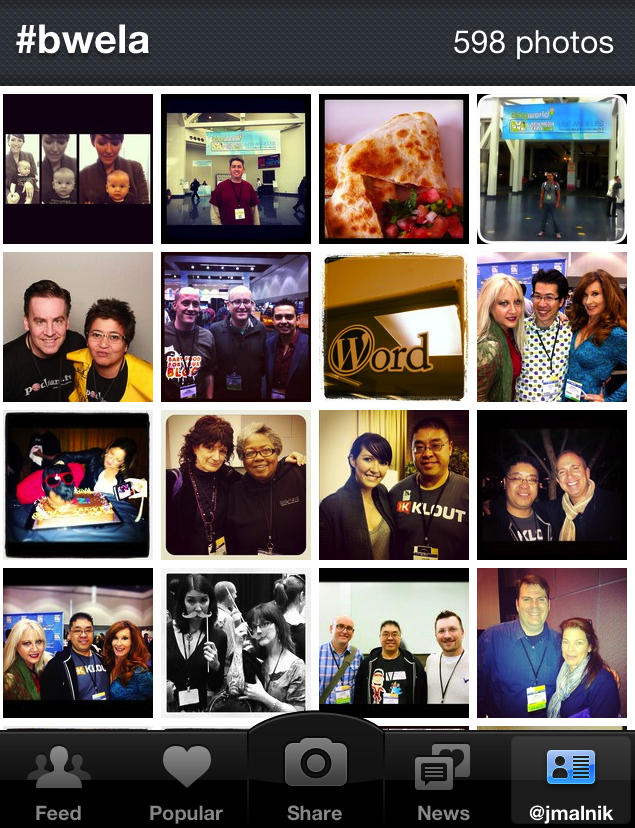 Key Takeaway: Location, location, location.
Now, this may be cheating a bit, because it's not a brand, per se. But when you have a lot of people in one specific industry gathering at a conference or trade show, it's a prime place for people to tweet, write status updates on Facebook and post Instagram photos. Some of the best examples of this are no surprise marketing, PR and blogging conferences. For instance, search Blogworld (#bwe) on Instagram, you will find more than 500 photos. That's pretty impressive when you factor in Blogworld is less than a week long. Think about the potential brand exposure and reach this can bring to a whole host of industries.