I hate to add another Pinterest-related post to the blogosphere, but I'm going to do it anyway. However, I'm not going to give you tips to "improve engagement" on Pinterest. That's been done already. I'm not going to give you ideas for images. That's been done, too. I'm not going to showcase examples of brands who are doing great and interesting things on Pinterest. That's been done, too.
What I am going to give you is four examples of smaller, non-profits using Pinterest to drive social change. You know, that stuff that makes us all feel better about humanity?
So, take a look at what the four non-profit organizations are doing below–and tell me you don't feel better about the world today 😉
Operation Smile: http://pinterest.com/operationsmile/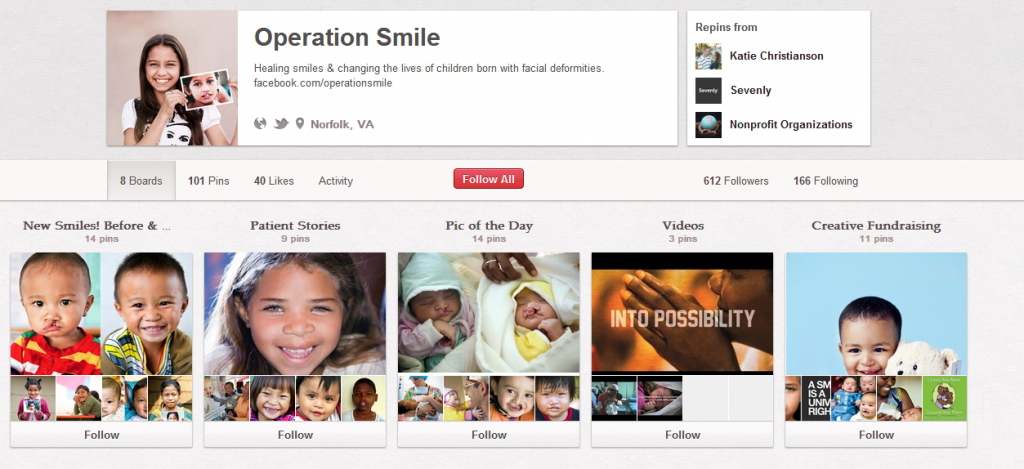 Sure, they only have 614 followers, but I really like how Operation Smile is using imagery to drive awareness and support for a great organization. Just look what they're doing with their "Before an After" board–what better way to show potential donors how their money is making a marked difference in people's lives?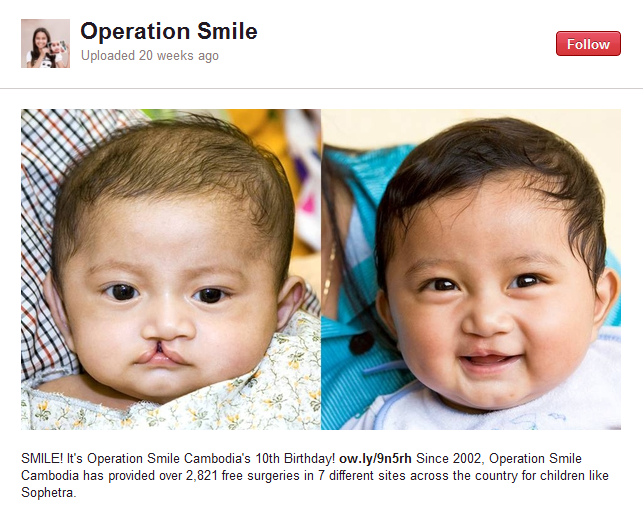 Or, what about their "Creative Fundraising" board? What a great idea. Post photos of products or services (read: surgeries) needed by the patients Operation Smile serves–and then adding a price tag for that gift right on the photo. Brilliant! They do the same thing with missions others have taken–and put a price tag on it to give it some context.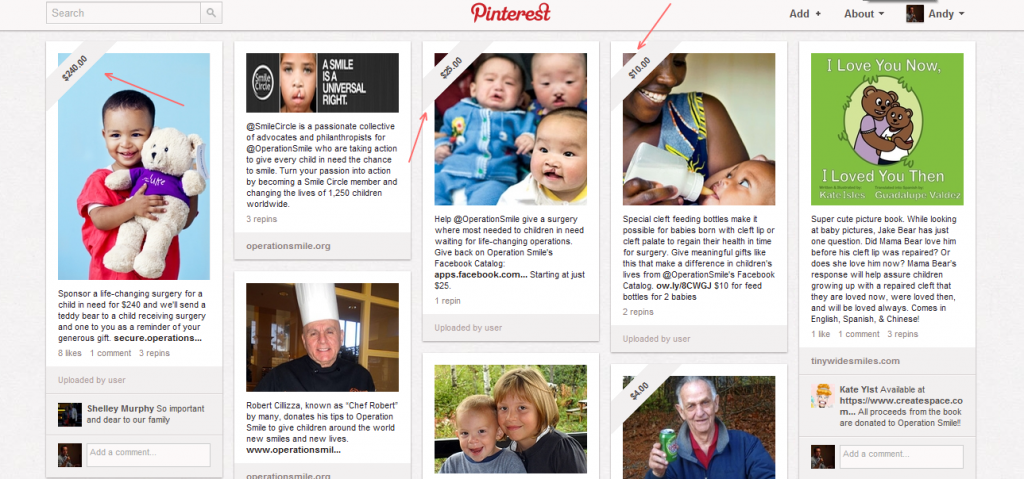 Finally, their "Our Smile Ambassadors" board highlights the celebrities who support the cause. What a great way to showcase the efforts of folks like Matthew Fox and Bill Rancic?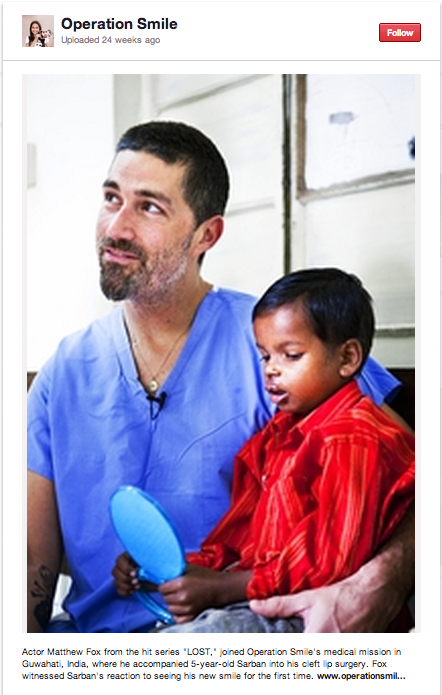 National Wildlife Federation: http://pinterest.com/nwfpins/
A few more followers than Operation Smile (2,604), but then again the National Wildlife Federation (NWF) is really making a commitment to Pinterest as a marketing tool.  With 22 boards and 746 pins, I should say so.
And sure you could say NWF's mission syncs up well with the image-based nature of a platform like Pinterest, but NWF is executing wonderfully.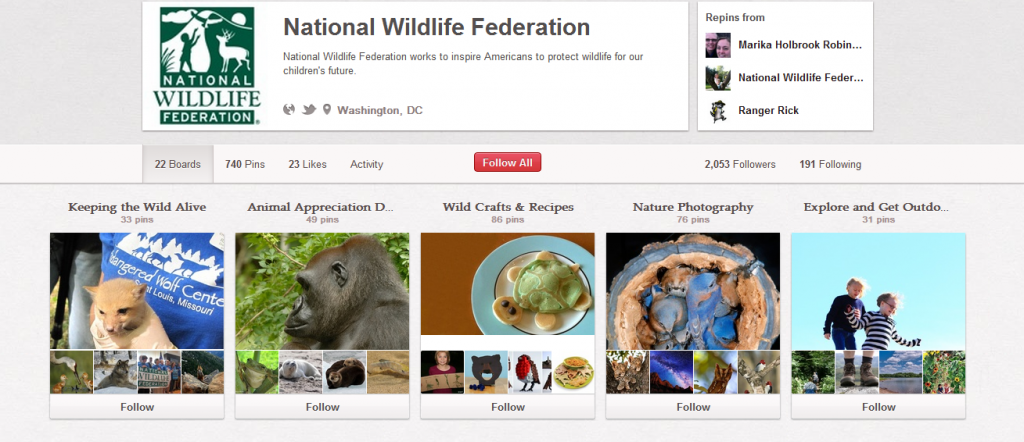 For example, check out their #Squirrels4Good board–with 1,681 followers. Who says non-profits can't have fun? And who doesn't like a squirrel? Nice work by NWF to use the hash tag, which I'm guessing they're using over on Twitter an Instagram, too.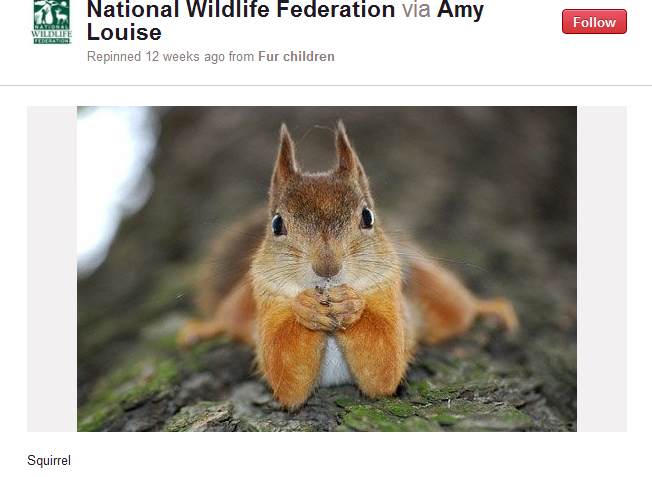 Love what NWF is doing with its "Shop NWF" board. Just give folks access to the products you're selling online, and drive them to your site through those pins. Not sexy, but probably darn effective given Pinterest's ability to drive Web traffic.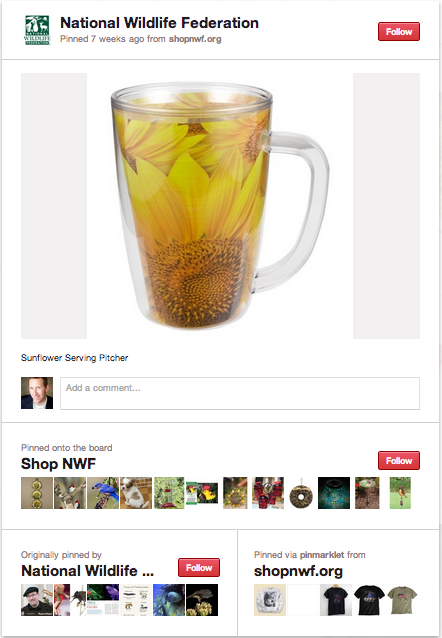 They even have a "Wild Crafts & Recipes" board. Not exactly a key focus for their organization, but they probably know recipes/food play well on Pinterest and this is an opportunity for them to play in that area. Well done, NWF.
Heifer International: http://pinterest.com/heiferint/
Heifer International helps people get out of poverty through gifts of livestock, seeds, and more. Just look at their boards and you instantly get a feel for what they're all about: Alternative Giving, Earth Day, Care For the Earth.
But, take a closer look and you get the feeling there's more here than your standard pinboards.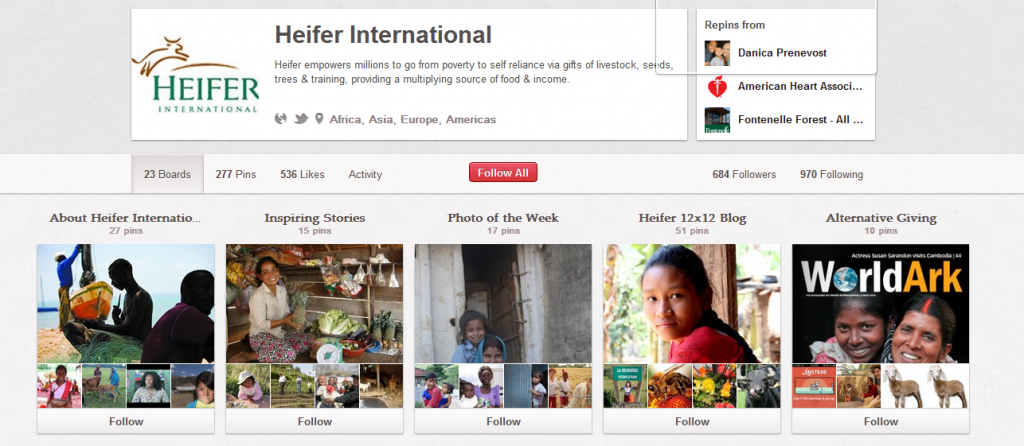 Their Inspiring Stories section puts faces to their core mission. You can see exactly the kind of people who benefit from the donation. Pretty powerful stuff for a non-profit that depends on donations the way Heifer does.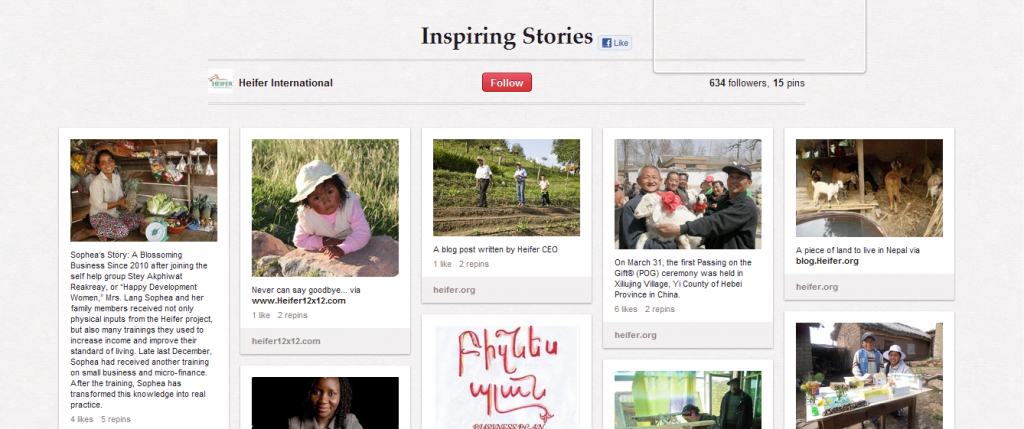 Or, what about Heifer's infographics pinboard? Nice way for supporters to grab quick and simple facts about Heifer International's goals and mission for blog posts the Facebook shares. And, a nice way to build awareness for the organization for others.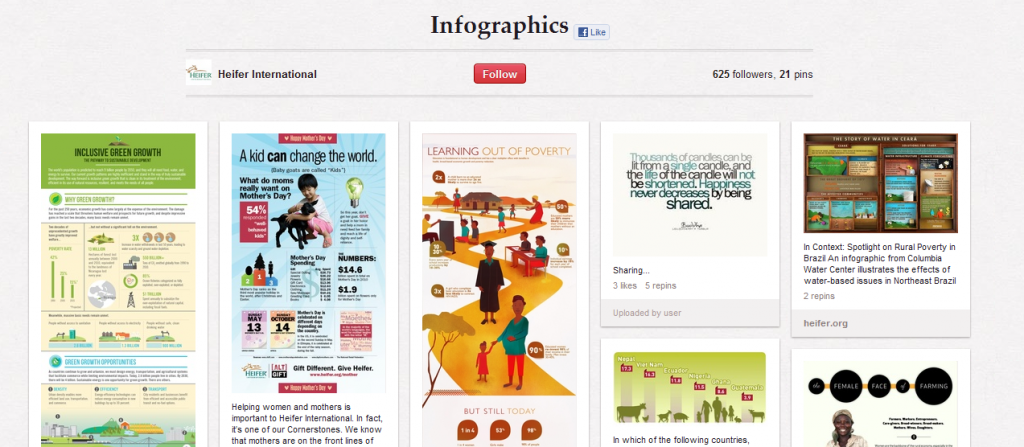 And here's where it gets REALLY cool: The "Heifer 12X12 Blog" board. This is a board devoted to photos from Betty Londergarten's quest to visit 12 Heifer projects (in 12 countries) in 12 months. Pretty impressive–and a great way for Heifer to drive traffic to the blog. But here's the thing–it's not a Heifer blog. At least not officially. It's Betty's blog–Heifer selected her after noticing some other great philantrhopic blogging/writing she did to represent Heifer in this journey. Great example of community building. Great marketing move by Heifer. And, great use of Pinterest (Betty has visited Peru, Haiti, Cameroon and Nepal, among other countries/projects).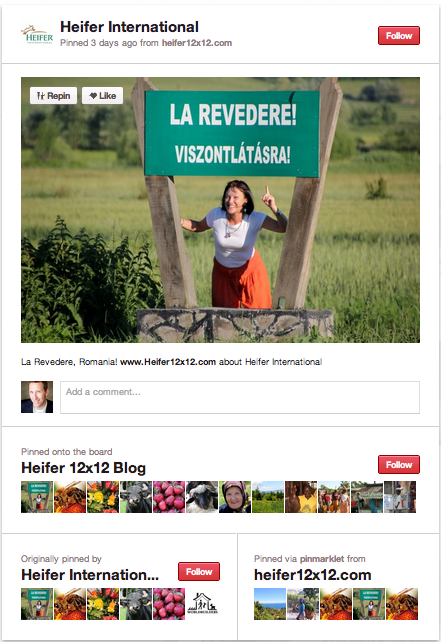 What about you? Noticed any non-profits using Pinterest in interesting ways to do social good?