Last week, I visited the Dallas/Fort Worth metropolis (I had never been, surprisingly), to chat with the Fort Worth PRSA chapter. The topic of my half-day presentation: Content strategy.
Specifically, I talked about how today's branded content is broken. And, of course, I offered up ideas on how to best fix it.
Again, it was a half-day presentation, so I'm not going to blog about the whole thing today, but I did want to discuss the 10,000-foot view.
My main hypothesis: Today's branded content is broken (for the most part).
Be honest. Don't we see a lot of THIS each week: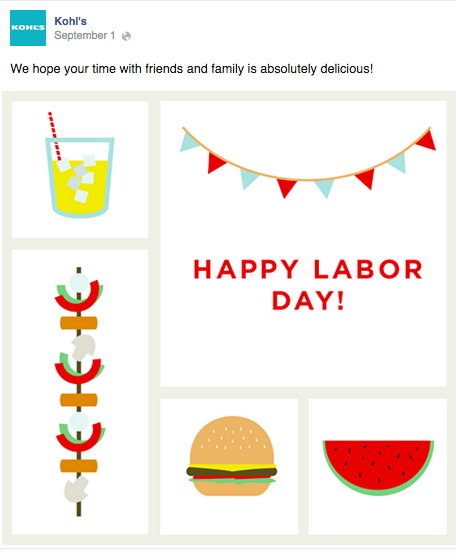 Worse yet, we see an awful lot of THIS:
I mean, "National Better Breakfast Month"? Really?
Or, we see this type of content: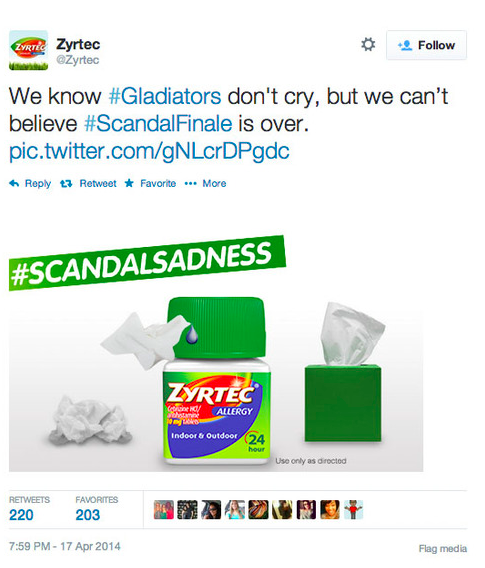 Yep–so many brands attempting the real-time marketing thing. And failing. Badly. Believe me, if you really look, there's many more examples of brands failing at RTM than their are succeeding. Yet, there they are giving it a try. I blame Oreo.
Or, we see this type of content–where clients are so intensely focused on their own organization they forget that customers (or in this case, patients), could really case less: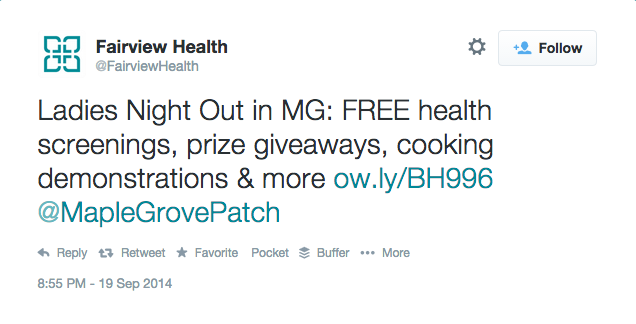 How did we get here?
As usual, no one person or factor is to blame. To be honest, I blame me–or, more accurately, people LIKE me. Consultants, agencies, thought leaders, bloggers. We have been the ones telling brands to "create engaging content." To try "real time marketing" (although, to be clear, I have never recommended going down the RTM road to a client). I mean, we've been preaching this stuff for the last few years. Why wouldn't brands listen?
I also blame Oreo, as I said before. Oreo's Super Bowl "tweet heard round the world" forever changed the social media marketing landscape. Suddenly, clients wanted to give real-time marketing a try. They wanted to do what Oreo did. And boom–client expectations were even crazier than they already were before that 2012 Super Bowl (which is saying a lot).
But, I believe we can course-correct. We can get back on track with content that works for brands.
I spent the better part of the deck going through that process, and those guidelines and best practices.
It starts with a deep breath, and a comprehensive content audit. What's working now–and what isn't? Look at your data–I mean, REALLY look at it (and ANALYZE it). Figure out what content you have within your organization that you're NOT using (white papers, employee profiles on the intranet, etc.).
And then ask yourself: "What is our organization's mission?" That's a great centering question to come back to when creating content.
And it will help you avoid falling in to the traps of real-time marketing and promoting meaningless holidays.
From there, we talked about the following steps:
* How to resource your content (in-house vs. agency vs. solo consultant vs. robots)
* How to create your content (via internal sources, on your own, long-form content trailing to short-form content)
* How to distribute your content (in particular, don't forget newer platforms like LinkedIn publishing)
* How to amplify your content (don't forget, Facebook is really just an advertising platform now–but, generally, a very effective and targeted advertising platform–use it as such)
* How to measure your content (think beyond page views and social signals–think about "engaged time", visitor loyalty and return visitors)
I'll let you take a peek at the rest of the deck. And I'll be blogging more about some of the other big themes within this presentation in the weeks ahead.