I'm giving friend and fellow solo counselor, Dan Farkas, the floor today. I've had the good fortune to meet Dan twice in person–both times at the Solo PR Summit the last two years. Dan and I share a love for sports (although he's typically on the wrong side of the discussion 🙂 and teaching (Dan teaches at Ohio University). And despite his love for pro wrestling, I thought I'd let him share his perspective today. Take a peek.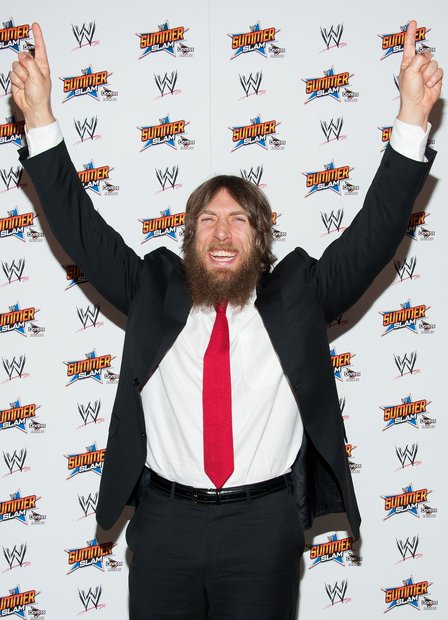 Yes. Wrestling isn't real. I get it.
So as World Wrestling Entertainment (WWE) hones in on the biggest wrestling event of its calendar, there is a movement that should make everyone think about how they communicate. And yes, the man at the center of this is this guy.
Even though professional wrestling has fake/predetermined outcomes, Bryan's story has real world implications that should change how your brand does business.
Make It Simple
Bryan's gimmick revolves around one word. That's it. Listen to the crowd react. This isn't Shakespeare, though the crowd reaction might be louder.
Keep in mind, the bad guy hasn't show up yet.
Yes, there is beauty within strategic communication to develop creatively brilliant messaging aligned on multiple platforms with staggered start times. But in this attempt to outdo other agencies, seek awards and maybe get a big blog mention, sometimes we forget about the power of simplicity.  Yes, too often, we miss the point.
In 2014, one-step conversion matters.
In 2014, we still like good guys outsmarting the bad guys.
In 2014, simple messaging is the best messaging. Just ask Michigan State.
Your Audience Knows More About Your Brand Than You Think
Mike Whaling made this point years ago to me. If you're not sure what customers want, ask them. When they tell you, listen.
Daniel Bryan lost the big wrestling title to another guy. This is video of the belt presentation to the other guy.  Yes, you should know what happens by now.
Bryan isn't as tall, strong, tan or photogenic as many of the people in that ring. He doesn't look like The Rock or talk like Hulk Hogan. It doesn't matter. The customers spoke. Yes, it was loud. That's what customers do. Will your brand hear what is said or truly listen?
Ride The Wave
Because of this controlled chaos, Bryan will be in the main event of the WWE's biggest annual show, WrestleMania.  Nobody knows how long this craze will last. Maybe it's wrestling's next Gangnam Style. Maybe it's wrestling's next U2. USA Today seems to think there's some run with this  "Yes" thing.
Today, people care. A lot. Yes, it might make zero sense to some rational humans. Brands spend years trying to catch a "viral" wave.  When it arrives, ride it for as long as possible.
Yes, we won't confuse Daniel Bryan with Daniel Edelman anytime soon.  But do I think one word in a weird world should influence your universe today? I'll let these folks answer for me.
Dan Farkas is an Instructor of Strategic Communication at Ohio University who also owns Dan Farkas Interactive and tries to corral two children under four. Yes, he likes coffee. Yes, you can reach him @danfarkas on Twitter or connect with him on LinkedIn.