One of my favorite parts of BlogWorld each year? The exhibitor floor. It's my chance to geek out and learn about the latest tools and platforms as it related to social media and digital PR.
This year, I was particularly excited to see what my friend David Spinks (community manager for Scribnia) had up his sleeve as he planned to unveil a new tool for PR pros that would help in the blogger outreach arena.
The tool? BlogDash. And, I tend to think it has the potential to change the way we research and engage with bloggers from a PR/marketing perspective.
Although it won't be available until later this year, David was giving folks a sneak peek at the new tool on the BlogWorld exhibitor floor. I cornered David for a few minutes and had the opportunity to ask him a few questions about the new tool:
I also had a chance to ask him a few additional questions after BlogWorld via email: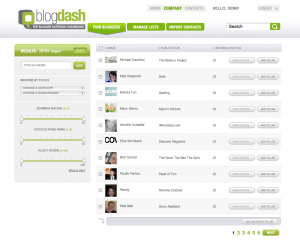 What are the key features/benefits for PR folks?
PR folks spend hours on end searching for, and researching bloggers that match the needs of their clients or businesses. BlogDash was made to help them find those bloggers and provide them with all the information they'll need to make a targeted and educated pitch, in a matter of minutes.
The full profile features the blogger's bio, location, social networks, blog posts, all the blogs they contribute to, blog stats, Twitter stats, and more. It even recommends other bloggers that you should be targeting. Bloggers can then claim their page and set their "pitch preferences" which lays out, up front, exactly what they expect when being pitched.

What makes BlogDash unique?
There are no tools made for blogger outreach today.  There are media databases that try to apply the same approach to the blogosphere and it just doesn't work.  Blogger outreach is a completely different beast.  Everything in BlogDash was made with the specific purpose of helping PR professionals perform blogger outreach in a timely and effective manner. Additionally, this is a platform that is valuable to bloggers as well as the businesses looking to reach them.
BlogDash was made to save you time and increase the efficiency of your blogger outreach campaigns. We make it stupidly easy to get to know who the blogger is, what their blog is about, and how to pitch them in a matter of minutes. When you have that much information, it's easy to make targeted pitches that will result in a higher response rate and a more successful outreach campaign.

How much will this tool cost?
We haven't announced the price yet. There will be a monthly subscription.
When will we get a look at BlogDash?
We will be testing and building over the next month.  We haven't announced the exact launch date yet but we're hoping to be ready by the end of this year.
Given that, here's what I like most about the potential of BlogDash:
* Monitoring bloggers' online activities will be MUCH easier. Right now, this is a fairly manual process. I have to research each blogger's social networks, create a private Twitter lists and manually check Facebook regularly.  Not the end of the world, but BlogDash aggregates all that content for you—automatically—making my life a lot easier. And freeing me up to spend more time on the big ideas–not the research.
* More rich blogger data. In the demo David showed me, I noticed the tool pulled a lot of data I'm currently mining (again) manually. Alexa rankings, Google Page Rank, page views, location and other data. Data clients often want to see before you start to reach out–and data that's critical to making informed decisions on who to target, and who to skip.
* Bloggers have input, too. One of the best things about this tool is it gives bloggers the ability to customize their settings to alter their "pitch settings." Now, sure, bloggers could do this on their own (great examples from Jason Falls and Dave Fleet), but this is an easy way for bloggers to give PR people the information we need to pitch you the right way.
What do you think? Given the quick glimpse at this tool, does it have the potential to change how we research, monitor and engage with bloggers?
Note: BlogDash screen grabs courtesy of David Spinks, community manager for Scribnia.