I spent the last six days in the wonderful Caribbean isle of St. John–my brother got married on Trunk Bay on Saturday evening.
If you've never been to St. John, I'd suggest rectifying that as soon as you can. It is one of the most wonderful places on earth. In fact, for me and my wife, it is our favorite place on earth. If you follow me on Instagram, you got a feel for how my week played out (sorry for all the family selfies!).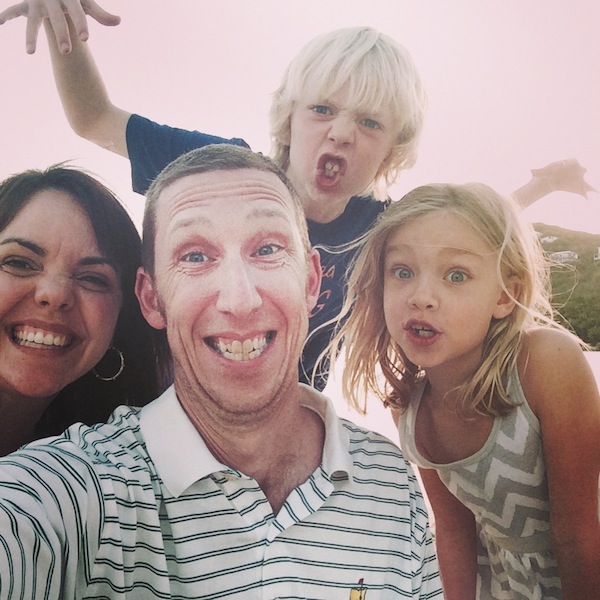 As a solo counselor, one challenge I usually have on our vacations is that I have a hard time unplugging.There is usually a few things I need to knock off for clients when I'm away as I still haven't got a trustworthy "back-up plan" in place yet (after five years, you would think I'd figure it out by now, right?).
But on this trip, I decided to fully unplug. No emails. No working on the computer. No nothing (again, save my Instagram pics–which is really my camera now, so that truly does not count).
That was a change for me. But, it was definitely necessary–it was, after all, my brother's wedding.
And, here's why it mattered:
* I kayaked with my kids–three times. In the most beautiful waters you can imagine. And I didn't bring my phone to capture pics.
* I had fun taking numerous #FamilySelfies with my kids–but didn't feel the need to check in and watch on Instagram after I posted them.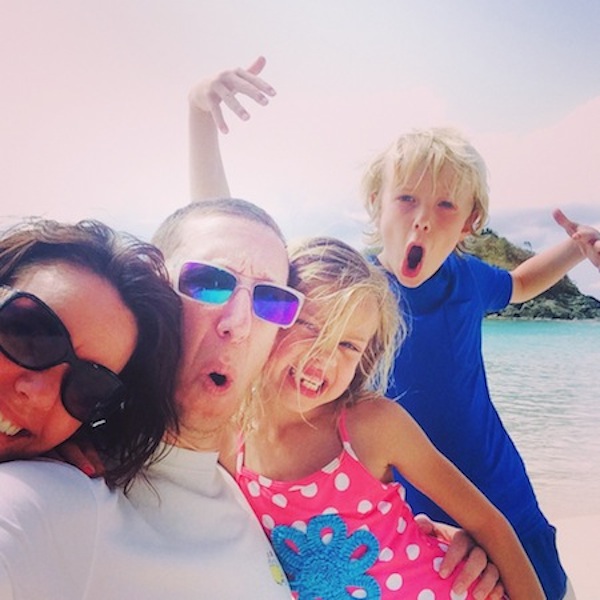 * I watched my son, daughter and Dad drink coconut milk RIGHT FROM A DARN COCONUT!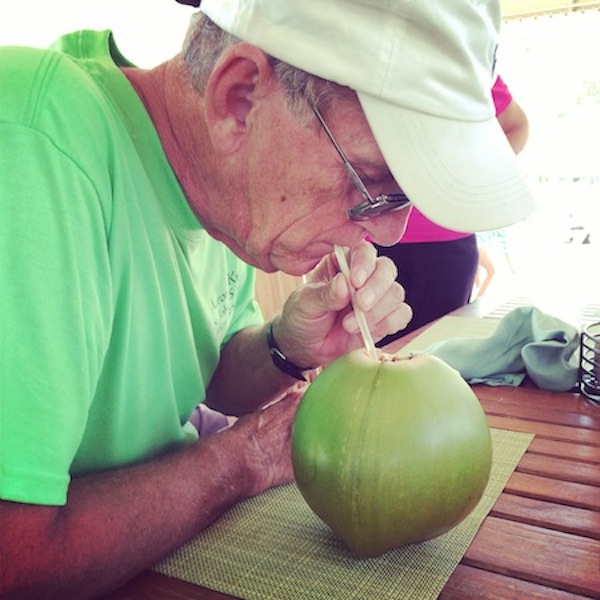 * I watched my brother get married on the best beach in the world (Trunk Bay). And I didn't share any of it on Twitter (although I did take a few great pics at sunset, like this one).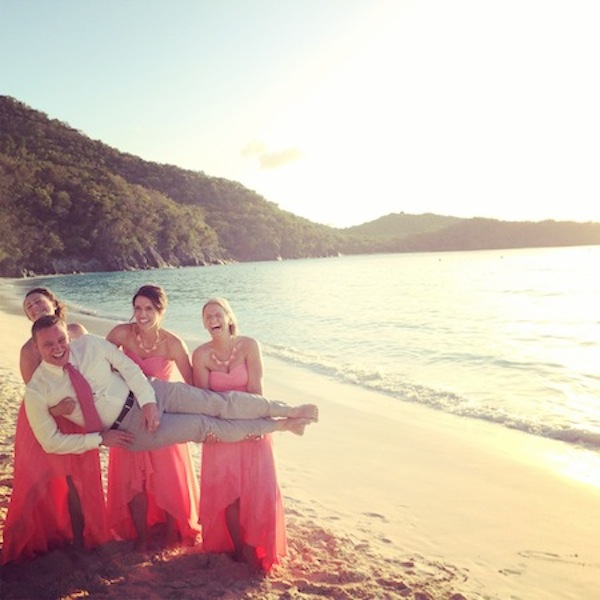 * I sipped Rum Punch and Painkillers in the pool while the sun beat down on me. And my phone was safely tucked away in my bag.
* I hummed country tunes with the wedding party at Woody's (our all-time favorite Cruz Bay bar), while drinking $1 Coors Lights. And I didn't share it on Facebook.
* I went on a sunset cruise the night before my brother's wedding around St. John with my daughter. And I spent the entire trip talking to other humans on the boat (like my friend RJ, pictured below).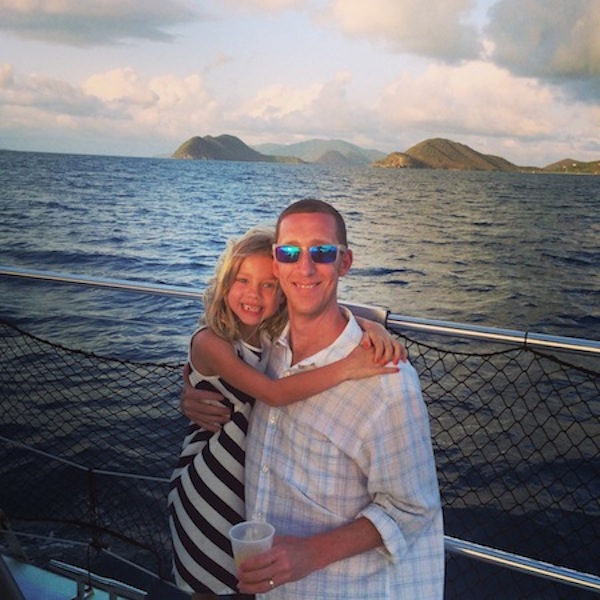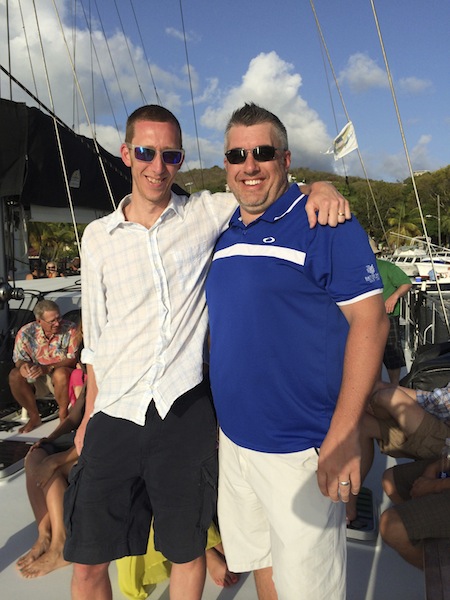 * I snorkeled with my son at Trunk Bay (pictured here–and no, this isn't a postcard image; it really looks exactly like that in person)–his first time–and didn't blog about it once (until now–whoops).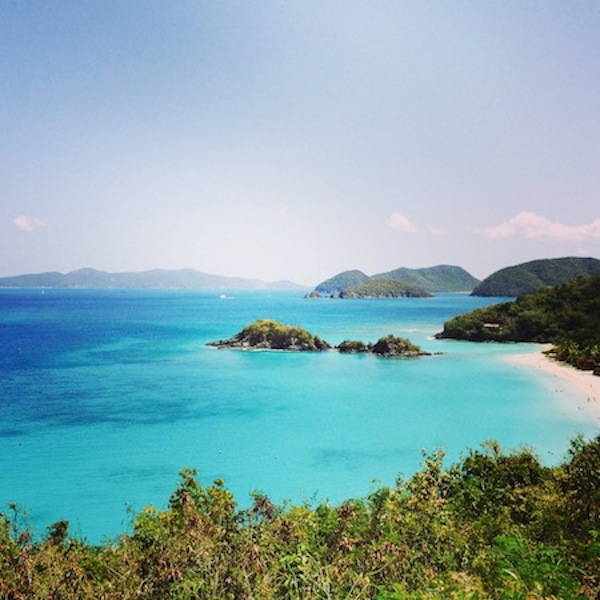 Sure, I took a few pics throughout the week and posted them to Instagram and Facebook–but like I said, since my phone is my camera I'd do that anyway.
The bigger picture is this: Without a focus on keeping tabs, checking in and working virtually, I freed myself up to actually enjoy myself  for six days.
Six days I spent playing in the pool with my kids, talking to relatives and family friends I haven't seen in years, and celebrating one of the biggest weeks of my brother's life.
So, you want another case for the value of unplugging? Just take another look at those pics above. And guess what? Work was here, waiting for me when I got back yesterday. And, not a single person raised a fuss. And not one client was left hanging. And not one project dropped by the wayside. And the world kept spinning.
Go figure…