Over the past year, I think it's a fair statement to say most brands would like nothing more than to stay out of @TheRealDonaldTrump's way–especially as it relates to social media and Twitter.
Meanwhile, one company is taking dead aim at POTUS and challenging him head-on in the most public of arenas–on social media.
In case you hadn't heard, POTUS made a landmark decision yesterday when he reduced the size of two national monuments in Utah by more than two million acres.
Shortly after that decision, Patagonia was out in front challenging the POTUS.
Actually, challenging might be too soft. Patagonia was damn near asking for an all-out fist-fight on the playground. After all, this was the post they made across their social media channels on Monday afternoon (Dec. 4).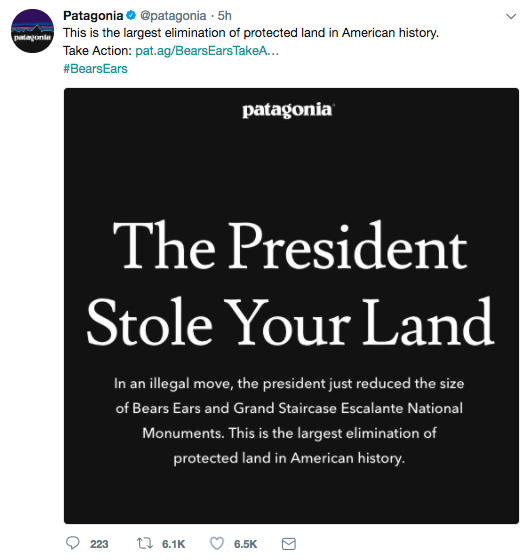 It doesn't get more frontal than that, folks. And, this is coming from a CORPORATION.
Like I said up top, for most of this year brands have been taking major steps to develop plans for what they would do should POTUS tweet at their business.
Patagonia just called POTUS a bully in front of everyone on social media.
Wow.
It probably shouldn't come as that big of a surprise. After all, Patagonia has a long history of advocating for and standing up for the environment.
And, according to Edelman research earlier this year, this is exactly the kind of hard stance brands need to take (stat: 57 percent of consumers buy or boycott brands based on a brand's position on a social issue or political issue). Why? Because it's what customers want–especially millennials. If you look at Patagonia's social channels, you'll see plenty of comments like this:
Or, this one from friend, Tom Buncheim: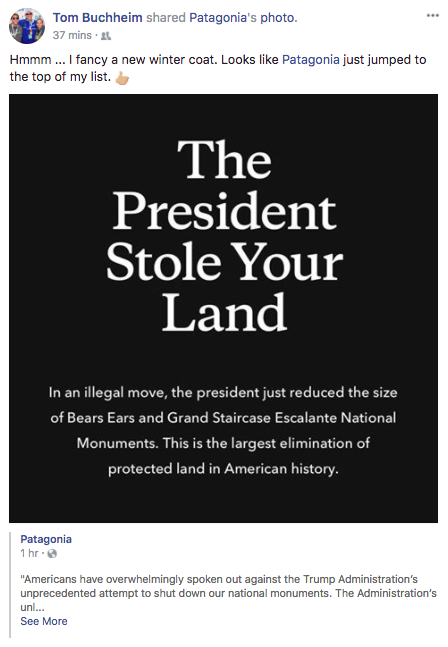 Those are exactly the kind of posts the Edelman research promised. People not only voting with their pocketbooks, but people aligning political interests with BUYING interests (another stat: 67 percent will buy your brand for the first time solely based on your position on a political issue).
Now, keep in mind, Patagonia is is a unique position to capitalize on this recent shift. For years, they have taken a pretty hard stance when it comes to the environment. For years, their Cleanest Line blog championed environmental issues after environmental issue. And, their founder, Yvon Chou­i­nard, has long been a huge advocate for the environment and all its stands for (just read this piece in Outside for the bigger picture).
But, this is a pretty hard stance. Your social media post accused the President of the United States of "stealing" your land.
How many other companies can you even imagine making this kind of post?
But here Patagonia is, out in front of this issue, taking on the very vocal supporters of @TheRealDonaldTrump.
And it makes all the business sense in the world.
Why? Because Patagonia, much like @TheRealDonaldTrump did last summer and fall, is playing to its base. They're speaking directly to their most hard-core customers, who they know support the causes they care about most. Most likely, they know they're not going to win over any folks on the right side of the aisle with this campaign. But, they also most likely just don't care. They're targeting their loyal customers and hoping to pick up enough steam along the way from being out in front of this thing to win over a few other folks as well.
At this point, it's a very interesting case study on how brands can take a hard stance on an issue they feel strongly about–even if that means they're going toe-to-toe with the most powerful person in the world (and Twitter).
I, for one, applaud Patagonia. This kind of bold move isn't for every company. And, I'm not sure this is the start of a big trend where you start to see all kinds of companies talking publicly about their political beliefs. But, for Patagonia this simply makes sense. And, at the end of the day, it's an issue that aligns with their mission: "Build the best product, cause no unnecessary harm, use business to inspire and implement solutions to the environmental crisis."