I know, I know, it's mid-April and COVID cases and deaths are rising again. But vaccinations are ramping up, too. Hope is on the horizon. It feels like we're almost there. And, as I think about what's next, in-person industry events immediately pop to mind.
The big question is: When will that be? When will we return to an indoor setting with 100-500 people without feeling nervous?
I asked that exact question on LinkedIn a couple of weeks ago, and here was the response: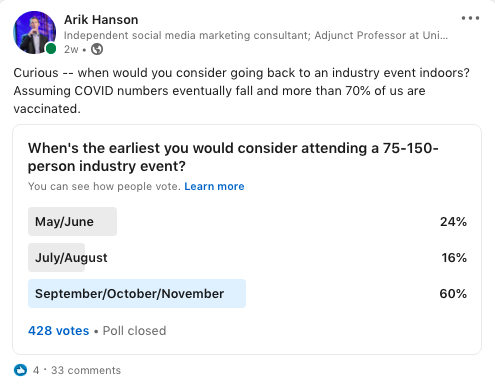 What's more, in the comments, a number of folks said they wouldn't go back to an indoor event until at least 2022.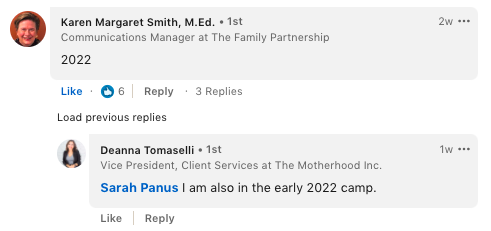 So, what's going on here? Why would people say fall at earliest when President Biden said we could enjoy a maskless 4th of July? Why are people so reticent?
I think a few things are at play.
First, people have legit concerns about the vaccine and COVID.
Will the vaccine hold up (early signs are very good, but we don't know 100% yet)?
Will variants pierce immunity (again, from what I've read, this is somewhat doubtful, but we don't know for sure yet)?
And, will we reach herd immunity (this is the million dollar question right now)?
And, the real clincher that isn't being discussed as much: Most of us have been staying away from people (some in our homes) for more than a year now. I think a lot of people are just extremely nervous about going back to larger groups of people. And, who could blame them?!?!
So, clearly we probably aren't going back to any indoor industry events until the fall. And, I would say we aren't going back to any larger indoor events until Spring 2022.
Just my two cents. Reading the tea leaves and talking to a lot of people about this recently.
On the other hand, outdoor events may be a different deal. I could see outdoor industry networking events happening this summer.
I could see golf events for professional organizations.
Get-togethers are breweries outdoors.
Maybe even a Twins game?
That may be our bridge to indoor events this fall or winter.
For now, we just need to get as many people vaccinated as possible so we can actually gather indoors again eventually.
So, go get your shot when your number is called, folks. We'll all be back together soon–whenever that is.