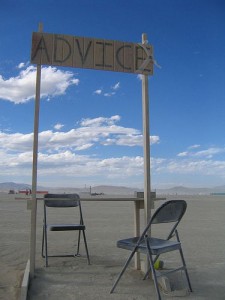 That was the question put to me by a friend and colleague during an interview last week. And, it stopped me dead in my tracks.
Why? Not because I didn't have a singular answer–but because I had too many answers.
Over the years, I've been extremely fortunate to have outstanding and generous mentors. People who were willing to take me by the hand, show me the ropes and point me toward opportunities.
I've never forgotten that, which is why I spend an inordinate amount of time "paying it forward." It's what inspired me to help Scott Hepburn and Sonny Gill last year. It's what inspired me to create HAPPO with my friend, Valerie Simon. And, to be perfectly honest, it's become quite a passion of mine.
So, back to the question: What's the best piece of PR advice I've ever received? I have a few, but I'd also like to share a number I've heard from friends, colleagues and fellow PR bloggers. And, I'd love to hear yours. I'll start with mine:
* Never, ever burn a bridge. I've taken this one to heart. Sure, will be times when you want to walk away mad. Go out in a blaze of glory. Don't. You will regret it. Every. Single. Time.
* Work smarter–not longer. This was a lesson I learned from my former colleague and friend, Nicki Gibbs. And it's been a huge boon to me this last year as I've started my own business. Working longer hours isn't the key–in fact, it's almost ridiculous to even think that could lead to long-term success. That's exactly what I was trying to get away from when I started my business. Working smarter is the key. Using resources effectively. Focusing on the right work–not just busy work. I'm convinced this is one of the huge keys to success for most people in today's world.
* Hard work is the bedrock of success. I know, what a basic piece of advice, right? But, you know what? I don't know one successful person who doesn't bust their tail every day of the week. It just doesn't happen. So, to learn the value of hard work–really hard work–at a young age is imperative. Don't let anyone fool you.Those who get to the top don't get their by accident. Behind every PR executive, agency owner or senior vice president is a mountain of time, energy and blood, sweat and tears. There are no short cuts in this business.
Here are a few more pieces of advice from a number of friends, colleagues and thought leaders in the industry:
Deirdre Breakenridge: "The best PR advice that I ever received came from a senior vice president at my first agency. He told me that if I listen closely, I will do well.  I took this advice as an opportunity to listen closely to my peers, supervisors, clients, partners and the market.  Now, today, we are "listening" in web communities to better understand the groups of people we want to reach directly.  Listening is key and if you listen closely you will be able to offer great counsel, solve problems and be more proactive in everything that you do."
Kellye Crane: "Best lesson in PR: the customer isn't always right. It's our job to counsel clients and convince them of the best course of action."
Todd Defren: "We always overestimate the change that will occur in the next 2 years and underestimate the change that will occur in the next 10." via Bill Gates.
Jeff Esposito: "Personalize everything and never use blanket emails. Building relationships is more important than numbers."
Kelly Groehler: "You're only 70 percent right about anything. That's why it's important to understand what people are ready-willing to hear before you speak."
Mark Ragan. "Learn how to write better than anyone else in your organization or market, whether you're tweeting or writing a press release."
Jenny Schmitt: "Write simply and directly. use common language and write for your target audience (not for you or to prove you're smart). And, answer the question you wished you'd been asked."
Valerie Simon:  Via Sally Falkow in an interview with Johna Burke:  "First and foremost, I think you have to listen. Before you even start doing anything else, you have to listen to the conversations." And, via Deirdre Breakenridge at our special #PRStudChat Class of 2010 graduation ceremony: "Listen, learn and practice, then give back to the community!"
Elizabeth Sosnow: "Rehearse your disasters. I use this piece of advice every day. What could go wrong? What's the Achilles heel of this "_______?"
Sean Williams: "Start with your business objective, your aspiration, not your tactic. And, facts and data win the day."
What about you? What's the best PR advice you ever received?
Note: Photo courtesy of laughlin via FlickR Creative Commons.