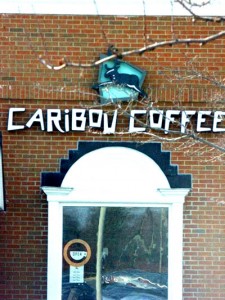 The first in a new series, these "What would you do…" posts aren't intended to be critical of the companies and organizations I review, but instead meant to give us, the fans and customers, the chance to brainstorm new ideas for how they might be able to engage existing customers and stakeholders and win new ones in different ways. I'm hoping you all, the community of digital PR strategists I commiserate with each day, can add your two cents to each post so we can brainstorm these ideas together. Sound like a plan?
In this first post, I wanted to focus on one of my absolute favorite local brands, Caribou Coffee. As many of you know, I spend a decent amount of time at Caribou outposts across the Twin Cities each day. I'm a huge fan of the coffee–in fact, I've been known to drive as far as 10 miles out of my way for a cup of their joe. Let's get to the ideas.
What would I do if I were Caribou's digital strategist?
* Use Twitter as a crowd-sourcing tool. In case you haven't noticed, Caribou recently rolled out its new "hand-crafted" oatmeal a couple weeks ago. They also routinely introduce new products and drinks to the menu. What better way to get instant feedback from your army of fans online than to listen, respond and ask questions on Twitter? A quick Twitter search for "Caribou" pops up plenty of tweets mentioning the brand in just the last few minutes. Heck, I tweet about the brand at least a few times a week. And, I'm sure many of those folks who are tweeting about Caribou would be more than happy to give their feedback on the newest drink or delectable, which would ultimately improve the menu and engage the many, many Caribou fans on Twitter (6,000-plus fans).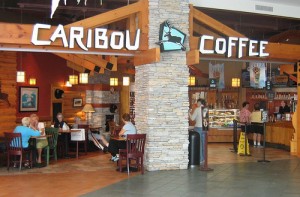 * Personalize the in-store experience for regulars. Coffee houses like Caribou are known "second offices" to a legion of consultants and solo pros. Some folks spend half their day at Caribou locations (not naming any names here ;)). So, you have loyal fans sitting in your store (many with computers in tow). They're a captive audience, so to speak. They probably have a bit of discretionary income. Why not increase the wallet share here? Some Caribou locations do actually bring around samples of new pastries–a wonderful idea. But, take it a step further. Why not offer free pastries or specialty drinks to your most regular customers? Or, maybe you give regular customers their own personalized mug when they visit your store? Better yet, what if once you log in through the Caribou site, a special offer pops up that's tailored to your buying habits based on prior orders? Or, what about simply asking managers to stroll around the stores and greet regulars personally as they sip their coffee? I know some of these ideas don't fit into the "digital" bucket, but the crossover from digital to real-life is key.
* Recognize and cater to the "brand champions." Just walk in any Caribou and nearly 75 percent of the customers have their laptops open. Chances are, these folks are active on Twitter, Facebook or any number of other social networking tools. Why not take advantage of that fact to raise awareness and win new customers? After all, these people are apt to talk about their experience in your store broadly–and frequently. Better yet, use the tools as a way to take care of your very best customers. Maybe Caribou offers special deals to its FourSquare mayors. Maybe it gets its FourSquare mayors together once a quarter as a focus group to test new products and provide feedback on marketing campaigns? Or, maybe Caribou gives followers on Twitter special deals one day of the week (similar to what Punch Pizza does with its coupon offers). So many ideas here.
* Take better advantage of Caribou email. I signed up for the Caribou email a while ago. While I enjoy getting a heads up on the newest blend they release or special deals, somehow I don't feel all that…well..special. Why not create a custom e-newsletter just for those customer who spend more than $75 in Caribou stores each month. The e-newsletter could provide "behind-the-scenes" looks at new blends Caribou is considering. Give these special customers the chance to provide direct feedback on products, merchandise and in-store experience. Maybe even share an interview with one of the Caribou roastmasters from time to time. Then, add in special value-add offers each week that would drive more traffic–and again, gain more wallet share–of these important customers.
OK, those are just a few ideas to get us started. What would YOU do if you were Caribou's digital strategist?