By now you've heard of Instagram's latest update: IGTV. Instagram made the announcement a couple weeks ago, and since then it's been a very hot topic of conversation among marketers, communicators and social media creators and influencers.
However, the big question on marketer's minds is this: How does IGTV fit into my already busy social media mix?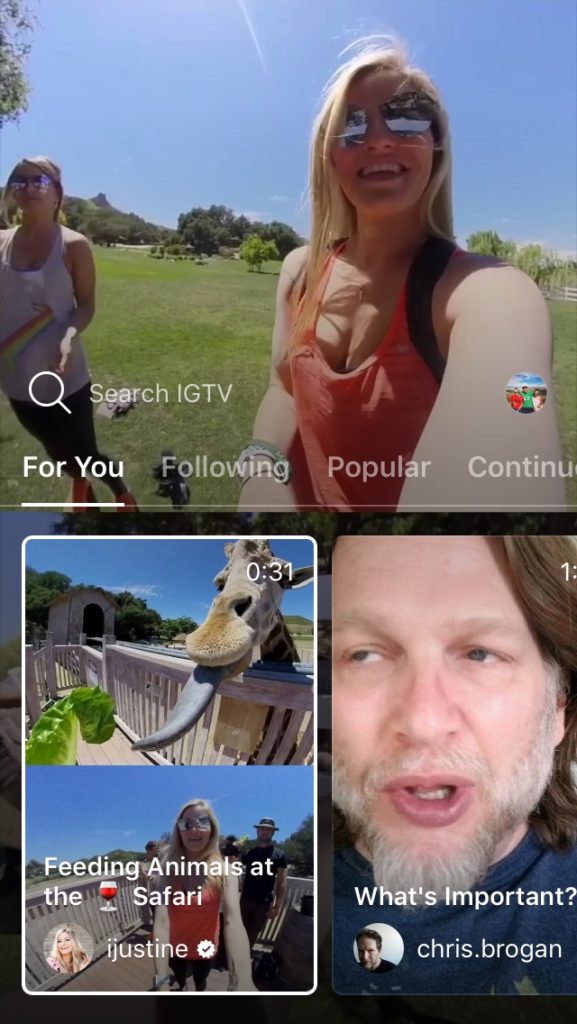 First, let's start with the facts and what we know about IGTV.
All videos on IGTV are shot and shared in a vertical format only (for now).
IGTV videos aren't limited by time—videos can be up to an hour in length.
IGTV shows up right at the top of the Instagram app—so it's easy for users to find and use.
Users will have the ability to upload videos right from your phone, just like you do on Instagram Stories and in the feed.
We also know that the appetite for long-form video content is growing. One recent survey showed that in 2016, 29% of respondents were interested in long-form (20+ minutes) video content. And in 2018, that number had almost doubled to 54% of folks who were interested in long-form (20+ minutes) video content.
We know people are spending more time on the Instagram app. Instagram recently released data that claims its users spent 53 minutes per day with the Android app in June—just five minutes less than Facebook users spent with their app.
And we know Instagram continues to grow. The photo/video-sharing app now has 1 billion users—behind only Facebook in terms of total users for a social network. 
Finally, we know Instagram continues to trend younger. 61 percent of Instagram users are between the ages of 18-34, while only 15 percent are between the ages of 45-65+.
Given all those facts, what we know about vertical video, and how things are playing out early on, here's how I see IGTV fitting into brands' social media mix:
Repurposing content—not producing original content—will be the name of the game early on.
So far, many brands are merely repurposing video content from other content channels (Facebook, YouTube, Instagram Stories, etc.). And, most brands I've seen are also sharing more professionally produced video here—it's clear this is not Instagram or Facebook Live. In these first few months, I don't think we'll see too many brands producing IGTV-specific content—you'll see much more experimentation with video content that's already been produced for other channels.
Younger demos will be targeted heavily
As mentioned above, there's a growing appetite for long-form video. Especially among the younger set. Twenty-second videos may work well on Facebook where the demographic is more broad, but on Instagram, where the demographic is definitely younger, users are more open to 5-10 minute videos (and much longer, in many cases). You'll see many consumer brands targeting these younger people early on with IGTV–and I think you'll see far fewer B2B brands experimenting with it.
Fewer 30-second ad spots, more GoT
IGTV represents a real opportunity for brands to think differently about video—especially as it relates to younger consumers. IGTV gives brands the chance to think more like publishers and TV production companies—not necessarily the same way brands have thought about video content in the past. This means instead of thinking about video as advertising, we'll (hopefully) see more brands creating more episodic, TV-series-like content, and mimicking the behavior of YouTube and Instagram influencers, who have done this quite well in the last 3-5 years. Brands that adopt this TV production-type mindset, and those who are targeting a younger demographic that isn't opposed to spending hours on Instagram, are going to see success using IGTV.
It's all about better video metrics
As with other video content across the social web, metrics will be absolutely key for brands. What will Instagram provide? Will we get something akin to the 3-second view metrics we get on Facebook? Or, will we see metrics with a little more depth? For brands to take IGTV seriously and really invest, Instagram must deliver richer video metrics that get at time spent watching and maybe even actions taken during viewing.