What makes a brand "best in class" when it comes to social media marketing?
It's a question almost every company wants to answer. Clients are constantly asking me what other companies are doing in terms of social media marketing best practices. Companies want to learn and get better at social media marketing–yes, even in 2021.
It's a question the folks at Sprout Social set out to ask more than 1,000 marketers and consumers earlier this year.
When they asked marketers, unsurprisingly, the top answers were engagement and content-based.
Three of the top four answers hone in on content marketing or engagement. This probably surprises no one, given the keen focus on content in terms of budget and resources in almost all marketing departments in 2021.
Marketers seem so focused on churning out content, many brands are pushing out more than 280 tweets and 140 Facebook posts a month! Yeah, that's what Salesforce did in June. Yowzers.
Anecdotally, I've done many social media audits for large and mid-sized brands over the last 5 years and almost all of those audits have one finding in common: Brands are posting WAY too much content.
So, we know marketers think content is the way to social media marketing success–but what does their target audience think?
Almost the opposite.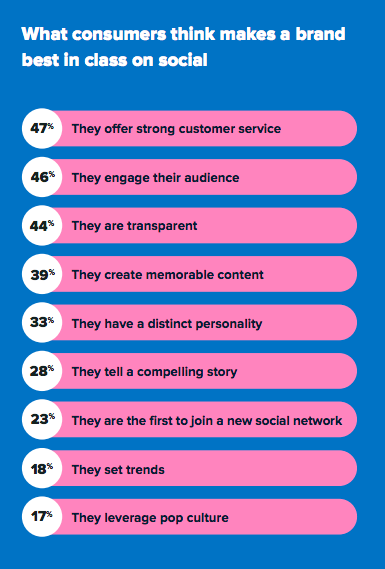 The top three characteristics of a "best in class" brand focus on customer service and engagement.
Something most brands aren't very great at–and don't resource effectively.
Don't believe me? Let's look at some more stats from Sprout.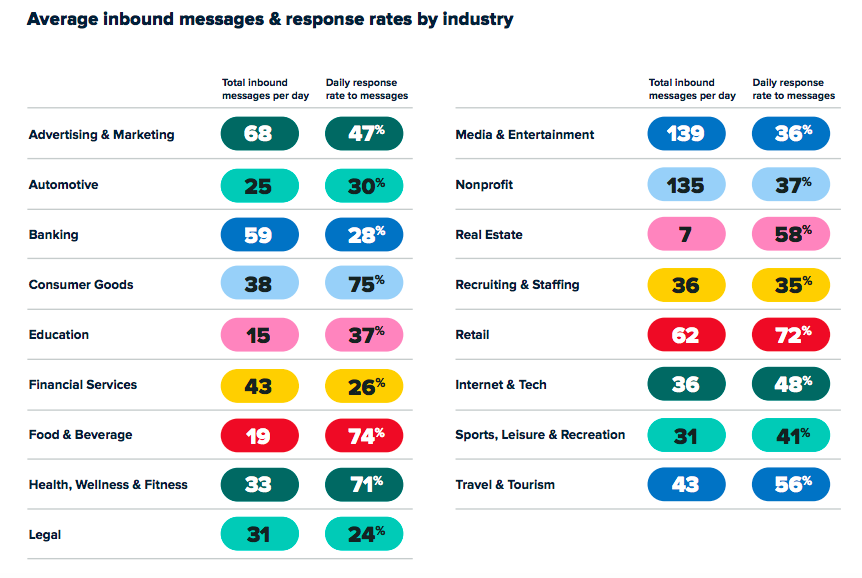 Let's look at inbound message volume and response time–two fairly common metrics for brands to track in terms of social media marketing. The chart above highlights some jaw-dropping stats. For example, the banking industry sees a hefty amount of DM volume each day (almost 60%). But, they're only responding to a little more than a quarter of those messages a day. This is an industry that doesn't exactly have the best rep when it comes to customer service–those numbers should be flipped!
Now, many of these industries have a more positive response rate. However, only six of the industries above are responding to more than 50% of customer direct messages on a daily basis! 6 of 17–that's not a great rate.
Also: Keep in mind, social media is now (especially during COVID when everything went online) the preferred method for not only customer service, but also for them to share feedback with brands.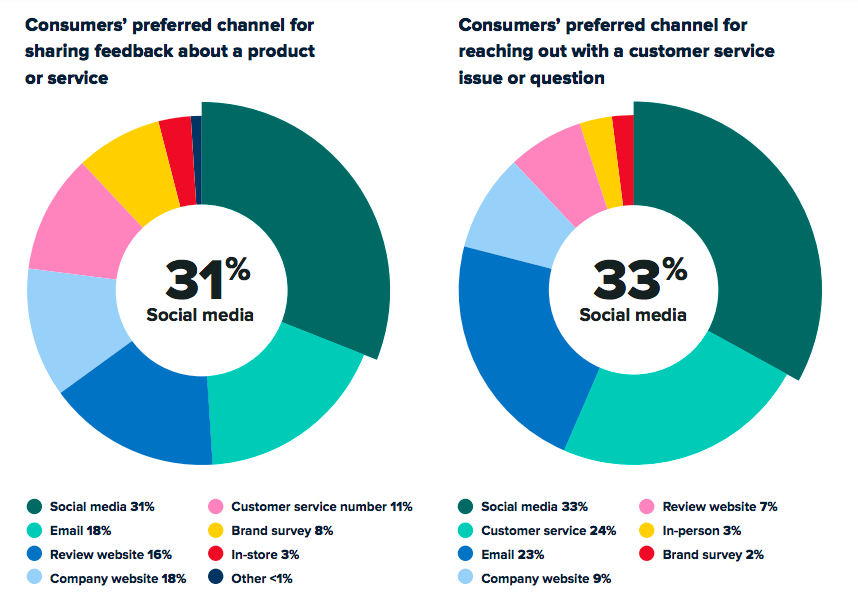 And, it's really not that close. Plus, my guess is if you stratified this data by age bands, it would be significantly higher for younger generations. So, this is quickly becoming the norm–not the exception. Bottom line: Social media is now your primary customer service channel.
So, why are marketers still so obsessed with content and not engaging with, listening to, and solving problems for customers?
Primarily because there's much more money in the content marketing game. Content marketing is also easier to "see"–you create content, you share it on social and you measure results. And, let's face it, most brands aren't all that interested in engaging with their audiences anyway. They'd much prefer the one-way communication of pushing things out via social. We've seen it over and over and over again.
But clearly, customers value service, listening and engagement. It's become the primary way many people interact with brands on social media. And, it's time we start resourcing this piece of social media marketing appropriately.
It's time to hire full-time community managers.
It's time to develop community management playbooks so various members of your team can step in, if needed.
And it's time to start budgeting for customer service, listening and engagement. Whether that means head count or vendor support–it's time to take this stuff seriously.
Your customers are demanding it.