Four years ago last month, I made the leap from "working for the man" to "working for myself" when I started ACH Communications. It's been quite a ride–and, to be honest, four years went awfully quick. But, I think that's a good sign, right? Time goes quickly when you're enjoying yourself–and that couldn't be more true.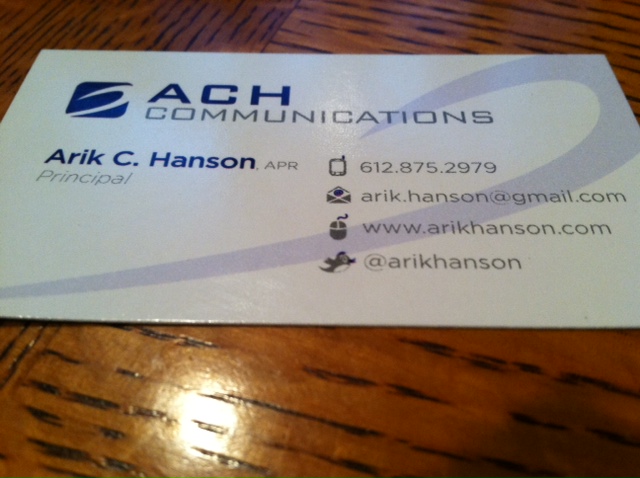 As Sunday night creeps up each weekend, I find myself looking forward to the week ahead. I mean REALLY looking forward to it. No lying in bed an extra 10 minutes dreading the week ahead. No extra cup of coffee needed to wake me up (I'm down to one cup a day now :). No whining about my job.
Nope–the last four years have been fantastic. This new role has given me the opportunity to work with some of the biggest and best brands in the Twin Cities, including Sleep Number, General Mills, Mall of America, Allina Health, UCare and Feed My Starving Children–just to name a few.
It's given me the flexibility I need in my schedule to raise two small children. It's given me the opportunity to say "no" when I want or need to. It's given me the opportunity to try new and different things–often. And, it's given me financial success (and that was never the intended goal–and it still isn't).
But, this success is hardly all mine. I've had a lot of help in these last four years. Too many people to thank publicly, really. But, a few folks come to mind that really helped me get my start:
* Candee Wolf–my first client! (and a good friend)
* Gabby Nelson–my first big, Fortune 500 client (another good friend)
* Shelli Lissick, Brian Bellmont and Jen Bellmont (my first partners, and helped me with so many things in getting started)
* Angela Hanson (no one does this without support from their wife/husband/partner)
This list really could go on and on. But believe me when I say there are a TON of people to thank. And along the way, I've also learned a lot. After all, working for yourself is a journey. And, you really never stop learning.
I thought I'd share seven lessons I've learned in my first four years of working for myself:
There is no "off switch"
Yes, you get to control and manage your schedule. But, the downside of that is there's really no "off switch." This is not a job for someone who wants a 8-5 job. Since relationships are such a big part of this work, you literally are always working. At soccer games. At church. At school functions for your kids. Which leads me to…
Relationships are everything
Over the first four years, I think I've completed one RFP. Almost every piece of business that comes my way is via referrals or relationships. And, I'm rarely in a competitive situation. That means, someone has vouched for me somewhere along the line. So, I've learned that relationships are everything in terms of new business. Translation: I have coffee with a lot of people (but I don't necessarily "sell" in those meetings). I volunteer my time often. And, I sometimes do things that I'm not quite sure will have an immediate "ROI" for my company (the MN Blogger Conference comes to mind). Why? Because you never know where that next lead will come from…
Setting your own schedule has its perks–and its downfalls
Mentioned this above, but the flexibility comes at a price. You skip out to hit that concert for your daughter? You're making up that time in the evening. In many ways, you're still chained to the billable hour.
PTO is "different"
If I were working for an agency or company right now, chances are I'd have 4-6 weeks of PTO. And, I'd potentially have a "backup" at work to help when I'm out of the office. With this job, I have neither. There is no PTO. You don't work, you don't get paid. And, backups are tough to find. Sure, you can find other solos that will help while you're out, but it can be difficult to orchestrate. My new plan (as of 2013): Take more, shorter vacations. We take four, short vacations a year. Usually 3-5 days in length. Translation: I'm never gone for more than a week (clients are happy), but I still get time away on a more regular basis (Arik is happy).
To say "you have to be OK with ambiguity" is a monstrous understatement
Clients don't commit to budgets til the last minute. Crisis' pop up during the day you don't anticipate. Tech drops when you need it most. While you could say these things for any job in PR, it's amplified when you work for yourself–mostly because you are ALWAYS the person who has to figure it out.
Creativity means more than just "creativity"
When you think of "creativity" you think about that big idea you're going to sell the client, right? While that's definitely a skill you need for this role, it's the OTHER creativity I'm talking about: Creative problem solving. It's an essential skill for this job. Your email is hacked in the middle of the day? Guess who has to figure that out. You want to attend a national event, but don't want to spend the money on the hefty admission ticket? Guess who's trying to hack his way into the event. Creative problem solving is something you'll do every day in this role.
Don't cheap out on partners and subcontractors
I learned this one the hard way early on. Trying to go cheap when it came to both partners and subcontractors. I've eventually flipped the other way. And I haven't regretted it for a moment. Pay for expertise. It's worth it. For the time it will open up for yourself alone.