Yesterday, I had the good fortune to moderate (or really, co-moderate) my first Clubhouse room. This came about from a post I made last week about the evolving nature of social media roles and job descriptions.
Tom Buccheim, executive social media advisor at American Family Insurance, had shared my post and since he's so connected in the global social media realm, a number of social media leaders across the world commented–and one suggested we hold a Clubhouse Room on this very topic.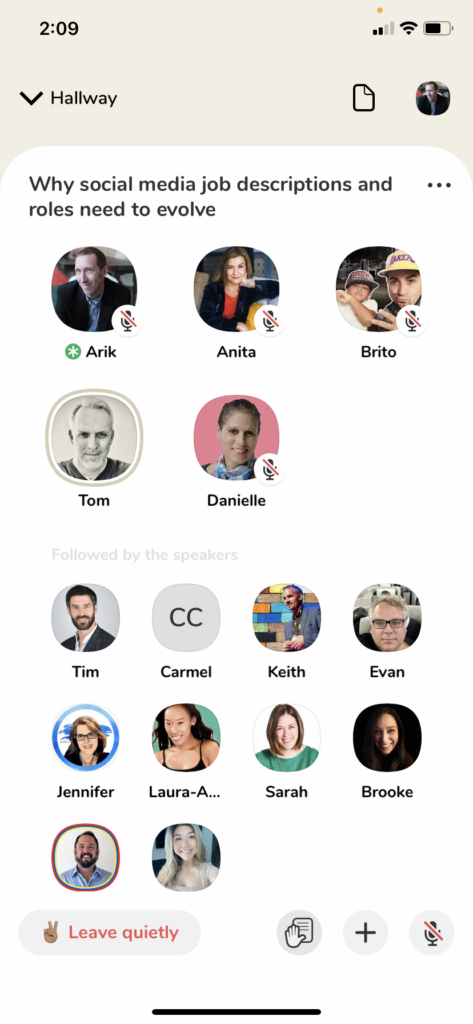 I couldn't resist.
So, I hosted a chat with Tom, Anita Veszeli, global head of social engagement and advocacy at Ericsson; Danielle Guzman, global head of social media at Mercer; and Michael Brito, EVP of digital and analytics at The Zeno Group.
Quite an impressive roster to say the least.
Now, like I said, this was my first opportunity to moderate a Clubhouse Room. I've sat in many rooms to date–it's been my fun "research project" the last couple months. I wouldn't say I'm a power user, but I've sat in a lot of rooms and listened to a lot of speakers.
But, this was different. An opportunity to run a chat. Like I said, I couldn't pass it up. And, I was excited.
The chat was just an hour long, but I learned a ton in that short hour. And since a lot of people will be doing this for the first time in the weeks and months ahead, I thought I'd share some of my key learnings.
Prepare–and script a number of questions
As I said, I was nervous! Not only because it was my first chat, but because of my co-moderators–quite a lineup. But, I always figure the best way to combat nervousness is to prepare, prepare, prepare. So, that's exactly what I did. I scripted questions. I researched what others had done before (great SME article I stole from liberally here). And, I even asked Brito for some advice, since I know he's a Clubhouse vet already. All that preparation eased my mind and made for a much more enjoyable experience for this moderator.
Establish a back-channel with your co-moderators
One key learning: It's tough to read the room. You can't read body language obviously and when you ask someone on stage to ask a question you just don't know what you're going to get. Case in point: I asked one woman on stage and she asked a thoughtful–but off-topic–question. It would have been nice to have a back-channel where I could have communicated with my co-moderators quickly to get their take. Instead, I punted. And thank goodness for folks like Danielle Guzman who jumped in with a thoughtful response.
Keep new folks on topic
This was the biggest challenge–if there was one. When people ask to join the stage–I would guess most of the time, you're not going to know them. Sure, you can look at their profile, but you can only glean so much from that. So, you really have no idea what kind of question they're going to ask. Or what they're going to say. And, in the case of our chat, there were a couple off-topic questions. So, I tried my best to steer the conversation back without offending the folks asking the questions. But, I'm guessing this is a challenge for many moderators. You gotta keep the room on topic. Otherwise, you risk losing listeners.
Don't let someone dominate the mic
Luckily, we didn't have this issue. Everyone was really gracious and open to sharing the spotlight. But, I've listened in to a number of chats already where one person really dominates the mic. So, make sure you set ground rules ahead of time with your co-moderators. And, I guess be careful who you let up on stage. They just may hijack your Clubhouse Room.
Those were my initial learnings one Clubhouse chat in! I'm already looking forward to my next moderating job. I don't think I'm going to become a Clubhouse addict–after all, there's a lot of client work to be done on any given day, and I'm still teaching my social media class at the University of St. Thomas.
However, I will say, there was a lot to like about my Clubhouse experience moderating. It was fun. It was a rush, of sorts. And, it really reminded me of the old days of social media when you could meet and network with people (usually on Twitter) very easily. Side note: It was amazing to me how nice everyone was! People were gracious when asked on stage (we had a CEO on stage who was so gracious) and I heard a lot of thank you's!
With where we're at as a society right now, I have to say, it was definitely the tonic I needed.
If you end up hosting a Clubhouse Room in the weeks ahead, I'd love to hear about it. Send me a note–I'd love to share stories!