In case you missed it, Buffer came out with a fantastic "State of Social" report in January. I say fantastic, because Buffer has been a first-rate publisher of insights and opinions on its blog for years. I dare say Buffer may be the best tool, platform or social media company blogging today (I also love Hootsuite's blog).
So, when they released their annual report, I was quick to bookmark it for careful review at a later date. After sifting through the data and charts, I started to notice a number of takeaways that the Buffer folks didn't call out.
Here are 7 things I learned from the report:
1: Marketers need to get smarter about measuring success on IG stories
Even though 57% of marketers said Stories were very effective or somewhat effective, a whopping 35% said they were "uncertain" of overall effectiveness.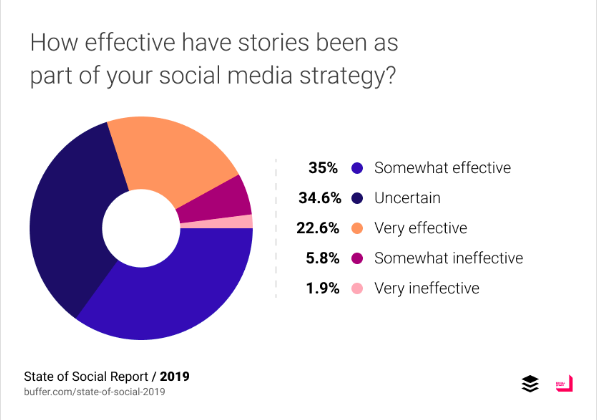 Now, some of that uncertainty could be chalked up to the fact that Stories are still relatively new, but I still uneasy about the fact that 1 in 3 marketers can't ascertain whether Stories is working or not. After all, Instagram does give you a wide range of metrics within the platform. Everything from impressions to click backs to click forwards. But, the more concerning thing is that most marketers haven't even invested in Instagram Story ads yet–a full 63%. So, we have almost a third of marketers who aren't quite sure how things are going with organic Stories, and we sit on the precipice of almost two-thirds of marketers who haven't invested in Stories yet, but most likely will try, in the year ahead. Yikes.
2: I continued to be baffled by marketers ignorance about how influencer marketing works
Folks, we have a real problem with influencer marketing. Look no further than the recent Fyre Festival docs on Netflix and Hulu for proof. First, we have less than a quarter of all marketers saying influencer marketing has been very effective–and the same amount saying they are uncertain about whether it's effective or not.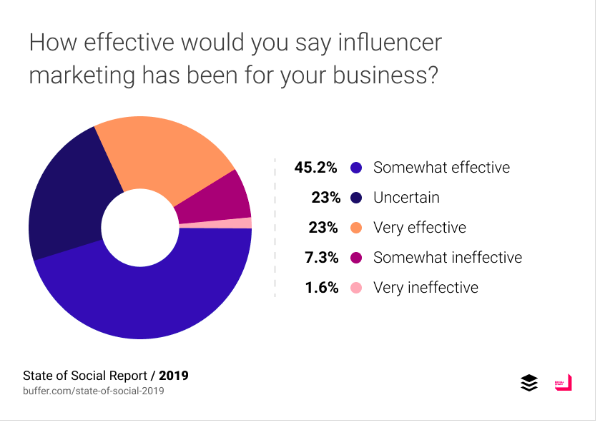 Then, you add to the mix that almost 60% of all marketers are either unclear of VERY unclear about what current regulations and guidelines mean for influencer marketing. Are you freaking kidding me?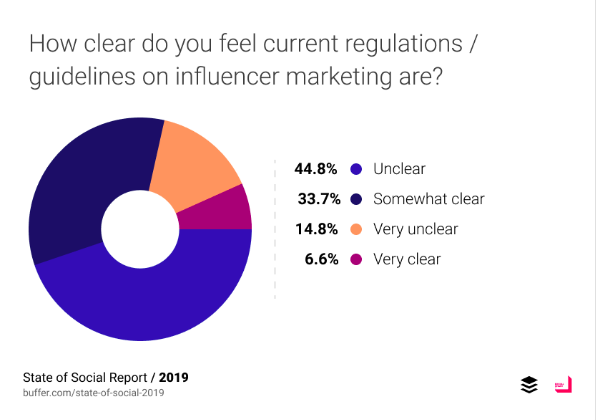 The worst part? Despite all this uncertainty among marketers, a whopping 88% say they plan to invest in influencer marketing in 2019. To recap, a full third of marketers either question IM's effectiveness or don't know how effective it is, and almost 2 in 3 marketers couldn't tell you to put #ad or #sponsor at the top of an influencer post, but almost all of them want to invest in it in the year ahead? Yeah, this should go VERY well!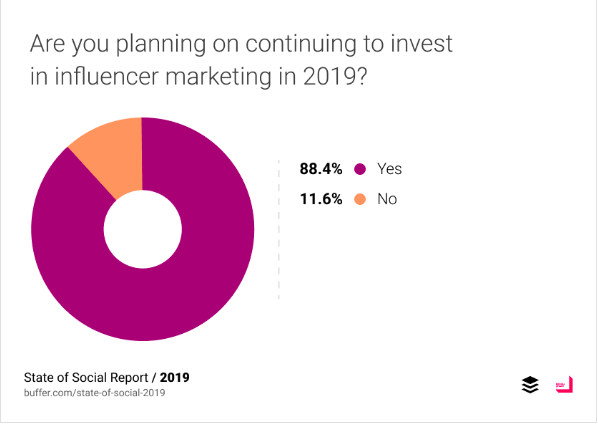 3: We're not even close to social video saturation
For the last three years, there's one trend that I would say has been pervasive in social media circles: Video. Prognosticators have been predicting the surge in video for years. And, to a point, they've been right. According to Buffer, only 15% of all marketers now NEVER publish video content on social media channels. However, only 1 in 4 said they published video weekly. And a full 37% said they published videos monthly.
What's more, most of that video seems to be going to two channels: Facebook and YouTube. In fact, as called out by Buffer, only 32% are using video on LinkedIn (huge opportunity in 2019, folks!). So, despite all these predictions of video over the last few years, I see no signs of saturation. In fact, I see quite the opposite: continued opportunity for brands–especially on platforms like LinkedIn (for sure) and Instagram.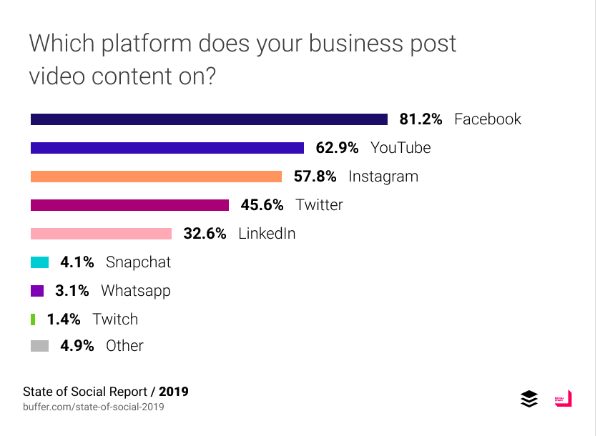 4: Analysis remains a key attribute missing in social media marketer's tool chest
When you look at this chart, what do you see?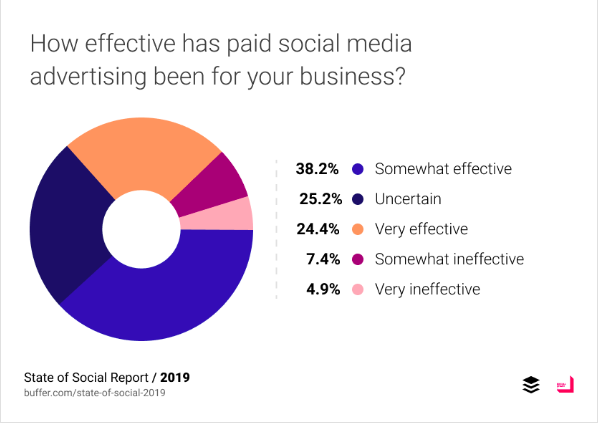 What's obvious (and surprising) is a full quarter of marketers have no idea if their paid social efforts are effective or not. In 2019 that doesn't seem possible. But, I think what's behind it is the complete lack of analysis among a big segment of marketers. I've seen it first-hand over the last nine years. I've seen so many people spitting mindless reports back at clients and colleagues–and very few marketers providing thoughtful analysis of the data and what it actually means for clients. This chart wreaks of this.
5: Niche social networks have PLENTY of opportunity

What's noticeable about this chart is the wide chasm between the Big Four (FB, Tw, IG, LI) and the other niche networks (Pinterest, Snapchat, TikTok, etc.). Everyone knows most companies are probably using all four of the Big Four in one way, shape or form in 2019. But, as the data suggests, a much smaller number are using niche social networks. After all, channels like Reddit and Nextdoor didn't even show up on this list! But, I believe it's those niche networks that will deliver an increasing level of value in 2019 and beyond. The more the Big Four become saturated, the bigger the opportunity with these niche networks.
6: Still confused by marketers' approach to engagement
Here's what's confusing. Charts and research like this show brands care about engagement–in many surveys, like this, engagement is #1! And in measuring this engagement, brands typically say they care about likes, comments and shares–the standard measures of social engagement.
Except if you review many brands' Facebook, Twitter and Insta pages, you'll notice one thing missing: Replies from the actual brands! Yes, they care about "engagement" as long as they don't have to engage. I just wrote about this very trend. The way I see it, "brand engagement" now equals customer service as many brands staff channels like Facebook and Twitter with customer service teams. Brands jumping into proactive, positive conversations about topics they care about on social media simply doesn't happen anymore–at least not for most brands.
7: Most businesses are using third-party tools they simply do not need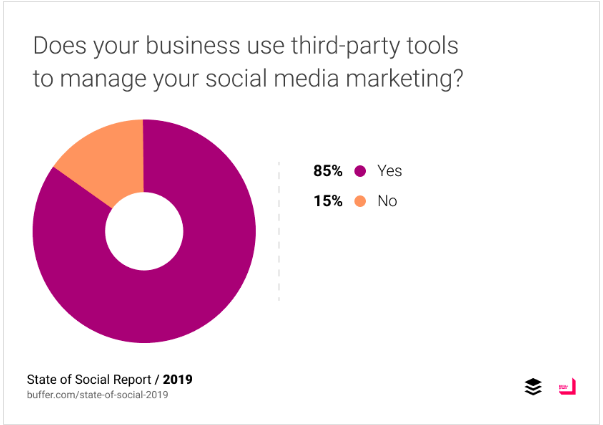 Almost 9 in 10 companies use some form of third-party tool or technology to manage social media. This should come as no surprise, as third-party tools like Buffer have proliferated at a dizzying pace the last 5-7 years. So much so that massive consolidation is probably right around the corner. But, what I've noticed over the last several years is that many of these companies are paying for tools and tech they simply don't need. In some cases, these companies would be perfectly fine using free tools or the platforms themselves to post and measure. Tools like Sprinklr and Spredfast are great–they really are. But, they're also complete overkill for the lion's share of brands out there due to ALL the feature and functionality they have. Even the most sophisticated brand couldn't use it all.