ICYMI, I moderated a wonderful panel of three smart people at General Mills last week as part of the Social Media Breakfast-Minneapolis/St. Paul series. The panel consisted of General Mills' Kevin Hunt, US Bank's Monica Wiant and Hubbard Interactive's Melissa Young.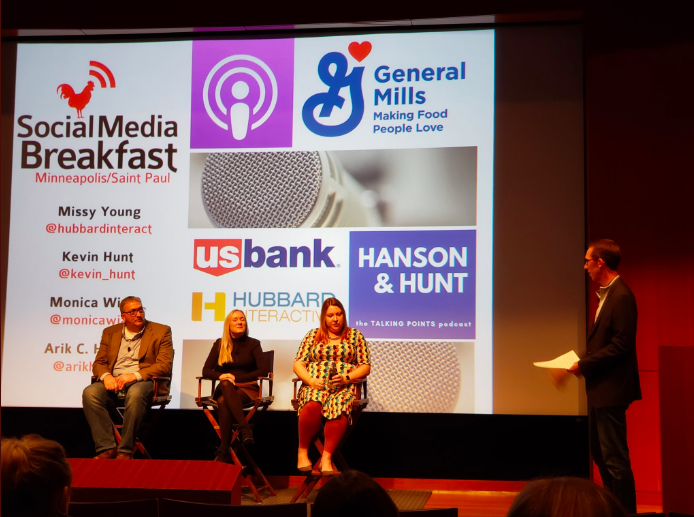 Photo credit: Debbie Friez
In preparation for this event, I drafted a series of questions for the panelists and collaborated with them on other questions. But, it was interesting to hear their answers to those questions first-hand at the SMB event along with the sold-out audience.
As I moderated, and listened, a number of common themes emerged. Nuggets that started to become clear. Best practices that you should be considering if you're thinking about starting a podcast for our company or organization in 2020.
Here were five big lessons I heard:
#1 – Your employee audience may wind up being your biggest audience
We heard this message loud-and-clear–especially from Kevin and Monica. In both cases, Kevin and Monica believe their employee audiences for their podcasts are substantial (The Taste of General Mills' most recent podcast actually FEATURES an employee's daughter!). So, it's hugely important you keep that little fact in your frontal lobe as you plan your new podcast. If employees are a big audience, what kinds of content might they find interesting that your customers and external audiences would find interesting, too?
#2 – You don't need a full-blown studio to pull off a podcast
Only one of the three panelists (Monica) records their podcast in a studio–and that's only because their agency partner offered up a space! You simply don't need a studio to pull this off. Would it be ideal? Absolutely. But, it's definitely not necessary. What's more, you really don't need 20K worth of top-end equipment to do this either. Kevin and I have developed the Talking Points Podcast for years with nothing more than a couple Snowball mics! We recently upgraded our equipment, but even that investment was relatively small (well under 2K). You don't need a lot of money or a fancy studio space to do this. That excuse won't fly anymore!
#3 – Beware of the download metric and manage expectations appropriately
Here's a surprising stat: Only 20% of all podcasts get 1,200 downloads or more, and only about 5% of all podcasts get 8,300 downloads or more. Translation: Don't expect your podcast will generate tens of thousands of downloads! It just won't. Much more likely, your podcast will have fewer than 1,200 downloads per episode. So, get ahead of that fact with management. Coach and educate them on the fact that downloads aren't everything in the podcast game. There's a lot to be said for the fact that a podcast allows you to do a different kind of storytelling. There's a lot to be said for the "cool factor" podcast can give you and your company right now. And, there's a lot to be said for the brand affinity podcasting can drive for your brand. Start managing expectations now.
#4 – Focus on creating interesting content–not acquiring new listeners
Another key theme that came through loud and clear to everyone in the room–you really need to focus on making your podcast INTERESTING! Monica talked about how they do this at US Bank by giving each year a theme and talking about a variety of interesting, non-banking-related topics (like how you deal with Gen Z in the workplace, for example). Resist the urge to focus on acquiring new listeners. That's more of a marketing goal anyway. Instead, if you focus on creating content your customers and employees actually want to listen to, the listeners will definitely follow. That's what I heard from all three panelists.
5: You CAN do this yourself
All three panelists host their show in some way, shape or form. They don't hire outside talent to host. And, they all produce their own shows (largely, at least). They don't have fancy studios either, as I mentioned above. So, you CAN do this. Might you need a bit of help along the way? Definitely (shameless plug: I can help in this area!). But, you CAN do this. It's not impossible. It's not too much to do. It is doable. So, if it makes sense for your organization, GET ON IT!