I know what you're thinking: "What the heck is Houzz?"
If you don't work in the construction, architectural or design worlds, you wouldn't know. But, if you do work in those worlds–or, you have recently redesigned your home–you know all about Houzz.
Houzz is THE niche social network for construction, design and architectural professionals. And, it's a veritable treasure trove of ideas for consumers looking to redesign or rebuild their homes. I only wish Houzz was around when we redesigned our kitchen 10 years ago, or built out our basement. C'est la vie.
These days, I'm involved with Houzz on the client front. I have a relatively new client who's involved in this world, and it's been fascinating to dive in and learn more about this niche social network.
And, what I've learned is that few brands have really figured out how to use Houzz well. So, opportunity, right? In the meantime, I thought I'd highlight a few companies, designers, architects, design/build firms and contractors that using Houzz in interesting ways–and what we can learn from them.

What can you learn from Fiorella Design on Houzz?
One of the best ways companies can help consumers on Houzz is simply by showing up each day and answering common (and frequently, easy) questions. Obviously, that's easier said than done for most brands and companies on Houzz. Fiorella, on the other hand, has answered more than 1,300 questions in its time on Houzz. That's amazing. And it demonstrates that she's showing up each and every day on the platform. Now, are any of those questions and engagements turning into leads? I'd be willing the answer to that question is a resounding "yes"–although I'm also sure the direct line of sight to those leads is as fuzzy as it is on other social networks.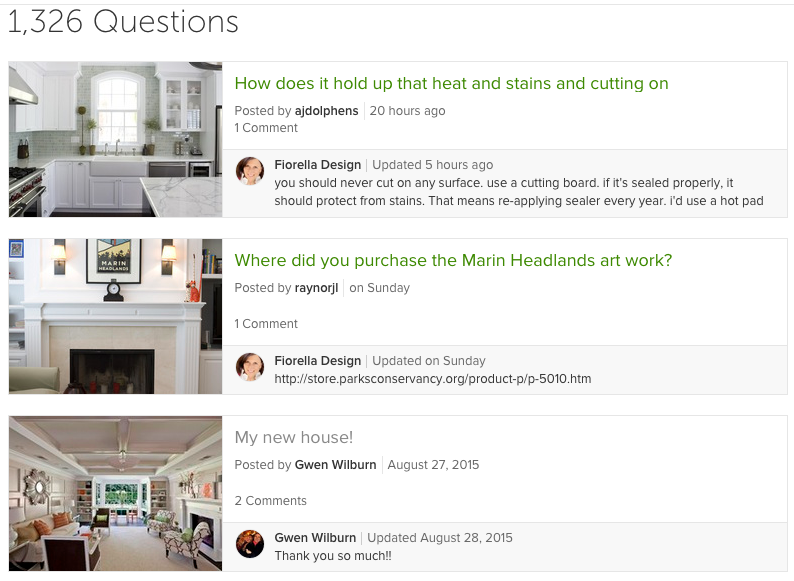 What can you learn from John Kraemer and Sons?
Showcase a variety of projects. On Houzz, it's all about visuals. It's the Pinterest of the design/build world. So, it pays to have a variety of projects for consumers to browse through at a moments notice. These guys have 51 projects in total–plenty for consumers to get a feel for what they do, and what it looks like. Projects titled "Norther Wisconsin Cabin", "Historic St. Paul Mansion Renovation" and "Country Rambler" give you a broad sense for the kinds of homes they build.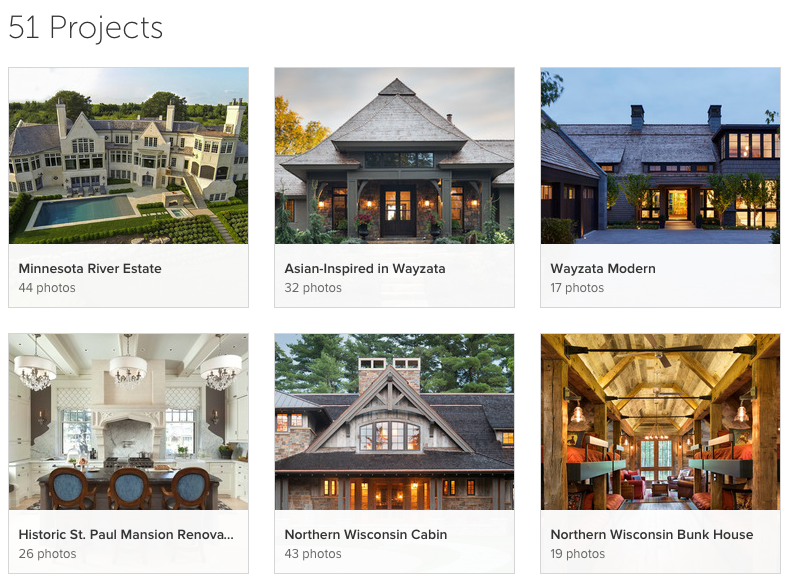 What can you learn from Martha O'Hare Interiors?
As with many social sites like Houzz, reviews are paramount. Especially in an industry where referrals and credibility are everything. Martha O'Hare has 113 reviews on the site. And, you see Martha herself does a great job of interacting and responding to most reviews. Judging from this particular review, there's a reason she has 113 (mostly positive) reviews.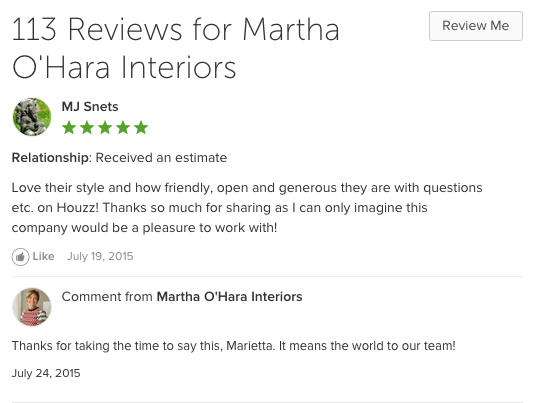 What can you learn from Paradise Restored Landscaping & Exterior Design?
Ideabooks are also a big part of the experience on Houzz. The idea? INSPIRATION! And Paradise wins big time here. They feature a full 72 ideabooks that provide ideas around restored fireplaces to stonework to restored pools. And, some fantastic photography, I must say (the site is FULL of it, as you can imagine). It's key to think carefully through your ideabooks–what are your customers looking for? How can you inspire them? What kinds of inspiration are they looking for?