PESO. In case you haven't heard, that's Paid-Earned-Shared-Owned.
It's the acronym that has come to define our generation of marketing and communications. But, it's also a model in constant flux.
Ask today's CEO what the PESO model looks like in five years, and here's what they will say (according to the USC-Annenberg Center for Public Relations):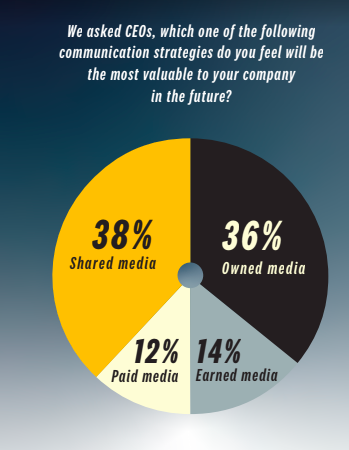 Now, there's a few things I find interesting about this graphic:
Just 12% for paid media? That doesn't exactly jive with paid media budgets now does it? Then again, this is focused on PR and comms–I have a feeling CEOs are thinking about it from a PR perspective, not an advertising/marketing perspective. That's a problem–we'll come back to this.
38% shared media–without paid amplification, shared media these days isn't really equating with a wide reach or big engagement numbers.
And just 14% for earned media. This must be concerning for PR folks my age and older who grew up with earned media as a cornerstone of any comms or corporate comms team.
What do in-house communicators and agency folks think about the future of the PESO model?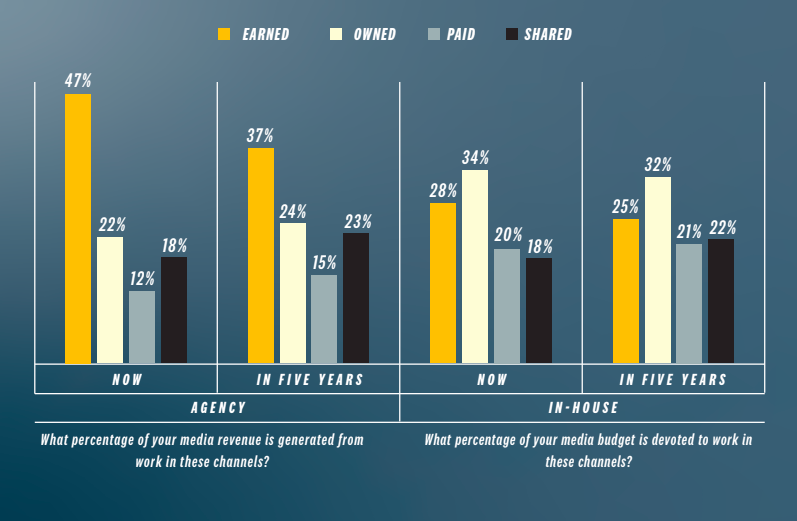 Again, a few interesting takeaways:
Agency folks, rightfully, see a decline in media relations budgets and work. But, no huge increase in owned media? That seems like territory they can and should own–big time.
Not much fluctuation for in-house folks. In fact, they barely see earned media dipping at all (just 3%), while CEOs saw that as a minimal piece of the PESO model in the future. Big disconnect there.
Similarly, in-house folks see owned media going DOWN in five years? Given all the stats and survey data we've seen lately about owned media, and the fact that social platforms like Facebook are on shaky ground lately, I find this confounding. I would have thought that number would have suggested a 10% increase AT MINIMUM.
As I thought more about this data, I see three big trends in the way CEOs, agency partners and in-house communicators think about the future of the PESO model:
CEOs
CEOs seem largely out-of-touch with modern PR tactics–either that, or PRs are doing a lousy job of educating their executive partners. CEOs see shared media as one of the two clear winners in the future of the PESO model. Yet, in 2019, shared media (sharing on social channels) is largely (or almost completely) a paid media activity. Shared media is essentially a waste of valuable time at this point–yet CEOs think it's the biggest area of opportunity for their comms teams in the future. Folks, that's a HUGE problem.
Agency partners
While agency partners are smart to see the writing on the wall re: media relations and those shrinking budgets, they don't see a big opportunity to gobble up more owned media dollars (or, paid media dollars, for that matter). PR/comms agencies are well-suited to earn this work–but, they don't seem confident they will. Why? Maybe it's because that work is going to any number of other agencies–digital, ad, social media. Or, maybe it's because they don't think they have the talent to pull it off–and talent is in short supply these days. Similarly, I'm surprised agencies don't see a big opportunity with paid media either–just a 3% increase in the next five years? There's a lot of money to be had in the paid media racket right now, and PR/comms shops seem to be saying "thanks, but no thanks." Weird.
In-house communicators
A 2% decrease in owned media? Just a 3% decrease in earned media? And paid media seeing just a 1% increase? To me, this is reflective of the attitudes and perspectives of the Baby Boomers who still run today's in-house PR/comms teams. That attitude is (in my view): Earned media is still pretty important; I'm still unsure about "owned" media; and paid media isn't out thing–someone else should be doing that. I don't disagree that earned media still has a place, but the views on owned and paid media are hugely short-sighted and may lead to shrinking corp comms teams in the years ahead. After all, if you're not adept at creating owned content and amplifying it, that's a big chunk of work you're leaving on the table–work that some other team will certainly gobble up.