In case you haven't noticed, executive participation on LinkedIn has been way up during COVID. In fact, many leaders have turned to LinkedIn as a key channel for reaching customers, prospects, and employees during the pandemic. It's become a god-send in a way. And I for one, and very happy to finally see it happen.
However, based on what I've seen over the last year-plus, executive content can sometimes fall a little flat.
A little too promotional in spots.
A little too much about them.
And sometimes not enough about them!
As I got to thinking about an executive who's really doing some interesting things on LinkedIn, one under-the-radar exec came to mind.
Stephanie Stuckey.
If you're of a certain age, you may recognize that last name: Stuckey. That's because "Stuckeys" used to be a huge chain of roadside stops across the U.S. Today, they're re-inventing themselves, and Stuckey is the CEO and primary mouthpiece online.
And, as I looked at her content, I noticed some interesting trend lines that tell us what kinds of executive content is resonating with folks–and what isn't. Let's take a peek.
Don't share, but instead POST original content
I've never seen any hard data from LinkedIn, or any other outfit, around this yet. But, in my own research with clients, I've definitely found that posting original content far outperforms shared content for execs on LinkedIn. Now, there is an angle to be had here–namely, execs sharing employee content to amplify it, in a way. However, as a rule, shared content never performs well. Case in point: Stephanie's last 10 shared posts generated 198 engagements per post. Her last 10 original posts? 1,629 engagements per post. That's 9 TIMES more engagements. Case closed.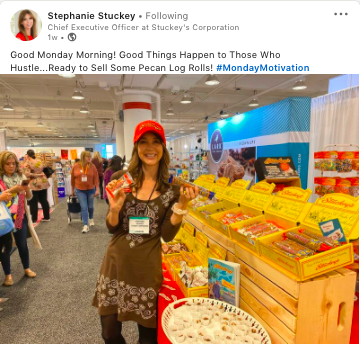 Focus on YOU–your employees, customers and fans want to see you!
I know, I know, most execs don't want their photos all over social media–let alone, the concept of actually taking a selfie and posting it on LinkedIn. THE HORROR! However, your employees, customers and fans want to see you. And that's especially true right now when many of us are still working completely–or at least partially–virtually. I mean, how often are you seeing your exec leaders over the last 18 months? Probably not enough. LinkedIn gives execs that opportunity.
For Stephanie, her last five posts that included a pic of her prominently generated 2,275 engagements per post, on average. Compare that to the average of her last 10 (above), 1,629, and I'd say they're outperforming the average by a long shot.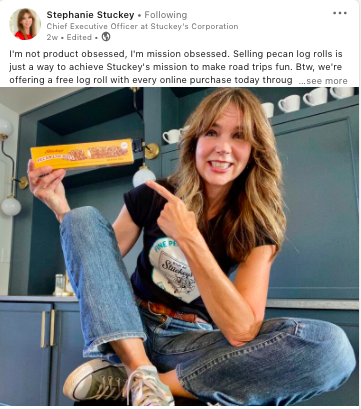 Don't ALWAYS talk about your brand
One of the biggest mistakes I see execs making on LinkedIn is talking about their brand–ALL THE TIME. We get it, you need to. promote your company. But, you can–and should–talk about other things. Ideas and concepts that are tangentially tied to your brand. Or, GASP, personal interests! I mean, CEOs are human beings, too, right? RIGHT? Especially when it comes to Employer Brand marketing, execs would be wise to show a more human side on Linkedin. After all, that's what employees are looking for these days. A leader they feel like they know. Someone they believe it. Someone they feel connected to. In Stephanie's case, she talks about non-Stuckey's related topics a decent amount. Case in point: This post about vintage signs featuring Taco Bell.
Remember, it's about storytelling–not staying "on message"
Look at Stephanie's top-performing posts (see below for #1 on that list). Almost all of them tell a story. I mean an actual story. The post below talks about how and why Stephanie chose to re-invent the Stuckey's brand after years of irrelevance. Another post from a couple weeks ago focuses on her love of motels–and why she loves them so much. Every time she spins a yarn, it performs very well. She doesn't do it with every post. She doesn't even do it with a majority of her posts. But she works them in strategically (I'm guessing) with some great pics of her, and those posts always crush her other content.