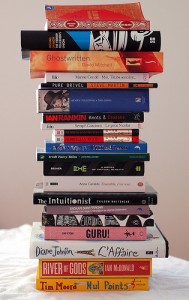 Back in March, I published a short list of suggested PR "must reads" by the community. It was an impressive list. Even more so when you added in the 16 comments with additional suggestions.
But, with the flurry of new "social media" (technically, they're not all "social media" books, but I couldn't come up with a better, broader term) books hitting the market recently (Trust Agents, Twitterville and Six Pixels of Separation, for starters), I thought we'd revisit the concept on the social side. After all, ALL PR pros need to get smarter about the social space, right?
Below is the list of suggestions from some trusted members of my community. What would you add to this list?
Tribes (Seth Godin) and The New Rules of Marketing & PR (David Meerman Scott)–Matt Batt
Web Analytics: An Hour a Day (Avinash Kaushik), The Whuffie Factor (Tara Hunt)–Keith Burtis
Here Comes Everybody (Clay Shirky) and Free (Chris Anderson)–Lee Aase
Word of Mouth Marketing: How smart companies get people talking (Andy Sernovitz)–Sonny Gill
Web Analytics 2.0: The Art of Online Accountability and the Science of Customer Centricity (Avinash Kaushik)–Valeria Maltoni
Putting the Public back in Public Relations (Brian Solis and Deidre Breakenridge) and Groundswell (Charlene Li and Josh Bernoff)–Heather Whaling
Grown up Digital (Don Tapscott)–Justin Goldsborough
Now is Gone (Brian Solis and Geoff Livingston), Personality Not Included (Rohit Bhargava and Guy Kawasaki), Naked Conversations (Robert Scoble and Shel Israel), Don't Bother Me Mom, I'm Learning (Marc Prensky)–Richie Escovedo
The Cluetrain Manifesto (Christopher Locke, Rick Levine, Doc Searls, David Weinberger)–Becky McCray
Note: Photo courtesy of Ruminatrix, FlickR Creative Commons