Opinion pages.
In some cases, they're a fantastic tool in the PR toolbox.
In other cases, they can be a PITA as columnists and community leaders skewer brands who are frequent (and easy) targets.
Enter Walmart (note: Walmart is a client, although I did not assist with this particular project).

Now, think what you will about Walmart as an organization and an employer. They're certainly a polarizing company. Seems people either hate them, or love them.
But, what Walmart pulled off last Friday is nothing short of brilliant.
Last Thursday, June 19, New York Times op-ed writer, Timothy Egan, penned an opinion piece about Starbucks and Walmart and their effect on the labor market and economy.
As you can imagine, after reading the post, it didn't sit well with Walmart–so, they took to the offensive.
And they did so in an incredibly creative way.
Now, Walmart could have pursued other options. As I see it, they could have:
* Reached out to Egan and ask him to correct the various inaccuracies Walmart saw in the post.
* Tweeted at Egan to ask for the same thing–or at the very least, debate the inaccuracies publicly.
* Comment on Egan's post
Or, they could do what they ended up doing: Write a spectacular blog post on the Walmart corporate blog detailing all the inaccuracies in the post in a graphic fashion by using a "red line" visual account of the story.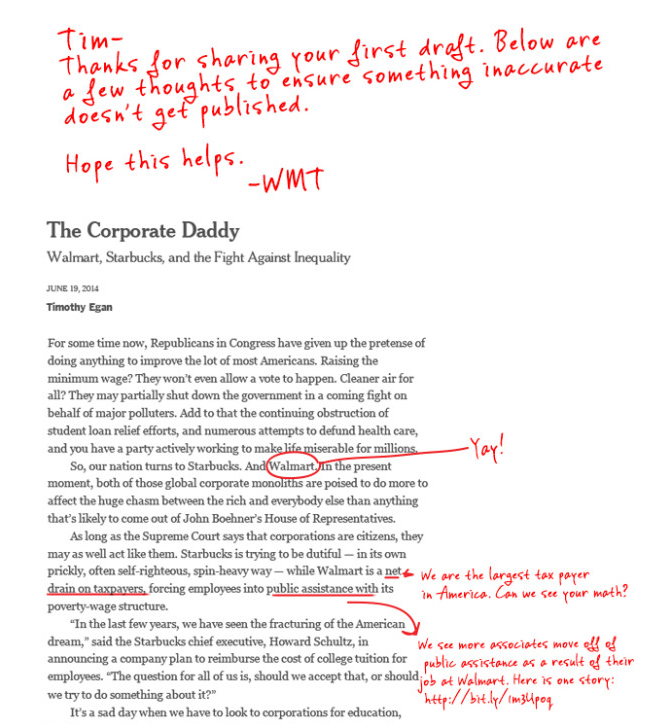 There are a number of ways I believe this response was brilliant from Walmart. Among them:
The opening redline quote disarms you (and it's pretty darn funny)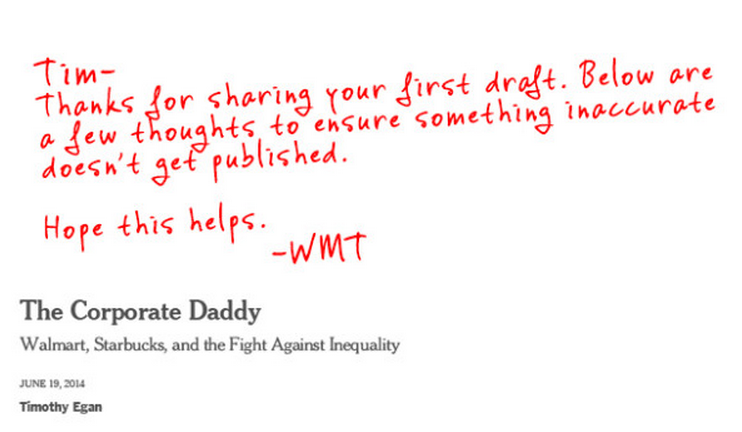 Right off the bat, Walmart disarms you with that opening quote: "Tim–Thanks for sharing your first draft. Below are a few thoughts to ensure something innacurate doesn't get published." The quote gives the impression of Walmart having a chance to review the draft before it goes to print–in itself, ridiculous. Which is what makes it so great. Right away, you know Walmart isn't taking itself too seriously. Yet…
Correcting obvious innacuracies

Walmart was not bashful about attacking inaccuracies in the story. Particularly those around Walmart wages–an obvious hot button topic lately.
Having some fun editing
I thought this was very smart. In one part of the post, Walmart marked up Egan's post just as an editor would make up a first draft by making a few "editorial suggestions."
Offering additional ideas and resources

Numerous times throughout the piece, Walmart added in additional ideas and resources for Egan to consider in his post. For example, when Egan talked about the G.I. Bill and how it helped vets to a better life upon return from overseas duty, Walmart chimed in with a stat about how it hired more than 42,000 vets this past year. Or, when Egan was talking about how Walmart makes a fortune each year and corporate execs benefit, they offered the idea of adding that the Walmart Foundation is the largest corporate foundation in the U.S. and that it donates more than $1 billion in cash and in-kind donations throughout the year.
Having some fun…
Loved this addition from the Walmart team, as a come back to Egan's claim that one report claimed 28 percent of consumers had a negative view of the corporation: "Pretty sure any corporation, politician or even media outlet would like to have a 72% favorability rating." A little shot in a very fun way.
And they did it on an owned channel
The best part? They did this on an owned social channel–not Facebook, not Twitter, not Pinterest. The post was on THEIR site. Translation: They own the traffic. They win the numbers. Readers could then also sign up to subscribe to the blog. They could check out other posts on the Walmart blog. This is actually another really good case study for why larger companies should still maintain a corporate blog. Without this blog in place, I'm not sure Walmart could have pulled this off…
So, kudos Walmart. Job well done.