There's been a trend emerging during the coronavirus and civil unrest–one that's flown under the radar a bit, but one I'm hoping we see more of in the years ahead.
It's the notion of CEOs sharing employee-only messages with external audiences.
Microsoft's Satya Nadella was probably one of the first to put this practice into place. His most recent example came in late March on LinkedIn, right after many of the stay-home orders were made. It addressed what I'm sure was a fairly anxious Microsoft employee base and talked about the company's mission and steps they were taking to assist in the virus efforts around the world.
But suddenly, many CEOs seem to be taking this approach.
Best Buy and CEO Corrie Barry shared a message they had most likely shared with employee audiences earlier on the Best Buy LinkedIn page. This message addressed Best Buy performance during the pandemic, steps Best Buy is taking to help employees and, most importantly, that Best Buy was furloughing 51,000 part-time and hourly employees.
Airbnb CEO, Brian Chesky, announced on the company's newsroom that it was reducing its workforce. Again, the message started with "Earlier today, Airbnb Co-Founder and CEO Brian Chesky sent the following note to Airbnb employees." Same message. First, internally. Then, externally.
Target CEO, Brian Cornell announced the company's decision to recognize Juneteenth as an official annual holiday in this social post on the Bullseye View (a message that was most certainly shared internally first or at the same time).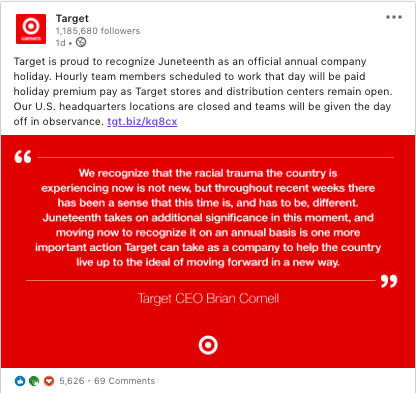 So, what's going on here? First, this growing group of companies are ahead of the curve. Certainly, at this point, they are the exception–not the rule. But, they are progressive. They are forward-thinking. And, they are doing it for a reason: the need for more corporate transparency and more trust in corporations (and their leaders).
Let's tackle each of those separately.
First, the need for more corporate transparency. Look no further that corporate malfeasance at companies like Uber and Wells Fargo for recent examples. Customers, employees and the public-at-large want more transparency from corporations. Another recent example: Facebook. I mean, how many times has a Facebook rep testified before Congress recently? Doesn't it seem like a monthly occurrence? Sure, a lot of that is about data and privacy, but an under-current to the whole thing is people wanting more transparency from these big tech firms like Facebook.
Next, trust. According to a recent Edelman report, CEOs scored LAST when respondents were asked who was doing an outstanding job meeting the demands placed on them during the pandemic.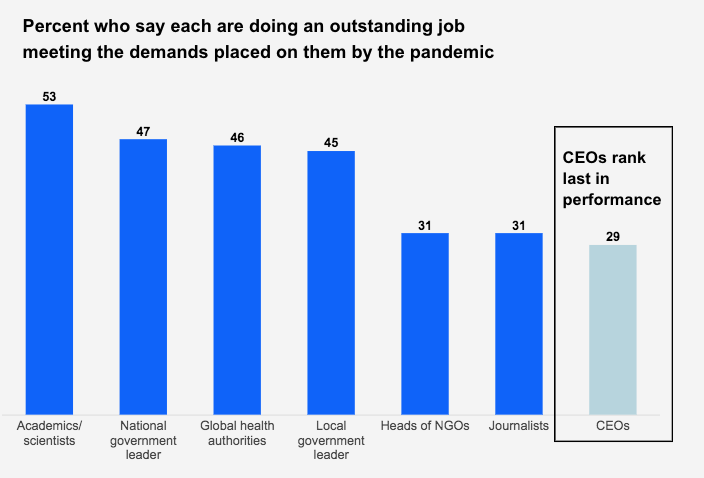 And, given where the economy is at, and the fact that corporate layoffs have been a regular occurrence lately, that number is bound to go even lower soon.
So, it's important leaders and their corporate communicator partners hear this and respond with strategies to build trust among employees. Few things do that better than posting employee-only messages externally. That's a big trust-builder.
Especially during difficult times like what we're facing right now.
So, the business case is there. And, I'm happy to see more CEOs (and corp comms teams) using these personal LinkedIn profiles and other social media tools to build trust and create more transparency for their companies.