Video. We've heard about it ad naseum for the last 4-5 years in trend posts like this. So, video, it and of itself, is hardly a trend in 2020. Especially when it comes to platforms like Facebook, Instagram and Snapchat.
But, LinkedIn? That's been a different story.
Historically, LinkedIn has been a platform heavily predicated on two forms of content: Text and photos. And, even the photo content hasn't been all that strong or unique. But, during COVID, that's all changed. Video has seen a big uptick in use. Not just on the personal side (I've noticed more people using LinkedIn Live video, in particular, during the pandemic), but also on the brand side.
Why? For starters, many of us are stuck at home and are craving connection–video on LinkedIn gets at that a bit. It's why you're seeing more videos from senior-level leaders at companies on LinkedIn.
Second, visuals (at least compelling visuals) are tougher to come by during COVID. So, brands are turning to video. This is why you're seeing more Zoom-style videos in your feeds.
Finally, you could make an argument (and LinkedIn is supporting this) that the platform is prioritizing videos in the feed. So, produce more video and your content may be seen by more people, organically.
So yeah, we're seeing more video in our LinkedIn feeds during the pandemic–and that's why.
But, what companies are doing this well? Which organizations are using video strategically on LinkedIn to advance their goals–not just to create more content on the platform? Let's take a look at four great examples.
General Mills & McDonalds – Providing a new video platform for senior-level executives
Early on in the pandemic (March/April), General Mills shared a number of videos where they interviewed key executives on key topics related to COVID. For example, here they discussed food trends with the vice president of consumer insights at Mills. Interesting, timely content, and another, "warmer" channel for execs to connect with customers and employees. And, at a time when other channels for senior execs might be a little tougher to come by, this one is opening up and drawing more eyeballs (and, easy to produce for comms teams working from home).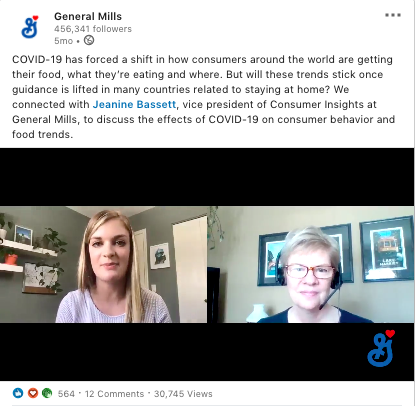 Likewise, McDonalds just recently introduced a new video series featuring its CEO, Chris Kempczinski. The interviews (so far, at least) have been done via Zoom. The most recent installment has Chris interviewing a franchisee in California. In the first episode, he interviewed Ann Murray, VP of Global Marketing with McDonalds. What's smart about McD's approach is this: They're posting the interview to Chris' personal account first (and getting the requisite engagement) and THEN reposting from the corporate McDonald's account. It's a classic two-for-one!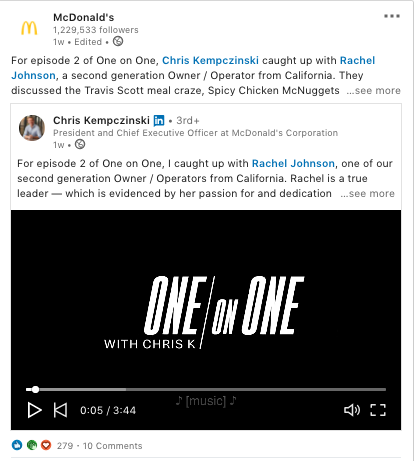 Johnson & Johnson – Showcasing a new video content series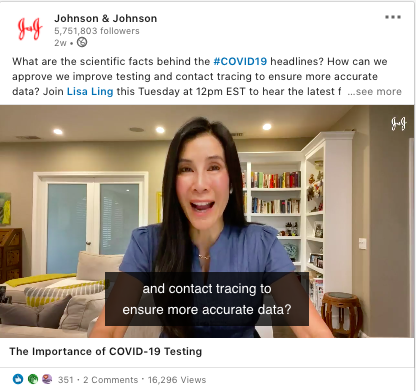 One of the more fascinating content series that I've heard very few people talk about during the pandemic is Johnson & Johnson's Race for the Vaccine series hosted by Lisa Ling. As the title suggests, it's all about the vaccine–and J&J has plenty to talk about here as they are obviously directly involved. Ling has interviewed docs, nurses and J&J employees about a number of topics around COVID and the vaccine the last six months. But, what's really interesting in this sense is how J&J is using video not only to showcase the show, but to tease it and promote each episode in advance. They also break apart each full episode into smaller video chunks to share on LinkedIn, too. In general, I'd say each show results in 5-6 individual pieces of video content. Talk about maxing out your investment!
Highlight safety efforts during COVID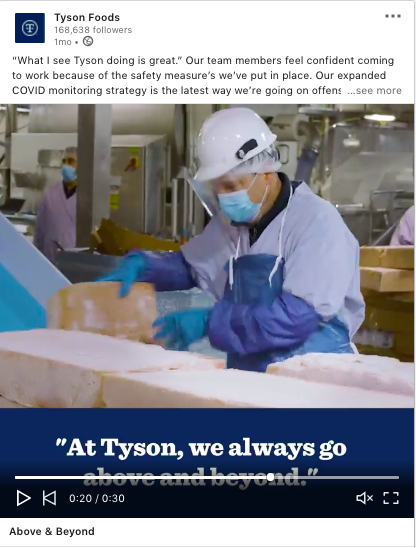 If you want the best example of a company using video on LinkedIn to showcase how they're keeping employees safe during COVID, Tyson Foods should be the first place you should look. Early on in this pandemic, when the spotlight was on food manufacturers, Tyson was all over this sharing video after video that showcased steps Tyson was taking in its plants to keep its teams safe. They have been as transparent as any food manufacturer providing tours of their plants and interviews with front-line employees. All in all, Tyson has been THE case study in how to use video to provide this level of transparency during the outbreak so far.
Introducing innovative technologies during the pandemic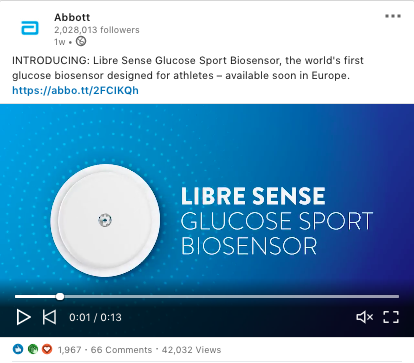 In case you haven't heard, Abbott has been way out in front of the virus, constantly introducing new products designed to test and treat people around the globe. They've seemingly introduced a slew of new products the last six months, and many times they do it via video. And it makes sense if you're Abbott, too, right? Because for some of these products, it pays to see it in action (or, what it looks like). Especially they're testing kit they're introduced fairly early this summer. Video has been a great way for a med tech company like Abbott to bring some life to otherwise fairly vanilla and technical product introductions.