Recently, I've noticed a lot more traction around a term and space I've worked in with a couple clients the last few years: the "Employer Brand." According to Wikipedia, an "Employer brand" is the reputation of an employer, and its value proposition to its employees, as opposed to its more general corporate brand reputation and value proposition to customers.
And, it's gaining momentum as a legit discipline as companies continue to compete in a bitter war for talent. Heck, there are people devoted to this work as their entire job. But, by and large, Employer Brands are still largely managed by HR teams.
And, that's proving to be a bit of a problem.

Partially because HR teams aren't equipped to do most of the work.
Partially because HR teams don't have the time to do most of the work.
And partially because it's not a big priority (yet).
As a result, I'm starting to see more comments like this from Amber Naslund, a talented digital marketer and communicator who is currently looking for work.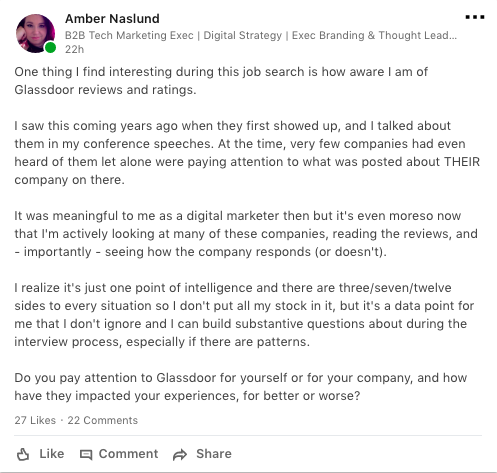 It's time for communicators to step in and help manage these Employer Brands.
I know it's happening in spots (I know first-hand, as I've helped two major companies in Minnesota with this exact work in the last four years)–but it's not happening enough.
I believe we'll see more communicators pulled into this work in the years ahead for three big reasons:
1: The war for talent isn't going anywhere–in fact, it's only going to intensify
Even if (when) the economy tanks again, companies will still struggle to find workers in many key areas. Just last week, I was reading a story in the Star Tribune about how Subway franchises are finding it nearly impossible to find new employees. And franchises like Subway are hardly alone. Many different industries are struggling right now to find enough (and the right) talent to survive. And with more Boomers retiring in the next 10 years, that problem is going to get even worse. Demand for solid Employer Brands will increase.
2: Employer Brands need to be built and nurtured, just like Master Brands
This is where communicators can really add value, as this is our bread-and-butter. We know how to build an integrated communications strategy using a mix of digital and traditional tools. We know how to conduct audience research. We know how to measure success. Employer Brands aren't just a Glassdoor or LinkedIn page–they're an integrated experience. Both online, and off. This starts with your owned channels–primarily your Careers site (or section of your site). Then, think about the job seeker experience as it relates to your company. What does that look like from start to finish? Have you walked yourself through that lately? Think about all the online tools involved–including social media outposts and Glassdoor and Indeed. Employer Brands are just like Master Brands: They need to be built and nurtured over time.
3: A growing part of Employer Brands include social media channels
This is especially true if you're trying to recruit younger employees. Just think about how the millennial set researches potential employers. They start by visiting the company's Glassdoor page. They look at employee reviews. They look at the CEO approval rating. Then, they might check out LinkedIn to learn more about the company through the Life section, which focuses on culture-based content. They might then head to Facebook or Instagram to see how the brand portrays itself publicly. This is the research process of the 21st-century job seeker. And, it feels like many companies just aren't acknowledging it yet. Social media is a HUGE part of that research process–maybe the biggest piece. So, companies really need to put their best foot forward when it comes to social media marketing and their Employer Brand.