Writing a social media job description can be tough. It's still a relatively new discipline. It's continuously evolving. And, it can be tough to define.

So, it's hard to fault folks for writing ludicrous social job descriptions.
Yet, there they are. In droves. Every day, online. In my inbox. On professional organization's web sites.
I see them. You see them. We all see them.
And now it's time to highlight a few of their common faults–and make sure fewer people make them going forward.
Because the biggest problem with social media job descriptions may be this: The people writing them have no idea what they're doing or asking for.
Half the time, they're probably written by HR people with minimal–if any–experience in the social/digital marketing world (not necessarily their fault, but just stating the reason here).
The other half, they may be written by senior managers who have little experience in the discipline–after all, this is why they're hiring the position.
So, let's take a look at three common pitfalls of the social job description–and what you can do to make it right.
Fault: 10+ years experience in social does not exist
Suggestion: Be realistic when asking for years experience
Years experience in our field definitely matters. If you're hiring for a senior position, you want someone with experience. But 10+ years simply doesn't exist. Um, social media hasn't even been AROUND for 10 years! Instead, focus on finding people with some relevant experience, and look for the intangibles you really want (people skills, experience with a specific platform or industry niche, and an aptitude to pick up and develop new skills).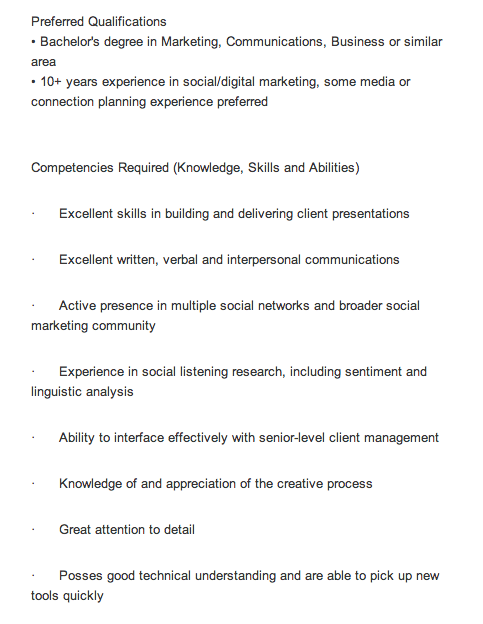 Fault: Don't ask for the moon
Suggestion: You may have to hire more than one person (eventually)
The job description below is ridiculous for one key reason: It's asking for entirely too much. You will find NO ONE that has all these skills. At least not anyone that's proficient in them all. Instead, look to hire for the key areas you really need–and outsource the rest (until you feel it's time to hire for that discipline, too). For example, if you really need social media help, look for someone with community management and strategy experience (and analytics as a bonus). Fill that hole. Then look to outsource other skill sets where you may have needs (SEO, web design, etc.).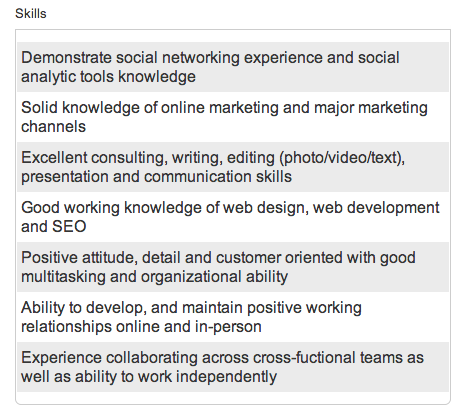 Fault: Writing + Analytics skills hard to find
Suggestion: Hire by niche and coach up on complementary skills
Analytics is THE one skill most people are looking for right now. And that's only going to increase in the months ahead. And while good analytics people are certainly hard to find, good analytics people who can write well with strong storytelling skills are damn unicorns. Look, I'm not a hiring manager, and I don't hire people, but I can tell you that most people who work in analytics probably aren't trained writers. And most people who love and excel at writing probably want nothing to do with numbers. Now, there are certainly a few out there who do both well (hello Chuck Hemann!), but by and large, those people are very tough to find. Instead, look to hire for the key skill (analytics) and seek to coach them up on the writing front. Don't dismiss people because they don't have solid writing skills–especially for a niche that's as thin as analytics right now.
REQUIRED SKILLS AND QUALIFICATIONS
• Strong story-telling and presentation skills, solid analytical bent to turn data into insights
• Familiarity with these solutions is preferred:   Radian6, Sysomos, Google Analytics, Omniture Site Catalyst, Compete.com, comScore, Dow Jones' Factiva, Facebook Insights, YouTube Insights
• Experience with statistical tools a bonus, CSS, SAS and/or SPSS
• Competence with Microsoft Office, expert-level proficiency with Excel is essential
• Well-developed writing skills
• Four-year college degree in social sciences, business, marketing, applied mathematics, statistics, or computer sciences
• 5+ years of professional experience in research or analytics role
• Experience managing teams and developing junior talent
• Professional interest in healthcare, consumer packaged goods, or technology