The term "brand journalism" is a bit of a lightning rod term in the social media marketing business.
For some, it conjures up imagery of "advertorials" and "sponsored content."
And, over the years, there have certainly been a fair share of corporate failures when it comes to brand journalism. Many starts and stops. There have been some wins–I wrote about the University of St. Thomas' efforts around the annual Tommie/Johnnie game a couple years ago.
But, for the most part, brand journalism wins have been tough to come by.
During the pandemic, however, two new companies have emerged as powerful players in the brand journalism category. And, the names of these two companies might surprise you:
Salesforce and Johnson & Johnson.
Let's start with Salesforce. Sure, they're a relatively trendy company based in San Francisco. And sure, their DreamForce conference is one of the more talked-about events each year. But, they haven't exactly been well-known for groundbreaking social media marketing or content marketing in the past.
Until now.
During the pandemic, Salesforce started a new brand journalism initiative called "Leading Through Change." According to Salesforce, this is a "series for senior executives, small business leaders, and those in between." In the series they hope to "share content that's universally helpful regardless of your role in the organization, as well as guidance specific to CEOs, CMOs, CIOs, CROs, VPs of Commerce, service leaders, and for vertical industries."
The series started on March 16, just as states started shutting things down. Since then, SF has produced more than 100 episodes of the series. Some are straight blog posts from SF leaders. Others are interviews with titans of industry and business leaders like Kevin Johnson, CEO of Starbucks, who was interviewed by SF CEO, Marc Benioff, just last week.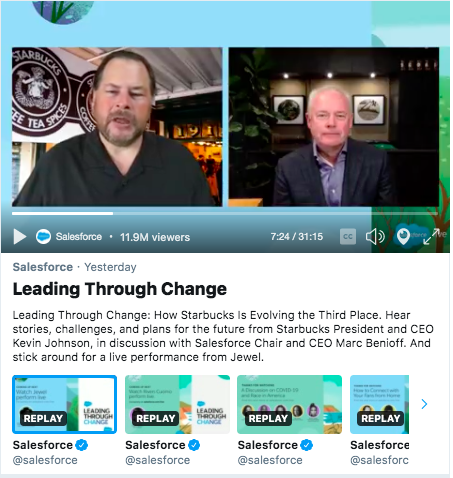 SF is producing these episodes regularly, too. Like DAILY. Sometimes twice a day. And, they're getting smarter about how they share and merchandise them. The most recent video interview with Johnson was shared via Twitter in a "live show" format (surprisingly, SF didn't share the video on LinkedIn though).
And, they're getting guests. In addition to the recent Johnson interview, they've talked to Arianna Huffington, Lars Ulrich and Surgeon General, Jerome Adams.
What I like about this brand journalism effort is that it delivers on its goals–and its goals make sense.
According to SF, the series aims "to provide thought leadership, tips, and resources from Salesforce and our community of Trailblazers to help business leaders manage through crisis; and to provide a forum for community and conversation with peers."
They're merely leveraging the broad SF network to pull in interesting and thoughtful people who have valuable advice to share during a very unusual time in our economic history. And, they seem to be doing a decent job of creating that forum for conversation, too.
I'd keep your eyes on this effort in the months ahead–I'm sure Kevin Johnson will not be the last high-profile executive they talk to.
Johnson & Johnson isn't the kind of company you think of when you talk about innovative brand journalism efforts.
But, their new "Road to the Vaccine" content series is pure brilliance.
Hosted by long-time broadcast journalist, Lisa Ling, the video series focuses on the myriad of issues surrounding, you guessed it, the road to developing a vaccine for COVID-19.
Now, the video episodes are a little long. Most run around 50 minutes. But, in each episode are thoughtful, in-depth interviews with J&J employees, health care professionals and external thought leaders, scientists and academics.
The brilliance of J&J's brand journalism efforts here isn't the fact that they hired a trained and well-known journalist to host the show (good idea). It's not the fact that the show tackles a topic on EVERYONE'S mind right now (also smart). It's about how J&J is promoting and merchandising the show.
For example, for each feature-length, 50-minute show, J&J typically will "chop up" that show into smaller, more consumable "sound bites" they can also promote on each social network. On Facebook J&J created five different "mini-shows" out of the full-length feature show on May 12. Here's the first one featuring Nicole Lincoln, RN: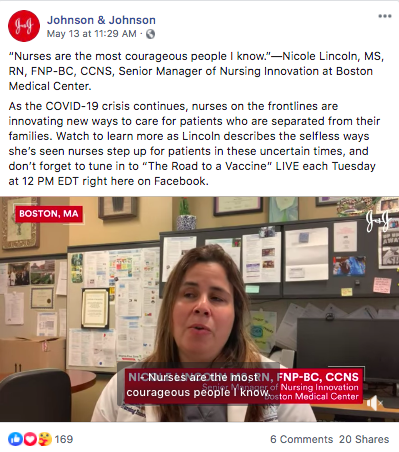 The next featured Dr. Macaya Douoguih, Clinical Development and Medical Affairs, Vaccines, The Janssen Pharmaceutical Companies of Johnson & Johnson, in a minute-plus video.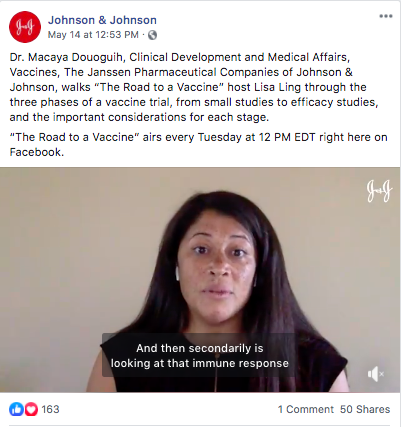 Then, they shared a short clip of the interview with Thrive Globa's Arianna Huffington: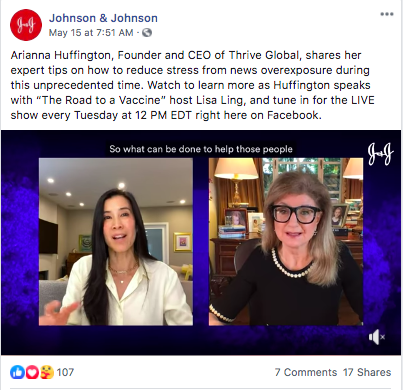 And finally, they shared this short interview with Rebecca Love, President, SONSIEL: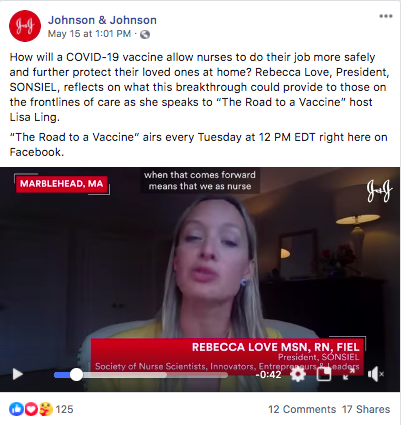 That's four short clips plus the long, feature-length show. And again, they're doing this on other platforms, too.
What about the way J&J promotes each show? They almost do this like a major network would! For each episode they produce they promote it no less than three times. For this most recent episode that went live yesterday (Tues., May 19), they first promoted it the week before with this post where Ling teases the show with a 20-second video.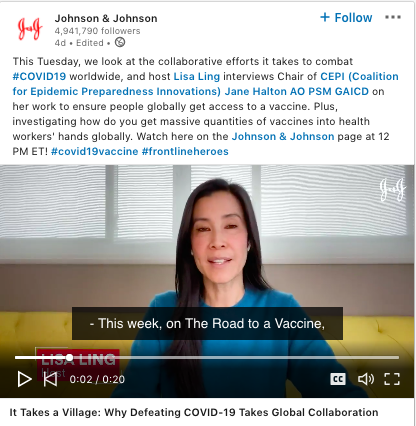 Then, they promote it again a couple days later with a simple text post.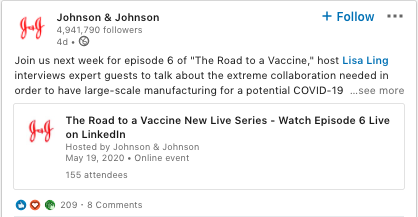 Then, they promote it again the day-of an hour before the show.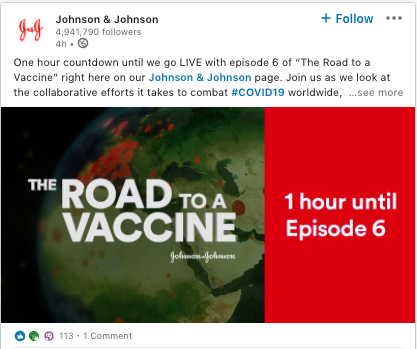 Finally, they promote it one last time with a real-time countdown to the show on Tues.
That's some serious promotion. And, it seems smart. Not sure if it's working, but the full shows are getting some good views on LinkedIn. The last show on May 12 had almost 60,000 views and 3,000+ likes and 2,000+ comments. And, that's just one channel! They're doing the same thing over on Facebook and Twitter.
Overall, it's nothing all that groundbreaking, but it's executed VERY well. And, there's a lot to be said for rock-solid execution in today's content marketing environment.
So, there you have it, two great brand journalism case studies during the COVID age. I've got my eyes peeled for others as this outbreak evolves this summer.