If you've worked in the PR industry in the Twin Cities for any length of time, you've probably heard about or visited, the MN PR Blog. Because, it's been around FOREVER! Since, 2003, to be exact. In fact, to my knowledge, the MN PR Blog was one of the first PR blogs in the entire country!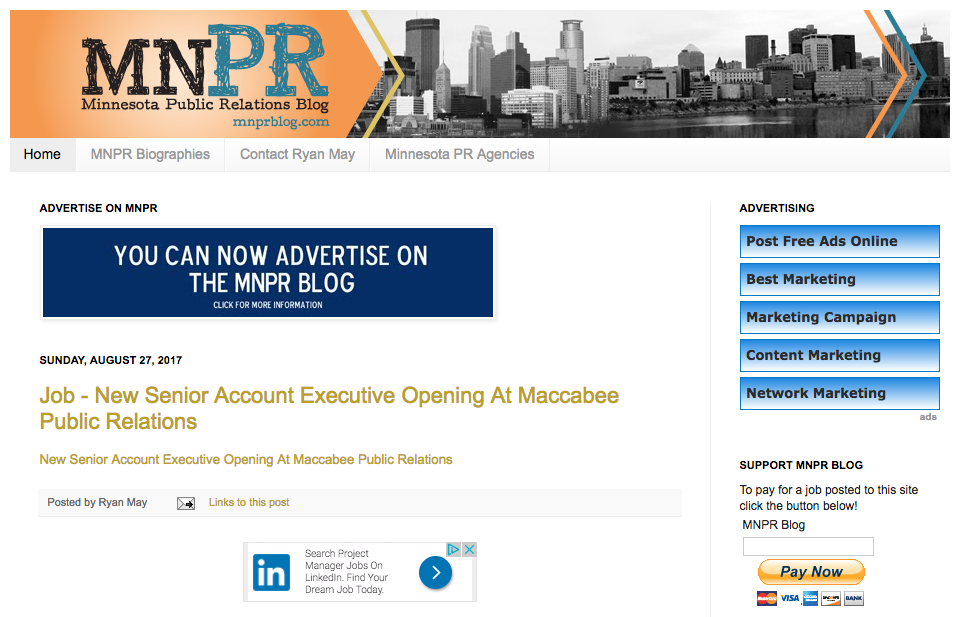 The blog was founded and managed by Ryan May. As some of you may know, Ryan is battling MS. And, most likely as a direct result of that, the MN PR Blog is no more (it appears as though the domain has expired, if you visit the site).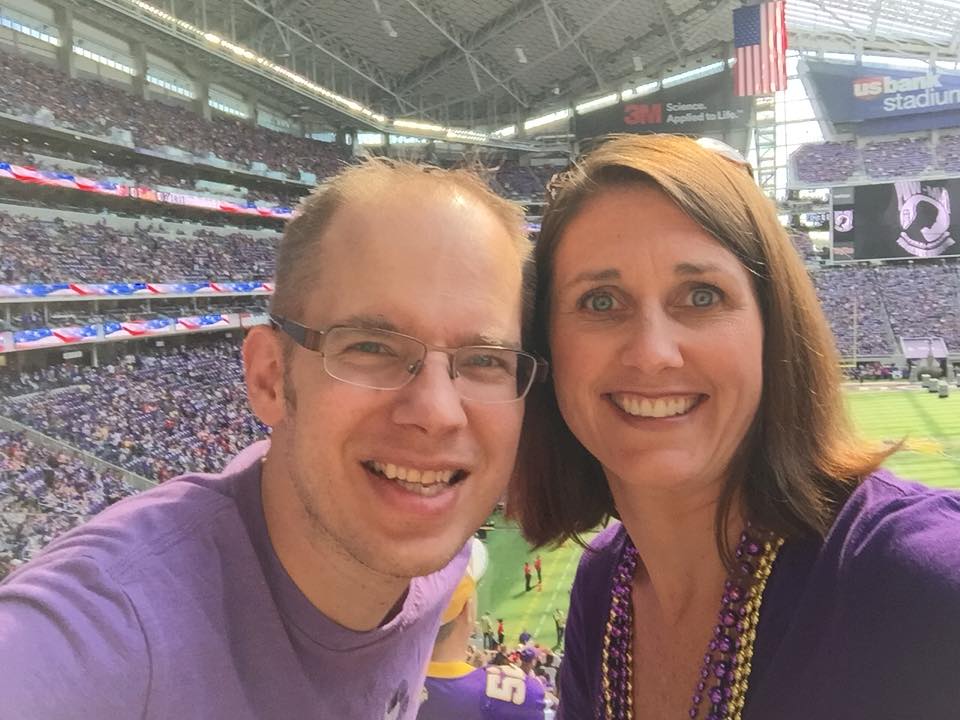 This is a pretty big moment. So, I thought it was worth commemorating since the MN PR Blog has been an instrumental part of the local PR community for 15+ years.
Like I said, Ryan started the blog in 2003. Back when no one even knew what blogging was! I mean, I started this blog in 2008 and I got sideways looks. Ryan was truly a pioneer in the blogging arena.
And, he was prolific. Over those 15+ years, he published 5,638 blog posts! For context, I'm at 1,300+ right after blogging for 10+ years.
The MN PR Blog was the de facto gathering space for PR folks across the state. Ryan posted interviews with key PR leaders. He posted an agency list that up until just recently, I was still referencing. He posted agency and corporate PR news. And, maybe most importantly, he posted a slew of jobs in the PR industry here in Minneapolis/St. Paul.
I'm not sure what the stats say, but everyone knew about Ryan's blog. And, I can almost guarantee everyone in this industry has visited his blog at least once in their career. In many cases, I'm sure it was a direct source of a new job or a change in career trajectory.
That's quite a legacy.
I wanted to get some additional flavor for what the MN PR Blog meant to people in our industry, so I asked some colleagues and leaders in local Minneapolis/St. Paul PR what the MN PR Blog meant to them, and our profession, here in Minnesota.
Paul Maccabee, president, Maccabee PR
"I don't remember ever NOT reading and following Ryan's PR blog. Part of that was simple desperation – apart from occasional Star Tribune marketing stories by Nicole Norfleet and even more occasional brief mentions of our industry in Twin Cities Business, there has been precious little local coverage of either our agency world or the lively internal worlds of corporate communications and marketing inside our fave Fortune 500 Companies in the Twin Cities. (Who would have thought we'd all miss legendary marketing reporter Bob Geiger, with his prickly coverage of the agency scene!) The national press – O'Dwyer's, PR Week, etc – remain intriguing, but seldom covered Mpls/St. Paul.
What did the MN PR Blog mean to us and our profession? For one thing, it was the #1 first place our agency posted job openings and the first place I referred job hunters to, after LinkedIn. Although I cherish my friends at IABC and PRSA, neither fine organization has tackled the burden (joy?) of establishing a compelling communications hub for the Twin Cities PR world, the way the dearly-departed Format magazine used to be for our ad agencies. The departure of Ryan's MN PR Blog leaves a conspicuous, Super Bowl-sized hole and I don't see anyone online who appears ready to pick up Ryan's mantle."
Rose McKinney, founder, Pineapple RM
"I've been reading the blog since Day One. Ryan was active in PRSA at the time and took the initiative to create a blog – no one really knew what one was – that would inform, engage and connect our PR community. It didn't take long for him to get a following.
For many years, MN PR Blog was one of the first things I read each morning. It was a great way to keep up on who was hiring, who had gotten a promotion, who had taken a new job, which agencies had won new accounts, and more. It was truly a news source, and it inspired a lot of other bloggers in our space to find a niche."
Joel Swanson, vice president-marketing & communications, Affinity Plus Federal Credit Union
"I remember Ryan as a young agency account person joining PRSA about the same time I was going through accreditation. He was a natural networker and community builder – full of more energy than anyone should be allowed. Years later he came to work with us at Risdall to help build the social media and content function. During that time his blog became a prominent fixture on my bookmark bar. At first it was a novelty, a way to keep track of what agencies and prominent PR departments were doing. Over time, it became a critical leadership resource.
As an agency and corporate leader, I have leaned on Ryan's blog not only to post jobs, but to benchmark and help draft new job descriptions – especially as the industry evolved into digital and experiential strategies. Long before Indeed, LinkedIn Jobs and other digital resources existed, I remember having to draft my first agency job description – and scouring his blog for examples. His blog was the first place I'd ask our HR lead to place them because it garnered the quickest responses (sorry PRSA and IABC). When clients paid me to help evaluate/reorg their communications and marketing functions, MN PR Blog was one of the first places I'd seek out to benchmark what others were doing.
Ryan's blog made me smart on the organizational structure side of the PR business. He was a true digital innovator and pioneer."
Candee Wolf, founder, Wolf Olson Communications
"When Ryan started his blog in 2003, I was an avid reader because he was a friend and former colleague. It was a great way to stay in touch with him as well as learn about a new communication platform. I remember being impressed by Ryan's enthusiasm for the then new media format. His enthusiasm made me want to learn more about blogging and I started a private blog shortly after. My blogging experience lasted just a few years; however, it was excellent experience and a great transition to social media. I suspect I'm not the only one here in Minnesota who tried their hand at blogging in some small or big way because of the MN PR Blog. I also recall some PR professionals in our market belittle blogging early on and said that it wouldn't last. Ryan deserves a great deal of credit for being a visionary disrupter. It takes courage to champion something new as Ryan did."
Brant Skogrand, assistant news editor, University of St. Thomas
"While I had been following the Minnesota Public Relations Blog since close to the beginning, I started volunteering as a contributing editor in 2010 when Ryan and I were colleagues at Risdall McKinney Public Relations. The most popular posts on the blog were (naturally!) job postings. I noticed that his other posts mostly focused on agency wins, public relations campaigns and awards. So I proposed to Ryan that I write some feature-style blog posts that highlighted the individuals in the public relations community, event recaps and educational posts.
For the feature posts, I interviewed Minnesota PR pros at both ends of the experience spectrum: veterans (for a feature called "Five Minutes with a Legend") and young professionals ("A Look at an Up-and-Comer"). I also posted Q&As with Padilla Award winners and Young Professional of the Year award winners from the Minnesota PRSA Classics. Event recaps mainly included my summaries of Minnesota PRSA events, and the educational posts hit on topics ranging from SEO to social media to media relations. I also covered for Ryan when he went on vacation.
I contributed because the Minnesota Public Relations Blog from the start was an online hub for the Minnesota public relations community. Given the hectic schedules in the public relations profession, we don't always have the time to meet in person as much as we want to. With the Minnesota Public Relations Blog, we had an opportunity to learn who was behind a prominent media placement, which firms won new client pitches, who was winning awards and who was hiring. Just like the Minnesota PRSA Classics brings the community together in person, the Minnesota Public Relations Blog brought everyone together online. There's no one stop for all of that information now."