About a year ago, I talked about 14 things your CEO should talk about on Twitter. It was part of a larger discussion about CEOs and how they tackle social networks from a content perspective.
As part of that research, I stumbled on American Family Insurance CEO, Jack Salzwedel. You see, it's actually pretty tough to find Fortune 500 CEOs who are active on Twitter these days (I know, surprise surprise, right?). But, finding Jack's handle was a God-send. In my opinion, he is one of the more open, authentic and genuinely engaging CEOs using Twitter. Really, check him out if you get a chance.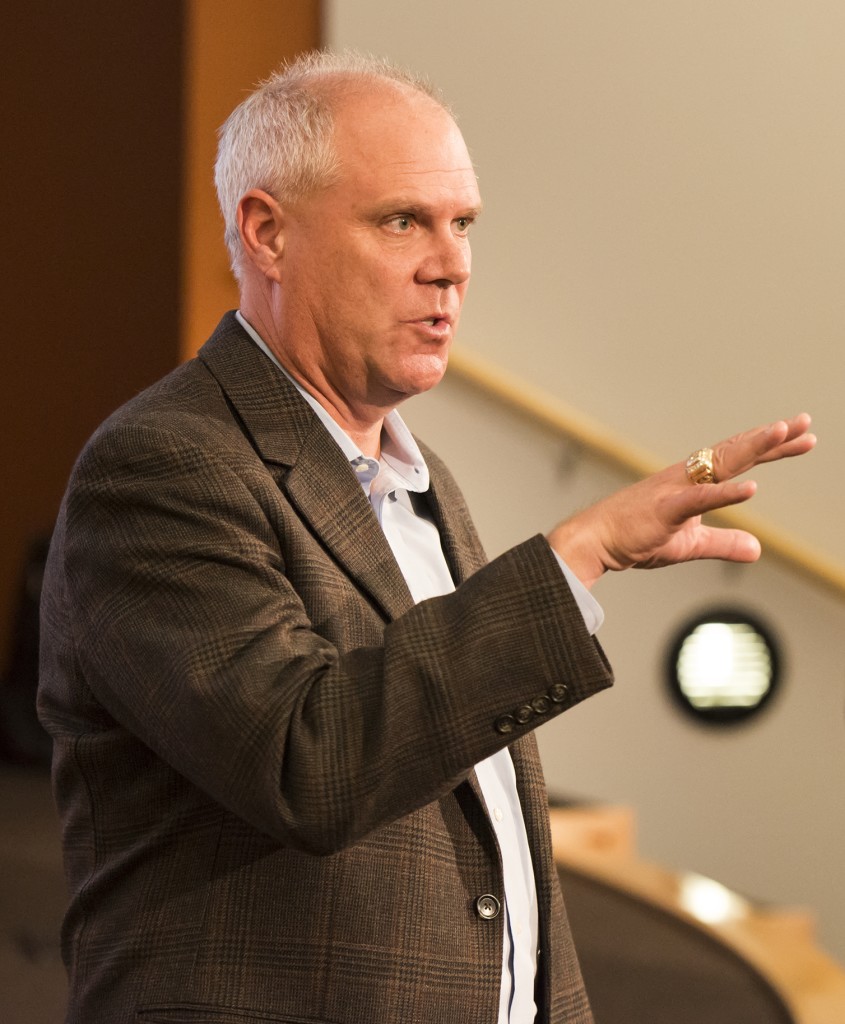 So, I got to thinking–I'd like to know more about Jack (I can call him Jack–we tweeted once 🙂 and his strategy behind using social media. Coincidentally, over the years, I'd met Tom Buchheim, executive social media advisor at AmFam. I sent him a list of questions about how Jack uses social media–here are his responses. Some pretty interesting insights for those of you who are thinking about working with your executive partners to become more active on social media.
First, does AmFam CEO, Jack Salzwedel post and manage his own social media accounts, or does your team help him? How did you make that decision and what was involved (training, assistance, etc.)?
Jack manages his own social media accounts, and is most active on Twitter. I provide oversight for his accounts – for creative assets like header or profile images, among other things. I also serve as a liaison between his accounts and our Customer Service teams, should a customer or claimant reach out to Jack through social media.
Jack receives regular counsel from me and others at the company, too, especially related to the content he shares. Every tweet sent from @AmFamJack comes from Jack personally. He decides who to follow and with whom he engages. And even though he regularly receives suggested content to post that is prepared in his unique "social voice," Jack will almost always personalize each tweet before posting. And he doesn't use every suggestion.
Last year, I profiled Mr. Salzwedel as one of the few CEOs that I believe is really using Twitter effectively as an engagement tool. Can you talk a bit about how you got Mr. Salzwedel started on Twitter and why?
Jack was actually an early adopter to Twitter, and joined for the same reasons most of us did – he was curious about it. He wanted to try this new technology on for size. He recognized early how Twitter could help him and AmFam on several fronts, including driving deeper connections with agents and employees, as well as simplifying his life by aggregating news and information into one place for easier consumption.
On Twitter, Mr. Salzwedel is really great at engaging with followers, but also making sure AmFam's key projects and initiatives get mentioned. How do you find a balance? Is there a certain mix you're going for?
Jack definitely has interests he will share more often than anything else on Twitter. That includes recognizing the good things our employees, agents and affiliate companies are doing every day in our communities. The challenge – as you noted – is finding that mix. It's why Jack realized long ago – 2011 to be exact – that he needed help. He's a busy CEO and recognized social media would be a factor in how he communicated with various audiences. In my estimation, that's still pretty radical thinking in 2015 – and we've been at this for more than 4 years!
One thing I noticed when studyingMr. Salzwedel on Twitter–he talks a LOT about his hometown Badgers (especially over the last few months!). This is one area a lot of executives struggle with on Twitter–talking about their personal interests/passions. How has talking about the Badgers publicly worked out for Jack and AmFam? And, how has it impacted his success from a company POV?
I think the philosophy is the same as you'll hear from many social media power users… Be yourself. Be real. Be approachable. Find your voice and use it for good. Jack is all those things on Twitter, along with being a thought leader and CEO of a large company. I talked before about some of the topics of interest for Jack – and they're not just about business or leadership or politics. They're about sports, his alma mater (Wartburg College), his family, his home state – and more. These are all things Jack will share, and they're all things that factor into the mix of content I look for when supporting him.
With the advent of livestreaming tools like Meerkat and Periscope, and given Mr. Salzwedel's prolific nature on Twitter, have you given any thought to using those tools? What does that decision-making process look like for your team?
We've previously discussed things like Google Plus hangouts as an option for deeper engagement in social media, and to share more of Jack's leadership vision. However, we haven't pursued these to date, mostly because we haven't identified the right moment or audience.
I've also noticed Mr. Salzwedel going out of his way to interact with and promote AmFam employees on Twitter. I'm sure that's purposeful (and very smart). What's been the impact internally and across the country with your AmFam agents and teams?
Jack believes in the power of social media – to connect people inside our company and our enterprise with each other. Social media has removed barriers between AmFam employees and agents, and between employees from our affiliate companies. As mentioned previously, Jack uses social media to drive deeper engagement with all of these audiences – to encourage them to find their voices. It empowered many of these folks to become active in social media, in turn driving a more open and collaborative culture at our company. American Family already has a mature and successful social media program at the brand and agent level. Jack's presence – combined with an active and engaged employee base – only strengthens those programs and helps solidify our standing as a social business.
How do you measure success with a CEO like Mr. Salzwedel on social media? 
It's much less about numbers than about individual wins. Jack appreciates the feedback loop social media provides, as well as seeing others become more active and engaged with each other – in finding their voices. When social media allows us to relate better to our workplace colleagues, our communities, our leaders … that's a win. And Jack is a driving force behind that openness at AmFam. He's in this for the long haul, and recognizes that social media – in whatever form it takes in the future – has value at American Family.
I noticed Mr. Salzwedel started using the LinkedIn publishing tool last year. Has that been successful so far, in your eyes? 
The LinkedIn Publisher tool complements Jack's desire to share longer-form ideas around leadership, culture change and more. He was already blogging on jacksalzwedel.com, and using LinkedIn's publishing features only extends the reach of Jack's messages. I'm thrilled with the early results and feel it should earn Jack a spot as a LinkedIn Influencer. In 2014, his LinkedIn Publisher posts had a 66% engagement rate and a 51% share rate. Those are gaudy numbers I hope underscore the value Jack brings to the platform.
Finally, any tips for other communicators looking to get their CEO more involved with social media?
Communicators don't hesitate to provide CEO support around other, more traditional communication vehicles like speeches, letters, emails, etc. There's plenty of research available that shows the value of a "Social CEO" – so do your homework and make a case. Social media – in my estimation – is table stakes for today's leaders. If leaders think otherwise, they fail to recognize the value an active and engaged community can provide them – and that they can provide it – every day. Communicators should add social media to their regular toolbox and understand its strategic value. Those who fail to recognize this are missing out and doing their leaders a disservice.