By now, I'm guessing 99.9 percent of you have heard about The Skimm.
In large part, that's because they have a virtual army of "Skimmbassadors' helping share their message–literally, and figuratively.
6,000-plus Skimmbassadors, to be exact (according to the founders).
In fact, that's really how most people have heard about the The Skimm. By word of mouth. The Skimm only has 15 full-time employees, so the Skimmbassadors have been a HUGE part of publisher's success over the last couple years.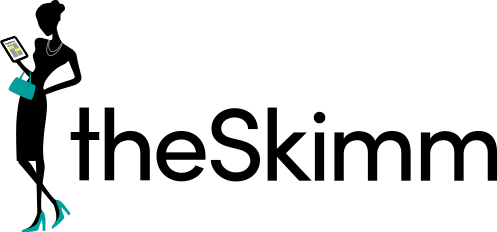 Go ahead ask 10 friends if they read the Skimm. My guess is you'll get at least eight people who RAVE about it (mostly women, according to the founders).
The Skimmbassador Program may be the best example I've seen of an employee social advocacy program. And the organization didn't use a "social media advocacy software solution" to get it done. I know, BIG surprise.
So, why is the Skimmbassador Program so successful? And how did they pull it off without the use of one of these "innovative" software programs I hear so much about (can you sense the sarcasm yet?)? Let's dive in:
What Skimm does: Give Skimmbassadors free stuff
The Skimm is constantly giving its Skimmbassadors free merch. Sure, some of it is standard promotional items like Skimm t-shirts and Skimm tote bags. Those aren't sexy, but you'd be surprised how much people like free stuff (for evidence: Just visit the MN State Fair sometime). But, The Skimm does more than just hand out a free bottle opener every once in a while. Reportedly, they offer up free trips to NYC to meet their team for Skimmbassadors who refer a ton of new Skimmers.
Brand lesson: Never underestimate the power of free stuff. Especially if said "free stuff" is either cool or useful. I can't help but think about professional sports teams–like the Minnesota Twins. What do they do every game day at Target Field? Give away free stuff! Specifically, bobbleheads (before certain games). People LINE UP to get these free bobbleheads. And, then they post them on their mantles or in their man caves for all to see. Does that lead to more season tickets purchased? Not necessarily. But, I can almost guarantee it's leading to more brand affinity for our favorite baseball team (after all, how do you account for tens of thousands of people showing up at the park each night for a team as putrid as the Twins?!?!).
What Skimm does: Make Skimmbassadors feel like they're part of an ultra-exclusive club
Every employee advocacy blog post or article you'll read will state this claim. The key is execution. The Skimm does a lot right here. They organize a quarterly call for Skimmbassadors where they can connect and learn about what's coming next. They have a private Facebook group to do the same. They even have a special web page devoted exclusively to updates and Skimm news. If that's not enough, they also organize face-to-face meetups called "Sip and Skimms" that allow Skimmbassadors to get together in different cities. Now, are those all obvious things for the Skimm to do? Certainly. But, if it was so damn obvious, how come everyone else isn't doing it? Execution, my friends. Execution.
Brand lesson: Focus squarely on execution when it comes to making your biggest employee advocates feel the love. Focus on the little things. The personal notes. The extra special giveaways. The time your CEO might spend on a quick phone call to them. Those little things all add up. Those little things ARE execution.
What Skimm does: Give Skimmbassadors the spotlight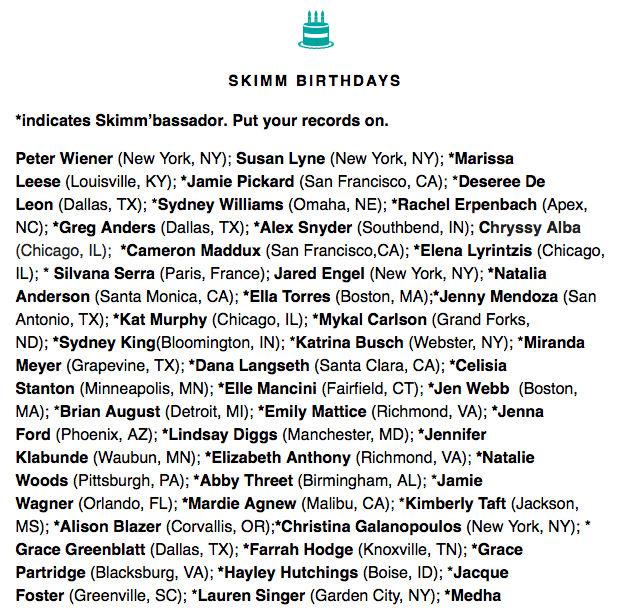 It's a subtle little thing, but in each issue of the Skimm you'll find a list of the birthdays of all the Skimmbassadors for that day. Is that a tough thing for The Skimm to do? Hardly. Does it go a long ways to building trust and affinity? Absolutely. Why? Because what's more important to people than their birthday? Answer: Not much.
Brand lesson: It doesn't have to be recognizing employees' birthdays–but it does have to be about recognition. After all, everyone likes to be recognized. Everyone. So, think about little ways you can recognize your employee advocates. A thank you note. A profile on the intranet. A small gift for a job well done. It all adds up.
What Skimm does: Give Skimmbassadors the chance to feel like they're one of the first to do something.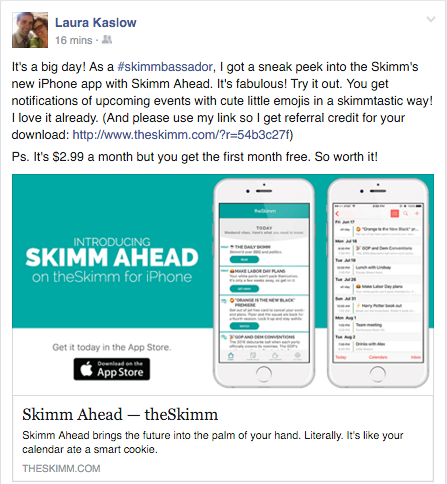 I have no real proof here, but I have a feeling one of the absolute key reasons the Skimmbassador program has been so successful is because it's like an insider club. And, then by recruiting others to join, you seem uber-cool by default. That's a feeling people LOVE! And, I see it in almost every Skimmbassador I meet/talk to. I mean, just look at the post above from my friend, Laura Kaslow. How many of these kinds of posts did you see when The Skimm launched this new app a couple weeks ago? Total insider club mojo here. Who doesn't like that feeling of being with the "cool kids." That's what the Skimmbassador program has captured. That's magic in a bottle.
Brand lesson: The real key to a successful employee advocacy campaign isn't the software or platform–it's the sense that this is something really cool, and you got an invite to be a part of it. Locally, here in Minnesota, I think about Prince. For years, Prince would "organize" late-night jam sessions out at Paisley Park. It was widely known, except it wasn't widely known. And, it certainly wasn't advertised broadly. You just had to show up and hope he opened his doors that night (at 2-4 a.m., mind you). But, people did it. Regularly. Why? Because they wanted to feel like they were the only ones to be doing something *really* cool. That's the same feeling you want to capture with employees as part of an employee advocacy program.