I saw this tweet last week and it made me chuckle (the second tweet made me chuckle even harder!).
Not so much because it was funny (it is)–but because it's true. Man, is it true.
And, I'm here to say during the last five months, few people in marketing and communications have had a tougher job than that of the community manager.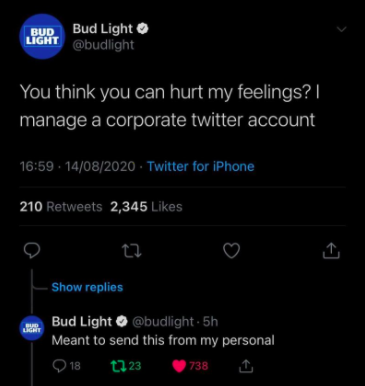 Let's lay out the facts:
Community managers often have an "always-on" job responsibility. Many don't have backups for evening and weekend hours and find themselves working, literally, 24/7.
Community managers are seeing the worst of the worst the last five months during this pandemic. They are on the virtual front lines. And, in many ways, the virtual front lines are far, far worse than the actual front lines.
Community managers are under-paid. There has been an ongoing discussion for years that community managers ought to be more senior-level members of the team.
Yep, community managers have a tough job. And, like I said, over the last five months that job has been made even tougher by a pandemic, social unrest across our country and politics as we've never seen them before.
I've seen it first-hand. I've served as a community manager for some fairly large brands here in the Twin Cities.
I've been asked to review the feeds of these brands on a daily basis–to review the vitriol and negativity commenters spew.
I've had to engage these folks and try not to step in the land mines left day after day.
For those who have done this job, you know what I'm talking about. I feel your pain. You've had a tough run.
I'd like to say it's going to get better out there. That we're going to turn a corner. But sadly, I see more of the same in our future.
I see more divisive politics (although, personally I'm hopeful for a change).
I see more challenges ahead with the worldwide pandemic.
I see more hurdles with social justice–or lack thereof.
And, I see the gap between the haves and the have nots increasing–big time. This may be our biggest challenge yet.
All of these things are going to make our jobs tougher in the months and years ahead.
At the same time, this job is also wonderful in many ways.
Being on the front lines means serving as the eyes and ears of your organization–this means, among other things, you hear about new product ideas from customers first.
It means you also get to see the hearts, smiley faces and shouts of support (even though they may get drowned out from time to time).
And, it means you have one of the most highly visible jobs at your company–and you do not take that lightly.
So, I guess the point of this post today isn't to claim that community managers do, in fact, have the toughest job in marketing/communications in 2020. I think the point may be to recognize that this job is a really, really tough job. An under-rated job. An under-appreciated job.
If you get a chance today, please thank your brand's community manager. They've had a tough run in 2020. And, it's not going to get a lot better anytime soon. They could use your support. Give them a shout. Give them some praise. And, right now, give them your empathy.