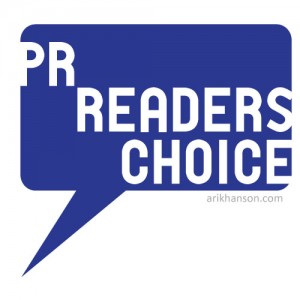 Drum roll please….
Ladies and gentleman the 2010 PR Readers' Choice Award Winners!
But, before we get to the winners, I want to publicly thank a few folks who helped out along the way. First, a huge thanks to Amy Taylor for designing the wonderful new PR Readers' Choice Award badges. Wonderful work, Amy. Also, a big thanks to Jay Baer, Abbie Fink, Kris Schindler and Jani Virtanen for help in recognizing the winners (see below).
I also want to acknowledge all the nominees, finalists and people who nominated and voted this year. I know it's not the most scientific process, but the intent is simple: To give the community a chance to recognize some of the outstanding blogs we all read each day. I read a tweet earlier this week that mentioned bookmarking the initial post with all the nominations–I think that says it all. Use that post (or the finalist post) as a resource to build your Reader. I know I am.
And with that, I hope you will join me in congratulating your 2010 PR Readers' Choice Award Winners!

Best Up-and-Coming Blog
Runner-up: PR Breakfast Club (multiple authors)
"PR Nonsense is far from nonsense! I regularly read the blog to get an inside scoop on industry trends and opinions. PR Nonsense also does great job with providing tips that help PR professionals manage their work and life more efficiently. PR Nonsense provides delightful nuggets of information while remembering to entertain the reader along the way. Congratulations!"–Jani Virtanen, MarketWire

Most Educational Blog
Runner-up: Deirdre Breakenridge, Deirdre Breakenridge
"Congratulations to my friend Jay Baer and his outstanding blog, Convince & Convert, for being named Most Educational Blog in the second PR Readers' Choice Awards.  I've known Jay for more than 15 years now and he's been talking about online communications back before any of us really knew what it was.  His straight-forward approach to sharing information is invaluable to any of us working in and around digital communications. There was no question his blog would get my nomination for most educational.  I look forward to reading it because I know that I'll come away with something that will help me be better at what I do.  Trust me, add it to your reader, you will not be disappointed." – Abbie Fink, HMA PR
Most Thought-Provoking Blog
Runner-up: The Flack, Peter Himler
"In a sea of sameness, Conversation Agent is a blog that isn't afraid to coat itself with the blood of sacred cows. Valeria Maltoni has fought the wars of integration, ownership, internal ineptitude, ROI hijinx and more. She's walked a mile in your shoes, and uses that experience plus a level-headed, exceptionally well-written approach to communicate forcefully almost every single day. In addition to challenging assumptions and constantly urging readers to do more and to do better, the breadth of content (interviews, book reviews, PR, social media, B2B) make it an absolute must-read. I read a lot of blogs, but when I want to make myself think, I turn first to Conversation Agent." –Jay Baer

PR Blog of the Year
The Fight Against Destructive Spin (FADS)
Gini Dietrich (Arment Dietrich)
Runner-up: Grow, Mark Schaefer
"Educational. Engaging. Empowering. SpinSucks.com (FADS) consistently delivers on these levels and more. Over the past year, Gini Dietrich has advanced this blog to an online network where she and the Arment Dietrich team not only share their insights on communication but demonstrate valuable best practices and promote and engage in thoughtful discourse on a variety of topics relevant to public relations practitioners and other communication professionals." – Kris Schindler, Start-Thinking