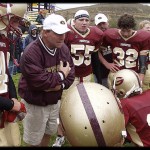 My friend, and PR Reader's Choice Award Up-and-Coming Blog award winner, Lauren Fernandez had a great post last week about the role of social media within an organization. Which got me thinking how much a PR professional's role has and will change over the coming years.
No longer can PR pros merely manage the message. Instead, we need to learn to facilitate the conversation in different ways.
No longer can PR pros tell audiences what to think. Instead, we need to persaude and influence customers and stakeholders.
And no longer cam PR pros "manage" a crisis–at least not the same way we used to do it. Instead, we need to join the discussion, correct facts (when appropriate), listen more carefully and adjust our approach accordingly (just look at how Domino's handled their recent crisis).
These are different mindsets than the ones we were taught in college and in the workforce. Our role is changing.
The new paradigm: PR pros as "head coaches."
Now, I'll admit, most of us have some work to do to achieve "head coach" status. But, that's where were going, isn't it?
After all, our new role requires many of the same attributes as a head coach:
* Understanding the power of team–and individual contributions
* Knowing the difference between "coaching" and "telling"
* Understanding the nuances that make people tick–whether its teammates, customers or key influencers
* Demonstrating outstanding interpersonal skills. The ability to have meaningful two-way dialogue is crucial to this role.
* Helping people (and customers) reach their true potential
* Helping others succeed (again, your customers) before yourself
* Serving as a mediator for crucial conversations–the kind you may have between your brand and an agitated or upset customer
It all points toward a massive role change. Are we ready for it? Are *you* ready for it? 
[Photo credit: MD1960; FlickR Creative Commons]