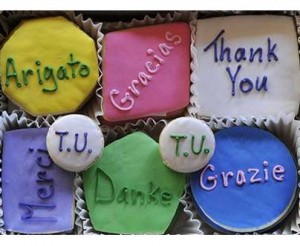 Today, I want to share with you a guest post from someone who's been instrumental to my growth–and to my confidence years ago as I was starting to find my rythym as a professional communicator. And, GASP! she's not on Twitter. Deborah Ely-Lawrence was my manager when I was at RSM McGladrey for four-plus years. I learned a lot from Deborah during out time together at McGladrey and I'm so glad we've stayed in touch since then. One of the things I valued most about Deborah was her ethical standards and her value set. It's something I've tried hard to emulate since the time we worked together. And fittingly, Deborah's post below hits on one of those key values.
Remember when you were young and Barney used to remind his TV show viewers to say "please" and "thank you." Barney's gentle nudge, along with that of your parent or another adult, rang in your ears when Great Grandma Harriette sent you a birthday card with $1 neatly tucked inside. You immediately grabbed the crayons to draw her a picture and scribble something that resembled "thanks" with your name.
Communicating gratitude is not just important in our personal lives; acknowledgement is equally important in our professional lives.
CareerBuilder recently surveyed 2,900 hiring managers and found a candidate is unlikely to get past the first interview if they don't follow up with a note. Even the candidate most qualified for the position could lose out if he or she doesn't say "thanks" for the interview. Eighty-six percent of the hiring managers questioned said they get the impression the candidate isn't very interested in the job if they don't receive a thank you note – either in email or hand-written form. According to CareerBuilder's findings, not sending a thank you note also says something about the candidate's work habits.
Recently, my teenage daughter interviewed for a summer job working in a local parks program. As she left the office, she noticed the lobby crowded with other teenagers waiting for their turn to interview including a fellow classmate. That night she fired off a "thank you" to the HR manager and parks program manager, thanking them both for a chance to interview and reminding them why she'd be a great hire. A week later, she learned that she had landed the job. Her friend, who didn't send a thank you, didn't get an offer.
Even if you're not trolling for new employment, consider how many people lend a hand in your daily work life. Thanking that person through a simple email or hand-written note demonstrates you truly appreciate their "gift of time." When appropriate it doesn't hurt to copy the colleague's manager.
Lest I forget my social graces – thanks Arik Hanson for your dedication to encouraging exceptional communications!
Deborah Ely-Lawrence is the communications manager with the Minnesota Society of CPAs. Deborah has more than 20 years experience in public relations, marketing and journalism.